Boston Red Sox vs. Tampa Bay Rays: Keys to Each Team Winning ALDS Game 4
Mike Ehrmann/Getty Images
It's hard not to root for the Tampa Bay Rays. But they're going to need a lot of help.
Up until the bottom of the ninth inning, it seemed as though the Boston Red Sox would pull off a three-game sweep of the Tampa Bay Rays. But with one swing of the bat, Rays catcher Jose Lobaton smacked a walk-off solo home run (419 feet) off Koji Uehara to keep the team's hopes alive.
As timely as Lobaton's home run was, the Rays cannot simply depend on last-minute heroics to best a powerhouse like the Red Sox. The Rays will need Game 4 starting pitcher Jeremy Hellickson to deal more like his 2012 self (a park-adjusted 124 ERA+) and less like his 2013 self (a 74 ERA+).
And even though the Red Sox own a convincing one-game lead over the Rays, Uehara's 2013 postseason 5.40 ERA is worrisome.
Read on to see keys to each team winning Game 4 of the ALDS.
All statistics sourced from Baseball-Reference.com and FanGraphs.com.
Begin Slideshow

»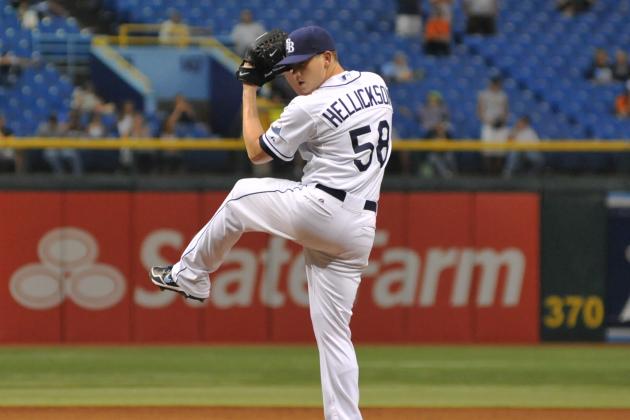 Al Messerschmidt/Getty Images
The Rays are putting their season into the hands of Jeremy Hellickson.
The 2013 season has been a rough one for Jeremy Hellickson. Despite posting a 3.10 ERA (versus a park-adjusted 124 ERA+), 1.25 WHIP and 2.10 K/BB in 2012, Hellickson has been a shell of his former self in 2013.
The righty has pitched to the tune of a 5.17 ERA (versus a 74 ERA+), 1.35 WHIP and 2.70 K/BB this season. Hellickson was especially bad in the second half of 2013. The 26-year-old posted a dismal 6.23 ERA, 5.21 FIP and 1.67 K/BB after the All-Star break.
The Rays cannot afford an implosion by Jeremy Hellickson tonight against the Red Sox. In order for the Rays to have a fighting chance in Game 4, Hellickson must give his team at least six quality innings of baseball to force a Game 5.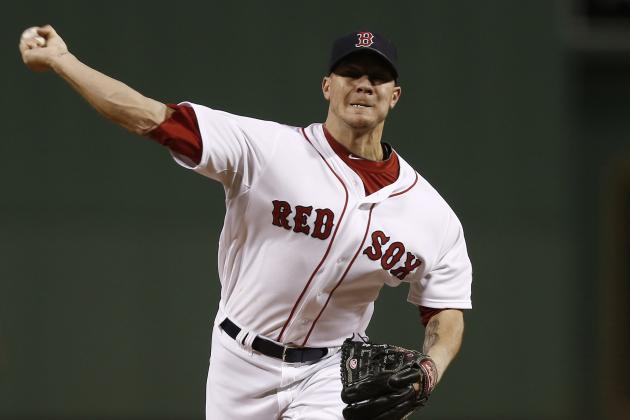 Winslow Townson/Getty Images
The good, the bad and the Jake Peavy.
Jake Peavy has been a bit of Dr. Jekyll and Mr. Hyde since arriving in Boston. While Peavy enjoyed his first month as a member of the Red Sox (3.18 ERA), the veteran was atrocious in September (5.40 ERA).
The question going into his integral Game 4 start is, "Which Jake Peavy will the Red Sox get?"
Considering the Red Sox led the major leagues with 853 runs—or 5.26 runs per game—Peavy doesn't even have to spin a gem to secure a win in Game 4. But the veteran also can't toss the stinkers he was prone to in September, either.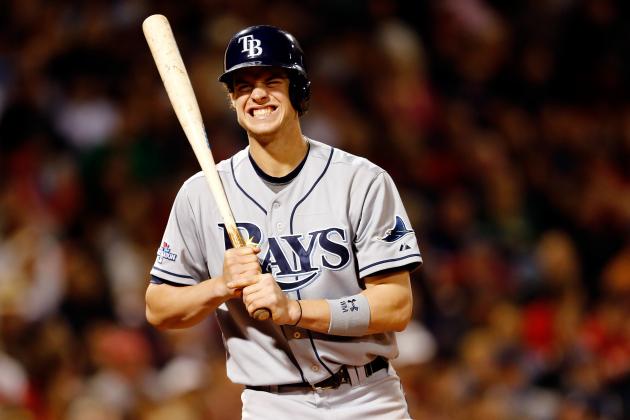 Jim Rogash/Getty Images
A very frustrated Wil Myers at the plate.
Ever since Wil Myers was recalled in June, the 22-year-old has been an instrumental part of the Tampa Bay Rays offense. On the season, Myers hit a very fine .293 with 13 home runs.
But so far in the postseason, the rookie has been lost.
In fact, Myers has only collected one hit (in the Wild Card tiebreaker), and until Game 3 against the Boston Red Sox, didn't even take a walk. With a putrid .063 batting average and 43.74 percent strikeout rate, Myers is contributing nothing for the Rays at the plate.
As Evan Longoria's sole protection in the lineup, any ongoing struggle from Myers could begin to impact how the Red Sox will pitch to him.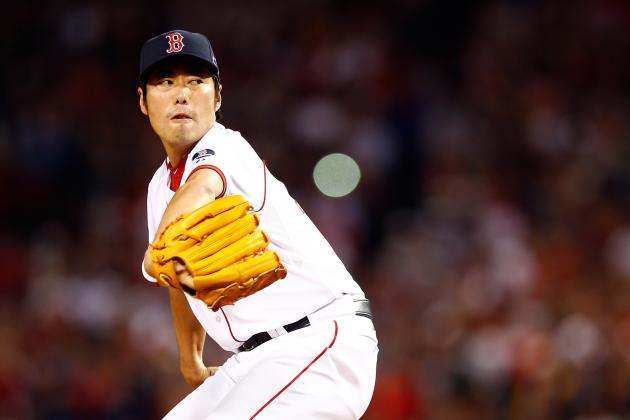 Jared Wickerham/Getty Images
Perhaps Koji Uehara is human after all.
Koji Uehara's dominance during the regular season took a lot of notice.
In fact, Hall of Fame closer Dennis Eckersley couldn't help but gush during a broadcast in early September, per Boston.com:
"He is a machine. I mean, this is ridiculous. Punches out two guys just to stay in shape. […] One of the best in the business if not the best in the American League. He's the [Craig] Kimbrel of the American League."
But apparently Koji Uehara isn't a machine.
Despite a scoreless inning in Game 2, the 38-year-old surrendered a walk-off home run to Rays catcher Jose Lobaton in Game 3. Considering Uehara posted a 1.09 ERA (versus a 1.61 FIP), 0.57 WHIP, 11.22 K/BB and 21 saves during the regular season, fans shouldn't be worried about his recent blemish. Knowing fans, however, that doesn't mean they won't worry.
If Uehara can prove he has selective short-term memory, the Red Sox won't need to turn to another reliever to close the door in Game 4.