Some teams are still looking for quarterbacks after five weeks of the NFL, but don't expect free-agent quarterback Tim Tebow to get a call from any organization.
Fans can look around the league and point to teams that could use some help at quarterback. However, those teams won't be turning to Tebow to lead their team.
Although the quarterback led the Denver Broncos to the playoffs in 2011, including a first-round victory, he has a lot of baggage. As the Broncos and the New York Jets found out, the media obsesses over Tebow no matter what team he is on. Even the New England Patriots couldn't avoid the circus.
Tebow will never be considered to be a great passer, but he is a winner. There's something about him that makes him tough to stop. The 26-year-old would certainly improve several team's quarterback situations, but those teams are looking to see what they have in young quarterbacks.
Thursday night may have helped Tebow's chances. Both the Cleveland Browns and the Buffalo Bills lost their starting quarterbacks. The extent of their injuries wasn't immediately known, according to Jason La Canfora of CBSSports.com:
No formal update yet on QBs Brian Hoyer and EJ Manuel, both of whom getting MRIs this AM after getting injured last night

— Jason La Canfora (@JasonLaCanfora) October 4, 2013
On Friday, Mary Kay Cabot of the Cleveland Plain Dealer reported that Hoyer injury against the Bills will sideline him for the season:
Quick post: #browns Brian Hoyer out for season with torn Acl. Will undergo surgery. http://t.co/PUnp6ZjKa4

— Mary Kay Cabot (@MaryKayCabot) October 4, 2013
Although Brandon Weeden started the season as the starting quarterback and led his team to a win on Thursday, the team doesn't appear to be sold on him. The Browns let their third-string quarterback start over the 2012 first-round pick.
Cleveland currently sits atop the AFC North, so they may be one quarterback away from being contenders. Tebow wouldn't fit their system, which eliminates the Browns.
The Buffalo's quarterback situation is interesting. Manuel is the future of the team, but it's unclear how serious his injury is. Backup Jeff Tuel did nothing to impress anyone after he replaced Manuel, but he hasn't had much time working with the offense. The Bills have a nice foundation, and they wouldn't bring in the media circus surrounding Tebow.
The Tennessee Titans lost Jake Locker to a hip injury last week. However, they have Ryan Fitzpatrick who can come in and be an effective passer.
That leaves two teams as potential fits: the Jacksonville Jaguars and the Tampa Bay Buccaneers.
Although Tampa Bay released former starter Josh Freeman this week, it's unlikely that they would consider Tebow as a legitimate option. Pat Yasinskas of ESPN.com suggests that coach Greg Schiano is on the hot seat, so he wouldn't want to bring in the popular quarterback with his job on the line.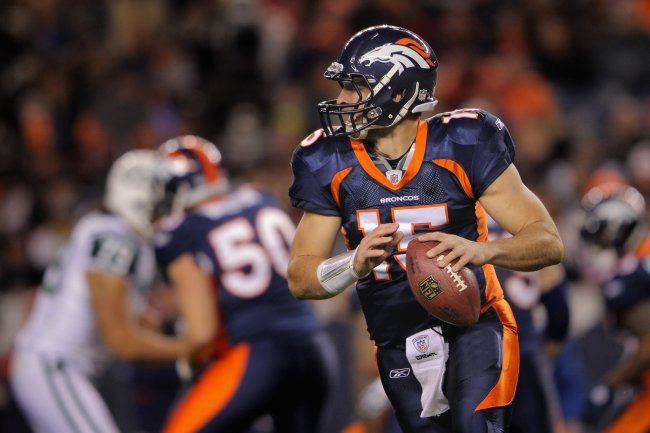 Doug Pensinger/Getty Images
Jacksonville has been linked to Tebow for years. Blaine Gabbert hasn't been able to stay healthy, and the third-year quarterback hasn't impressed much when he has been on the field. Chad Henne has been a capable passer in the NFL, but he isn't going to be the team's future at quarterback.
Which NFL team should take a chance on Tim Tebow?
Why shouldn't the Jaguars take a chance on Tebow? The team has scored a total of 31 points in four games, and fans aren't showing up to the games. Jacksonville has yet to be competitive in a game this season. Tebow couldn't do any worse than what the team has done so far in 2013.
Coach Gus Bradley is in his first year with the team. Ownership isn't going to bring in Tebow with a rookie head coach. It would be a tough situation for anyone, so don't expect the free agent to sign with his hometown team.
Although he likely won't get calls, that doesn't mean that he doesn't deserve one. Tebow deserves an opportunity after what he did with the Broncos, especially considering some of the quarterbacks who continue to get shots.
Cleveland, Tampa Bay and Jacksonville are looking for help at quarterback. Despite their situations, Jacksonville may be the only team that makes sense.
Tebow may have to wait until after the season to get another shot to make an NFL roster, so he should continue to prepare to find the right fit.