Did you have one of those moms growing up that went to the grocery store with a coupon book that was thicker than War and Peace? Did you ever get tired of hearing, "Go pick out a Kellogg's cereal," when all you wanted was some Cocoa Pebbles?
Well, playing the waiver wire is a lot like your mom stashing those coupons. You know what you're getting is on discount and you know there's a chance you may not be able to pick out what you want. It's bargain-hunting.
But in the end, your family saved some serious cash with all those coupons, and if you take the time to play the waiver wire right you might just earn an extra win or two.
Here are a few coupons—er, fantasy adds—that you should be focused on this week. Thanks, mom.
All stats for standard-scoring leagues. All availability stats via ESPN leagues.
EJ Manuel, QB, Buffalo Bills
Availability: Owned in 13.1 percent of leagues.
Key Stat: Averaging 16.3 fantasy points per week.
Analysis: Don't look now, but EJ Manuel has turned himself into a legitimate QB2 or even a possible starter in two-QB leagues.
What's even more intriguing about Manuel is that he has just 76 rushing yards and no scores on the ground to start the season. Some people might see that as a negative, but given his athleticism I think it means he has room to grow as a fantasy commodity. His completion percentage (59.3) won't earn him plaudits, but having just one interception after three games proves he's at least protecting the rock.
If you aren't confident in your QB2, go get this guy immediately.
Jason Snelling, RB, Atlanta Falcons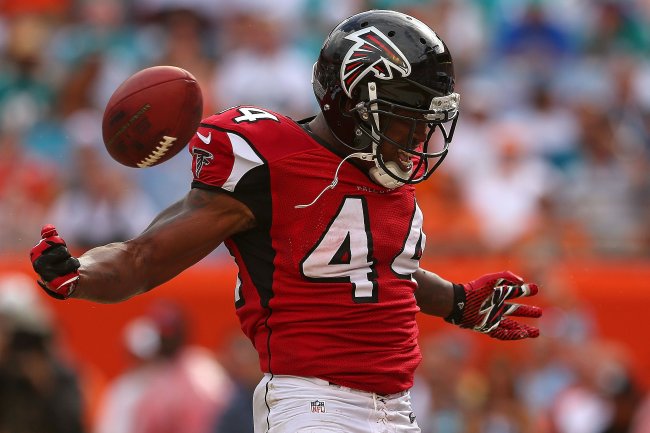 Mike Ehrmann/Getty Images
Availability: Owned in 15.4 percent of leagues.
Key Stat: 10 receptions for 116 yards and a touchdown this season.
Analysis: With Steven Jackson likely out at least one more week, Snelling remains a very intriguing fantasy commodity. He has 27 fantasy points the past two weeks, and has been utilized as a dangerous weapon on third downs. Jacquizz Rodgers was utilized more on early downs (18 carries to Snelling's 11) but their total touches were close (20 for Rodgers, 15 for Snelling).
Rodgers is widely owned, but Snelling looks like the better play against the New England Patriots. He certainly has been the better fantasy player since Jackson went down.
Santonio Holmes, WR, New York Jets
Availability: Owned in 7.6 percent of leagues.
Key Stat: 16 total targets the past two weeks, most on the Jets.
Analysis: I really like the fact that Geno Smith is regularly targeting Holmes in this offense, making his combined eight receptions for 205 yards and a touchdown over the past two weeks somewhat sustainable. No, he won't have many—if any—21-point fantasy weeks like he posted in Week 3, but Holmes is still a very good receiver and has emerged as Smith's top target.
Consider him a WR3 moving forward.
Heath Miller, TE, Pittsburgh Steelers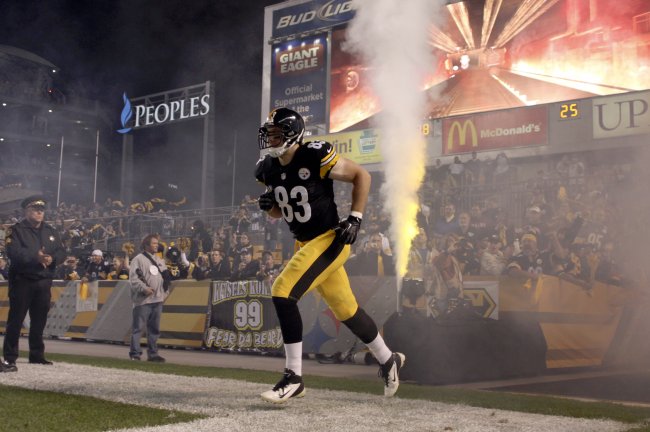 Justin K. Aller/Getty Images
Availability: Owned in 6.4 percent of leagues.
Key Stat: 71 receptions for 816 yards and eight touchdowns a season ago.
Analysis: If you are in the market for a TE2, Miller is the man to add this week—other than Jordan Cameron, who amazingly is available in 25.2 percent of leagues, though not for long. Antonio Brown finally made his presence felt on Sunday night, but it was obvious in the first two games that Ben Roethlisberger missed his safety valve over the middle in Miller.
He's not a guy you should be starting just yet, but for the bye weeks or a tough matchup for your TE1, you'll be glad you have Miller at your disposal.
Kansas City Chiefs, D/ST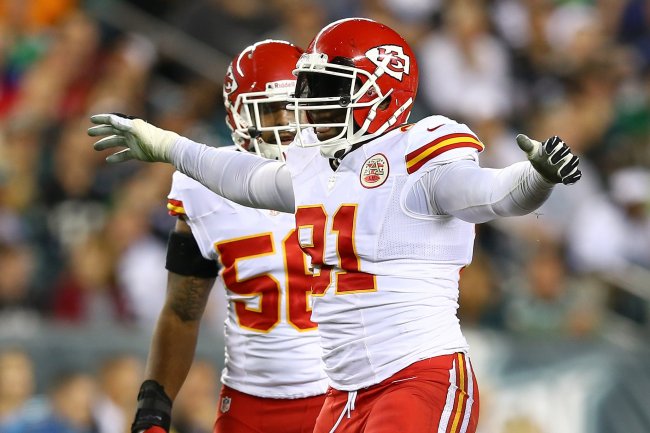 Elsa/Getty Images
Availability: Owned in 40.1 percent of leagues
Key Stat: The Chiefs' next opponent, the New York Giants, are allowing 20.0 fantasy points to opposing defenses per week.
Analysis: The Chiefs' defense has been excellent for fantasy owners this season, averaging 17.0 fantasy points per week. Now they face a Giants offense that has given up 11 sacks, 13 turnovers and three defensive touchdowns.
Yeah, it's been that ugly.
There is always the danger that Eli Manning could get hot and completely torch Kansas City through the air, but it's just as likely the offense will self-destruct, much to the delight of Chiefs owners.
Hit me up on Twitter—I'll answer your fantasy lineup questions, make ill-fated NFL predictions and tweet cheesy jokes. It's a Twitter tailgate, minus the parking fees.