Who's Hot, Who's Not in Crucial MLB Playoff Races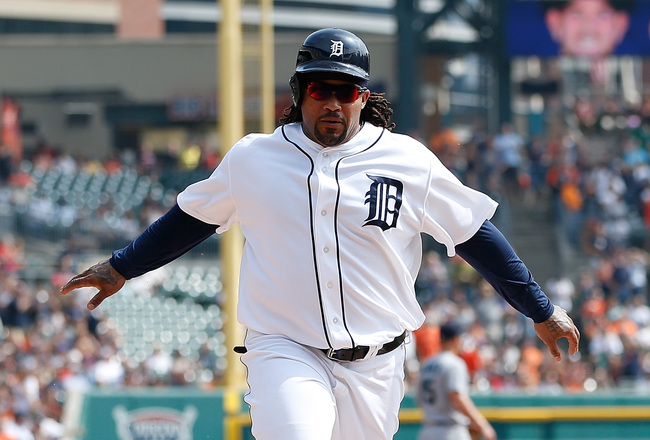 Gregory Shamus/Getty Images
Baseball's playoff races are scorching in both leagues with less than a week left in the 2013 MLB regular season.
There are still a pair of divisions up for grabs and one game separating three teams for two AL wild-card berths.
Some of those teams have reached this point by riding the backs of players on tremendous hot streaks, while other contenders have hung in despite key players struggling.
When one at-bat can be the difference between a team playing meaningful baseball in October or watching from home, talent sometimes goes out the window. Who has the hot hand can determine a team's fate with one swing or one pitch.
Which players do these teams want to see involved in that at-bat, and who would they rather not see leave the dugout?
Let's take a look.
*Players from Baltimore, Kansas City and New York were not included as those teams are essentially out of contention.
*All statistics courtesy of MLB.com and are current through games of Sept. 24.
Hot: Matt Carpenter, St. Louis Cardinals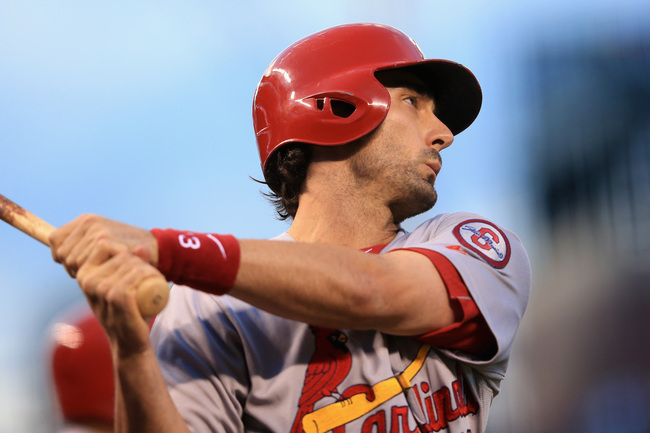 Doug Pensinger/Getty Images
September Stats
| BA | OBP | OPS | XBH (HR) | RBI | R |
| --- | --- | --- | --- | --- | --- |
| .396 | .481 | 1.075 | 14 (1) | 11 | 24 |
How good has Matt Carpenter been lately? Fox Sports' Dan McLaughlin tweeted the answer:
In 7 games, on the road trip, Matt Carpenter was on base 18 times. He has a chance for an overall OBP of 400. Incredible year.

That's impressive.
MLB's leader in runs scored and hits (36) for the month of September, and for the entire season, Carpenter continues to produce at an MVP-caliber level atop the St. Louis lineup.
He's three hits away from becoming the first Cardinals player to crack the 200-hit plateau since Albert Pujols accomplished the feat in 2003.
Not: Austin Jackson, Detroit Tigers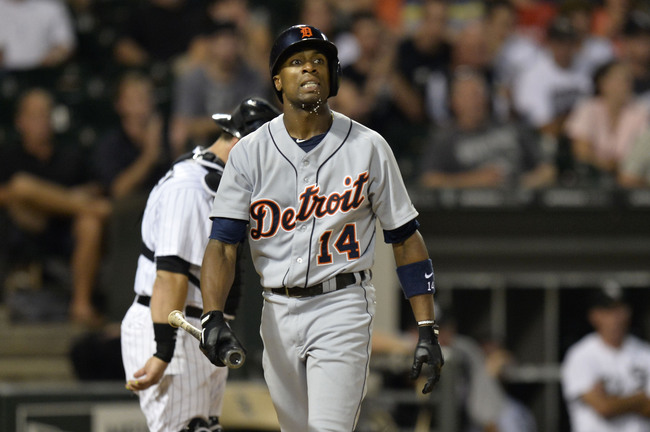 Brian Kersey/Getty Images
September Stats
| BA | OBP | OPS | XBH (HR) | RBI | R |
| --- | --- | --- | --- | --- | --- |
| .256 | .292 | .636 | 8 (0) | 8 | 2 |
Austin Jackson has two primary jobs in Detroit: play stellar defense in center field and get on base consistently so that the Tigers' powerful lineup can drive him in.
So far in September, Jackson's glove is the only thing that is meeting expectations.
He's struck out a team-high 25 times while drawing only four walks and seems to have reverted back to some of the bad habits that he exhibited in May, when he mustered only a .231/.268/.308 slash line, striking out more than 29 percent of the time.
With serious questions about how healthy and productive Miguel Cabrera will be for the first round of the playoffs, the Tigers can ill afford to have one of their bigger bats continue to struggle.
Hot: Matt Holliday, St. Louis Cardinals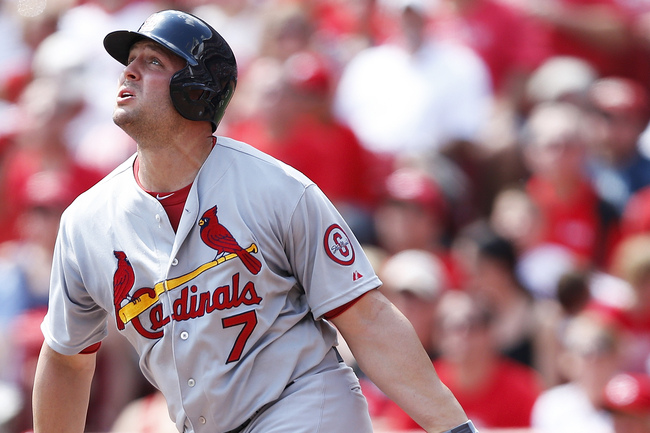 Joe Robbins/Getty Images
September Stats
| BA | OBP | OPS | XBH (HR) | RBI | R |
| --- | --- | --- | --- | --- | --- |
| .368 | .457 | .983 | 8 (2) | 20 | 14 |
While a sore back will keep the Cardinals' slugger out of his third straight game on Tuesday, Matt Holliday has been on a tear at the plate this month, leading the team in RBI and putting together eight multihit performances over his past 20 games.
Over his last seven games, Holliday is hitting .591 (13-for-22) with seven RBI and eight runs scored. He is a major reason why St. Louis, which was tied for the division lead with Pittsburgh at the beginning of last week, has gone two games up in the division heading into the season's final week.
Not: Brandon Phillips, Cincinnati Reds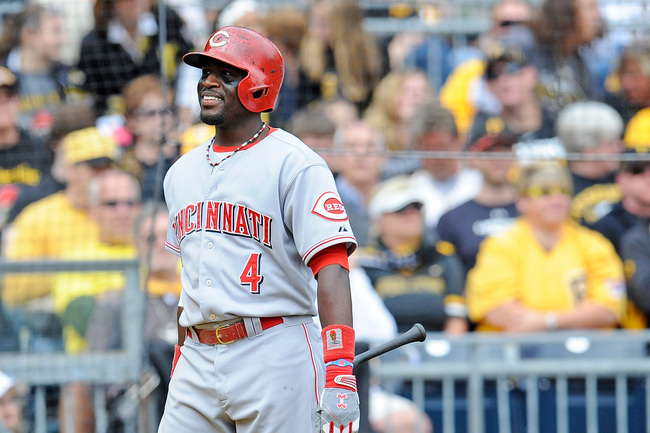 Joe Sargent/Getty Images
September Stats
| BA | OBP | OPS | XBH (HR) | RBI | R |
| --- | --- | --- | --- | --- | --- |
| .210 | .278 | .549 | 3 (1) | 3 | 8 |
This isn't the first time that we've seen Brandon Phillips struggle badly at the plate this season; he batted .209 with a .548 OPS in June.
But unlike his mid-summer swoon, where Phillips continued to produce runs with 17 RBI in June, the 32-year-old hasn't contributed much of anything with the bat in September.
Despite his struggles at the plate, Cincinnati has gone 14-7 this month and was able to clinch a playoff spot on Monday night.
Phillips' premier defense in the middle of the Reds' infield remains, but even with a lineup as talented as that of Cincinnati, the team's chances of going on a deep playoff run will be severely diminished if Phillips' bat doesn't wake up soon.
Hot: Ubaldo Jimenez, Cleveland Indians
Jason Miller/Getty Images
September Stats
| W-L | ERA | WHIP | IP | BB | K |
| --- | --- | --- | --- | --- | --- |
| 3-0 | 0.64 | 0.99 | 28.1 | 3 | 31 |
It took awhile, but Ubaldo Jimenez finally looks like the pitcher that Cleveland thought it was getting when the Indians decided to trade four prospects to Colorado in 2011 to acquire the 29-year-old right-hander.
Jimenez's numbers this month don't lie. Whenever your WHIP is higher than your ERA—and both numbers are under 1.00—you're as locked in as a pitcher can get.
For Jimenez, his hot streak is nothing new. He has been on fire since the All-Star break. Over his 11 second-half starts, Jimenez has a 1.77 ERA and 1.16 WHIP, averaging 10.1 strikeouts per nine innings while walking fewer than three batters per outing.
Baseball analyst Peter Gammons is quick to point out that Jimenez's success goes back even further than that:
In his last 21 starts, Ubaldo Jimenez has allowed 2 or fewer runs 16 times, more than three once
Luckily for the Indians, they get two more starts out of Jimenez down the stretch—Tuesday against Chicago and the season finale on Sunday against Minnesota.
In three combined starts against the pair of division rivals this year, Jimenez has a 2.79 ERA and 1.55 WHIP over 19.1 innings, walking eight and striking out 26.
Not: Adrian Beltre, Texas Rangers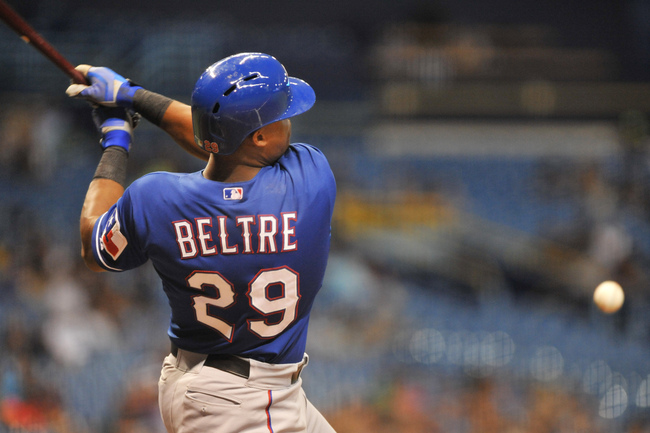 Al Messerschmidt/Getty Images
September Stats
| BA | OBP | OPS | XBH (HR) | RBI | R |
| --- | --- | --- | --- | --- | --- |
| .256 | .311 | .604 | 3 (0) | 7 | 4 |
Adrian Beltre has begun to show signs of life over the past week, hitting .286 (8-for-28) with three RBI and reaching base safely in six of his last seven games, but it's no coincidence that his recent disappearing act at the plate has coincided with Texas' collapse down the stretch.
The most important piece in the Rangers' lineup, Beltre has struggled to hit the ball with much conviction this month. That is, when he does make contact. He's striking out a season-high 16.7 percent of the time in September, according to FanGraphs.
With Texas sitting only a game behind Cleveland for the second wild-card berth in the American League, it's going to take a resurgent Beltre to ensure that the Rangers don't miss the postseason for the first time since 2009.
Hot: Billy Hamilton, Cincinnati Reds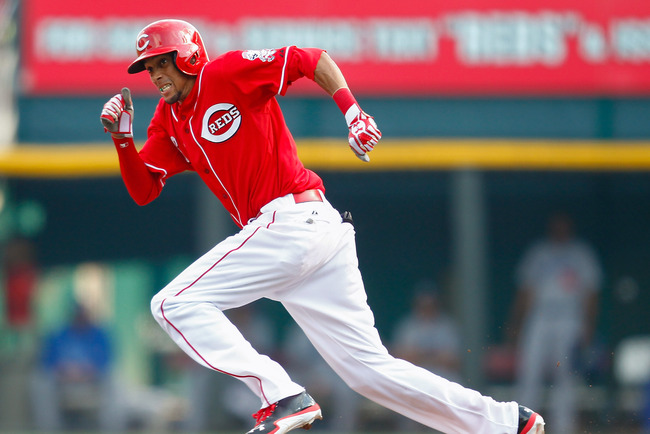 Michael Hickey/Getty Images
September Stats
| BA | OBP | OPS | XBH (HR) | RBI | R |
| --- | --- | --- | --- | --- | --- |
| .429 | .500 | 1.071 | 2 (0) | 1 | 9 |
We knew that Billy Hamilton was going to impact the National League playoff picture with his world-class speed, but this is a bit ridiculous, as noted by ESPN's Jayson Stark:
Billy Hamilton this year: 16 plate appearances, 13 SB. Does he wind up with more PA or steals? I'll take SBs in the pool. How bout you?
Not only has Hamilton swiped 13 bags, but nobody has been able to throw him out either—not Jason Castro, not A.J. Ellis, not even Yadier Molina have had success in trying to stop the speedster from causing havoc when he gets on base, or when Reds manager Dusty Baker inserts him as a pinch-runner late in games.
Hamilton is the kind of weapon that can change a playoff game in the blink of an eye.
Hot: Alexi Ogando, Texas Rangers
Ed Zurga/Getty Images
September Stats
| W-L | ERA | WHIP | IP | BB | K |
| --- | --- | --- | --- | --- | --- |
| 2-0 | 0.50 | 0.44 | 18.0 | 3 | 14 |
Texas manager Ron Washington has used Alexi Ogando as a starter and reliever in September. The 29-year-old has thrived in both roles.
In his last start on Sunday against Kansas City, a team that was threatening to jump ahead of Texas in the wild-card race, Ogando tossed seven scoreless innings of two-hit ball, walking one while striking out five.
Sure, Texas lost, 4-0, due to an inept offense and an even-more inept bullpen, but Ogando has done his part to keep Texas in playoff contention. He'll make his final start of the regular season on Friday against the Angels, who he has a 2.70 ERA and 1.20 WHIP against in 13.1 innings of work this year.
Not: Edward Mujica, St. Louis Cardinals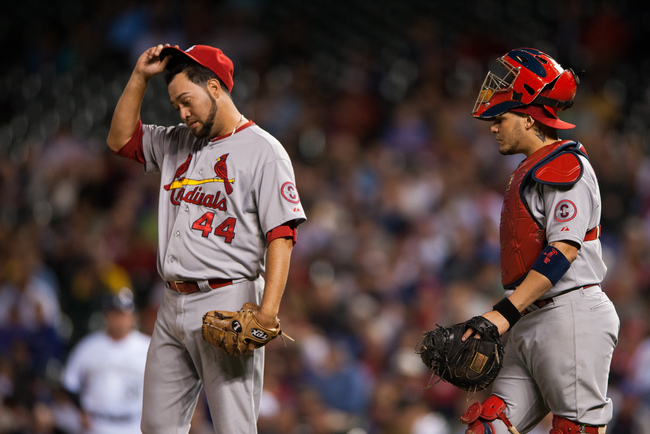 Dustin Bradford/Getty Images
September Stats
| W-L | ERA | WHIP | IP | BB | K |
| --- | --- | --- | --- | --- | --- |
| 0-0 | 9.45 | 2.55 | 6.2 | 2 | 3 |
An All-Star closer for the first time in his career this season, Edward Mujica has gone from savior in St. Louis to a reliever without a job, being relieved of his closer's duties by manager Mike Matheny this past weekend.
Mujica has been downright awful this month, converting only two of his four save chances while allowing seven earned runs and 15 hits in 6.2 innings of work. Going back to Aug. 21, Mujica has allowed at least two hits in eight of his last 11 outings and at least one earned run in six of those appearances.
While the Cardinals will go with a closer-by-committee approach for the time being, that's not how any team wants to head into the playoffs. The unrest in the Cardinals' bullpen could prove to be a major problem for St. Louis in the postseason.
Hot: Prince Fielder, Detroit Tigers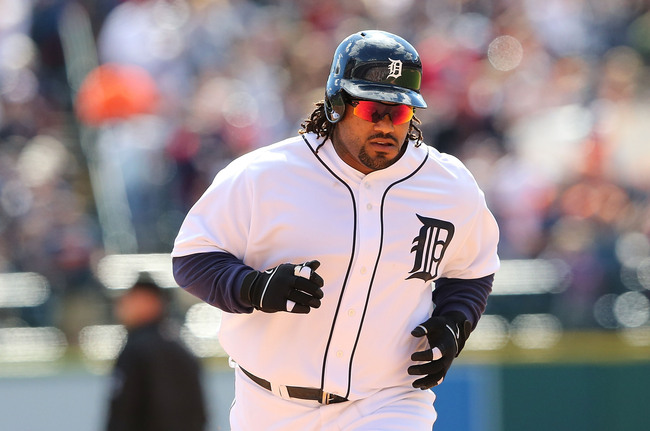 Leon Halip/Getty Images
September Stats
| BA | OBP | OPS | XBH (HR) | RBI | R |
| --- | --- | --- | --- | --- | --- |
| .373 | .418 | 1.020 | 11 (4) | 14 | 11 |
While the power and run production has been there all season long, Prince Fielder has struggled to put up the kind of numbers that we've come to expect from the five-time All-Star for the bulk of the 2013 season.
Then someone poked the bear.
While he's been on a tear in September—which couldn't have come at a better time with Miguel Cabrera's production way down this month after a pair of injuries—Fielder has been hot for more than a month, dating back to the middle of August.
Over his last 35 games, Fielder has 16 extra-base hits, seven home runs and 23 RBI, delivering 12 multihit performances while reaching base safely in all but one contest.
Keep Reading