It is usually tough picking NFL games against the spread, but there are a number of options in Week 3 that make it much easier.
While many people will be inclined to go for the blowouts this week, that is actually a risky proposition. The Seattle Seahawks (-19) and the Denver Broncos (-15) have huge lines to cover, and it is always tough to run up the score in the NFL.
Additionally, both favorites will be playing without their starting left tackle, which could slow them down a little this week.
Meanwhile, these alternatives are almost sure things against the spread and could represent a good way to make some money.
Note: All spread info courtesy of Vegas Insider on Sept. 21.
Minnesota Vikings (-6.5) over Cleveland Browns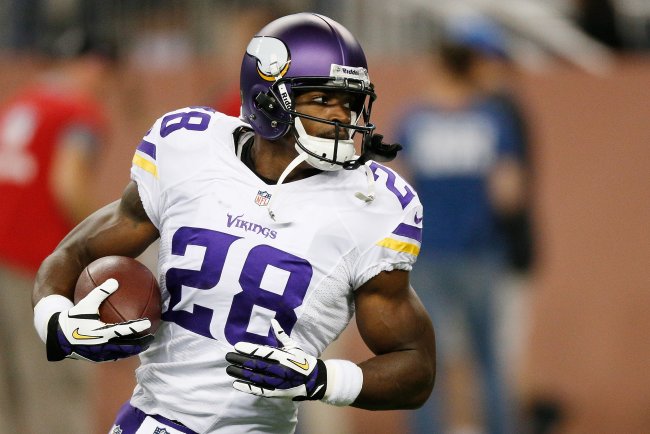 Gregory Shamus/Getty Images
Although the Vikings are 0-2 to start the year, they have played well in the two road losses. Meanwhile, the squad was 7-1 last year at home and should be even better upon returning to the Metrodome for the first time this year.
Of course, as long as Adrian Peterson is healthy, the offense will be tough to stop.
On the other side of the field, Cleveland has only scored a total of 16 points this season. And the offense got much worse in the past week. Starting quarterback Brandon Weeden was ruled out of the game, leaving the team in the hands of Brian Hoyer, who will make his second career start. The team also traded away its best offensive player, Trent Richardson, to the Indianapolis Colts.
While Minnesota does not have the best defense in the NFL, it is still hard to imagine the Browns doing anything offensively in this game. This should be an easy victory for the Vikings as they cover the spread with room to spare.
Chicago Bears (-2) over Pittsburgh Steelers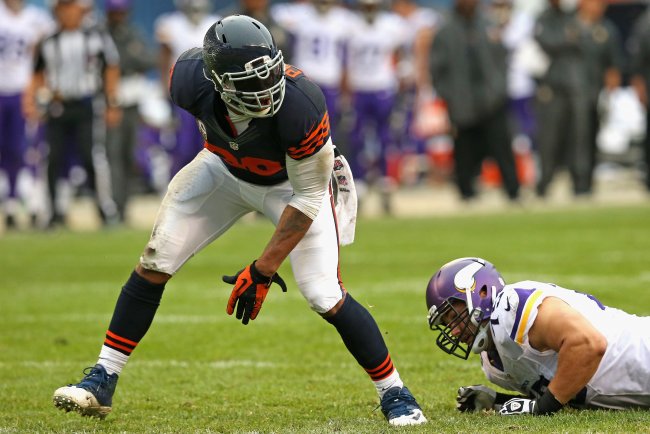 Jonathan Daniel/Getty Images
This game will be a tale of two offensive lines. Neither unit was good last year, but the Bears upgraded, while the Steelers seemingly got worse.
Despite two rookies starting for Chicago, the squad has done a good job of protecting Jay Cutler. The quarterback has only been sacked once, and he is getting plenty of time to throw the ball down the field to Brandon Marshall and others.
In contrast, Ben Roethlisberger has been sacked seven times in two games, and Pittsburgh ranks second-to-last in the league with 2.2 yards per rushing attempt. Unsurprisingly, the offense has not been successful.
The Bears defense should be able to completely shut down the Steelers in this game, and the offense will do more than enough to secure a road victory.
Tampa Bay Buccaneers (+7) over New England Patriots
The Star-Ledger-USA TODAY Sports
The Patriots come into this home game 2-0, while the Buccaneers are 0-2. In most cases, this would be a good recipe for a blowout. However, it is important to note that all four games these teams have played so far have been decided by a field goal or less. A few different bounces and the records would have been reversed.
Additionally, the Patriots enter this contest with a surprising disadvantage on the offensive end. Last season, this would have been a matchup between one of the top passing teams in the NFL and one of the worst passing defenses. However, things have changed dramatically in the offseason.
The additions of Darrelle Revis and Dashon Goldson have given the Buccaneers a quality secondary, while Tom Brady is still out of sync with his rookie receivers. This will keep it a low-scoring game, something New England better get used to this season.
Brady has a knack for pulling out victories in close games, and it would not be surprising to see his Patriots squad move to 3-0. However, the seven-point spread should be too much to overcome.
Full Week 3 Picks Against Spread

| | | |
| --- | --- | --- |
| Winner | Spread | Loser |
| Minnesota Vikings | -6.5 | Cleveland Browns |
| Tampa Bay Buccaneers | +7 | New England Patriots |
| Baltimore Ravens | +1.5 | Houston Texans |
| Dallas Cowboys | -3.5 | St. Louis Rams |
| New Orleans Saints | -7 | Arizona Cardinals |
| Detroit Lions | PK | Washington Redskins |
| Green Bay Packers | -2.5 | Cincinnati Bengals |
| Carolina Panthers | +1 | New York Giants |
| Atlanta Falcons | +2.5 | Miami Dolphins |
| San Francisco 49ers | -10 | Indianapolis Colts |
| Jacksonville Jaguars | +19 | Seattle Seahawks |
| Buffalo Bills | +2.5 | New York Jets |
| Chicago Bears | -2 | Pittsburgh Steelers |
| Denver Broncos | -15 | Oakland Raiders |
Spread info via Vegas Insider
Follow Rob Goldberg on Twitter for the latest breaking news and analysis.