The Buffalo Bills (1-1) head to MetLife Stadium to take on the New York Jets (1-1) this Sunday in a contest that will allow one team to keep pace with the rest of the AFC East. Overshadowed by the importance of this matchup is the duel between the two rookie signal-callers for these teams.
2013 first-rounder EJ Manuel and second-rounder Geno Smith will be looking to gain the upper hand as the top rookie quarterback this season. Both have had glimpses of poise and maturity over their first two games; however, they have also struggled as rookies generally do.
Looking back at their performances thus far, it is apparent that these two quarterbacks are utilized in far different manners.
In New York, Smith has been relying on the long ball to get things done. Already, he has 25 passing attempts over 10 yards in just two games this season.
Conversely, the Bills have been managing Manuel in a completely different fashion. Relying on mostly short-to-intermediate routes—including a good amount of checkdowns—Manuel has only attempted 16 passes longer than 10 yards.
Passes by Distance

| | | | | |
| --- | --- | --- | --- | --- |
| | Minus Yards | 0-9 Yards | 10-19 Yards | 20-Plus Yards |
| Geno Smith | 10 | 32 | 15 | 10 |
| EJ Manuel | 8 | 42 | 8 | 8 |
via Pro Football Focus
Given these two vastly different methods of using these quarterbacks, it appears as through Manuel has the upper hand at the moment. Through two games, he has recorded 446 passing yards, three touchdowns and one interception for a passer rating of 95.9.
On the other hand, Smith has not fared so well. The gunslinger style of play has allotted him 470 passing yards, one touchdown and four interceptions for a passer rating of 55.2 this season.
Still, it's early in the season, and both of these quarterbacks have room for improvement. In order to look ahead to their Week 3 matchup, first we must look back to see what they will bring to the table.
Geno Smith
This is an instance that suits Smith very well as long as he can maintain the appropriate fundamentals. In Week 2 against the New England Patriots, he gets a favorable defensive look with only one deep safety: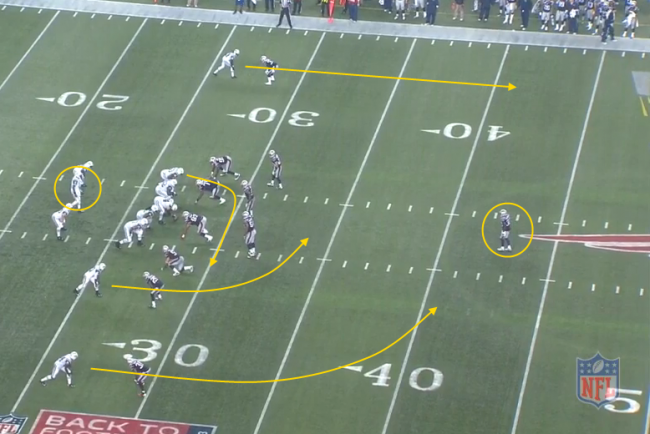 Keeping the basics in check, he stares down the safety as he drops back. This freezes the defender in the middle of the field and gives Smith's wide receivers a chance to get separation: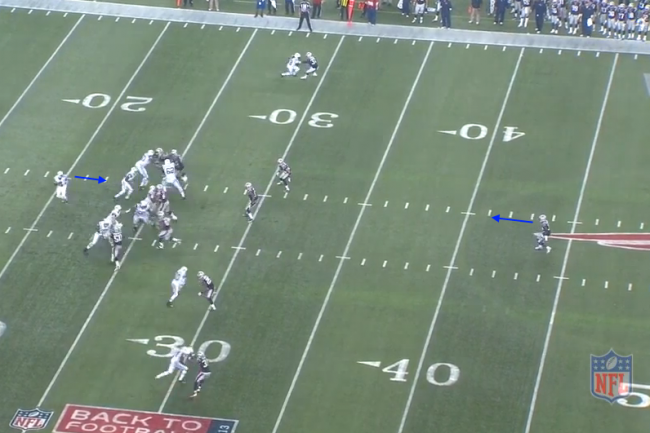 Quickly turning his attention to Clyde Gates on the outside, Smith realizes his receiver has a step on the cornerback and immediately releases the ball. The safety—still staring at Smith—finally breaks toward the outside: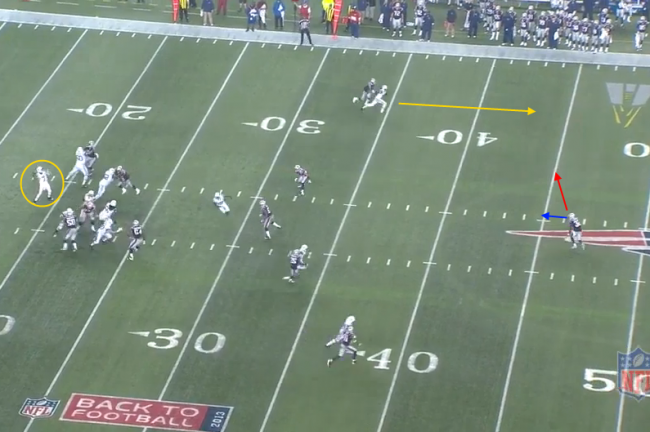 Smith drops a perfect pass to Gates in stride just before the safety can get over to the receiver: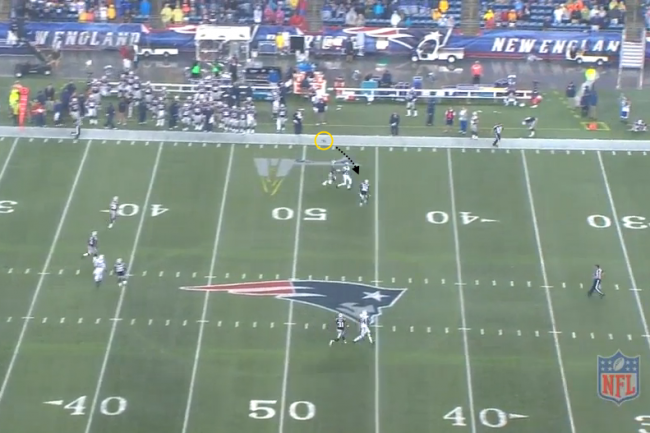 Gates is tackled immediately, but not before Smith's perfectly placed pass nets the Jets 34 yards: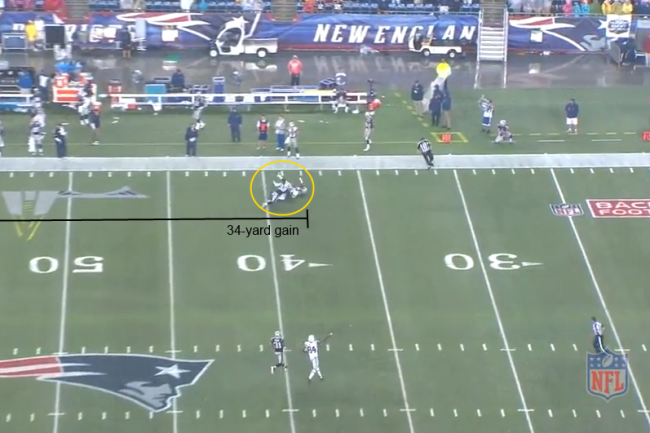 With the good comes the bad when relying on deep passes. Later in the game, Smith drops back and immediately stares down his receiver. The corner anticipates the throw and is able to cut underneath the intended receiver for an interception. The lack of fundamentals that Smith shows in these situations will continue to be his Achilles' heel until he can learn from his mistakes.
Smith could have a bright future in this league; however, the offensive system in New York is not conducive to the development of a young quarterback. Expectations must be tempered at this point in his career.
EJ Manuel
In a far different scenario in Buffalo, Manuel relies mostly on short, high-percentage passes to get the job done. To move the ball down the field, he depends on his receivers to gain yards after the catch.
This is a perfect example of what Manuel does best in his first play from scrimmage in Week 2 against the Carolina Panthers. Here, he will look to his fullback in the flat for a quick completion: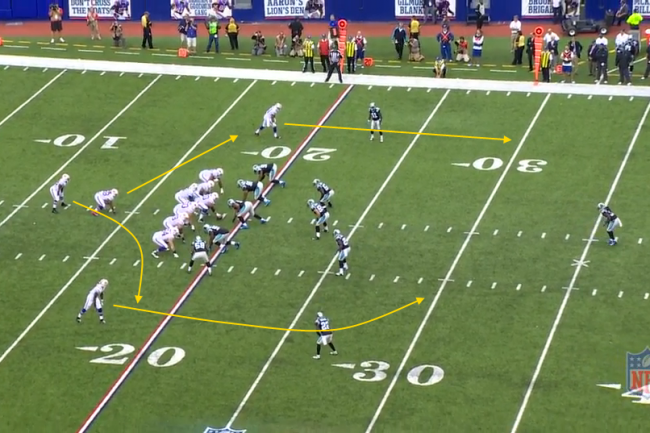 There are two avenues that Manuel could take. He does have Stevie Johnson open in the middle of the field, but his first read is Frank Summers out of the backfield. Manuel looks in Summers' direction immediately: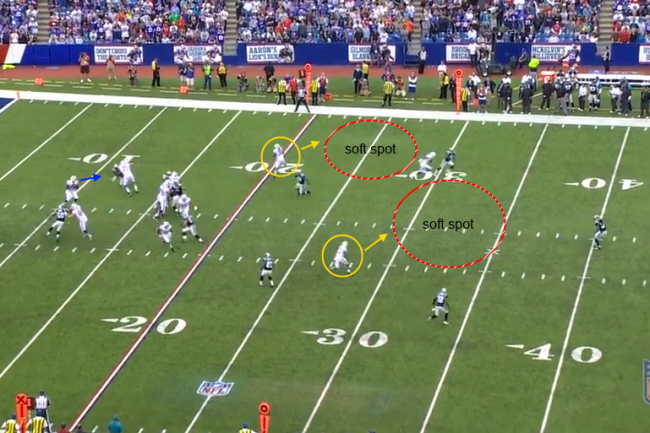 A quick strike to Summers is all that Manuel needed to accomplish. The fullback gets the ball in space with two teammates out in front as blockers: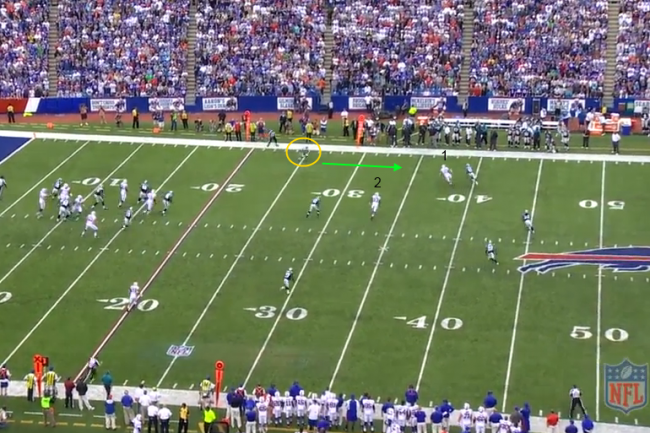 He gets one nice block at the 37-yard line to keep the play alive, while Johnson sets up the next block a few yards down the field: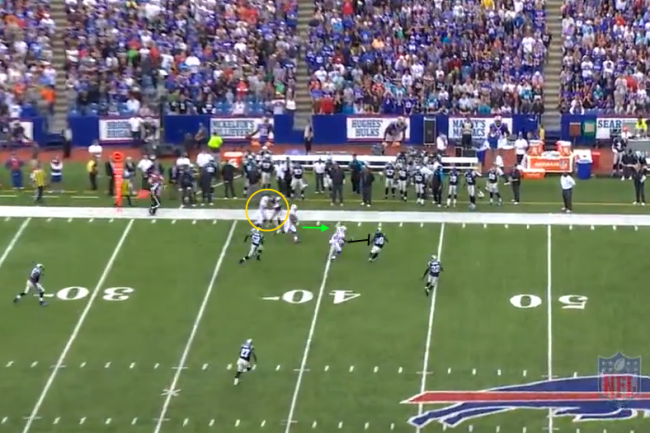 After the second block springs Summers further down the field, he is finally caught—but not before gaining 34 yards on the play: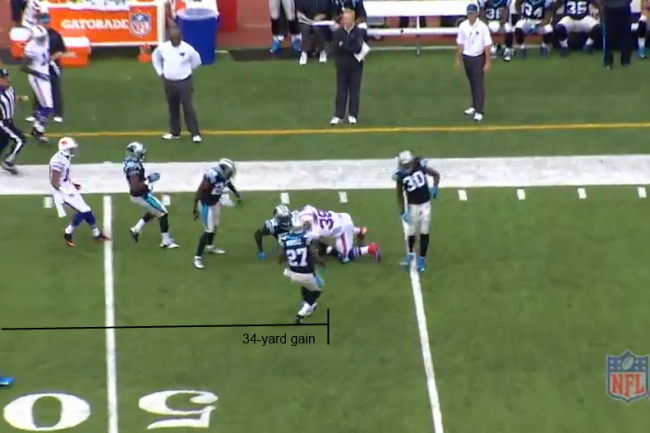 Like Smith, Manuel has his fair share of deficiencies—as all rookie quarterbacks do. He has not had an abundance of attempts over 20 yards down the field, and that shows in his lack of deep-ball accuracy.
Late in this same drive, he attempts to deliver a 20-yard strike to tight end Scott Chandler, who finds himself open up the seam while heading into the end zone. Despite the perfect setup, Manuel overthrows the pass, which should have been an easy score.
Both of these quarterbacks are coming off two completely different performances in Week 2. Smith threw a devastating three interceptions in the fourth quarter to solidify a Jets loss to the Patriots. Manuel, on the other hand, threw a game-winning touchdown in the final seconds to clinch a win against the Panthers.
It will be interesting to see how these young quarterbacks will handle their duties this Sunday after such an emotional Week 2.
All screen shots courtesy of NFL Game Rewind.