Dodgers: Who Surprised and Who Disappointed in 2013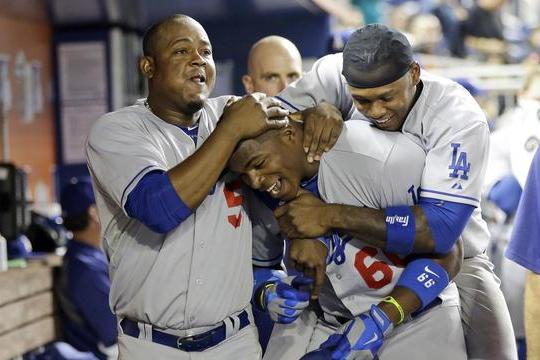 The 2013 Most Cuddly All Stars: Juan Uribe, Yasiel Puig and Hanley Ramirez
The Los Angeles Dodgers were in last place in the National League West, 9.5 games behind first place Arizona, on June 22. Roughly three months later, those same Dodgers find themselves in first place, 9.5 games ahead of second place Arizona.
Winning the division is nothing worth celebrating given the number of big name players, making big name money, on the roster. Expectations have been high since new ownership arrived; when Hanley Ramirez and the fried-chicken Red Sox arrived those same expectations jumped from high to sky-high.
Sky-high expectations, aside, this has been one of the most tumultuous Dodgers seasons in recent memory. From the Carlos Quentin incident, to the arrival of Yasiel Puig, to the Arizona Diamondbacks incident, it has been anything but a smooth ride.
With 10 games left in the regular season, it's time to look back on the year that was and highlight some guys who disappointed, and others who surprised. In that order simply because we all like happy endings.
Begin Slideshow

»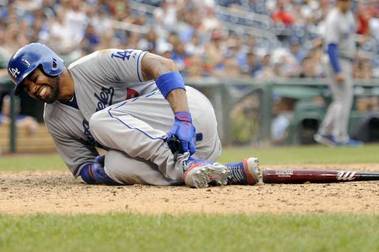 Matt Kemp after sliding awkwardly into home at Washington
While much of the Dodgers' season has been mired in injuries (see Zack Greinke, Carl Crawford and Hanley Ramirez) none have been nearly as frustrating as Kemp's routine stints on the DL.
Kemp has missed 87 games (in bunches of 24, 11 and 52!) during the 2013 season. For the most part, when healthy, he has grossly under performed; he hit his first home run on game 20 of the season.
It was just two weeks ago that Kemp, while rehabbing his injuries, aggravated his hamstring and was shut down "indefinitely." Do we all agree that "indefinitely" is every sports fan's least favorite word?
Today, Kemp is miraculously healthy and despite the fact that he is hitting .274/.327/.397 with five home runs and 30 RBIs to date, the future is bright.
On July 21, Kemp went 3-for-4 with a home run, double and 3 RBIs before rolling his ankle on an awkward slide at the plate.
Fifty-three games later, on September 17, Kemp went 4-for-4 with two doubles, three RBIs and a run scored.
Looking towards the postseason, if Kemp can stay healthy and contribute good at-bats, some power to the gaps and decent speed (on second-to-home situations) the Dodgers will have yet another ace up their sleeve.
Oh, and he can DH in the World Series.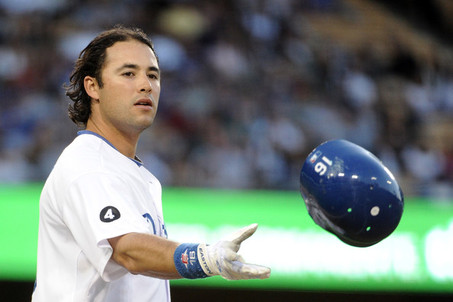 Andre Ethier, doing an Andre Ethier type thing
Season after season, Andre Ethier seems to underperform, and as he does, he also genuinely disappoints. This season is no different.
Ethier, infamous for his struggles against left-handed pitching, is hitting .221/.275/.338 against southpaws this season, hitting a home run once every 48.3 at-bats.
The microcosm that is Andre Ethier occurred during an 11-game stretch in July when he hit .414 yet managed only two extra-base hits and three RBIs. Hits .414, while simultaneously disappointing.
For the season as a whole, Ethier will have a career low in RBI, batting average, total hits and come dangerously close to an all-time low in home runs.
Did I mention he's strutting around the clubhouse in a walking boot as you read this?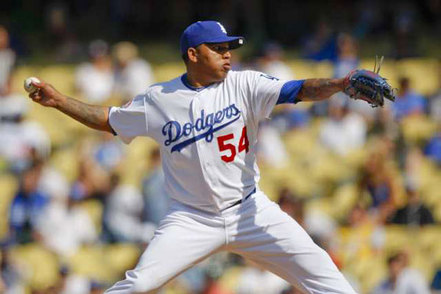 Dodgers Reliever Ronald Belisario
Allow me to quickly put my thoughts on Ronald Belisario into three simple words, "he loves cocaine." Don't believe me? Click this link.
Some of my other thoughts on Ronald Belisario include the fact that his ERA is north of 4.00, his WHIP is sitting at 1.5 and according to his WAR he has lost the Dodgers a game this year, as a reliever.
Let's not forget the fact that he has made a team leading 74 appearances this year, cause why not strut your worst guy out there the most.
These numbers wouldn't be so frustrating, had he not been so good in 2012 when his ERA was 2.54, his WHIP was a hair north of 1.00, and he struck out opposing hitters, something he refuses to do this year.
Ronald Belisario is causing me to go bald, I kid you not.
The silver lining here, is that Mattingly may shrink the bullpen when the postseason rolls around and we may see a lot more J.P. Howell, Chris Withrow and maybe even Stephen Fife.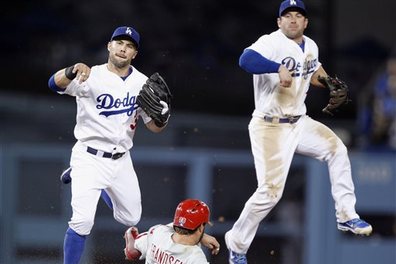 Skip Schumaker and Nick Punto, posing for the camera
Skip Schumaker arrived in Los Angeles this offseason via Mark McGwire (he urged his new team to sign Skip) while Nick Punto arrived late last summer as a throw in with Carl Crawford, Josh Beckett and Adrian Gonzalez.
Today, they are two of the most fun guys on and off the diamond and they have managed to turn their friendship (that is seemingly older than Yasiel Puig) into a team-wide chemistry I, as a lifelong fan, have never seen a Dodgers team have.
Statisticaly, Schumaker is having himself a Matt Kemp-esque season hitting .269/.342/.337 with two home runs and 29 RBIs. Punto, whose numbers aren't too impressive (.258/.330/.331 with two home runs and 21 RBIs) has been very clutch defensively, platooning around the infield.
Between the veteran presence and postseason experience they bring to the table, Dodgers fans should have been thrilled to have them all year long, more so now than ever with October baseball looming.
On a fun note, this is the best Nick Punto moment of his career, I promise. That video, came in response to this one, which came in response to this one.
That, is Skip and Nick. Coming to NBC this fall.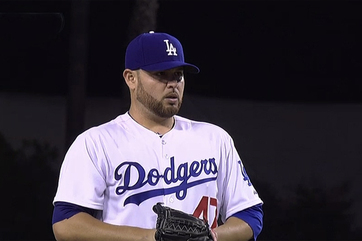 Dodger Stater Ricky Nolasco
Few things excite me more as a sports fan than a big trade, in a big moment. When the Dodgers traded for Ricky Nolasco, bringing him back home to Southern California, I took myself a victory lap or two.
Since arriving in Los Angeles on July 9, Nolasco is 8-2 with a 2.63 ERA, 1.12 WHIP and is averaging 7.4 strikeouts per nine innings. Not to mention his WAR is a shade above 1.0, winning back the game Ronald Belisario lost.
Adding Nolasco to the pitching rotation was essential given the health issues at the back of the rotation (Josh Beckett and Chad Billingsley are essentially lighting money on fire at this point).
Winning in the postseason is undoubtedly about two things, clutch hitting and consistent pitching. Throwing Clayton Kershaw, Zack Greinke, Hyun-Jin Ryu and Ricky Nolasco out there has to make the Dodgers the clear favorite to win the pennant.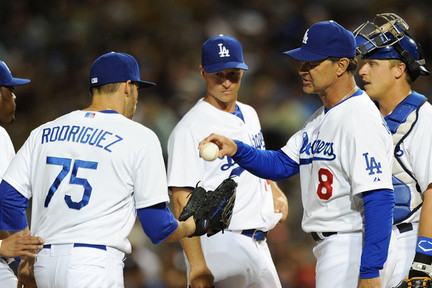 Paco Rodriguez taking the ball from Don 'Donnie Baseball' Mattingly
Last week I discussed how good the young arms in the Dodgers' bullpen are, and I was specifically looking at Paco Rodriguez and Chris Withrow when I wrote it.
Rodriguez only appeared in 11 games last season, which makes his 2013 performance that much more impressive. Paco's ERA is 2.21, his WHIP is 0.88 and he is striking out 10.4 hitters per nine innings.
Withrow, a legitimate rookie, has a 3.03 ERA, a 0.97 WHIP and he is striking out 11.5 hitters per nine innings! Sorry, that needed an exclamation mark, it really did.
Couple those numbers with the fact that Paco is a 22-year-old lefty and Withrow a 24-year-old righty, and the Dodgers have themselves some dominant young relief.
Being able to go lefty, righty, lefty (this lefty being closer Kenley Jansen, see next slide) late in games is something that will pay dividends down the road.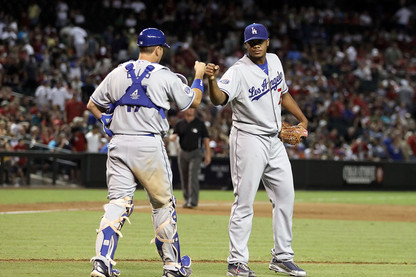 A.J. Ellis and Kenley Jansen, dapping
It took roughly a dozen Brandon League meltdowns in April and May for Don Mattingly to realize that, despite his Mt. Rushmore-sized contract, he wasn't closer material.
"It's not us, it's you Brandon, sorry."
Enter Kenley Jansen. The 25-year-old, hard-throwing, filthy-cutter-possessing, lefty has been yet another saving grace for this Dodgers season.
He's officially saved 25 games, though given his predecessor's performance it seems like 35 or 40. With an ERA under 2.00, a WHIP under 1.00 and a 12.6 strikeouts per nine innings figure, Kenley Jansen could save my life, let alone an October baseball game.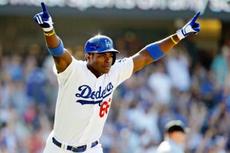 Yasiel Puig, Oh Captain My Captain
Writing about Yasiel Puig is like thinking about Christmas, you get all warm and fuzzy on the inside and can't help but smile ear to ear. I see you, Ben Affleck.
Puig, a Cuban defector who spoke no English, had been in America for less than a year and had the ego of Joseph Stalin, showed up to Dodger Stadium June 3rd thanks solely to injuries Matt Kemp and Carl Crawford had sustained.
I read, and heard all about how he wasn't supposed to play in the big leagues this soon; he wasn't ready physically, his talents too raw and undeveloped. He was immature and reckless, he would be a hindrance to the team.
Puig, with the help of dominant pitching and Hanley Ramirez, turned the Dodgers season around. His charisma and confidence were the wake-up call the Dodgers needed but didn't order. Thankfully the call was made anyways, in the form of overly impressive stats.
His slash line is .336/.404/.553 and he has 17 home runs, 39 RBIs and 11 steals.
His WAR is 5.0, though I think every Dodger 'W' belongs to him.
Plenty of old timers that claim to be baseball historians fear, and warn, that Puig will be detrimental come playoff time. I say, no other team has a Yasiel Puig. No other team has anything close to a Yasiel Puig.
Do yourself a favor, enjoy this link.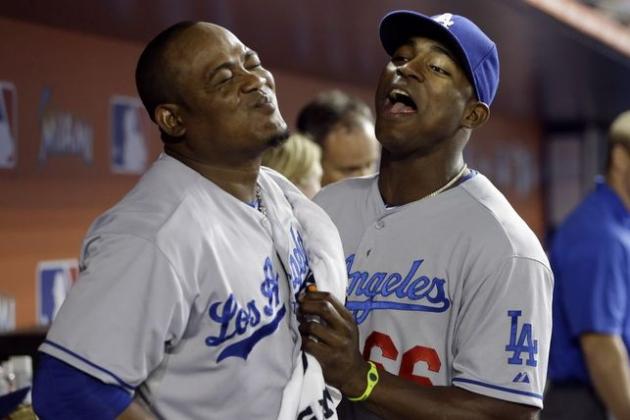 Juan Uribe and Yasiel Puig, madly in love
While I am well aware of the fact that Uribe's contributions haven't been close to the most relevant or impactful this season, I simply do not care.
Juan Uribe is my favorite Dodger. I love his big smile, his big (but not as big as last year) belly, his quick hands at third base and his jazz hands at the plate.
His journey as a Dodger has been well documented, but in case you don't know it here's a quick summary. He signs a massive contract before the 2011 season and then hits .204/.264/.293. He follows that up with a .191/.258/.284 in 2012.
In 2011 and 2012 combined, he hit six home runs and drove in 45 runs.
He came into 2013 skinnier, healthier and ready to change the narrative. He is hitting .273/.327/.434 and has 12 home runs to go along with 48 RBIs and a 3.6 WAR.
In addition to his stellar numbers at the plate he is likely to win a Gold Glove for his work at third base, he deserves to win some kind of "good teammate" award for the work he has done with Yasiel Puig and he definitely deserves a "fashion dos and don'ts" for this outfit.
If the 2013 Juan Uribe Redemption Story isn't a 30 for 30, I will be crushed.
He is the epitome of the 2013 Dodgers. Ugly at the beginning, drop dead gorgeous when it matters. Happy, confident, aggressive.
Welcome home, Juan.