Updated Playoff Odds for Every MLB Contender with 2 Weeks to Go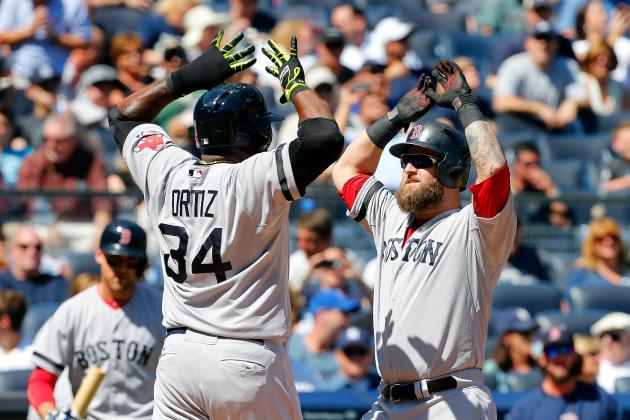 Jim McIsaac/Getty Images

There are just over two weeks left in the 2013 MLB regular season, and while the playoff picture is becoming more and more clear, there is still a lot to be decided between now and October.
In the National League, the Braves, Cardinals, Pirates, Reds and Dodgers look like safe bets to earn postseason spots, and the Nationals are still on the fringe of contention. However, the NL Central title remains a three-way race and home-field advantage is still very much up for grabs.
The American League picture is even more cloudy. The Red Sox and Tigers look like locks to win their respective divisions, and regardless of who wins the AL West, the A's and Rangers will likely both be playoff teams. The second wild-card spot is still hotly contested, though, with the Rays, Yankees, Orioles, Indians and Royals still within striking distance of October.
So with two full weeks of baseball to go, here is an updated look at every contender's current odds of reaching the postseason.
Begin Slideshow

»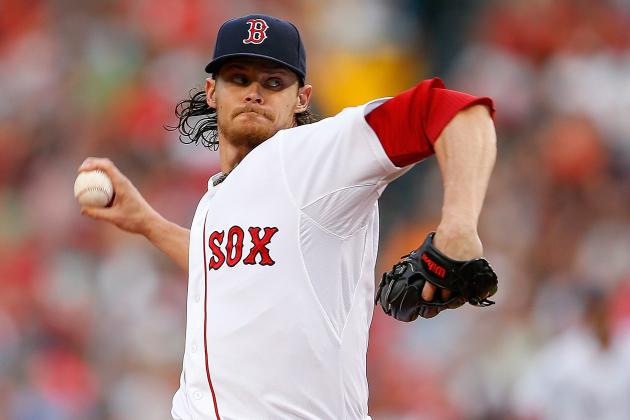 Jim Rogash/Getty Images
SP Clay Buchholz
Contenders
Boston Red Sox (90-59, First in AL East)
The Red Sox have the best record in baseball right now and have a commanding lead in the AL East. They look like as safe a bet as anyone to be playing in October. The return of Clay Buchholz should solidify their pitching staff, Koji Uehara has been phenomenal in the ninth inning and their offense remains among the best in all of baseball.
Odds: 99 percent
Tampa Bay Rays (80-66, Second in AL Wild Card)
With Matt Moore's return, the Rays pitching staff is back at full strength, but there are still questions surrounding it with Chris Archer and Jeremy Hellickson struggling. Wil Myers is heating up again and could carry the offense down the stretch, but they have not been playing well of late and will need to turn things around. They still play the Rangers, Orioles and Yankees, so it's a tough road ahead.
Odds: 60 percent
New York Yankees (79-69, Fourth in AL Wild Card)
The Yankees have managed to stay in the hunt for a playoff spot all season despite a myriad of obstacles to overcome. Alex Rodriguez has gotten hot, and the offense is still plugging along, but their pitching staff still needs to come together. They play the Blue Jays, Giants and Astros down the stretch, so things are looking up from a scheduling standpoint.
Odds: 10 percent
Baltimore Orioles (78-69, Fifth in AL Wild Card)
Pitching remains the Achilles' heel for the Orioles, and while Scott Feldman has pitched great of late, they staff is not getting it done. That said, the offense remains one of the best in the league, led by the trio of Chris Davis, Manny Machado and Adam Jones. That may yet be enough for them to sneak into the postseason. They finish the season against the Blue Jays, Rays and Red Sox.
Odds: 8 percent
Out of Contention
Toronto Blue Jays (67-80)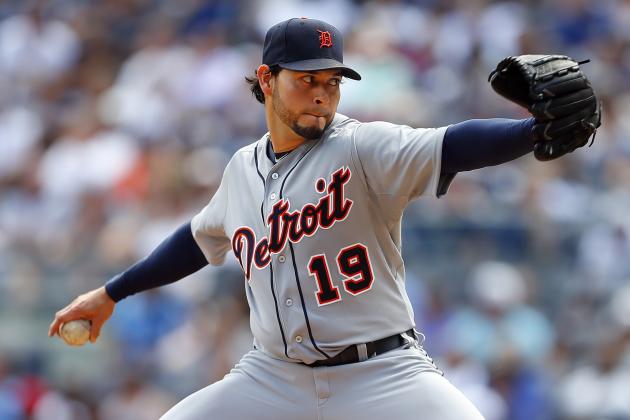 Rich Schultz/Getty Images
SP Anibal Sanchez
Contenders
Detroit Tigers (85-62, First in AL Central)
The Tigers look like a team built for postseason success, with four front-line starting pitchers led by the red-hot Anibal Sanchez and a loaded offensive attack. Miguel Cabrera's health is a concern, as he's missed time and struggled when he has been on the field recently. However, they have the AL Central all but wrapped up and will be eyeing a long postseason run.
Odds: 99 percent
Cleveland Indians (79-68, Third in AL Wild Card)
The Indians offense has cooled after serving as the driving force behind their early season success, and they just dropped two of three in a big series with the Royals. Yet they still look to be in a better position than some of the AL East teams. They have three games left against the Royals, but finish with the Astros, Twins and White Sox.
Odds: 28 percent
Kansas City Royals (77-70, Sixth in AL Wild Card)
Just 43-49 at the All-Star break, the Royals have turned things around in the second half and remain very much in the hunt for a wild-card spot. Thanks to an improved offensive attack to support the vastly improved pitching staff, they were able to take two of three from the Indians in a big series earlier this week.
After playing the Tigers, Indians and Rangers, they finish the season with series against the Mariners and White Sox. If they can stick around, they'll be in a great position for a late push.
Odds: 12 percent
Out of Contention
Minnesota Twins (63-83)
Chicago White Sox (58-89)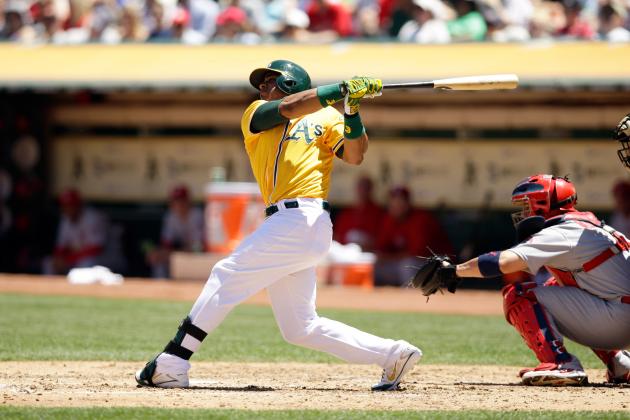 Ezra Shaw/Getty Images
LF Yoenis Cespedes
Contenders
Oakland Athletics (86-61, First in AL West)
The Athletics are 14-4 in their last 18 games. They claimed the AL West lead on September 6 and have built a 4.5-game lead heading into the weekend. After their big series with the Rangers, they close out the season with six games against the Angels, four with the Twins and three with the Mariners. They look to be in a great position to repeat as AL West champs.
Odds: 99 percent
Texas Rangers (81-65, First in AL Wild Card)
After surrendering the division title to the A's on the final day of the season last year, it looks as though the Rangers may again find themselves settling for the wild card. With an inconsistent starting staff behind Yu Darvish and Derek Holland, they have some things to sort out heading into October. However, they still look like a safe bet to claim one of the wild-card spots.
Odds: 85 percent
Out of Contention
Los Angeles Angels (70-77)
Seattle Mariners (65-82)
Houston Astros (51-96)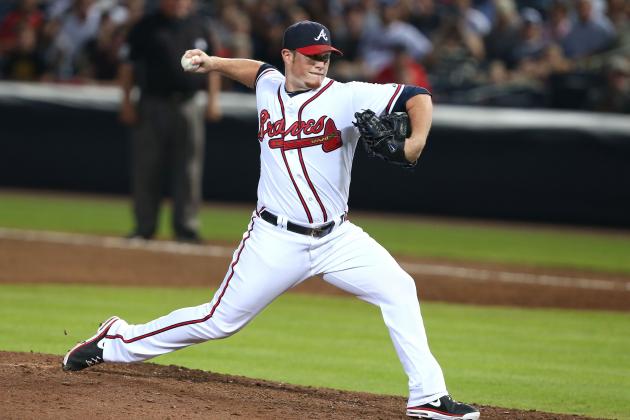 Mike Zarrilli/Getty Images
RP Craig Kimbrel
Contenders
Atlanta Braves (88-59, First in NL East)
It was expected to be a tight race between the Braves and Nationals for NL East supremacy heading into the season, but the Braves have been in complete control for most of the season. They have led the Nationals by double-digit games since July 30. At this point, they're playing for the best record in the NL.
Odds: 99 percent
Washington Nationals (78-69, Third in NL Wild Card)
The Nationals are on a tear right now, going 17-5 over their last 22 games to remain on the fringe of contention for an NL wild-card spot. At this point, they still trail the Reds by 4.5 games, and it may wind up being too little, too late. However, there is no denying they're playing great baseball right now. Third baseman Ryan Zimmerman has eight home runs in the past 10 games, and the offense as a whole has picked things up here of late.
Odds: 7 percent
Out of Contention
Philadelphia Phillies (68-79)
New York Mets (65-81)
Miami Marlins (54-92)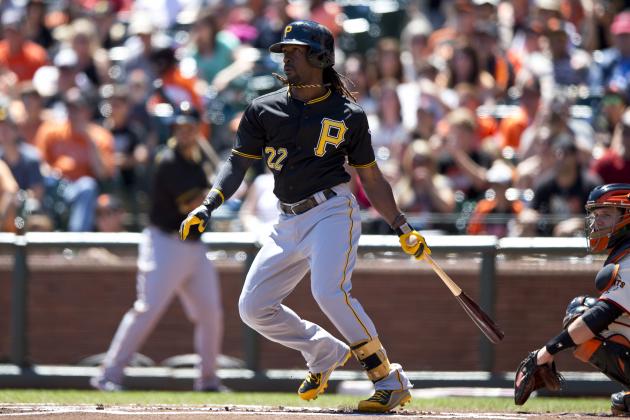 Jason O. Watson/Getty Images
CF Andrew McCutchen
Contenders
St. Louis Cardinals (86-61, First in NL Central)
The Cardinals have overcome a lot this season with key injuries and an inexperienced pitching staff, but they look poised to once again make some noise in the postseason. Figuring out the rotation behind Adam Wainwright and Shelby Miller remains a priority, though, as their clutch hitting will have to offset their youth on the mound.
Odds: 99 percent
Pittsburgh Pirates (85-62, Second in NL Central)
Officially over the .500 hump for the first time since 1992, the Pirates have their sights set on far more than just a winning record. Step 1 will be winning the division and avoiding the Wild Card Round.
Andrew McCutchen has been on an absolute tear since the All-Star break, hitting .373/.458/.611 and making a strong case for NL MVP honors.
Odds: 98 percent
Cincinnati Reds (83-65, Second in NL Wild Card)
The Reds have been sitting in third place in the NL Central for much of the season, but with series left against the Brewers, Astros and Mets as well as six games with the Pirates, they may still be able to jump to the top of the standings and claim a division title. The one-two punch of Mat Latos and Homer Bailey atop the rotation has quietly been among the best in baseball, and their offense packs a punch top to bottom.
Odds: 98 percent
Out of Contention
Milwaukee Brewers (64-82)
Chicago Cubs (63-84)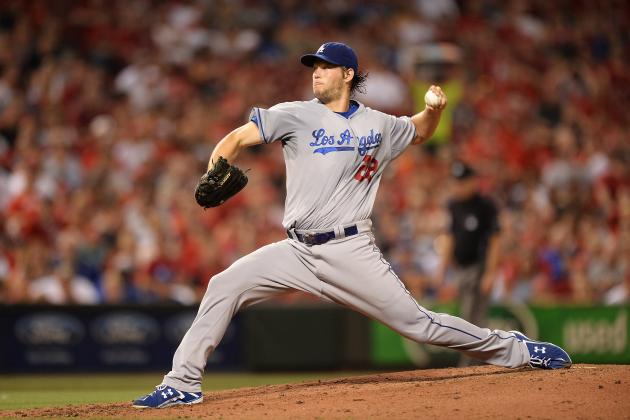 Jamie Sabau/Getty Images
SP Clayton Kershaw
Contenders
Los Angeles Dodgers (86-61, First in NL West)
Looking back, it's hard to believe the Dodgers were a .500 team at the All-Star break, sitting at 47-47 and trailing the Diamondbacks by 2.5 games in what looked like a wide-open NL West. They're 39-13 since and have effectively run away with the division with their sights set on home-field advantage.
With Clayton Kershaw and Zack Greinke pitching like studs all season and Ricky Nolasco putting up the best numbers of any of their starters over the past month, they should be dangerous come October.
Odds: 99 percent
Out of Contention
Arizona Diamondbacks (73-73)
Colorado Rockies (68-80)
San Diego Padres (67-79)
San Francisco Giants (67-81)