San Francisco 49ers head coach Jim Harbaugh is seeking clarification about rules regarding quarterback hits, as he is worried the Green Bay Packers are intending to target Colin Kaepernick.
ESPN's Ed Werder has the news along with some quotes from Harbaugh:
Jim Harbaugh seeking clarification from league about when defense can consider QB runner and hit Kaepernick. Packers have talked about it..

— Ed Werder (@Edwerderespn) September 5, 2013
Harbaugh: "You're hearing some intimidating type of talk....the same thing we were hearing a couple of years ago.."

— Ed Werder (@Edwerderespn) September 5, 2013
More: "It sounds a lot like targeting a specific player." Is that a reference to Saints alleged Bounty scandal? Targeting..few years ago?

— Ed Werder (@Edwerderespn) September 5, 2013
Harbaugh: "A man will usually tell you his bad intentions, if you just listen. And you wonder what's being discussed publicly....

— Ed Werder (@Edwerderespn) September 5, 2013
Harbaugh: "I mean, you know what's being said publicly, not what's being said privately.....

— Ed Werder (@Edwerderespn) September 5, 2013
Harbaugh: "You hope that their intent isn't going to be anything that's not within the rules."

— Ed Werder (@Edwerderespn) September 5, 2013
Week 1 just got a whole lot more interesting.
In anticipation of Sunday's opener between the 49ers and Packers, there has been talk about the importance of Green Bay getting some good licks on Kaepernick, who is one of the most mobile, electric signal callers in the league.
Much of that talk has come from Packers linebacker Clay Matthews.
During a conference call on Wednesday afternoon, Matthews, talked about the rules regarding hitting a quarterback, via Matt Maiocco of Comcast Bay Area:
"It looks as if as long as that quarterback is carrying out that fake, he loses his right as a pocket passer and rules that govern that," Matthews said Wednesday in a conference call with the Bay Area media.

"We'll see the hits that are legal and what's not legal, but we think our game plan fits within the scheme of the officials and what we want to do."
On Tuesday, during an appearance on ESPN's Mike and Mike radio show, per Maiocco's report, Matthews said, "you do have to take your shots on the quarterback."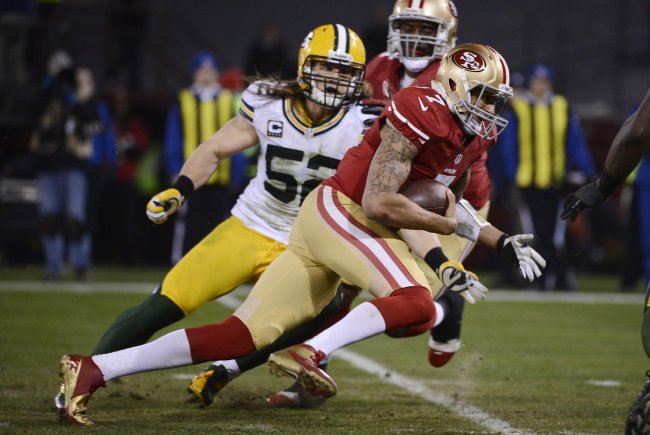 Robert Hanashiro-USA TODAY Sport
It's not difficult to see why the Packers are worried about the third-year quarterback. During last year's divisional playoffs, Kaepernick ran rampant over Green Bay, racking up a record-setting 181 rushing yards and two touchdowns on 16 carries.
Still, Matthews isn't talking about the Packers doing anything illegal—that's why both sides have seemed so intent on clearing up any gray areas in the rules. If Kaepernick is going to run, he is going to open himself up to hits. There's nothing illegal-sounding about it. It's just football.
On the other side of things, though, you can understand Harbaugh's concern when you consider Kaepernick is undoubtedly San Francisco's most important player on the offensive end.
Either way, with all of these recent public comments and concerns, you can bet Sunday's game is going to be officiated very tightly.