Fantasy Football 2013: What Did We Learn from Thursday's Preseason Week 3 Games?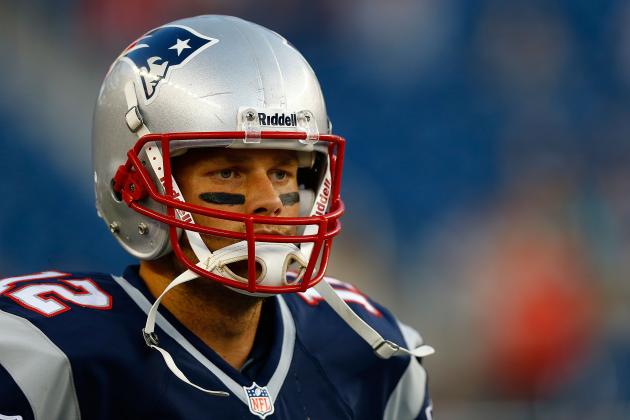 Jared Wickerham/Getty Images

Depending on whether you ask Yahoo! Sports or SiriusXM Radio, either this Saturday or next is "National Fantasy Football Draft Day."
(I'll go with the latter, if only because I appear regularly on Sirius.)
The date may be in dispute, but one thing isn't: The next two weekends are the busiest of the year where fantasy football drafts are concerned. Thousands of leagues will be holding their drafts online, in living rooms and local watering holes across the country.
Fantasy owners are busily making final draft preparations, and an important part of those preparations is Week 3 of the NFL preseason.
The third week of the preseason (or "dress rehearsal") is the closest we're going to get to the real thing before the regular season, with starters often playing an entire half or more.
These games can provide invaluable insights, and here's what we learned Thursday night.
Begin Slideshow

»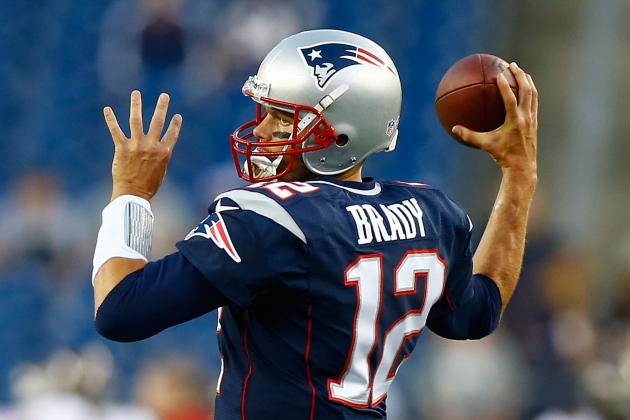 Jared Wickerham/Getty Images

With all the turnover in the New England receiving corps this year, there's been more than a little concern about quarterback Tom Brady's 2013 fantasy value.
Just stop it already.
For the second straight preseason game, Brady was surgically precise in his team's opening drive. Brady completed all three of his attempts for 49 yards in the first series Thursday, including a beautiful 37-yard rainbow to rookie wideout Kenbrell Thompkins.
A fumble by tight end Zach Sudfeld stalled the drive, but Brady appears to be in midseason form and certainly didn't appear to be struggling with Danny Amendola on the shelf. He did throw a first-quarter interception, but hey...nobody's perfect.
That pick and three lost fumbles led to an early Lions lead, and Brady's rather pedestrian stat line (16-of-24, 185 yards, one interception) may add fuel to the fires of doubt around Brady. Use that doubt to your advantage on draft day.
If you can get Brady anywhere outside the top six at the quarterback position, consider yourself lucky. Reports of the Golden Boy's demise have been greatly exaggerated.
Mike Carter-USA TODAY Sports

Over the past two seasons, the only quarterback who has thrown for more yardage than Detroit's Matthew Stafford is that Brees fella in New Orleans.
However, after tossing 41 touchdown passes in 2011, Stafford saw that number drop by over 50 percent last year. As one would expect, Stafford's fantasy production fell right along with it.
Most people (myself included) expect/expected that number to increase significantly in 2013. However, if there's any hand-wringing to be done about QBs in Detroit Thursday night, Stafford may be the candidate.
The reason is simple. Four first-half turnovers by the Patriots continually gave the Lions a short field, but time and time again the Lions were forced to settle for field-goal attempts.
Granted, Stafford did hit Tony Scheffler for the score on one of those drives, and Calvin Johnson wasn't on the field for the second straight week with a knee bruise.
Those caveats may make it hard to drop Stafford on fantasy cheat sheets, but these latest red-zone struggles also can't be completely dismissed.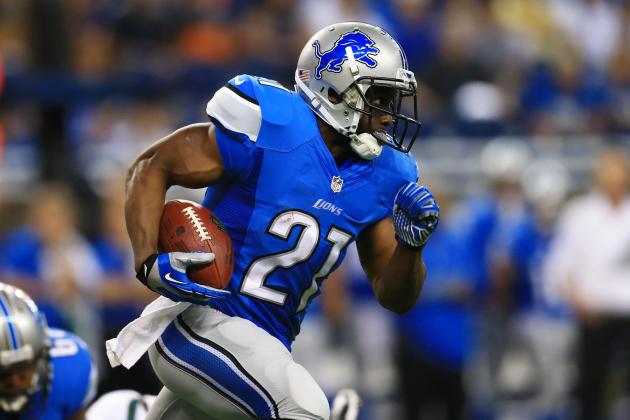 Andrew Weber-USA TODAY Sports

After watching what Jahvid Best was able to accomplish when healthy for the Lions, many fantasy pundits were licking their chops at the thought of what Reggie Bush could do in the backfield in the Motor City.
Turns out they may be onto something.
Over the past two years in Miami, Bush showed that he was more than just a receiving threat, averaging over 1,000 yards a season on the ground over that stretch. Bush didn't run especially well against the Pats (six carries, six yards), but the the 28-year-old burner certainly turned heads catching the ball.
Stafford looked Bush's way with regularity through the air, especially on third down. Bush turned one of those short catches into a 67-yard gain that helped set up Detroit's first field goal.
Even with Megatron out, if this game was any indication of things to come (seven targets, five receptions and 103 yards), Bush is a fine choice as a RB2 this year. The former USC star could even flirt with the top 12 in PPR leagues.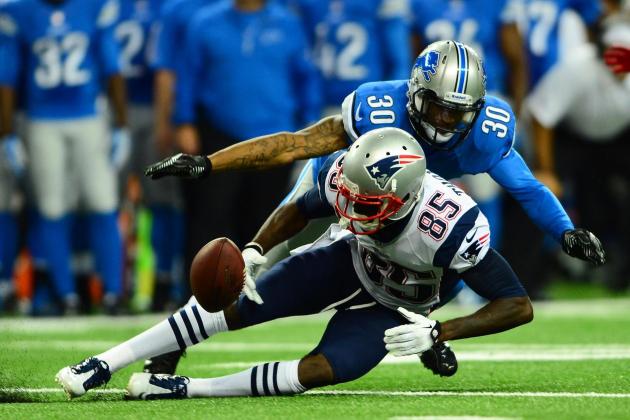 Andrew Weber-USA TODAY Sports

That whistling sound you hear? That's rookie Kenbrell Thompkins screaming up cheat sheets.
The undrafted free agent out of Cincinnati has been one of the big stories of New England's training camp, rising from obscurity to the top of the depth chart opposite Amendola at wideout.
Thompkins continues to make the most of his opportunities. The youngster had 83 yards in the first half alone against Detroit, finishing with 116 yards on eight receptions. To say that he passed the eye test is an understatement.
Whether it was blowing past cornerback Darius Slay and locking in a 37-yard pass, or juking Chris Houston out of his shoes at the line of scrimmage, Thompkins certainly didn't look like an undrafted free agent.
Patrick Daugherty of Rotoworld summed it up pretty well on Twitter: "Wherever Kenbrell Thompkins is going in fantasy drafts, it's too low."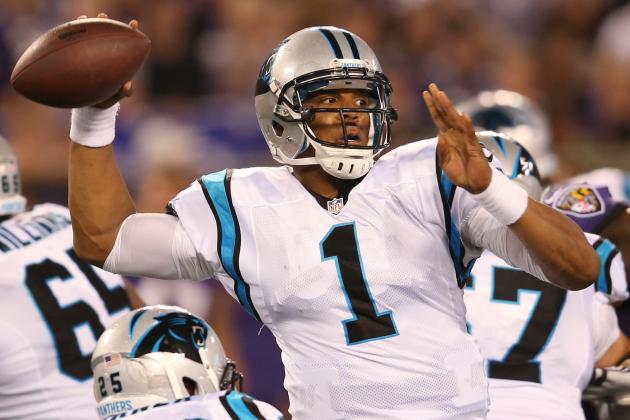 Rob Carr/Getty Images

Through the first two weeks of the preseason, Carolina Panthers quarterback Cam Newton struggled mightily. Unfortunately, he didn't do a whole lot better this latest outing, completing only 10 of 19 passes for 99 yards.
These struggles have caused a fair amount of consternation about Newton's fantasy value, as well as questions as to whether or not the third-year pro is actually worth consideration as a top-five fantasy quarterback.
It's a fair question, but not for some of the reasons you might think. Newton's preseason passing numbers, in and of themselves, aren't a big worry; Newton was lousy in the preseason last year. He was also lousy in the preseason the year before that.
Both years Newton went on to a top-five fantasy campaign. However, if you're looking for a reason not to draft Newton this year, consider this.
As Bleacher Report NFC South Lead Writer Knox Bardeen pointed out after Carolina's exhibition against the Philadelphia Eagles last week, new offensive coordinator Mike Shula appears to have taken many of the read-option looks out of the Panthers playbook.
It showed on Thursday, as Newton rushed only two times for 20 yards. If Newton's rushing numbers dramatically fall this year, he won't sniff the top five. In fact, he could easily finish outside the top 10.
It could be that Shula is just playing it close to the vest in the preseason. However, as a Newton owner myself in a league where mobile quarterbacks are handsomely rewarded, I will freely admit that Shula's game plans have me more than a little concerned.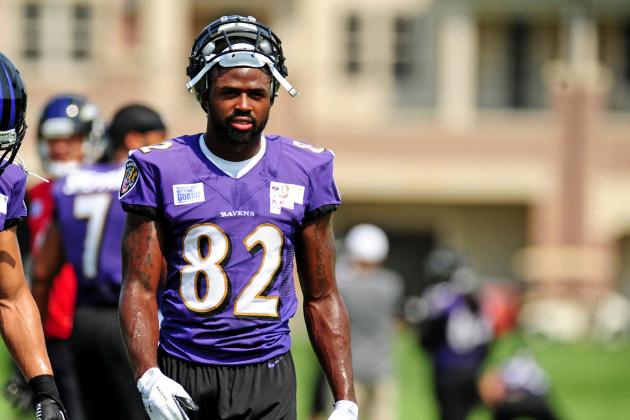 Evan Habeeb-USA TODAY Sports

No one is rushing out to draft quarterback Joe Flacco as a fantasy starter, so his miserable first half against the Panthers isn't a huge deal.
However, the disappearing act of Ravens wideout Torrey Smith is another matter.
The third-year pro, who has an average draft position of WR21 at My Fantasy League, was on a milk carton Thursday night, shut out in the first half. Even more alarming, Smith was only targeted once by Flacco in the first 30 minutes.
Blame it on Flacco's struggles. Blame it on bracket coverage. Blame it on the Freemasons. Whatever...
Given the state of the Baltimore passing game, Smith (their best receiver by a country mile) getting one stinking target in a half is a huge red flag for fantasy owners. Outside of the one target, Smith finished with zeros across the board.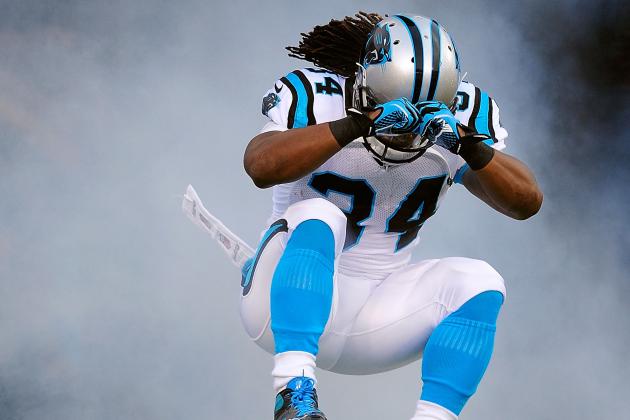 Grant Halverson/Getty Images

When the summer started, most fantasy owners believed that Jonathan Stewart was the running back to own for the Panthers, worthy of a mid-round pick as a low-end RB2.
However, Stewart's balky ankles have kept him sidelined throughout the offseason. Head coach Ron Rivera admitted earlier this week that Stewart could possibly open this year's campaign on the dreaded physically unable to perform list (meaning he would have to sit out at least the first six weeks of the season).
Stewart's injury has left DeAngelo Williams, who was fantasy football's top running back in 2008, as the king of the mountain in the Carolina backfield.
It turns out that means very little.
The Panthers, who were ninth in the NFL in rushing at over 130 yards a game a season ago, have plummeted to 26th through two preseason games this year.
Thursday's matchup with the Ravens brought more struggles, with Williams gaining two yards on four carries. Take away Cam Newton's 20 yards and the team rushed for six yards on nine carries through three quarters.
The Carolina run game is like that weird stuffing that your grandma makes at Christmas. Resist the urge to try it, or you'll end up with a stomachache.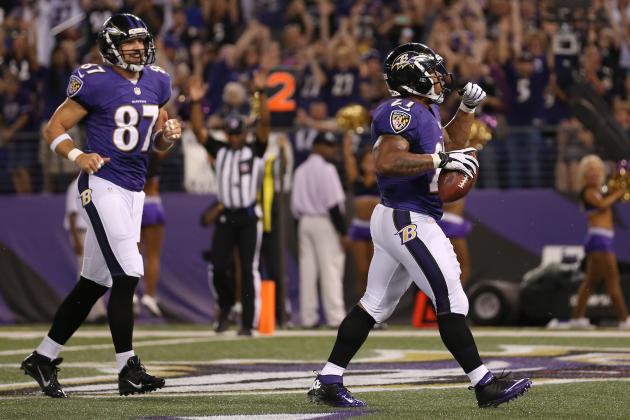 Rob Carr/Getty Images

Let's wrap this thing up on a positive.
The Baltimore first-team offense may have struggled in their loss, but those struggles can't be laid at the feet of star running back Ray Rice.
The sixth-year vet had a very Ray Rice-like night, carrying the ball 16 times for 62 yards and a first-quarter touchdown. Meanwhile, second-year pro Bernard Pierce did next to nothing with his 10 carries, managing just seven yards and six through the air on two receptions.
Pierce is going to be a part of the offense, but Rice still drives the bus. He's a strong choice as a RB1 in the second half of the first round.