1 Electric Arm from Each MLB Franchise You May See Called Up in September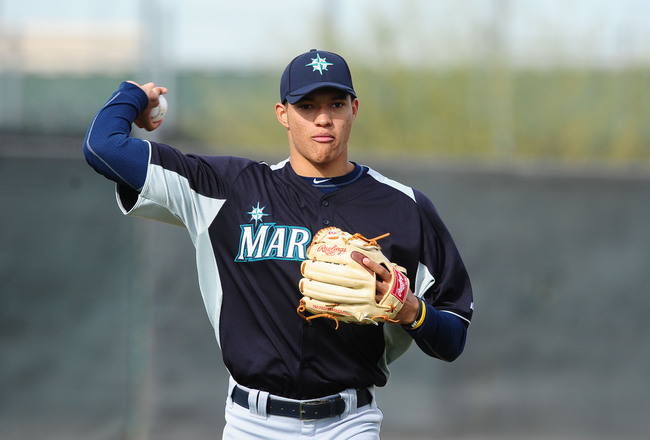 Mark J. Rebilas-USA TODAY Sports
We are still a couple of weeks away from MLB rosters expanding on September 1, but there is no doubt that teams are already starting to make decisions on which minor leaguers will join the team down the stretch.
Most September call-ups consist of middling Triple-A veterans who have been up and down all year, but there are a handful of top prospects who debut each September as well. Last year, Orioles right-hander Dylan Bundy, Cardinals right-hander Shelby Miller, Diamondbacks center fielder Adam Eaton and Rangers shortstop Jurickson Profar were among the top guys to make their debut.
Looking strictly at the pitching side of things, here is a look at one young arm from each MLB organization that could see a call-up this September.
AL East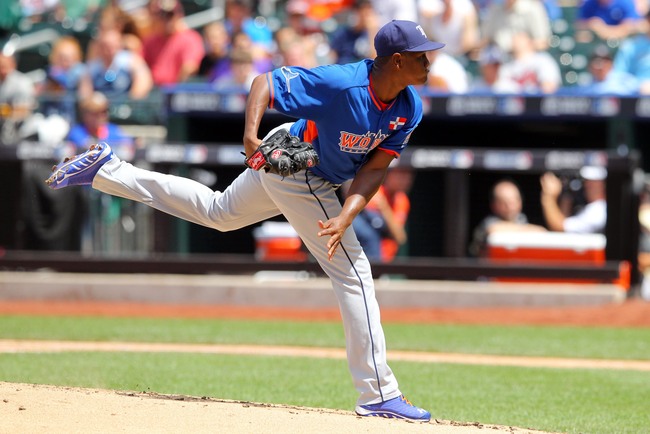 LHP Enny Romero, Tamp Bay Rays
Brad Penner-USA TODAY Sports
Baltimore Orioles: RHP Kevin Gausman, Triple-A Norfolk
(13 GS, 2-6, 3.89 ERA, 14 BB, 71 K, 74 IP)
The No. 4 pick in the 2012 draft, Gausman has some of the best stuff in the minors, with a fastball that reaches triple digits and a solid changeup/slider combination to complement it. The 22-year-old was up for a couple month earlier this year, going 1-3 with a 6.21 ERA in nine games (five starts), and he'll look to lock up a 2014 rotation spot with a strong showing down the stretch.
Boston Red Sox: RHP Anthony Ranaudo, Triple-A Pawtucket
(21 GS, 9-5, 2.98 ERA, 42 BB, 114 K, 120.2 IP)
An elbow issue during his junior season caused Ranaudo to drop from potential No. 1 overall pick to comp-round selection in the 2010 draft, and he's gone through some ups and downs since making his pro debut. That said, the big 6'7" right-hander has been terrific this year. And with a recent call-up to Triple-A, he looks poised to make his debut for the contending Red Sox come September.
New York Yankees: LHP Nik Turley, Double-A Trenton
(23 GS, 9-6, 3.63 ERA, 57 BB, 119 K, 118 IP)
Selected in the 50th round of the 2008 draft, Turley may be the Yankees' top pitching prospect currently playing above the High-A level. And at 23 years old, his chance may come sooner rather than later. He has a solid four-pitch repertoire, though no one pitch is particularly overpowering, and he may well get a chance to pitch out of the 'pen down the stretch.
Tampa Bay Rays: LHP Enny Romero, Double-A Montgomery
(24 GS, 10-6, 2.75 ERA, 60 BB, 91 K, 124.1 IP)
A Futures Game participant each of the past two seasons, Romero has been brought along slowly since signing out of the Dominican as a 17-year-old back in 2008. But he's pitched well at every level. With a fastball that sits consistently in the mid-90s and can touch 97, his fastball is already a plus pitch. He'll need to refine his secondary stuff to remain a starter long-term, but he could help out in the bullpen right now.
Toronto Blue Jays: RHP Marcus Stroman, Double-A New Hampshire
(16 GS, 6-4, 3.22 ERA, 22 BB, 103 K, 89.1 IP)
Taken with the No. 22 pick in the 2012 draft out of Duke, Stroman was expected to move as quickly as anyone in the class. However, a PED suspension cost him the first 50 games of the season and sidetracked his progression to the big leagues. Through he throws four pitches, his power fastball/slider combination make him an ideal late-inning reliever long-term, and that's likely the role he'll fill when he finally reaches the big leagues.
AL Central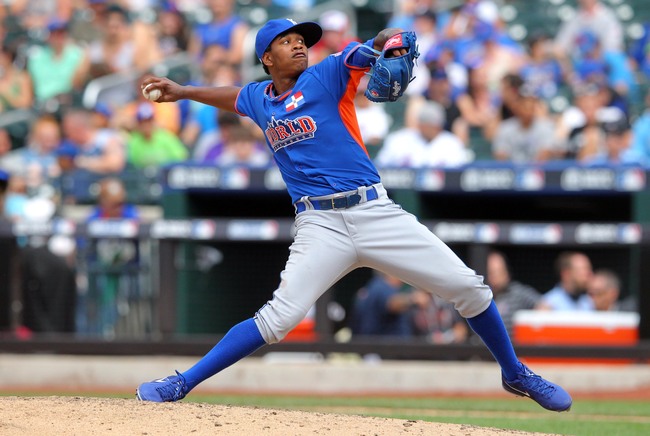 RHP Yordano Ventura, Kansas City Royals
Brad Penner-USA TODAY Sports
Chicago White Sox: RHP Erik Johnson, Triple-A Charlotte
(21 GS, 10-3, 2.14 ERA, 33 BB, 113 K, 122 IP)
The White Sox farm system is thin, and much of the high-end talent they do have is in the form of toolsy outfield types. That said, Johnson is undoubtedly their top pitching prospect, and the 23-year-old is enjoying his best season to date. The former second-round pick doesn't have ace upside, but he should be a solid middle-of-the-rotation arm in the very near future.
Cleveland Indians: RHP C.C. Lee, Cleveland Indians, Triple-A Columbus
(22 G, 0-0, 3.18 ERA, 9 BB, 31 K, 22.2 IP)
Signed out of Taiwan back in 2008, the 26-year-old Lee made his debut last month, throwing two scoreless innings of relief over three appearances before being sent back down. He's strictly a sinking fastball/slider guy, and he's pitched as a reliever since being signed as a result. However, he's proven capable of getting hitters out, with a 3.01 ERA and 11.1 K/9 in 160 minor league appearances.
Detroit Tigers: LHP Jose Alvarez, Triple-A Toledo
(20 GS, 8-6, 2.79 ERA, 25 BB, 113 K, 125.2 IP)
Originally signed out of Venezuela back in 2005 by the Red Sox, Alvarez was traded to the Marlins in 2009 for Jeremy Hermida, then granted free agency at the end of last season before signing with the Tigers. Still only 24, he made his debut with four starts back in June, going 1-1 with a 3.78 ERA in the first three before being hit hard in the fourth. He's been overpowering in Triple-A and, if nothing else, gives the Tigers another left-handed arm out of the 'pen for the stretch run.
Kansas City Royals: RHP Yordano Ventura, Triple-A Omaha
(22 GS, 8-5, 2.81 ERA, 48 BB, 137 K, 118.1 IP)
Even after giving up Mike Montgomery and Jake Odorizzi in the offseason, the Royals still have a pair of high-end pitching prospects in Ventura and Kyle Zimmer. Both have a chance to see Kansas City in September, but Ventura is the more likely of the two to earn a call-up. The 23-year-old burst onto the top prospect scene last year, and with one of the best fastball/curveball combinations in the minors and an improving changeup, he'll be auditioning for a rotation spot in 2014.
Minnesota Twins: RHP Trevor May, Double-A New Britain
(23 GS, 7-8, 4.68 ERA, 60 BB, 127 K, 127 IP)
Starting pitching has once again been a struggle in Minnesota this season, but the team did acquire a pair of highly regarded prospects in the offseason trade of Denard Span in May and Alex Meyer. Meyer has the higher upside of the two, but he's dealing with a shoulder issue, so it's May who may wind up in Minnesota first.
AL West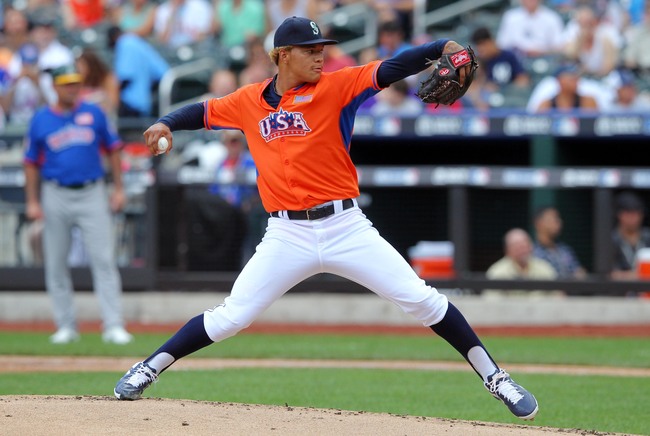 RHP Taijuan Walker, Seattle Mariners
Brad Penner-USA TODAY Sports
Houston Astros: RHP Asher Wojciechowski, Triple-A Oklahoma City
(21 GS, 9-7, 3.25 ERA, 47 BB, 113 K, 141.1 IP)
Astros fans would no doubt love to see top pick Mark Appel make his Houston debut in September, but that's unlikely at this point. However, they may get a chance to see 2010 first-round pick Asher Wojciechowski for the final month.
Acquired from the Blue Jays last season in the 10-player deal that sent J.A. Happ to Toronto, the right-hander profiles as a middle-of-the-rotation workhorse type and should get a chance to make a few starts in September.
Los Angeles Angels: LHP Nick Maronde, Double-A Arkansas
(33 G, 2-3, 3.91 ERA, 35 BB, 56 K, 48.1 IP)
No pitching prospect moved quicker than Maronde did last season. He opened the year pitching in Rookie ball and advanced three levels to make his big league debut with a 1.50 ERA in 12 appearances down the stretch. He's taken a step back this season, though, and was hit to the tune of a 6.75 ERA in 10 big league games earlier this season.
That said, the 23-year-old will likely be back in L.A. this September, and he still has the stuff to be a plus late-inning arm.
Oakland Athletics: RHP Arnold Leon, Triple-A Sacramento
(21 GS, 7-8, 3.88 ERA, 19 BB, 79 K, 123 IP)
Top pitching prospect Sonny Gray already got the call, but the organization has another young arm that could help down the stretch in Arnold Leon. He doesn't have overpowering stuff, but he has come back strong from 2010 Tommy John surgery and knows how to get hitters out. His future is likely in the bullpen as a middle reliever, and he could assume that role in Oakland in the very near future.
Seattle Mariners: RHP Taijuan Walker, Triple-A Tacoma
(22 GS, 7-9, 2.88 ERA, 47 BB, 136 K, 125 IP)
Arguably the top pitching prospect in all of minor league baseball right now, the 21-year-old Walker started the season slowly but turned things around to earn a promotion to Triple-A and looks poised to crack the big league roster before the season is over.
He has the upside to be a second ace alongside Felix Hernandez, and his stuff should play right away. Look for him to live up to the hype in a cameo this season and earn a rotation spot out of camp next year.
Texas Rangers: RHP Wilmer Font, Triple-A Round Rock
(37 G, 2-2, 13 SV, 0.98 ERA, 32 BB, 64 K, 46 IP)
Font made his debut with three appearances last September, and he's been nothing short of dominant in his first full season as a reliever this year. Tommy John surgery cost him most of 2010 and all of 2011, but he looks to be fully recovered now and should play a significant role in the Rangers' bullpen down the stretch.
NL East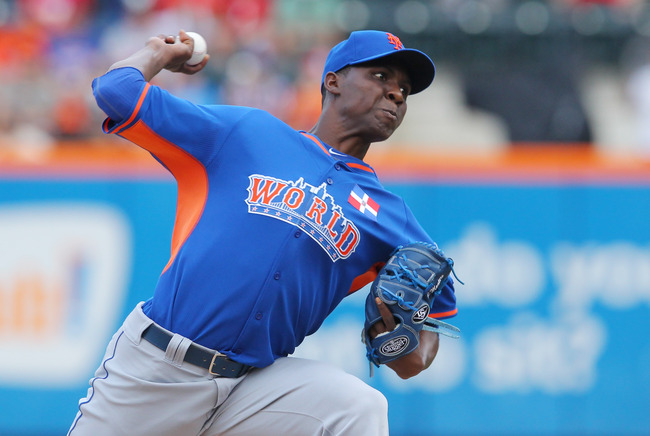 RHP Rafael Montero, New York Mets
Brad Penner-USA TODAY Sports
Atlanta Braves: RHP Cody Martin, Triple-A Gwinnett
(20 GS, 5-7, 3.35 ERA, 52 BB, 126 K, 123.2 IP)
Top prospect Alex Wood has already earned the call to Atlanta in the second half, and Martin could very well join him down the stretch, though likely in a bullpen role.
Taken in the seventh round of the 2011 draft out of Gonzaga, the right-hander bounced between the bullpen and rotation in college, and while his solid four-pitch repertoire makes him a starting candidate long-term, his immediate impact will come as a reliever like most September call-ups.
Miami Marlins: LHP Brian Flynn, Triple-A New Orleans
(24 GS, 6-11, 2.94 ERA, 42 BB, 137 K, 141 IP)
Acquired from the Tigers as part of the return in last year's Anibal Sanchez/Omar Infante deal, Flynn was viewed as the lesser of the three players Miami received at the time of the deal.
The big 6'7" left-hander dominated Double-A to open the season and quickly earned a call-up to Triple-A, where he has more than held his own. He's always had plus stuff, but he's started to turn that into production this year, and he may wind up out-pitching Jacob Turner when all is said and done.
New York Mets: RHP Rafael Montero, Triple-A Las Vegas
(23 GS, 11-6, 3.01 ERA, 31 BB, 126 K, 131.2 IP)
The starting pitcher for the World Team in this year's Futures Game, Montero saw his prospect stock skyrocket last season with a big year between Single-A and High-A. That run of success has continued in the high minors this season, and it looks like he'll be a solid addition to the Matt Harvey/Zack Wheeler/Noah Syndergaard rotation core long-term. There's no reason the 22-year-old can't be a full-time member of the rotation by next season.
Philadelphia Phillies: LHP Adam Morgan, Triple-A Lehigh Valley
(15 GS, 2-6, 3.65 ERA, 21 BB, 50 K, 69 IP)
Jesse Biddle is the Phillies' top prospect. He's been great in Double-A this year, but the team likely won't want to pile any more innings onto the 21-year-old's season total with a call-up. Instead, it's fellow southpaw Morgan who is most likely to received a September nod.
A third-round pick in 2011 out of Alabama, Morgan was third in all of the minors with 169 strikeouts last year, and he's continued his rapid ascent here in 2013.
Washington Nationals: RHP Aaron Barrett, Double-A Harrisburg
(47 G, 1-1, 23 SV, 2.31 ERA, 13 BB, 64 K, 46.2 IP)
Nathan Karns, who made three starts in Washington earlier this year, will likely be back with the team come September, but the most intriguing arm that could get a call-up has to be Barrett.
Drafted out of Ole Miss as a reliever back in 2010, he's continued to work out of the 'pen throughout his pro career. He's been dominant in Double-A, posting a 2.31 ERA, 1.071 WHIP, 12.3 K/9 and just 2.5 BB/9. He has the prototypical fastball/slider combo, and at 25, there's no reason not to push him to the next level at this point.
NL Central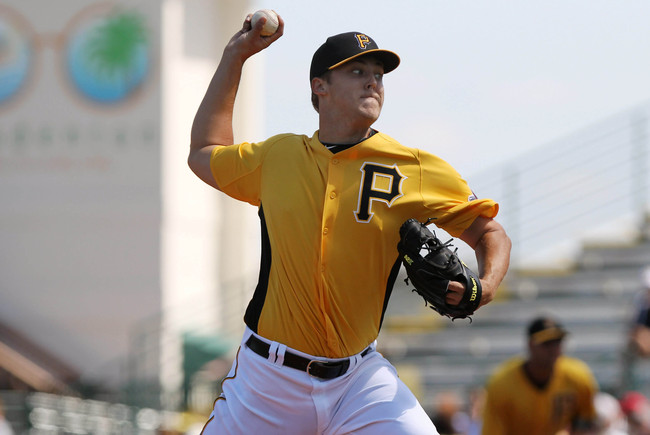 RHP Jameson Taillon, Pittsburgh Pirates
Kim Klement-USA TODAY Sports
Chicago Cubs: RHP Alberto Cabrera, Triple-A Iowa
(18 GS, 9-4, 3.40 ERA, 47 BB, 121 K, 127 IP)
After making 25 appearances out of the Chicago bullpen last season, the Cubs sent Cabrera to Double-A to stretch out as a starter this year. He went 9-3 with a 3.20 ERA there before being promoted. He's worked out of the 'pen once again in Triple-A, and while it remains unclear as to what role he'll fill long-term, he should be able to help in Chicago once again this season.
Cincinnati Reds: RHP Daniel Corcino, Triple-A Louisville
(21 GS, 6-12, 5.62 ERA, 59 BB, 76 K, 117 IP)
After boosting his stock with terrific seasons in Single-A and Double-A the past two years, Corcino has taken a step back in Triple-A this year. But the potential remains. He's still just 22, and over his last 10 games, he's gone 3-3 with a 3.79 ERA. Things are headed in the right direction.
His future is still as a starter with three potential plus pitches, but he's the most big league-ready of the team's crop of young pitching prospects and he'll likely start off in the bullpen.
Milwaukee Brewers: RHP Johnny Hellweg, Triple-A Nashville
(20 GS, 11-5, 2.77 ERA, 65 BB, 73 K, 110.2 IP)
Acquired along with Jean Segura and Ariel Pena from the Angels for Zack Greinke last July, Hellweg has had a terrific first full season in the Brewers organization and should get a chance to pitch for a rotation spot next year down the stretch.
He struggled to a 10.97 ERA in four games (three starts) earlier this year, but with a fastball that reaches the high-90s and a plus slider, his stuff is undeniable. Stamina keeps him in a starting role for now, but he may wind up as a late-inning arm long-term.
Pittsburgh Pirates: RHP Jameson Taillon, Triple-A Indianapolis
(21 GS, 4-8, 3.83 ERA, 43 BB, 119 K, 122.1 IP)
The No. 2 pick in the 2010 draft, Taillon has been brought along very carefully by the Pirates. But his recent promotion to Triple-A could be an indication the team is eyeing a September call-up for the 21-year-old.
The Canada native showed what he's capable of by pitching well against Team USA in the World Baseball Classic, and everything points to him being a future frontline starter. His impact this year would be limited to a few relief appearances, but seeing him in Pittsburgh at all would no doubt be exciting.
St. Louis Cardinals: RHP Michael Blazek, Triple-A Memphis
(31 G, 0-1, 9 SV, 1.41 ERA, 18 BB, 49 K, 38.1 IP)
Top prospects Michael Wacha and Carlos Martinez have both been up and down this season and will be part of the September roster, so the lesser-known Blazek gets a mention here. A 35th-round pick out of high school back in 2005, he moved to the bullpen full-time this year, and the results speak for themselves.
He's made 10 appearances in St. Louis this season, with the last coming just last week, and he'll be looking to turn things around in September, as he has an 8.31 ERA so far.
NL West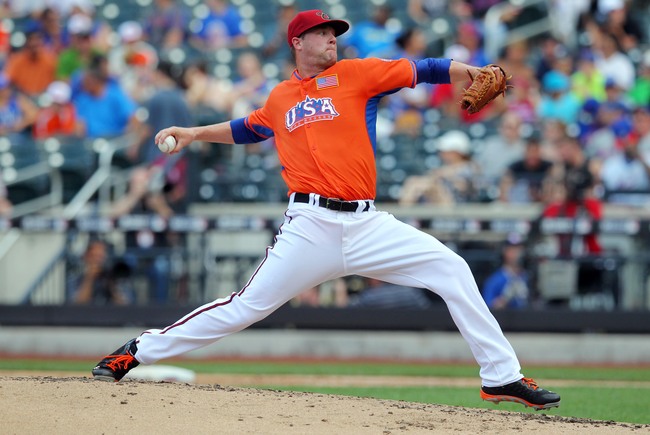 RHP Archie Bradley, Arizona Diamondbacks
Brad Penner-USA TODAY Sports
Arizona Diamondbacks: RHP Archie Bradley, Double-A Mobile
(23 GS, 11-5, 1.84 ERA, 59 BB, 150 K, 136.2 IP)
The most intriguing decision of any September call-up looks to be whether or not Archie Bradley will get the nod in Arizona. Taken seventh overall in the 2011 draft, the 21-year-old has been an absolute beast this year. After an early call-up to Double-A, he's gone 9-5 with a 2.00 ERA in 18 starts, and he's one of the true ace-caliber pitching prospects in the game right now.
Colorado Rockies: RHP Eddie Butler, Double-A Tulsa
(24 GS, 8-5, 1.91 ERA, 46 BB, 130 K, 132 IP)
A comp-round pick out of Radford University in 2012, Butler signed early enough to make 13 appearances last season, going 7-1 with a 2.13 ERA in the Rookie League. He's advanced three levels already this season, and in two starts at Double-A so far, he's yet to allow an earned run in 10 innings of work.
The 22-year-old is the team's top pitching prospect after recently drafted Jonathan Gray, and he should continue to move quickly for the pitching-hungry Rockies.
Los Angeles Dodgers: LHP Onelki Garcia, Triple-A Alburquerque
(27 G, 2-3, 2.68 ERA, 32 BB, 54 K, 53.2 IP)
Top prospects Zach Lee and Chris Reed are both pitching well in Double-A this season, but they'll likely have to wait until next year to make their respective debuts. Instead, it's the Cuban-born Onelki Garcia who has the best chance of making a September impact.
Taken in the third round of the 2012 draft after being declared eligible, the left-hander has a plus fastball/curveball mix. How well his changeup develops will determine his future role.
San Diego Padres: RHP Burch Smith, Triple-A Tucson
(14 GS, 5-3, 2.14 ERA, 19 BB, 76 K, 71.1 IP)
In his first full pro season last year, Smith went 9-6 with a 3.85 ERA and 137 strikeouts in 128.2 innings of work at High-A. After dominating in six Double-A starts to open the season, he earned a call-up to San Diego, but struggled to an 11.37 ERA in six games (three starts) before being sent down to Triple-A. His fastball is already a plus big league pitch, but his secondary stuff needs work.
San Francisco Giants: RHP Heath Hembree, Triple-A Fresno
(48 G, 1-3, 27 SV, 4.07 ERA, 15 BB, 58 K, 48.2 IP)
After a dominant 2011 season in which he posted a 1.86 ERA and 13.2 K/9 and reached Double-A in his first pro season, Hembree took a step back last year with a 4.19 ERA in 44 games. He's struggled at times this year as well, but he has a string of six scoreless appearances going and remains a future closer candidate if he can put it all together.
Keep Reading