The NFL continues its crusade to make the beloved sport as boring as possible, as it has banned customized facemasks for players not receiving medical clearance.
CBS Sports reports players hoping to show a bit more flair and style in the form of customized facemasks will have to make do with the same ones used by all other players.
The website reports NFL spokesman Brian McCarthy sent an email to NFL.com, asserting players will need medical clearance if they want to look truly original out on the field. So players like Darnell Dockett and Robert Mathis, who simply wanted to look cool and far more menacing, will have to settle with what they are given.
For those not acquainted with Dockett's mask, here is a picture the Arizona Cardinals once tweeted out.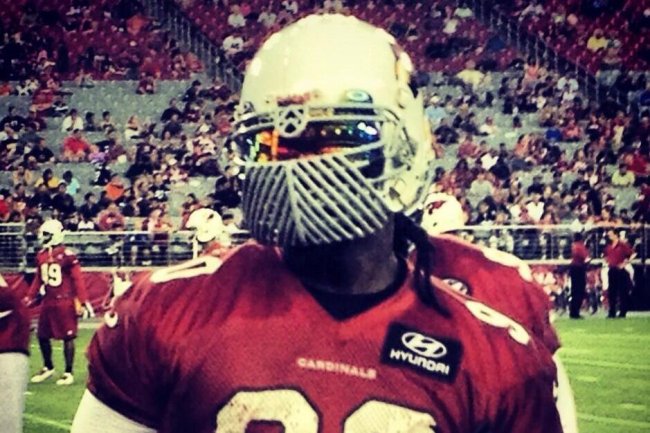 And here is a picture from Mathis who posted to Instagram, "Our Off Coordinator #PepHammy refers to me as#BANE during meetings hahaaa."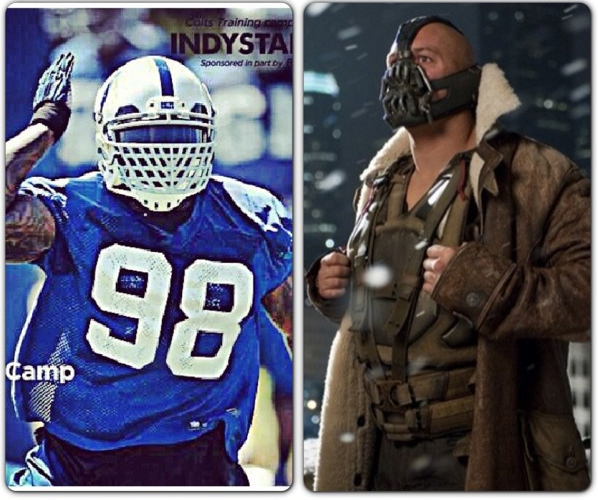 Alas, a disappointed Mathis tweeted out the following.
its official.... the league says i cant wear my facemask. I will return to my run of the mill grill.

— ROBERT MATHIS The1st (@RobertMathis98) August 9, 2013
We feel your pain, big guy, because there was a general hope these types of facemasks would begin to pop up around the league.
Before we continue, it's important to note those players who need to customize their gear for medical reasons are allowed to do so.
That means the Ravens' Chris Canty and the Giants' Justin Tuck will get to wear their special facemasks, fueling an apparent jealousy around the league.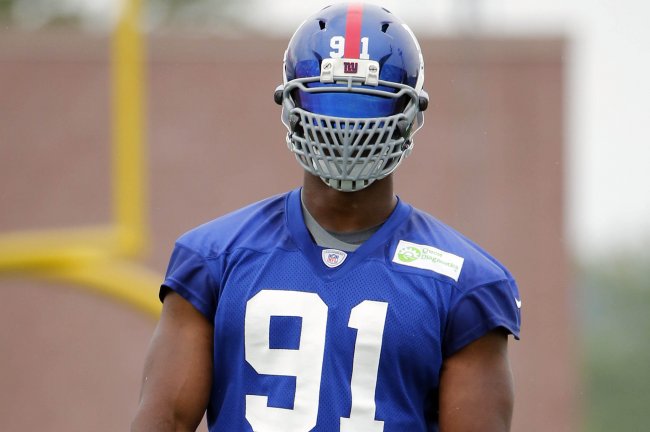 Jim O'Connor-USA TODAY Sports
The Baltimore Sun's Aaron Wilson delivers Canty's thoughts on the ban:
Chris Canty on facemask: 'I invented it. We developed something that can keep hands out of my face, so it wouldn't detach my retina again.'

— Aaron Wilson (@RavensInsider) August 10, 2013
Chris Canty @ChrisCanty99 'I can't help it that other guys think it's cool and they want to wear it, too. It's a necessity for me.'

— Aaron Wilson (@RavensInsider) August 10, 2013
If you are looking for a reason the NFL is putting its foot down on this issue, good luck. It seems the league is like that frustrated parent who tells kids to stop what they are doing "because I said so."
Remember, this is the same league that recently decided to inform athletes they would be penalized for daring to spin the football towards another player.
According to Pro Football Talk, the league is ready to stamp out a great many celebratory dances this upcoming season, essentially taking on the duty of a dance chaperone nobody invited.
Perhaps the league doesn't want to entertain the slippery slope that comes with players infusing their style into the facemask.
It's rather unfortunate considering the players who are hit, injured and concussed for the sake of competition rarely get the same visibility enjoyed by MLB or NBA players.
Their faces are forever hidden behind uniform facemasks, along with jerseys, shoes and armbands that conform to code.
This would have been a cool way to allow players to show off their personalities to fans watching from home. Then again, nobody ever claimed the NFL was in the business of being cool.
Let's just hope touchdowns don't get any more exciting than they already are, or the NFL will ban them from the game.
Hit me up on Twitter: Follow @gabezal