All 30 MLB Teams' Future Face of the Franchise
Steve Mitchell-USA TODAY Sports
Who is the future face of each Major League Baseball franchise?
MLB Network recently asked fans who they thought the face of the franchise was for the Miami Marlins, including a few comical choices. As you can see from the results below, the poll was essentially a joke that was poking fun at the organization and the lack of notable faces on the club (h/t BuzzFeed):
Giancarlo Stanton—49 percent
Jeffrey Loria—14 percent
Billy the Marlin—8 percent
Toronto Blue Jays—6 percent
Centerfield Statue—5 percent
Nobody—4 percent
Juan Pierre—3 percent
Logan Morrison—2 percent
It's embarrassing, but the Marlins aren't a club looking to compete right now. Miami is trying to do whatever it can to compete in the coming years—or at least that's what owner Jeffrey Loria would like you to believe—but will Giancarlo Stanton still be the face of the franchise in the future? As you'll soon see, I'm not so sure.
What other players—prospects or major leaguers—will be the faces of their respective franchises in the next few years? Here's a look at the player on each club who would be the leading vote-getter in a future MLB Network poll.
All statistics in this article were obtained via FanGraphs unless otherwise noted. All injury information was obtained via Baseball Prospectus and all contract information was obtained via Cot's Contracts.
Baltimore Orioles: Manny Machado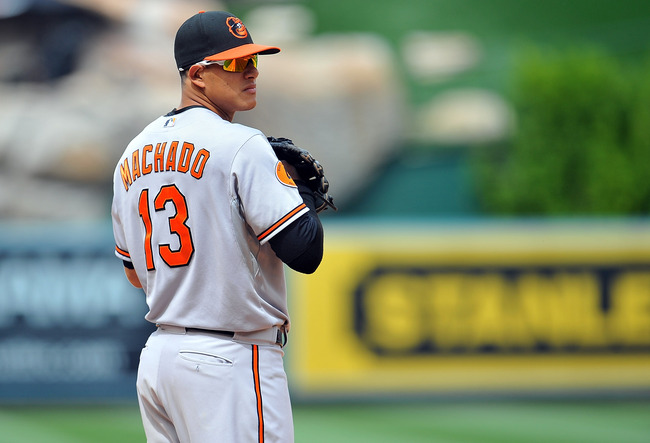 Gary A. Vasquez-USA TODAY Sports
Last August, the Orioles called up their top prospect, Manny Machado, not knowing what he was going to be capable of.
He had been good in the minors, but Baltimore was planning on playing him at third base instead of shortstop, his natural spot. His position didn't seem to matter, though, as he quickly became a stud on both sides of the field.
Now, Machado is one of the best players on the Orioles as well as one of the top young players in the game—in the same conversation with Bryce Harper and Mike Trout. His offensive game has been stellar and his glove is fantastic, too.
He could be the future face of the league, not just the Orioles, in the next few years.
Boston Red Sox: Xander Bogaerts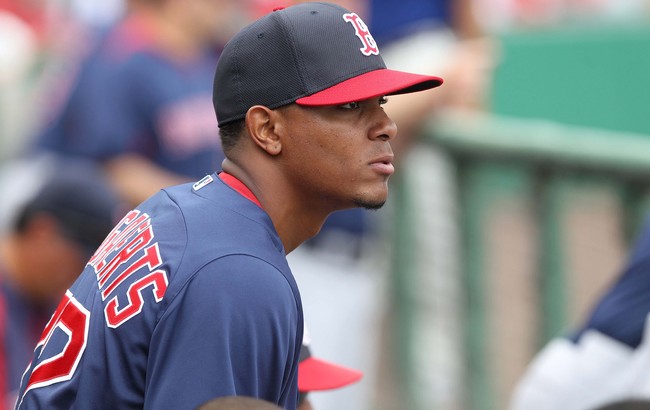 Kim Klement-USA TODAY Sports
Xander Bogaerts isn't just the top prospect for the Red Sox; he's one of the top prospects in all of baseball.
Boston has been reluctant to promote the young infielder to this point in the season, but he could get the call at any moment. Boston can't seriously go down the stretch with Brock Holt at third base on a daily basis.
But that's been the big question lately: should Boston move Bogaerts to third base? I'm not sure this comparison 100 percent works, but the move did work for Machado. Also, the Red Sox don't have a lot of players signed long-term, and the young slugger will be with the franchise for a while.
He's the future of the organization, without a doubt.
New York Yankees: Gary Sanchez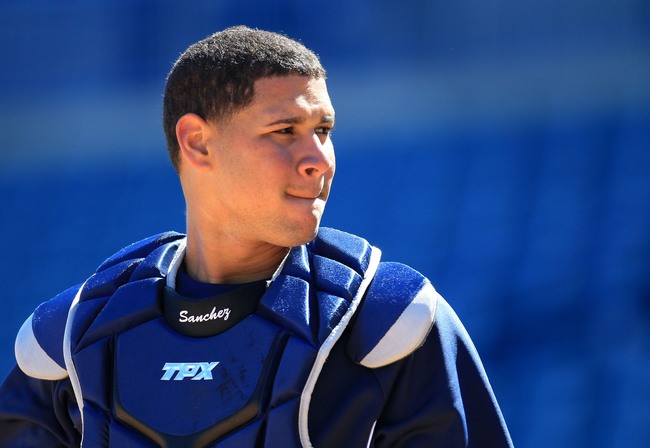 The Star-Ledger-USA TODAY Sports
The Yankees are an old, old team, and Derek Jeter and Mariano Rivera aren't going to be the faces of the franchise for much longer. However, it's up for debate as to who the guy taking the reigns will be going forward.
In the short-term, it could be Robinson Cano, but there's no guarantee that he'll be back past this season, as he is scheduled to become a free agent this winter.
That's why I'm going with top prospect Gary Sanchez as the future replacement for Jeter and Rivera. New York desperately needs a star catcher, and Sanchez is well on his way to making it to the big leagues.
In 96 games in the minors this year, he's hitting .256/.320/.423 with 13 home runs and 63 RBI.
Tampa Bay Rays: Evan Longoria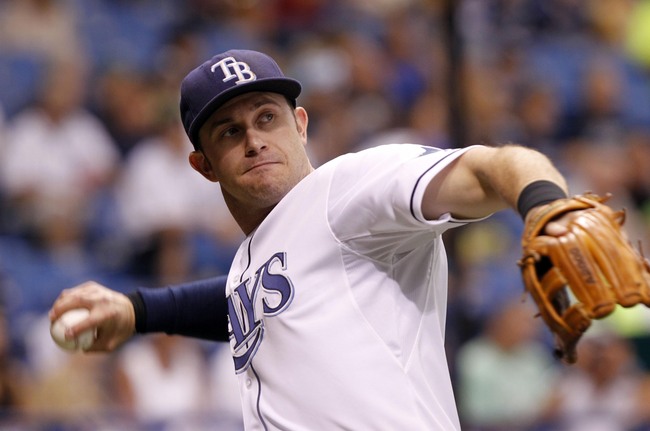 Kim Klement-USA TODAY Sports
Evan Longoria is already the ringleader for the Rays, and you should expect him to stay in that role for many years to come. The MVP-caliber third baseman is one of the best players in baseball these days, and he's still just 27 years old. His current contract also ensures that he is going to be with Tampa Bay until he's in his late 30's.
Longoria signed an extension this past offseason that will keep him with the Rays through at least the 2022 season—there's also a team option for 2023. As long as he manages to stay healthy, he'll easily go down as the best Ray to ever play for the organization. He could actually even earn that title within the next year or so.
Toronto Blue Jays: Jose Bautista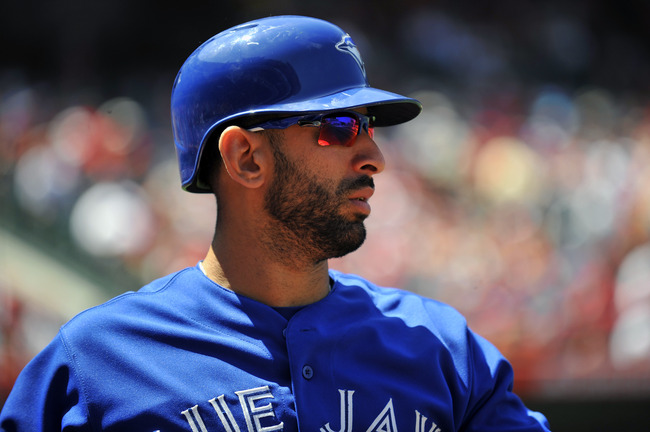 Gary A. Vasquez-USA TODAY Sports
There's no bigger name or better player north of the border than Jose Bautista. He is the leader of the Blue Jays, and he continues to impress each time he steps into the batter's box.
He's one of the most feared hitters in the game, and for good reason. A slight mistake can turn into a 400-foot bomb in the blink of an eye.
Bautista is signed through the next two seasons, and the Blue Jays have an option to bring him back for 2016 as well. While he'll be 35 years old at that point, I still expect Toronto to keep him around for a few more years, likely until he hits 40. He'll be the face of the organization until he retires—which will be as a Blue Jay.
Chicago White Sox: Chris Sale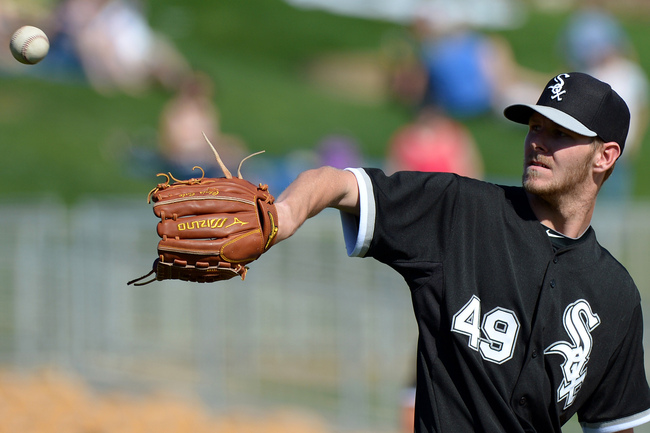 Jake Roth-USA TODAY Sports
The White Sox are on the decline, but at least they still have Chris Sale under contract. Sale is one of the top lefties in baseball, and while he hasn't been around for too long—this is his fourth year and second as a starter—he's already had a bunch of success. In 435.2 career innings, his ERA sits at 2.85.
Sale has been selected to represent Chicago in the last two All-Star Games, and he finished in the top 10 for the AL Cy Young Award last season.
The White Sox have him under their control for the next four years, and potentially the two after that as well, depending on whether they exercise their pair of team options on him.
Cleveland Indians: Francisco Lindor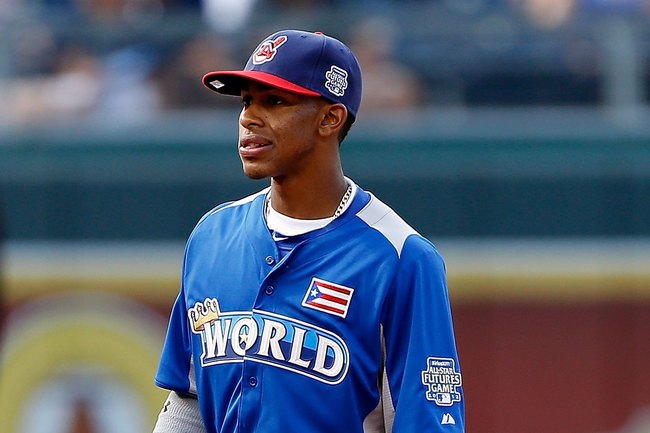 Jamie Squire/Getty Images
Cleveland has one of the top prospects in the game in its farm system: Francisco Lindor.
Lindor is everything that you could ever want in a shortstop. While he still only has 20 games of Double-A experience under his belt, he's already been great. In 103 games in the minors this year, he's hitting .304/.382/.409 with 31 extra-base hits.
The young shortstop has also scored 65 runs and has stolen 25 bases while only being caught seven times. He's going to be much better than what Asdrubal Cabrera has been for the Indians the last several years.
He is a franchise-changing type of player, and once he's in the majors, look for him to shine early and often.
Detroit Tigers: Miguel Cabrera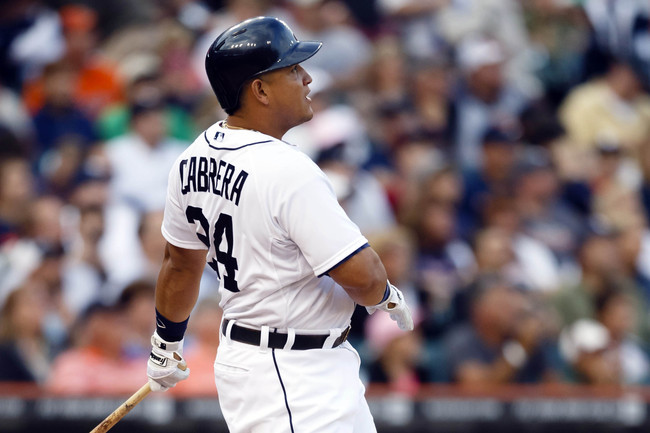 Rick Osentoski-USA TODAY Sports
Forget about the Detroit Tigers; Miguel Cabrera will be the face of Major League Baseball in the coming years.
In fact, I should say, "will continue to be" instead of just "will be." Is there a better poster boy for the league right now than the best hitter in the game? If you have a different answer, I beg to differ.
Cabrera is, hands down, the best player in baseball. He's done things people haven't been able to do in decades. He also just turned 30 years old in April and still has plenty of gas left in the tank.
He's only under contract with Detroit for two more seasons, but you can bet that the Tigers will do everything in their power to get him to stay for longer.
Kansas City Royals: Bubba Starling
If it were August 9, 2012, Wil Myers would have been in this spot. But since the Royals traded Myers over the offseason, the new face of the future in Kansas City is Bubba Starling. The outfielder was the fifth overall pick in the 2011 draft and really shined in Kansas City's minor league system last season.
In 53 games in rookie ball, Starling hit .275/.371/.485 with eight home runs, 33 RBI and 35 runs. He's struggled a bit this year, though. Through 106 games in Single-A in 2013, the 20-year-old is batting .231/.321/.360. He's hit nine homers, driven in 52 runs and scored 45 times. I have plenty of faith that he will turn things around soon.
Minnesota Twins: Byron Buxton
The future looks promising for the Twins, as Minnesota has collected a couple of big-name prospects in the last few years. Once Joe Mauer leaves the team or retires, though, the franchise is going to need a new face.
While Byron Buxton may only be in High-A at the moment, he's bound to be the guy to take over for the backstop.
Buxton is easily one of the top prospects in all of baseball, if not the No. 1 overall prospect. He could end up being the next Mike Trout—meaning he will become a five-tool outfielder who will compete for the AL MVP each season.
Buxton is still a few years away from making his debut, but once he's in Minnesota, you better watch out.
Houston Astros: Mark Appel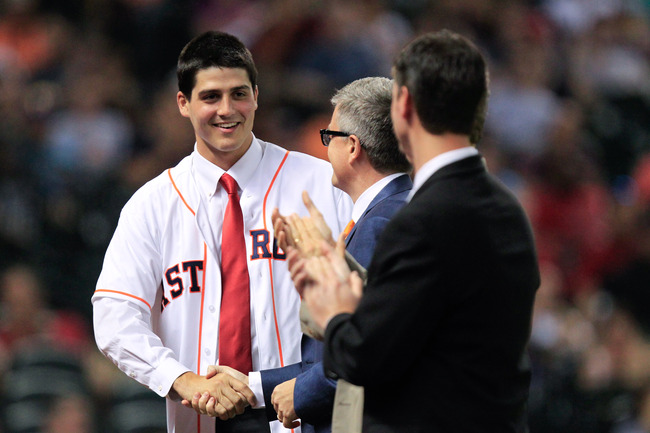 Thomas Campbell-USA TODAY Sports
The Astros now have a ton of talent within the lower levels in the organization. At the moment, it's up for debate as to who the face of the franchise is.
It could be second baseman Jose Altuve, I suppose, but in reality, MLB Network could have done a prank poll for the Astros just as easily as they did for the Marlins.
Out of all of the top prospects Houston has in the minor leagues, Mark Appel is the guy who stands out the most. Sure, Carlos Correa and George Springer are bound to be stars, but I think Appel is bound for a phenomenal career. He had great stuff at Stanford and will be among the Cy Young candidates in the NL before you know it.
Los Angeles Angels: Mike Trout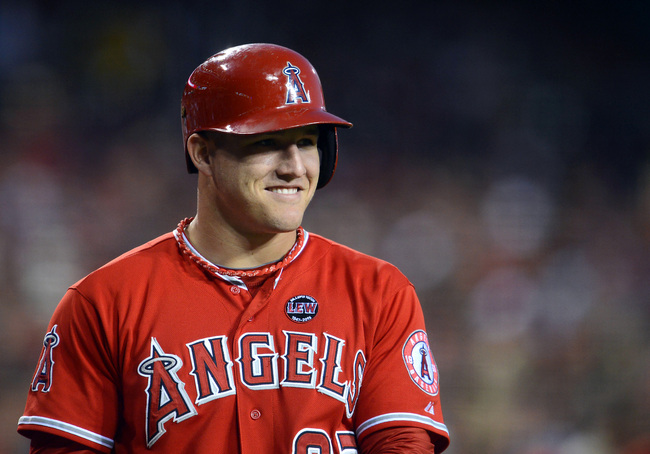 Jayne Kamin-Oncea-USA TODAY Spor
Mike Trout is already one of the best players in baseball, and he's only 21 years old.
This is a guy who is only in his second full season in the majors, and one who is already doing some incredible things. He's a five-tool player who won the AL Rookie of the Year Award last year but couldn't compete against Miguel Cabrera in the AL MVP voting.
That must have invigorated Trout to play even better this season because that's exactly what he's doing. The outfielder's average, on-base percentage, slugging percentage and OPS are all higher than they were in 2013. He's bound to score 100 runs, steal 30 bases and hit 25 home runs this year. He's a crazy talent.
Oakland Athletics: Yoenis Cespedes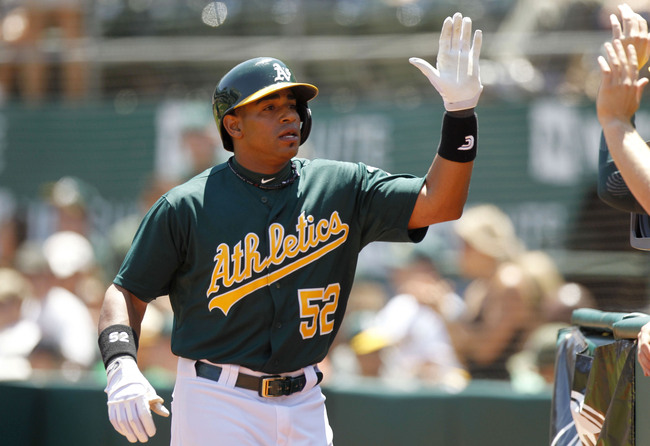 Cary Edmondson-USA TODAY Sports
When pondering this selection, I had to take a deep look at who Oakland had in the organization. At first thought, I considered putting Billy Beane as the face of the franchise. He's worked wonders over the last few years and is responsible for the Athletics becoming serious contenders in the league once again.
But going forward, Yoenis Cespedes will be the guy. He's easily the best player on the team, and he has the potential to get even better as time goes on. Cespedes is and will continue to be one of the best moves Beane has ever made.
At the end of the Cuban's career, though, you'll forget the GM that landed him. That's why Cespedes is here and Beane isn't.
Seattle Mariners: Taijuan Walker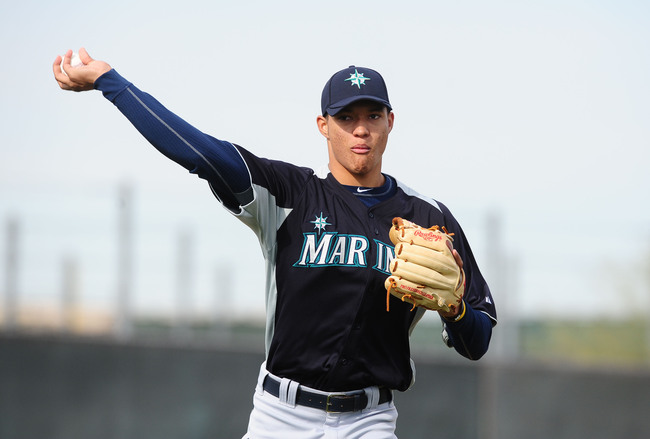 Mark J. Rebilas-USA TODAY Sports
Taijuan Walker has yet to make his major league debut, but once he gets promoted to Seattle, he'll make one of the most anticipated starts in the organization's history.
The Mariners already have an ace in Felix Hernandez, but there's a chance that this young right-hander could turn out to be even better than King Felix.
That is truly saying something, too, as King Felix is one of the top pitchers in baseball. Hernandez is under contract with the club through 2019—and he could be with Seattle even longer.
This may seem like a bold prediction, but in the next few years, Walker will be the ace of the Seattle staff.
Texas Rangers: Jurickson Profar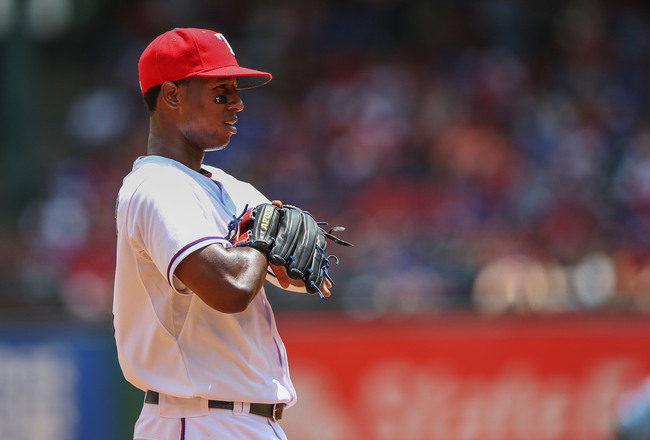 Kevin Jairaj-USA TODAY Sports
The Rangers have yet to really use Jurickson Profar at his natural position—shortstop. Texas will likely keep Profar away from the position in the near future, as the already has Elvis Andrus cemented there, but that doesn't mean the youngster won't still be productive playing other positions. Let's not forget he's one of the players with most potential in all of baseball.
Profar is really just getting warmed up, too. He only has 61 games of major league experience under his belt, but he is still hitting .242/.302/.366 in his career with 14 extra-base hits and 17 runs. He definitely will be a star someday. You could make the case for Yu Darvish here as well, but I expect Profar to emerge as a stud, and quickly.
Atlanta Braves: Justin Upton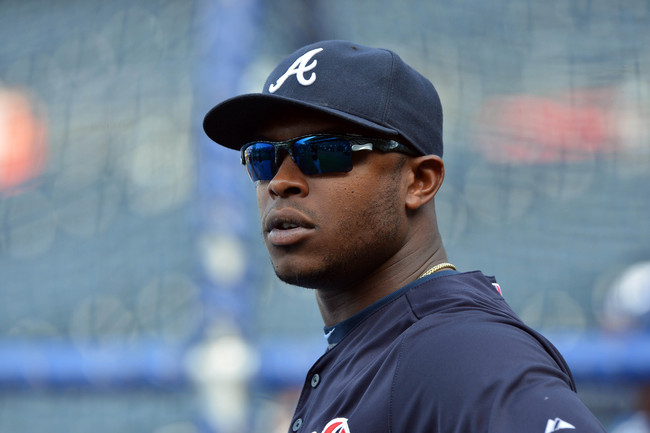 USA TODAY Sports
The Braves acquired Justin Upton from the Diamondbacks over the winter, and one would presume that he's going to be in the heart of the team's lineup for many years to come. He's only under contract through 2015, but Atlanta will likely throw a bunch of money at him to entice him to stay with the team for longer.
There's no question that Atlanta could do a lot of damage with him on the roster—just take a look at what the team's already accomplished this year. The franchise does have some other big names—Jason Heyward, Freddie Freeman and Julio Teheran, among others—but Upton is bound to be the leader of the future.
Miami Marlins: Christian Yelich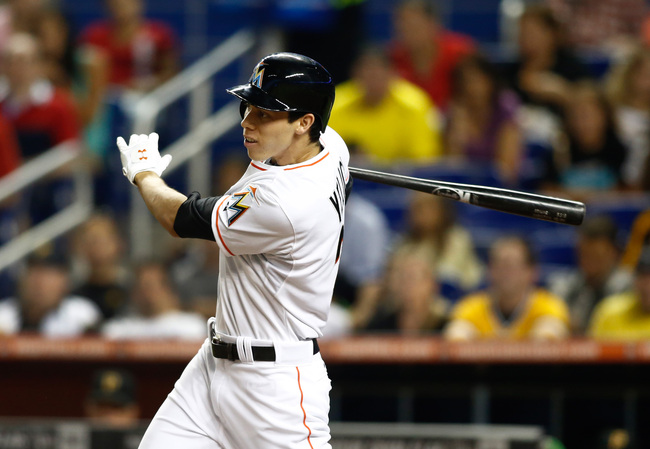 Robert Mayer-USA TODAY Sports
In the introduction, I said that I wasn't so sure that Giancarlo Stanton was going to continue being the face of the franchise for Miami much longer. Here, you'll see that I didn't name him as the guy. I just don't think that Stanton is going to stay with Miami once his contract up, especially if Jeffrey Loria still owns the organization.
If Stanton does leave, that'll leave the door open for someone like Christian Yelich to step up. Jose Fernandez already appears to be the ace the Marlins need, but I expect the young outfielder to be just as good as Stanton has been the last few years. He'll be in the running for the NL MVP before you know it.
New York Mets: Matt Harvey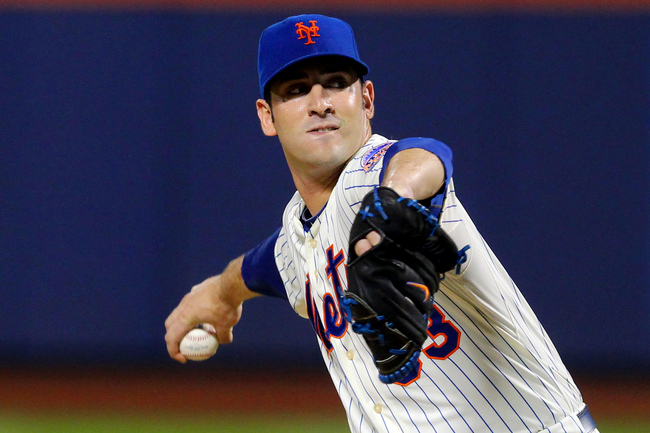 Brad Penner-USA TODAY Sports
Matt Harvey is the real deal, and while David Wright might be the captain for the Mets, the right-handed hurler is the future. Don't be surprised if Harvey eventually has the "C" on his chest once the All-Star third baseman eventually hangs up his cleats.
Harvey has pitched remarkably well this season. Through 23 starts in 2013, Harvey is 9-3 with a 2.09 ERA in 159.2 innings of work. He has struck out 178 batters thus far while walking just 29. He's 24 years old and has already started an All-Star Game. There's no question he'll be in the running for the NL Cy Young Award at season's end.
Philadelphia Phillies: Domonic Brown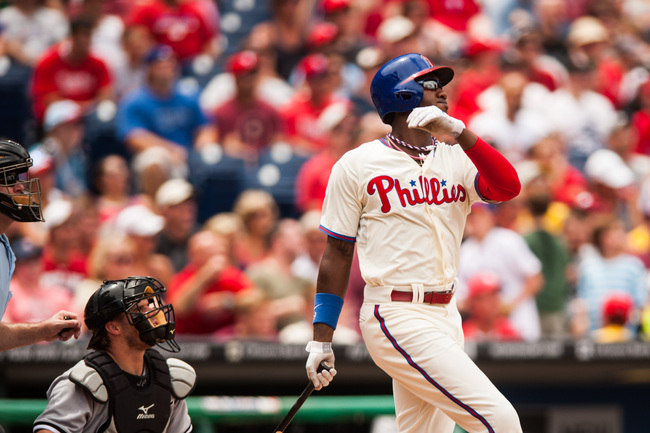 Howard Smith-USA TODAY Sports
It didn't appear that Domonic Brown was going to live up to the hype as a top prospect until he really got going this season. He never saw a ton of time in the past—playing in 102 games combined the last two years—but that hasn't stopped him from emerging as one of the game's top young sluggers in 2013.
In 101 games this year, Brown is hitting .271/.317/.534 with 25 home runs and 72 RBI. The Phillies may have a bright future ahead as long as Brown continues to hit like he has in 2013. Cliff Lee and Cole Hamels could each fight for this spot as well, but for now, it going to the power-hitting outfielder.
Washington Nationals: Bryce Harper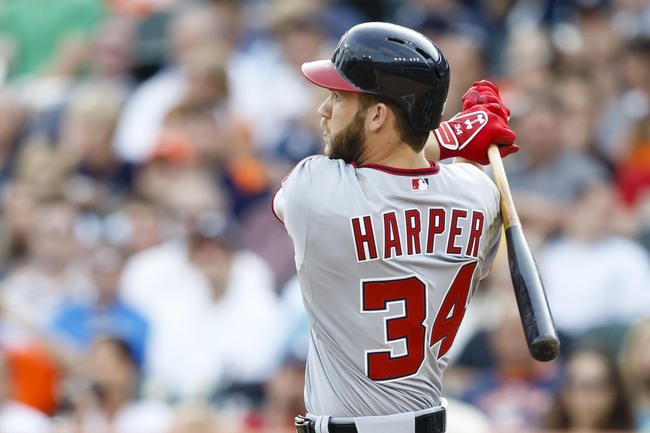 Rick Osentoski-USA TODAY Sports
Bryce Harper is already a star in Washington. He's the heart and soul of the club and plays the game harder than anyone else in the organization. The outfielder won the NL Rookie of the Year Award last season, and it likely won't be the only hardware he wins in his career. He has a very bright future ahead for himself.
The Nationals have a couple of other players who you could argue to be the future face of the franchise—Anthony Rendon and Stephen Strasburg, to name a few—but no one plays a larger role within the club than Harper. Without him, the Nationals are you're average team fighting to stay above .500. He's vital to their success.
Chicago Cubs: Javier Baez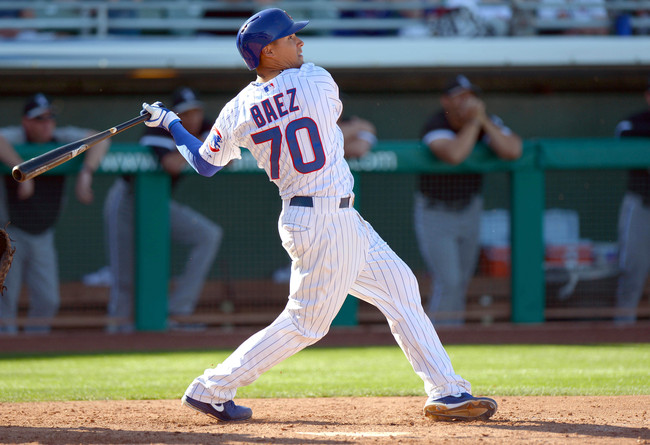 Jake Roth-USA TODAY Sports
The Cubs truly have a bright future ahead of themselves, as they've gotten rid of the bad contracts and stocked up on promising prospects this year. There are many players expected to play a big role in the future, and Javier Baez stands out as the guy who's going to take the Cubbies to the World Series in the future.
Baez might not be the No. 1 prospect in the organization—he's right behind Albert Almora at No. 2—but he's still going to be a star in the National League. In 105 games this season between High-A Daytona and Double-A Tennessee, the outfielder is hitting .274/.337/.557 with 20 home runs, 59 extra-base hits and 84 RBI.
Cincinnati Reds: Joey Votto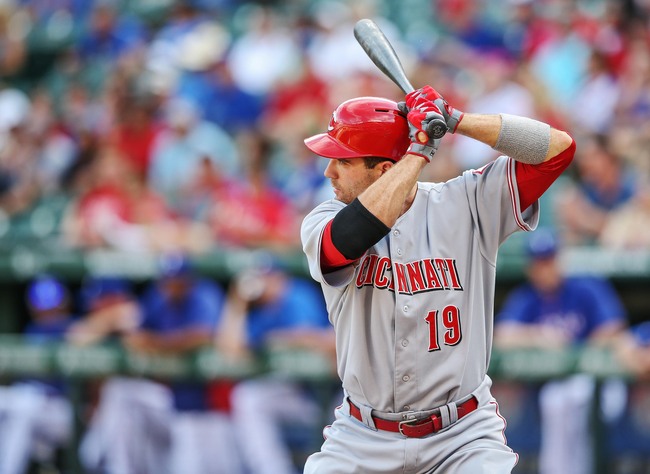 Kevin Jairaj-USA TODAY Sports
Joey Votto is the best player in the Cincinnati organization, and the Reds have made sure he's going to be at first base for them for a long time. The slugger is under contract with the club through the 2023 season, and could stay for longer if the team picks up his $20 million option for 2024. He could realistically be there until he's 40.
But the Reds were smart to lock Votto up while they still could. It's not every day that you get an MVP-caliber first baseman on the roster. The 29-year-old won the NL MVP in 2010 and is almost always in contention for the honor. It wouldn't be surprising if Cincinnati names him the captain in the near future.
Milwaukee Brewers: Jean Segura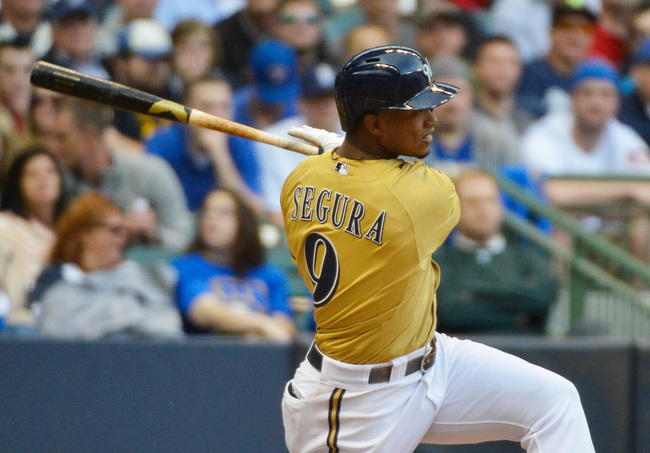 Benny Sieu-USA TODAY Sports
The Brewers can breathe a sigh of relief; Jean Segura isn't going to be a bust.
Milwaukee landed the shortstop from Los Angeles when the team dealt Zack Greinke last summer. Throughout the rest of the 2012 season, he hit .264/.331/.652 in 44 games with the Brewers, but was expected to hit better than that.
In 2013, Segura has shown what's to come in the future. Through 110 games, the shortstop is hitting .314/.351/.469 with 36 extra-base hits, 61 runs and 31 stolen bases. He's just 23 years old and will certainly be with the club for the foreseeable future. The Brewers need a new star with Ryan Braun's popularity decreasing rapidly.
Pittsburgh Pirates: Andrew McCutchen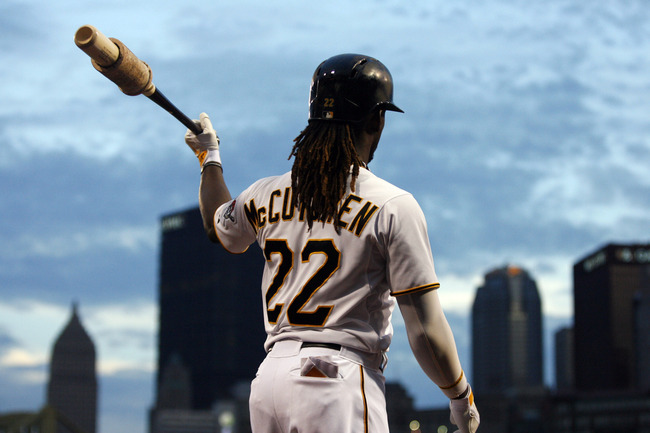 Charles LeClaire-USA TODAY Sport
Andrew McCutchen is the best player on the Pirates, and that's going to stay that way for a long, long time. He's one of the few five-tool players in the game, and Pittsburgh will likely try to do everything in its power to keep him with the club his entire career. He's already going to be with the Pirates through at least 2017.
In five seasons with the Pirates, McCutchen has been selected to three All-Star Games, has won a Gold Glove and a Sliver Slugger, and he also finished in the top three of the NL MVP voting last season.
He's a monster for Pittsburgh, and you should expect to see him put up big numbers in each year of what's hopefully going to be a long career.
St. Louis Cardinals: Shelby Miller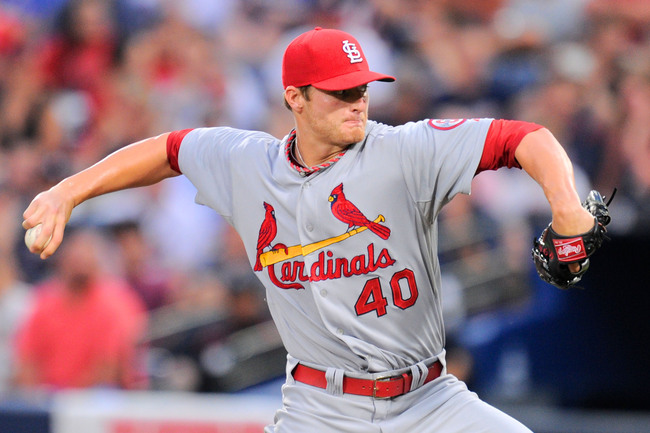 Dale Zanine-USA TODAY Sports
Shelby Miller has only made 23 starts in his young career—as well as five relief appearances—but he's already making a lot of noise. The righty is 11-7 on the year with a 2.89 ERA in 121.1 innings of work. He should be a contender for the NL Rookie of the Year Award, especially if he continues to pitch like he has all year.
Adam Wainwright could contend for his spot as well, as he's been one of the best pitchers in baseball this season and is under contract through 2018. The same could be said for Oscar Tavares, who's the top prospect in St. Louis' system. Even with those two in the mix, though, Miller will be the star of the team in future years.
Arizona Diamondbacks: Tyler Skaggs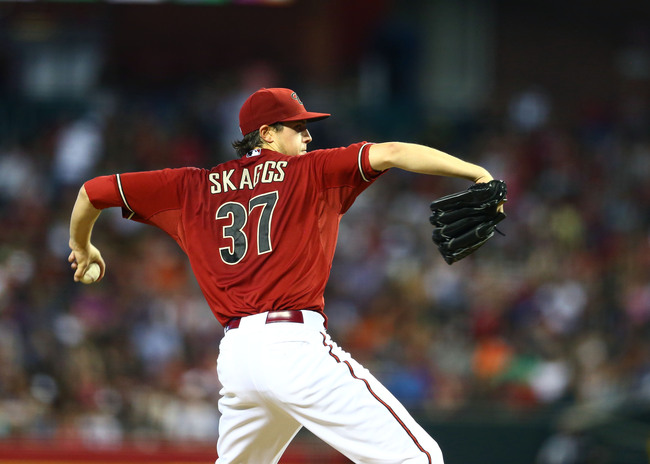 Mark J. Rebilas-USA TODAY Sports
You could make the argument that Paul Goldschmidt could get the nod here, but I think Tyler Skaggs is going to be a star in the majors very soon. The lefty has made 13 major league starts in his career, with seven of them coming in 2013. In those starts, he's struggled, as he's allowed 23 earned runs in 38.2 innings of work.
There's no question that Skaggs still needs some time to sort things out in the minors, and in fact, that's why he's still there. He should be with the Diamondbacks to start next season, though, and he'll then show what he's capable of on the mound. Expect him to compete for the NL Cy Young in several seasons throughout his promising career.
Colorado Rockies: Troy Tulowitzki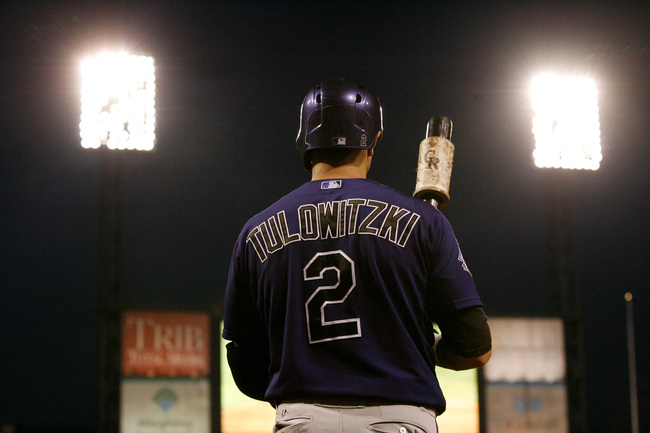 Charles LeClaire-USA TODAY Sport
Troy Tulowitzki and Carlos Gonzalez will likely battle for this spot in the future, and in reality, each would be a worthy face of the franchise. Right now, it appears that the duo is taking the reigns from Todd Helton, who will likely retire at the end of the season—or at least in the near future.
Tulowitzki is arguably the best shortstop in baseball and already has three trips to the Midsummer Classic and a pair of Gold Gloves and Silver Sluggers on his resume. He's also finished in the top 10 of the NL MVP voting on three occasions. He could eventually end up winning the coveted award should he stay healthy for a full season.
Los Angeles Dodgers: Clayton Kershaw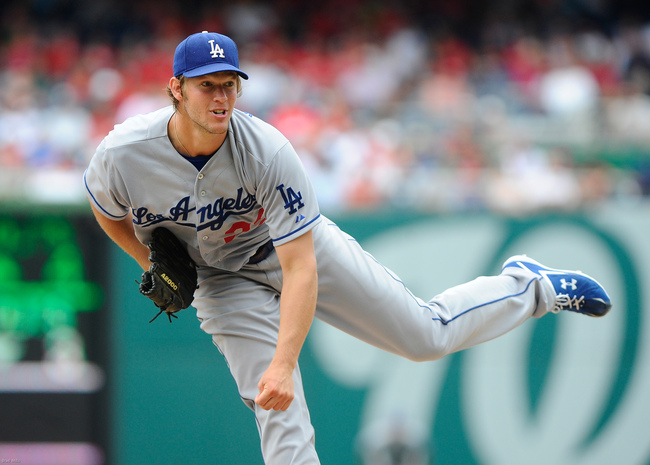 Brad Mills-USA TODAY Sports
This one was a tough call, but Clayton Kershaw will be the face of the franchise over Yasiel Puig. Both are bound to continue playing well for the next couple of seasons—and potentially even longer—and each should also be with the Dodgers throughout most, if not all, of their careers.
Kershaw already has a Cy Young Award on his resume, winning the honor two years ago. He finished in second place last season and could be in the mix for his second major award this season as well. He's already the best lefty in baseball, and it'll be fun to see what he can do in Los Angeles going forward.
San Diego Padres: Austin Hedges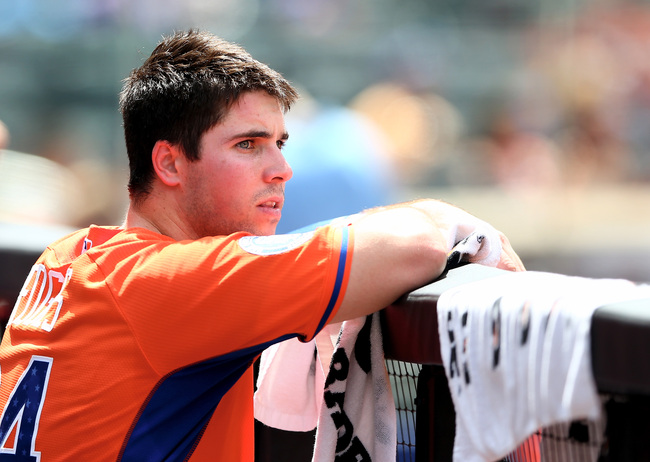 Elsa/Getty Images
The Padres don't really have that one guy who stands out as the face of the franchise right now. You could make the case that it's Chase Headley, but it doesn't seem likely that he's going to be with San Diego for the foreseeable future. That leaves top prospect Austin Hedges as the player bound to be the guy.
Hedges was drafted in the second round by the Padres two years ago, and has already cemented himself as the future backstop for the club. Between High-A Lake Elsinore and Double-A San Antonio this year, the catcher is hitting .262/.337/.407 with 27 extra-base hits—four being homers—and 34 runs through 71 games.
San Francisco Giants: Buster Posey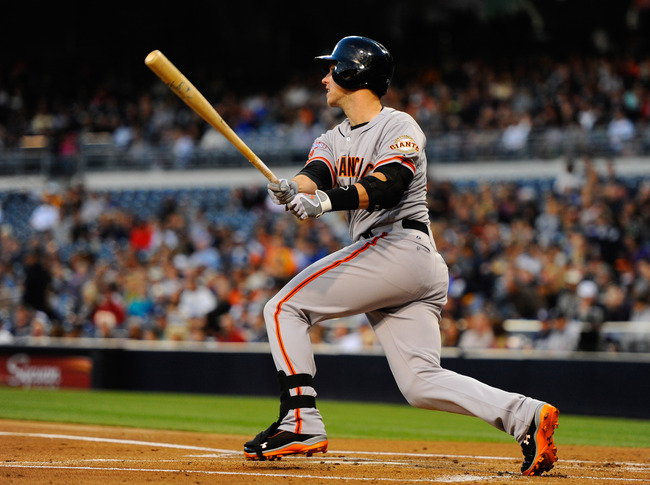 Christopher Hanewinckel-USA TODA
Buster Posey is only 26 years old, and he's already the leader of the San Francisco Giants. The backstop has won a pair of World Series titles with the club, and he's only played in at least 100 games three times in his young career—missing most of 2011 with a broken ankle. He won the NL Rookie of the Year in 2010 and the NL MVP in 2012.
Posey is under contract through the 2021 season, meaning he'll be with San Francisco for the long haul. He's bound to collect even more awards if he continues to stay healthy. Through 108 games this season, the two-time All-Star is hitting .308/.378/.501 with 14 home runs, 44 runs and 61 RBI.
Keep Reading