Alex Rodriguez is lucky. That's right: lucky.
Lucky not only because he avoided the lifetime ban from baseball that commissioner Bud Selig and the league wanted to hang on him, but because he'll still be able to earn the $61 million he's due over the rest of his contract—after the $35 million or so chunk gets taken out of his wallet for being suspended through the 2014 season, of course.
On top of all that, Rodriguez, who has missed the entire season so far due to recovery from hip surgery, is lucky enough that he was—incredibly—in the New York Yankees lineup against the White Sox in Chicago on Monday.
Think about that for a moment. A player who is an admitted cheater and PED user, with a large amount of evidence working against him, made his season debut and will continue playing with a big-league ballclub for the foreseeable future.
All because he can—and indeed has—appealed, according to Joel Sherman of the New York Post.
Did A-Rod deserve the suspension he received from MLB?
Never mind that the other 12 players who were suspended will be serving their bans immediately. Rodriguez's suspension, which covers 211 games in full, doesn't actually take effect until Thursday.
Again, a superstar who is one of the highest-profile players in baseball gets to put on a jersey, step on the field and pretend like he's not at the very center of the Biogenesis performance-enhancing drug scandal that has rocked the sport since the Miami New Times first broke the story back in January.
And we're supposed to be OK with that?
Or the fact that Rodriguez may wind up playing much or all of the rest of this season, as Tyler Kepner of the New York Times reports:
Michael Weiner says A-Rod's appeal verdict will not come until November or December.

— Tyler Kepner (@TylerKepner) August 5, 2013
Selig, of course, had the option to keep Rodriguez off the field immediately by choosing to suspend him to maintain the game's best interests, as Jon Heyman of CBS Sports wrote.
It shouldn't have been an option. Regardless of protocol or procedure, the penalty should have been both immediate and harsh. Major League Baseball got it only half right.
Let's not forget, this is far from the first time Rodriguez has been directly tied to PEDs. Back in 2009, in fact, he even admitted to cheating while a member of the Texas Rangers early in his career.
And as if to prove just how much he still didn't get it, Rodriguez reportedly also tried to receive help from Tony Bosch, the founder of the now-defunct Miami-area Biogenesis clinic, during the postseason—just last year.
Then, when the league looked into things, Rodriguez even had the audacity to interfere and obstruct the investigation, as MLB states:
Rodriguez's discipline under the Joint Drug Prevention and Treatment Program is based on his use and possession of numerous forms of prohibited performance-enhancing substances, including Testosterone and human Growth Hormone, over the course of multiple years. Rodriguez's discipline under the Basic Agreement is for attempting to cover-up his violations of the Program by engaging in a course of conduct intended to obstruct and frustrate the Office of the Commissioner's investigation.
In what is the harshest penalty the league has handed out since Pete Rose's lifetime ban for gambling on the game, Rodriguez is being disciplined under both the drug program and the CBA for the use and possession of multiple PEDs over multiple seasons.
But hey, suit up, Alex.
Fact is, Rodriguez's punishment needed to be the longest and toughest among all the players who have been linked to Biogenesis over the past several months.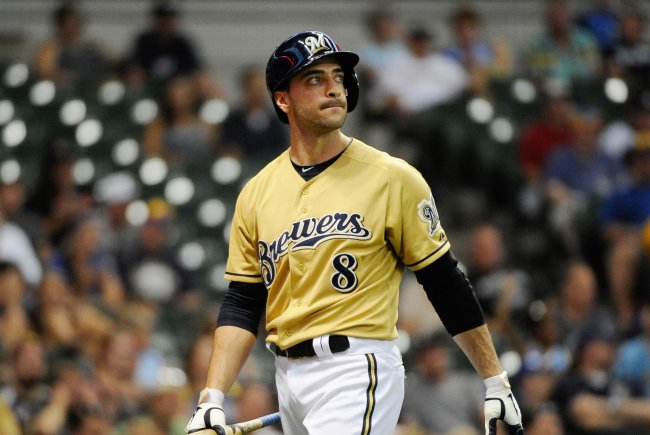 Benny Sieu-USA TODAY Sports
The 65-game ban for Ryan Braun that came down in late July had to serve not as the standard, but as the baseline.
What do you think of the severity of A-Rod's suspension?
Why? Because as MLB argued, there was more evidence, more dirt on Rodriguez than on Braun—or any other player, for that matter.
A 50-game ban—the equivalent of a first-time offense—for the pied piper of PEDs? Nuh-uh.
One hundred games—the equivalent of a second offense—for an egomaniac who has acted as if the rules don't apply to him? Getting warmer.
The fact that Rodriguez can't play baseball for over a year is a worthy punishment. Some argue, after all, that he should be out for longer—or even for life—so yes, Rodriguez is lucky.
The fact that baseball isn't being taken away from Rodriguez immediately? Lucky is one way to put it.