Think about the first time you mowed your lawn this past spring and compare it to the last time that you mowed your lawn (which, for your neighbor's sake, hopefully wasn't back in April).
It was a lot more physically demanding this time around, wasn't it?
Crazy as it may sound—it is a game, after all—playing baseball also gets more difficult as the calendar moves into the dog days of summer.
The weather gets hotter and more humid, the crowds grow in size with kids out of school and the wear-and-tear of three months of baseball begins to take its toll on even the most finely-tuned athletes.
While many players settle into a routine and produce as they have for much of the season, only a select few are able to elevate their game to new heights.
Let's take a look at five players that, much like you and that lawn if you've been keeping it well-manicured, sucked it up and got the job done.
Juan Lagares, CF, New York Mets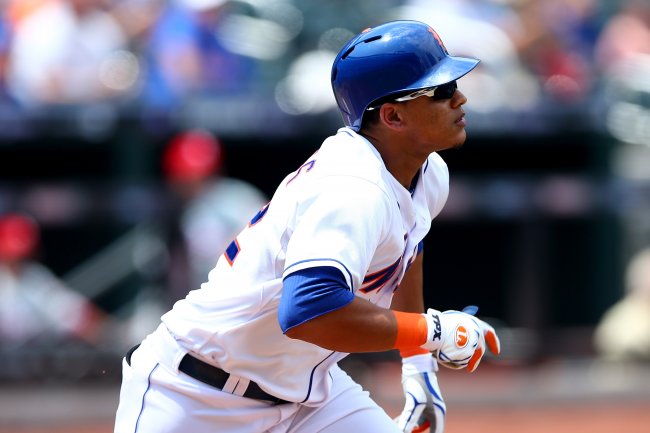 Elsa/Getty Images
July Stats
BA

OBP

SLG

OPS

XBH

(HR)
RBI
R
SB
.353
.408
.529
.937
9 (1)
13
7
2-of-3
Perhaps only the most devout Mets fans had any idea who Juan Lagares was heading into the season.
After his first two-plus months in the major leagues, most people still weren't paying attention to the 24-year-old outfielder who posted a forgettable .222/.242/.333 slash line from April 23, when he made his major league debut, to the end of June.
It looked like he was stepping to the plate without a clue—or a prayer.
Then July hit and just like that, so did Lagares.
He was nothing short of phenomenal for the Mets in July, leading the team in batting average, on-base percentage and OPS.
As a matter of fact, only four rookies in team history have posted a higher single-month OPS than Lagares (minimum 70 at-bats):
Player
Month (Year)
BA
OPS

XBH

(HR)
RBI
H
SB
Darryl Strawberry
Sept./Oct. (1983)
.376
1.112
12 (5)
17
32
5-of-7
Mike Jacobs
Sept./Oct. (2005)
.310
1.027
13 (7)
14
22
0-of-0
Steve Henderson
July (1977)
.333
.994
13 (5)
24
32
2-of-3
Ike Davis
Sept./Oct. (2010)
.330
.952
12 (4)
14
34
1-of-2
Juan

Lagares

July (2013)
.353
.937
9 (1)
13
24
2-of-3
Courtesy of Baseball-Reference's Play Index (subscription required)
If Lagares were only impressing with the bat, he'd still be worthy of inclusion on this list.
But he's been terrific in the field as well, getting to balls that he has no business catching and showing off his strong, accurate throwing arm not once, but twice against the Atlanta Braves—nailing Jason Heyward at home plate in consecutive games.
The Mets have long been searching for quality outfielders, and after watching Lagares put on a display in July, it's beginning to look like they may have had one in their system all along.
David Price, SP, Tampa Bay Rays
Tom Szczerbowski/Getty Images
July Stats
| W-L | ERA | WHIP | IP | H | BB | K | QS |
| --- | --- | --- | --- | --- | --- | --- | --- |
| 5-1 | 1.68 | 0.70 | 48.1 | 33 | 1 | 35 | 5-of-6 |
David Price has always been good, but he's never been this good before—and that includes last season's Cy Young Award-winning campaign.
Since 1916, only five pitchers in baseball history have accomplished what Price did in July: Pitching to an ERA below 2.00 and a WHIP below 1.00 in at least five starts while walking no more than one batter in a single month.
None were as dominant as Price:
Player (Team)
Month (Year)
W-L
ERA
WHIP

IP

H
BB/K
Slim Sallee (

STL

/NYG)
August (1916)
3-2
1.70
0.92
47.2
43
1/11
Babe Adams (PIT)
Sept./Oct. (1919)
3-1
1.13
0.77
47.2
36
1/17
Bob

Forsch

(

STL

)
July (1980)
2-1
1.63
0.85
38.2
32
1/15
Greg Maddux (

ATL

)
Sept./Oct. (1997)
2-1
1.50
0.89
36.0
31
1/26
David Price (TB)
July (2013)
5-1
1.68
0.70
48.1
33
1/35
Courtesy of Baseball-Reference's Play Index (subscription required)
When you consider that Price's first start of the month on July 2 was his first major league appearance since May 15, as he missed more than a month with a triceps injury, his performance is even more impressive than the numbers show.
Now throw in the fact that Price went the distance in three of those six July starts and well, what Price pulled off is nothing short of remarkable.
If you're somehow still not convinced that Price elevated his game at this point, look at how drastically some of Price's numbers on the season improved:
His ERA dropped from 5.24 to 3.57
His WHIP dropped from 1.44 to 1.16
His record improved from 1-4 to 6-5
That's impressive, and it's just what Price—and the Rays—needed.
It's no coincidence that Tampa Bay's meteoric rise to the top of the standings in the AL East coincided with Price's return and the best month of his six-year career, though with great success comes great expectations.
The Rays will be counting on him to carry them to the finish line ahead of an improved Boston club that just won't go away in baseball's toughest division, and after the month Price just had, it's hard to argue against him being able to pull it off.
Colby Rasmus, CF, Toronto Blue Jays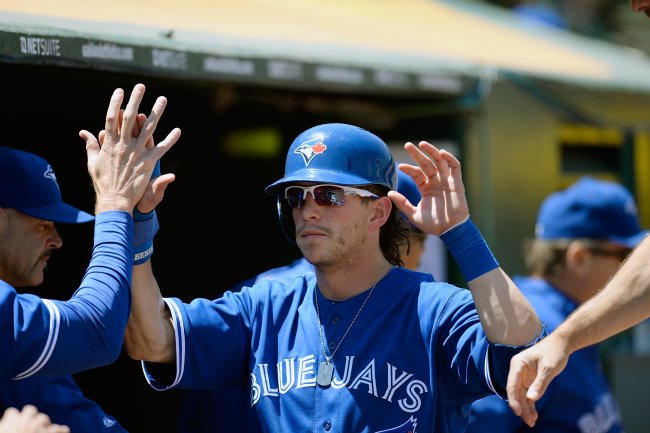 Thearon W. Henderson/Getty Images
July Stats
BA

OBP

SLG

OPS

XBH

(HR)
RBI
R
SB
.371
.413
.588
1.001
15 (3)
17
14
0-of-0
While the responsibility for Toronto's struggles this season have largely fallen on the shoulders of the high-profile pitchers that the Blue Jays picked up before the season—Mark Buehrle, R.A Dickey and Josh Johnson—one of the team's holdovers from last season, Colby Rasmus, hasn't helped the situation.
Once considered one of the top prospects in baseball, Rasmus has struggled to live up to expectations throughout his career, both in St. Louis and Toronto. The 26-year-old entered July with a paltry .242/.314/.455 slash line, 14 home runs and 38 RBIs.
But something clicked in July, and Rasmus took off running.
Not only did he lead Toronto in multiple offensive categories, but among major league center fielders who took at least 75 at-bats in July, only Los Angeles' Mike Trout was more productive. His 12 doubles on the month led all of baseball, regardless of position, and he was one of 12 players to post an OPS above 1.000.
Kyle Seager, 3B, Seattle Mariners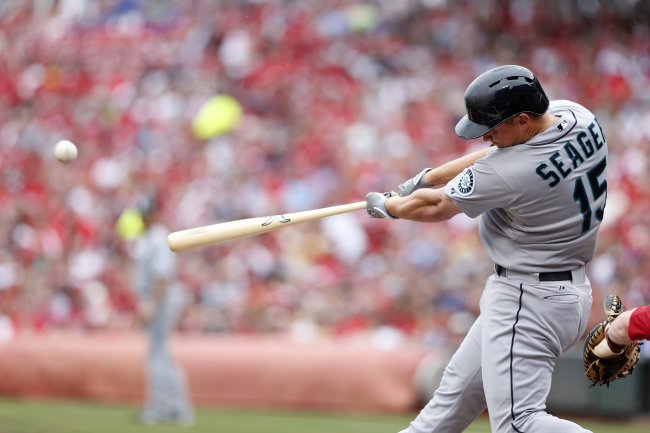 Joe Robbins/Getty Images
July Stats
BA

OBP

SLG

OPS

XBH

(HR)
RBI
R
SB
.396
.464
.635
1.099
11 (6)
14
21
0-for-0
The mid-1990s and early 2000s was the era of the shortstop, with Derek Jeter, Nomar Garciaparra, Alex Rodriguez and Miguel Tejada captivating fans around the world with their exploits on the field.
In 2013, we have entered the era of the third baseman, with players like Adrian Beltre, Miguel Cabrera, Manny Machado, Pablo Sandoval and David Wright, among others, captivating audiences with their tremendous play.
None of them were as good as Seattle's Kyle Seager in July, as he led all major league third basemen in multiple categories, including batting average and on-base percentage (minimum 75 plate appearances):
Player (Team)
BA

OBP

SLG

OPS

XBH

(HR)
RBI
R
Kyle

Seager

(SEA)
.396
.464
.635
1.099
11 (6)
14
21
Chris Johnson (

ATL

)
.381
.404
.476
.880
8 (1)
14
18
Adrian Beltre (TEX)
.369
.414
.670
1.084
13 (9)
19
13
Martin Prado (ARI)
.316
.371
.505
.877
11 (3)
15
12
David Wright (

NYM

)
.315
.392
.468
.860
10 (3)
11
17
As with David Price in Tampa Bay, it's not a coincidence that the Mariners enjoyed their most successful month of the season (15-9) at the same time that Seager got hot.
If the Mariners are going to finish the season with a winning record for the first time since 2009, they are going to need Seager to continue to swing a hot bat and prove that he is the most irreplaceable piece in Seattle's lineup.
Jayson Werth, LF, Washington Nationals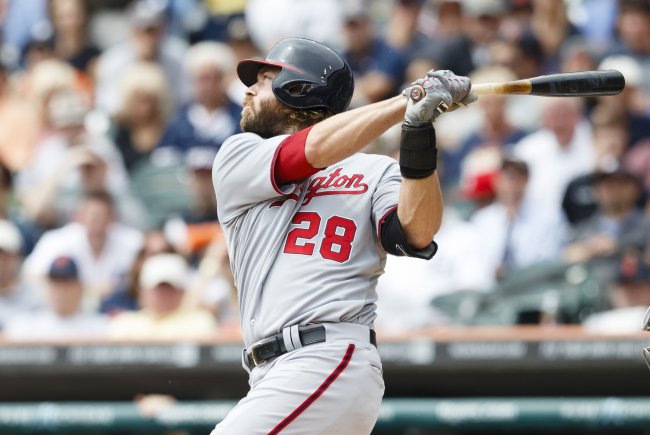 Rick Osentoski-USA TODAY Sports
July Stats
BA

OBP

SLG

OPS

XBH

(HR)
RBI
R
SB
.367
.450
.622
1.072
9 (7)
22
17
2-for-2
Saying that Jayson Werth has been a disappointment since signing a seven-year, $126 million contract with Washington in December of 2010 would be one of the great understatements of the century.
After a miserable 2011 season that saw him hit only .232, Werth was limited to only 81 games in 2012 due to injury. He needed a strong start to the 2013 season in the worst possible way, and through the end of June, his numbers were decent: a .272 batting average, .774 OPS, eight home runs and 21 RBIs.
Who elevated his game the most in July?
Decent, but well below the level of production that you'd expect from someone with such a big contract.
Finally, in July, Werth started to play up to expectations, putting together his best month as a member of the Nationals.
Werth led the team in nearly every offensive category with the exception of doubles, triples, stolen bases and strikeouts. While his defense remains shaky at times, his offensive production more than makes up for his limitations in the field.
As Washington's offense continues to flounder (Werth was one of only two regulars to post an OPS above .800 in July), the pressure is on the 34-year-old to continue his hot hitting and keep the team on the outskirts of contention until the rest of the team's big bats catch up to him.
Honorable Mentions
Chris Archer (TB): 4-0, 0.73 ERA. 0.65 WHIP, 37 IP, 7 BB, 22 K
Hiroki Kuroda (NYY): 3-0, 0.55 ERA, 0.94 WHIP, 33 IP, 6 BB, 24 K
Jonathan Lucroy (MIL): .333/.388/.667, 15 XBH (7 HR), 15 RBI
Wily Peralta (MIL): 2-1, 1.64 ERA, 1.06 WHIP, 33 IP, 13 BB, 28 K
*Unless otherwise noted, all statistics courtesy of Baseball-Reference.com and are current through games of July 31.