Joe Torre Talks Mariano Rivera, Matt Harvey, Instant Replay and More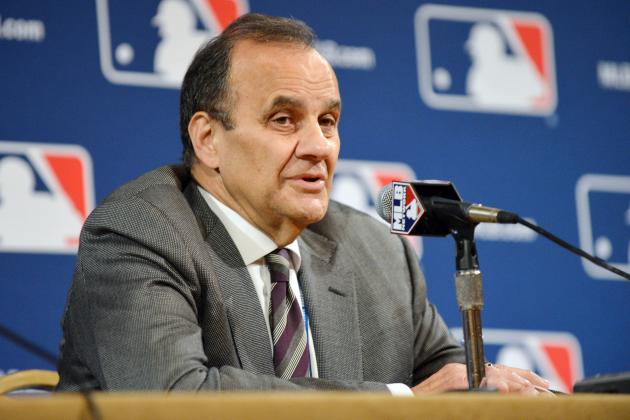 Don McPeak-USA Today Sports

When Joe Torre talks, people listen.
I had the privilege of speaking and listening to the Major League Baseball icon at the 2013 Joe Torre Safe At Home Foundation Celebrity Golf and Tennis Classic on July 17, the day after the MLB All-Star Game.
The goal of the day was to provide education and raise awareness to end the cycle of domestic violence and save lives, as well as to have a little bit of fun on the links. Many stars showed up for the event, including notable names such as Tony La Russa and Bob Gibson, among others who respect Torre and his foundation's purpose.
In addition to speaking of his rough upbringing and what he and the Safe At Home Foundation have done and look to do going forward, MLB's current executive vice president of baseball operations talked about the game of baseball.
The former player and manager spoke on a variety of subjects, including Mariano Rivera and his appearance at this year's Midsummer Classic, what it was like to manage No. 42, Mets starter Matt Harvey and the state of instant replay. Here's what the all-time great had to say.
All quotes in this article obtained firsthand at the 2013 Joe Torre Safe At Home Foundation Celebrity Golf and Tennis Classic, held on Wednesday, July 17 at Sleepy Hollow Country Club in Scarborough, N.Y.
Begin Slideshow

»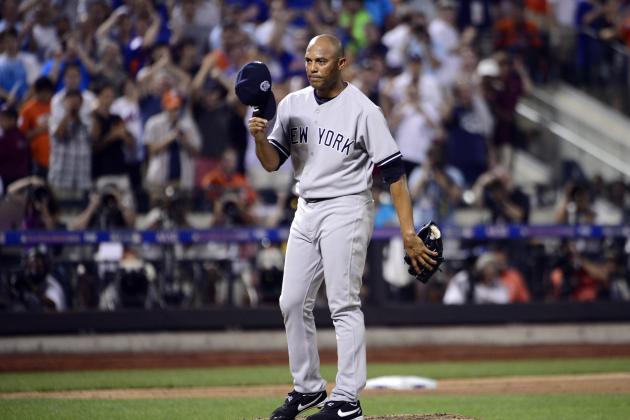 Scott Rovak-USA TODAY Sports

The Yankees lost one of their top stars last season when Mariano Rivera injured himself during batting practice before a game against the Royals in May. He only pitched in nine games the entire season, and Torre thinks that if the closer had stayed healthy all last year, there's a chance he wouldn't be playing in 2013.
"Well, the interesting part is that it was such a devastating blow last year when he got hurt," Torre said. "If he doesn't get hurt last year, chances are, probably a 50-50 chance that he would've retired last year."
Rivera entered this season healthy and got off to a great start. In the first half of the year, he allowed seven earned runs in 34.1 innings of work (1.83 ERA) and saved 30 games for the Yankees. There was no question that he'd make the AL All-Star team since he's retiring after the season, but many wondered when he'd get to pitch.
Rivera entered the Midsummer Classic in the eighth inning and got one of the most emotional and outstanding ovations you will ever see at a Major League Baseball game—and potentially at any sporting event. He tossed a scoreless frame and received the All-Star Game's MVP award.
"To have that showcase [at the All-Star Game], he's earned it," said Torre. "I thought it went off really well, and Jim Leyland did an outstanding job in orchestrating that whole thing."
While Rivera continues to improve his Hall of Fame resume, Torre knows how much he's meant to the game and to himself. Torre managed the Yankees from 1996 through 2007, and Rivera was a member of the team each year.
"I wouldn't be wearing World Series rings without him and a number of other guys," Torre said. "What he's done in a high-pressurized role for a high-pressurized organization in the city of New York, it's not easy to do—trust me."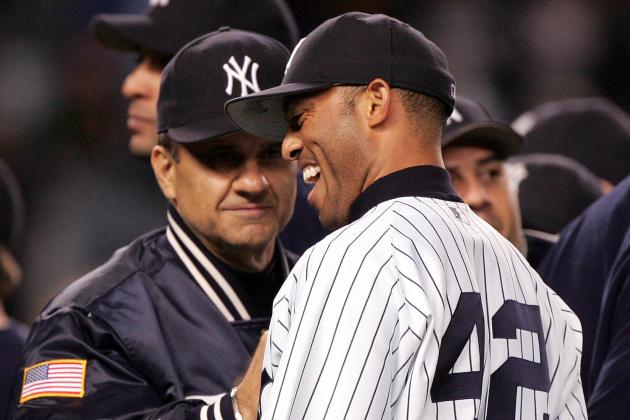 Jed Jacobsohn/Getty Images

Torre came to New York for the 1996 season after managing the St. Louis Cardinals the previous six years. He hadn't seen much of Rivera, considering he hadn't played much. The pitcher only made 19 appearances in 1995—plus three in the playoffs—and Torre didn't know what to expect going forward.
"Well, we didn't know," said Torre. "At the time, we had John Wetteland and Bob Wickman, our two closer-type guys. Mariano, I remember, the first time I saw him was on television watching him pitch in that Game 5 in Seattle. At that time I never envisioned that I would be managing the following year."
When Torre entered spring training in 1996, the manager and organization had some doubts about Rivera's future with the team for a number of reasons.
"In spring training, there was some conversation about trading him—only because we had an abundance of those types of pitchers," Torre said. "I didn't really know where he fit. We didn't think closer because we had other people, but we thought that he could contribute.
"We knew he had some surgery on his shoulder and his arm," Torre continued. "We really weren't sure about him. So, obviously, that was the best trade the Yankees never made."
There's no doubt about that. Can you imagine if Rivera had been pitching all these years for, let's say, the Indians or Padres? I can't. But how long did it take Torre and the Yankees to realize that they had a star-in-the-making on their hands?
"It didn't take us long," Torre said. "Once we came up with a formula, pitching in the seventh and eighth inning, he certainly got our attention. He got the opponent's attention too. He was flawless.
"The only time he stumbled a little bit was in '97 when it was his first year as a closer because it's a whole different role. But he never stopped trying. That's a characteristic of his."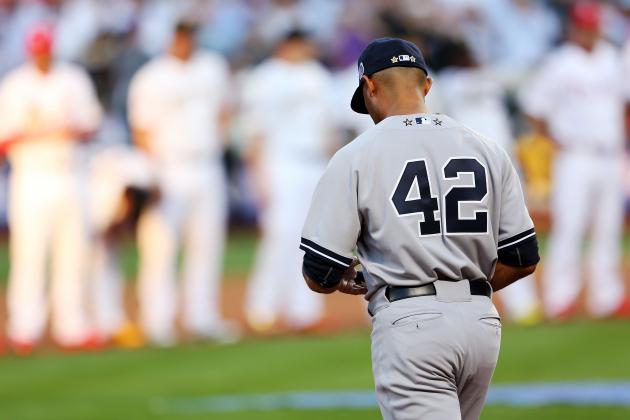 Mike Ehrmann/Getty Images

There's no question that Rivera is the most well-respected player in the game right now—and maybe even of all time. Sure, his resume is absolutely staggering, but that doesn't necessarily mean that other players, managers and fans are going to respect him wherever he is.
"A big part of it, we really spotlight a lot of individual achievement, and he's more of a team-oriented person," Torre said. "The one thing that I always felt was important, because only the players who know how tough it is to do it, but they have to do what we have to do, and he never sticks it in somebody's face.
"When he wins a game or saves a game, he just walks off," said Torre. "He doesn't over-celebrate where he aggravates the opposition. I think he does it because he has a respect for it. I think, on the other hand, a night like [at the All-Star Game], you realize how far that goes to gleaning all that respect that he's had in this game.
"He's played the game the right way."
Rivera isn't out there jumping around each time he saves a game for the Yankees, but much of the respect he earns comes from how he actually pitches each time he takes the mound. No one has numbers like him. He has the all-time lead in saves and games finished. He's also only allowed 11 earned runs in 141 playoff innings.
"No one will ever accomplish what he's been able to accomplish," Torre said, "especially in the postseason."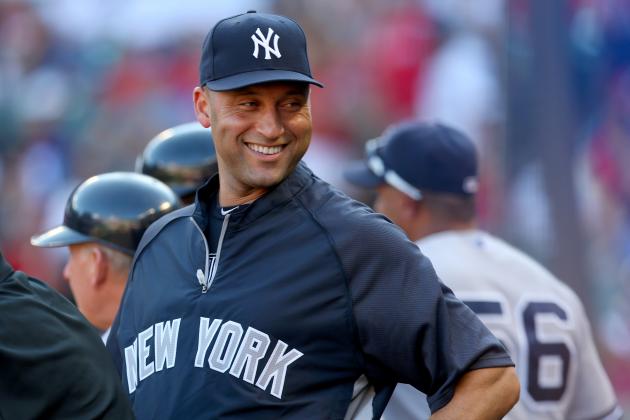 Ronald Martinez/Getty Images

The Yankees had a very rough first half of the season, and that's mainly because everyone kept getting injured. It's tough to win games when more than half of the regular starting lineup is on the disabled list for extended periods of time. But at the All-Star break, New York was only six games back in the AL East.
"First of all, Joe Girardi has done a great job keeping them close," Torre said. "There's nobody running off and hiding, and he hasn't had all his ammunition this year. There's a chance Jeter will be back for [the] Red Sox series, and there's a chance he may have to be put back on the DL, I assume."
Jeter, unfortunately, didn't play in that series against the Red Sox and has been on the disabled list for the last seven days. The Yankees still have the likes of Brett Gardner, Ichiro Suzuki and Robinson Cano in the lineup, but most of the lineup is made up of replacements who wouldn't be playing if everyone was healthy.
"You look around, there aren't too many guys you recognize as Yankees players," Torre said. "I thought [Girardi had] done a good job. It's a matter of getting some stability and moving on, and the most important thing is getting consistent pitching."
The Yankees are still trying to get everyone back in the daily lineup, but time is running out. New York is seven games back in the AL East entering Saturday and needs a major boost in the coming days before the July 31 trade deadline. Right now, it doesn't appear that the Yankees will be playing in the postseason this year.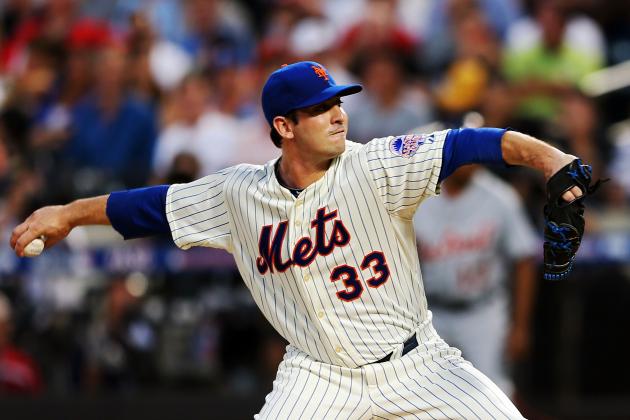 Mike Ehrmann/Getty Images

Everyone now knows who Matt Harvey is.
The young Mets ace has been outstanding this season, and there's a lot to like about the 24-year-old. What's important is that he's managed to stay healthy. While New York isn't going to have a playoff-caliber team until next year at the earliest, Harvey gives fans someone to watch. He also gives them hope for the future.
"Matt Harvey is a special kid," Torre said. "You keep your fingers crossed that he stays healthy. He's a good size. He doesn't lack confidence.
"When I say that, I don't mean he's cocky, just that he's very confident," said Torre. "And I don't blame him. He's got good stuff."
NL manager Bruce Bochy gave Harvey the nod for the All-Star Game. The right-hander struggled early, but he got out of the first inning unscathed. In two innings of work, Harvey didn't allow a run, gave up one hit, hit a batter and struck out three.
"He had a great presence out there," Torre said. "If there was a chance that he was going to get nervous, it certainly would be in a game that's sort of a showcase game. He certainly carried himself really well and responded really well."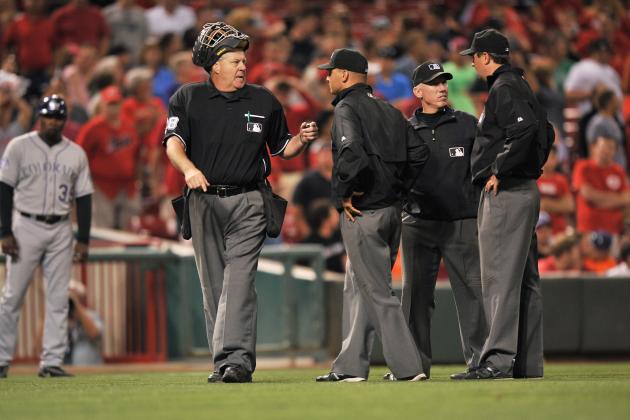 Jamie Sabau/Getty Images

Expanding instant replay is one of the top subjects in baseball these days—aside from Biogenesis talk—and with Torre being in a position of power, it was interesting to see what he had to say about the league's intentions and goals.
"We're looking at a lot," Torre said. "I know we talked about replaying fair-foul past the line and the trap play. That's the one the commissioner talked about expanding with.
"Last year in the postseason, the tag play [during Game 2 of the NLCS] that we missed. In so much conversation about that particular play that I realized at that time that we need something more than just fair-foul.
"We're looking at a lot of stuff," Torre said. "I know, for some reason, some people want to get every single thing right. Not that you don't try to get everything right, but I don't think it's realistic.
"We don't have timeouts incorporated in our game. We have mid-innings and stuff like that, but we don't have TV timeouts in that regard. We don't want to mess up the rhythm of the game."
So what's the plan?
"What we're looking at right now is how much of it do we want," Torre said. "Obviously we want late-inning stuff that's going to affect the game, if we can do that. We have to figure out how we're going to trigger it. We've talked about the managers, like the coaches do in football. But it could be a little bit different.
"That's the only thing that we're not at right now, is cut and dry on what exactly we're doing in regards to how much we want and how we're going to initiate [it]," Torre said.
One of the biggest questions surrounding expanded replay is how plays are going to be reviewed. At the moment, the umpires at the game go in and take a look at the play. That might not be the case going forward, though.
"We're considering remote," Torre said. "We have BAM in New York, Baseball Advanced Media. We have certainly the ability to do things there. But again, it's the ability to communicate where the game is.
"On any given day, you have 30 teams. So, there are going to be 15 games. They're going to happen from one time zone to the other. It's going to be a lot of people to make sure that this gets consistent attention."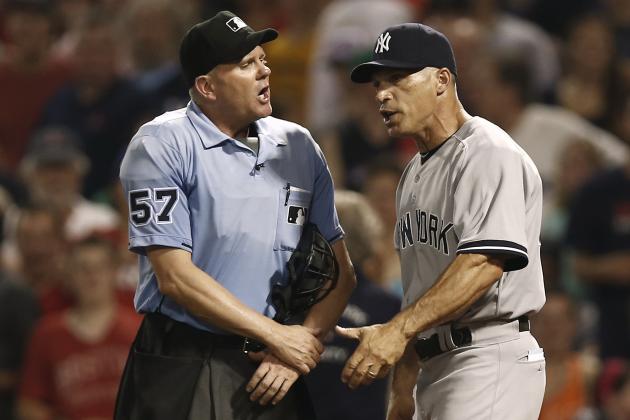 Winslow Townson-USA TODAY Sports

I've been to several Yankees-Red Sox games in my life, and while I love watching baseball, they're absolutely dreadful to sit through. Many would agree with me there. The games regularly take four hours, and if the league expands replay, the matchups could take even longer.
"Because of technology, we think we've tested enough technology to not have that be the case," Torre said. "It's not as simple as some other sports because our game isn't this square area on the field or on the court. We're all over the place. In football, you know when you hear everything's going that way. Our game, it's all over the place."
Expanding replay may not ensure that every play is called correctly.
"You need camera angles, and it's not always possible to be able to see everything that you'd like to see," Torre said. "The one thing that's certainly important is not to interrupt the rhythm of the game. That's been a huge concern to us, and that's why we're not about to talk about replaying everything and looking at everything.
"I watch games," Torre said. "Obviously, my job, I have to. I've heard announcers say, 'Boy, that's a bang-bang play at first base.' And then they watch it three or four times and they'll see that the umpire missed it, and they'll say, 'I wonder how you miss that.' It's one of those things. Those umpires get to see it once.
"We feel the integrity of the game is important. We certainly, and I've learned, even though I've always had a respect for the umpires—I mean, I got thrown out of my share of games and stuff like that—but these umpires take it very seriously, and they're very proud of what kind of job they do."
Torre noted that the league doesn't want to disrespect the umpires, and the league wouldn't involve anything having to do with balls and strikes. But expanding instant replay is going to be extremely complicated in some situations.
"Like it's easy for me to show you something, 'Yeah, let's replay that,'" said Torre. "And then you realize, well, if we do that now, how are we going to place runners if we called a ball foul and it's really fair. Now what do we do about it? Where do we put the runners? There are a lot of things to consider here."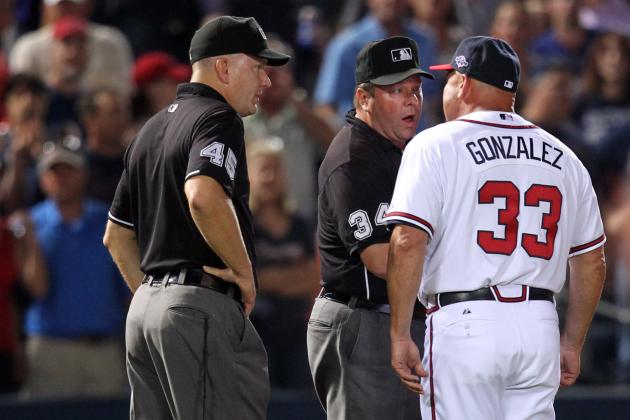 Daniel Shirey-USA TODAY Sports

Expanded replay is going to come in the future, but how soon can we expect it? While some may hope that everything is ready to go by the time the postseason begins, that doesn't appear likely.
"We may be doing something like we did at the [World Baseball Classic]," Torre said. "We had something in the booth in Miami where we looked at certain technology. We were sort of, in our minds saying, 'This is a game. Replay this, replay that.'
"Yeah, something like that would certainly need to test what technology we're going to use and what method we're going to use," Torre said. "But it wouldn't be in play for the postseason."