Spotlighting Small-School Studs Sure to Make a Splash in NFL Training Camps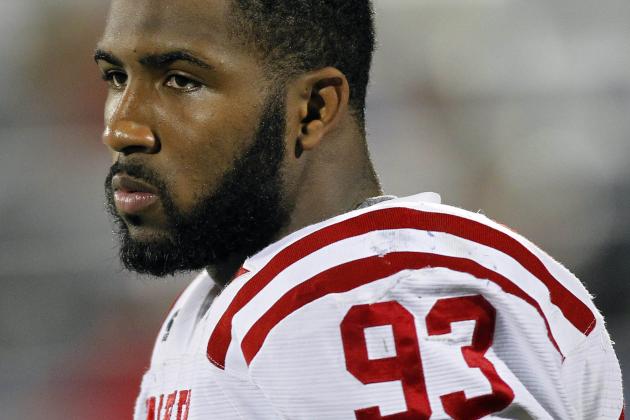 Robert Mayer-USA TODAY Sports
Denver Broncos rookie Quanterus Smith from Western Kentucky is one of my favorite prospects in this rookie class.
Making the jump from college to the pros can be incredibly intimidating. But for those coming from small-school backgrounds, taking the next step to the NFL can be even more daunting.
Making a splash at the highest level is not guaranteed for even major-conference players. It takes a special kind of prospect to even look like he belongs in an NFL training camp as a rookie, let alone a rookie who has rarely, if ever, faced NFL-caliber talent.
Yet, after camp is all said and done, these big fish from small ponds are sure to redistribute more than just water once they're fully immersed in the speed and pace of NFL practices.
This list is a testament to those who defied near-insurmountable odds to be in a professional training camp. Not only do these men belong, look for them to thrive early and often as they make a name for themselves under the summer heat.
Every successful career begins sometime. I believe for these men that time is now.
Begin Slideshow

»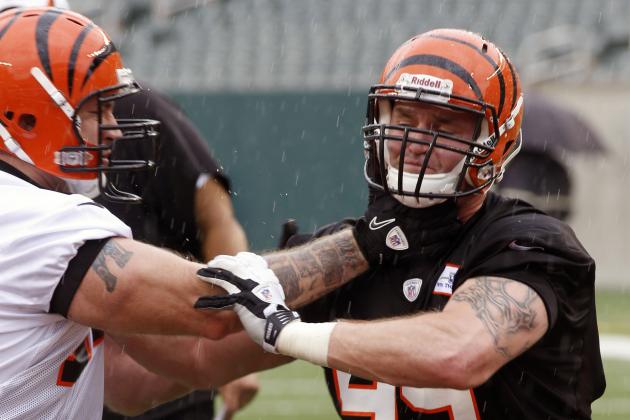 David Kohl-USA TODAY Sports

Margus Hunt is a very raw prospect with uncanny physical gifts.
Keep an eye on Hunt in the special teams department, where I suspect he'll be making a big impact rather quickly.
Did I mention he blocked a school-record 17 kicks while at SMU?
With that said, his special teams impact will reach far beyond blocking kicks. He should also be able to block and be a tough matchup on every unit. This is what happens when you're 6'8" and 277 pounds and can run the 40-yard dash in 4.6 seconds.
The typical fan may not grasp the significance of elite special teams players, but every NFL coach knows their true value. This is the realm where Hunt will light up Cincinnati's training camp and make an early name for himself.
Perhaps someday he'll grow into a formidable defensive lineman as well.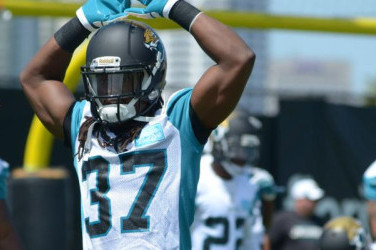 Rob Foldy-USA TODAY Sports

His NFL career may barely be in the infant stage, yet Jonathan Cyprien has already made a big splash down in Jacksonville throughout minicamp and OTAs. It shouldn't be too far-fetched to expect big things from the kid out of Florida International this August.
Cyprien is expected to fill a starting safety role immediately for a team who can surely use as much help from its young players as possible.
Keep an eye out for some incredible instincts and a high football IQ.
He may just be a rookie right now, but he might quickly become the best player on that defense.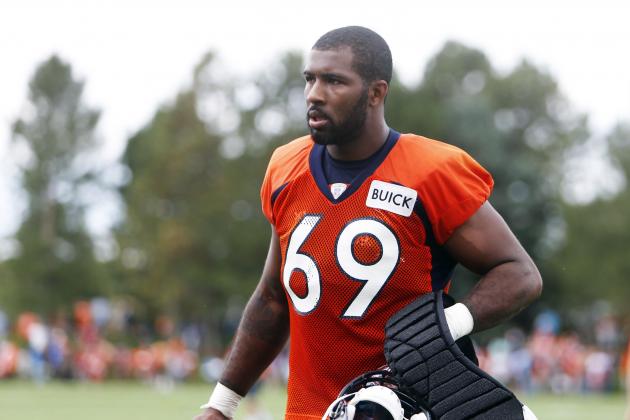 Chris Humphreys-USA TODAY Sports

Some people may not be too familiar with Western Kentucky's former pass-rusher extraordinaire Quanterus Smith.
That's OK.
His anonymity will soon be a distant memory in Denver and eventually the country.
I should tell you, this fifth-round pick just so happens to be my favorite rookie pass-rusher of this entire draft class. He has a rare combination of instincts and hand technique, which complement his promising 6'5" frame.
Whatever he does this summer will only be a bonus considering he's returning from a knee injury suffered last season and has finally been cleared for full practice.
Apparently it didn't take long for the polished rusher to turn heads. According to Peter King of Sports Illustrated, Smith has already demonstrated his potential to immediately help the Broncos, as he impressed in one-on-one drills against the offensive line.
We might also want to keep a close eye on the possible suspension of Von Miller. If he's forced to miss time, Smith may be asked to fill in early and often in passing situations.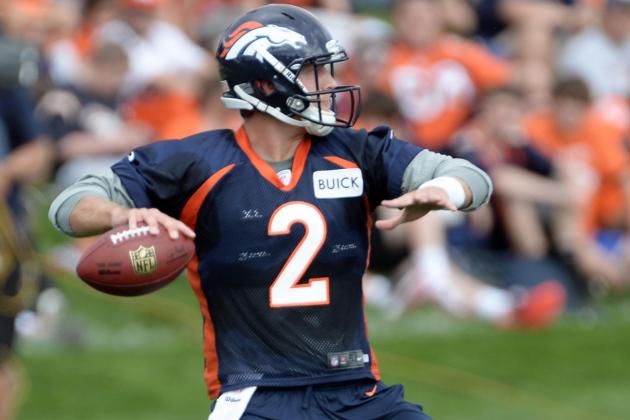 Ron Chenoy-USA TODAY Sports

I swear I'm not a Denver Broncos fan—not yet anyway.
But here goes another one.
With the arrival of Zac Dysert in Denver, second-year QB Brock Osweiler may be demoted to third string by the end of training camp. This should be viewed more as praise toward Dysert rather than an indictment on Osweiler.
Some guys just have something special—that "it" factor.
Dysert's highly competitive nature coupled with his impressive yet underrated athletic ability is sure to gain him early supporters around the Denver organization.
The true value of his services will be better demonstrated in game-time situations when he's forced to improvise and make plays on the fly. This is an area where he excelled more than most of the other signal-callers in this year's draft.
Oh, by the way, it always helps to be learning from one of the greatest quarterbacks to ever play the game.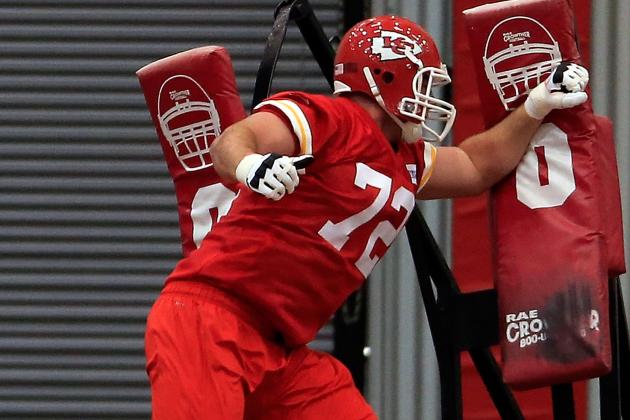 Jamie Squire/Getty Images

Well, the first overall pick is finally signed and ready to make a similar kind of impression to what he was able to do during the predraft process.
Though there will likely be some substantial growing pains, as to be expected with all rookies, Fisher's feet are incredibly proficient and will be a major component to the success of the Chiefs this season. The good news is that it's a rare moment when anyone gets the best of Eric Fisher.
He's slated to be an immediate starter at the right tackle spot on QB Alex Smith's strong side.
It's not every year the first pick overall in the draft is an offensive lineman. In fact, it has only happened twice before Fisher in the last 40 years. Adding to the intrigue is that during that same span of time, less than a handful of those picks were from small schools.
Simply put, there's something pretty special going on here. At the very least, we should be able to see flashes this August of what caused him to set a precedent in draft history as the only small-school offensive lineman to be drafted No. 1 overall in the modern era.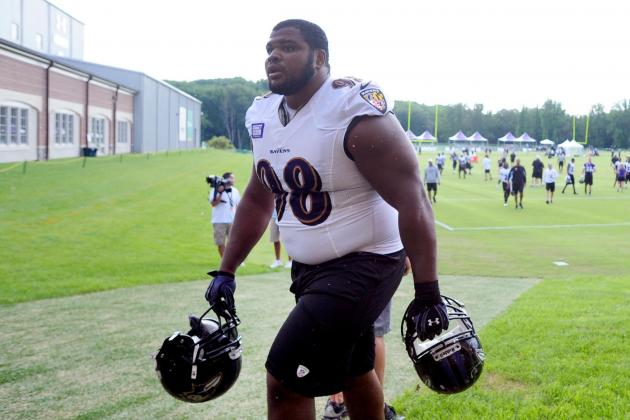 Evan Habeeb-USA TODAY Sports

He might not have the prototype body, but Brandon Williams undoubtedly has playmaking instincts that are intriguing to say the least. Along with those instincts comes power. Williams impressively managed to bench press 225 pounds 38 times at the NFL combine.
The defensive lineman was drafted 94th overall by the Baltimore Ravens after dominating the competition at the Division II level for over three years. His ability to disrupt offenses from between the guards will make it hard for the Ravens to keep him off the field once the season starts.
Given that he's 335 pounds, it will be tough for opponents to anchor against him in the trenches.
It will be interesting to see once and for all if Williams can finally find a human being he cannot move out of his way.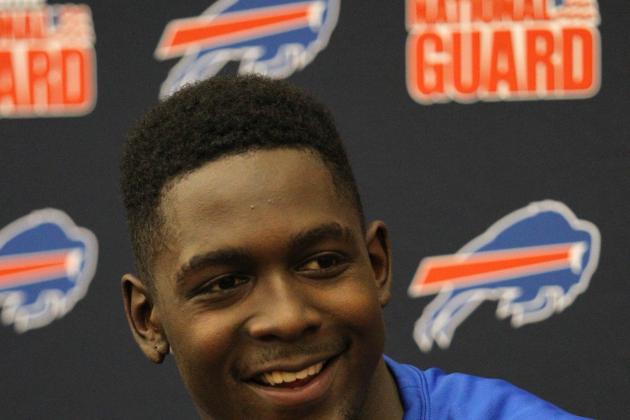 USA TODAY Sports

Da'Rick Rogers qualifies under the small-school label on a technicality. He transferred to Tennessee Tech after being dismissed from Tennessee following his sophomore season.
Rogers is undoubtedly talented.
His biggest concern will be not giving the Bills anything to be concerned about in regard to his maturity or character in general. They've made it abundantly clear that there will be little tolerance for any slip-ups.
To illustrate just how physically gifted he is, Rogers ranks 17 out of 432 prospects who were evaluated over a two-year period. The list uses a unique system to grade nearly every physically measurable attribute of a prospect.
If Rogers shows he can act like a pro, the Bills could have one of the most talented first-year receivers in the NFL—not bad for an undrafted rookie out of Tennessee Tech.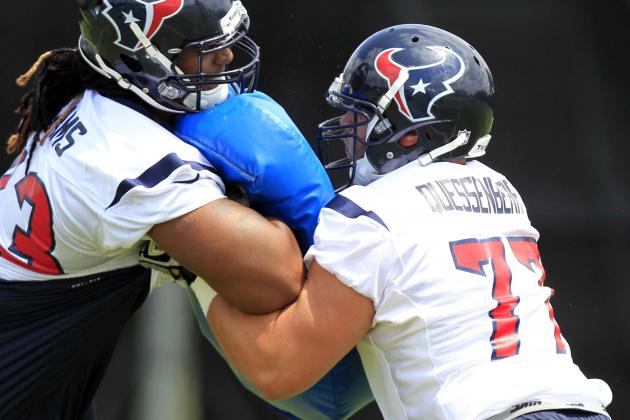 Thomas Campbell-USA TODAY Sports

In a scouting report I did on David Quessenberry prior to the draft, I thought this former San Jose St. Spartan would be taken around the third round. Instead, he lasted all the way till the sixth. This could be due to his lack of aggression and ability to finish blocks. Aside from that, there's some incredible upside to this kid. Here is an excerpt from that scouting report:
Quessenberry is a natural pass-protector with his quick feet, sound technique and lead-heavy anchoring ability. His best attributes shine when he can kick-slide back to a good drop angle, which then allows him to wait until the defender comes to him. When this happens, it's extremely difficult for the rusher to run through, or around, him. Quessenberry is a natural pass-protector with his quick feet, sound technique and lead-heavy anchoring ability. His best attributes shine when he can kick-slide back to a good drop angle, which then allows him to wait until the defender comes to him. When this happens, it's extremely difficult for the rusher to run through, or around, him.
In addition to this, I projected his best system fit would be a zone-blocking scheme. This would take advantage of his quickness and athletic ability.
No team in the NFL runs more zone blocking than the Texans.
You might want to "Google" his name in a couple weeks, so you can read about how much he shined in training camp. This often is the destiny of highly athletic, coachable and versatile players who work their tails off. By all accounts, Quessenberry fits this description perfectly.
Ryan Riddle is an NFL Featured Columnist for Bleacher Report and a contributor to Footballguys.com. Before B/R, Ryan played at the University of California. Afterward, he was drafted by the Oakland Raiders and spent time with the New York Jets, Atlanta Falcons, Baltimore Ravens and Los Angeles Avengers.