1 Blockbuster Trade Idea for Some Top Contenders to Fix Weaknesses
Denis Poroy/Getty Images
Headley could still net the Padres a big return despite struggling early in the season.
While the term "blockbuster" doesn't have a precise definition when it comes to baseball trades, it's safe to say that a "blockbuster trade" is one that involves more than two or three players, including at least two impact major leaguers, or at least a top prospect or two if the deal involves only one major league star.
The lone "blockbuster" of the 2012 season happened in late August when the Los Angeles Dodgers and Boston Red Sox pulled off a trade involving nine players, including three former All-Stars. A July trade between the Detroit Tigers and Miami Marlins (Omar Infante and Anibal Sanchez for three minor league prospects) was probably as close to a blockbuster as there was. It wasn't that close, though, at least in my opinion.
So while we'd be lucky if a couple of teams can execute a major trade with multiple star players changing teams, I'll throw out some trade ideas that could shake up each team's roster or farm system in the best way possible.
Begin Slideshow

»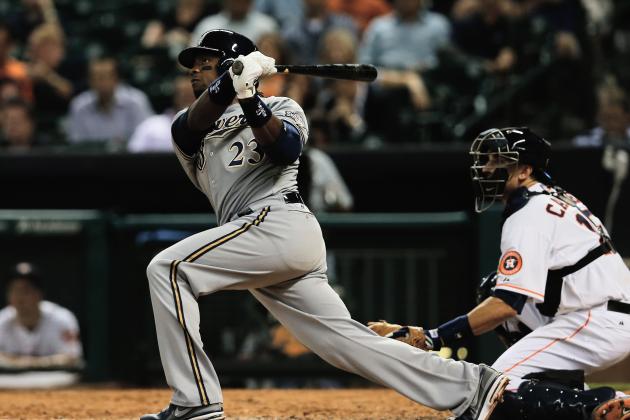 Scott Halleran/Getty Images

The Oakland A's need an upgrade at second base, and since they apparently don't feel Jemile Weeks is the answer—he's been playing in Triple-A the entire season in a super-utility role—how about his big brother, Rickie Weeks?
And since they could also be in the market for a starting pitcher—Jon Heyman of CBSSports.com says they had a scout watching Jake Peavy recently and were also interested in Matt Garza—why not expand a trade with the Milwaukee Brewers to include Yovani Gallardo? Here's why and how it would work.
The 30-year-old Weeks has just one hit in his last 24 at-bats so the timing might not be perfect, but if he can match his second-half numbers of 2012 (.800 OPS, 13 HR, 10 SB), the A's would've struck gold at the trade deadline. Despite his overall struggles this season, his 1.106 OPS in June proves that he can still carry a team for weeks at a time.
In Gallardo, the A's would acquire a top-of-the-rotation starter who is currently pitching more like a No. 3 or 4 starter. While the strikeout numbers are down from year's past (9.2 K/9 from 2007-12; 7.2 K/9 in 2013) and he's gotten knocked around far more often than usual, the 27-year-old has shown signs of snapping out of it with a three-start span in June. During that time, he didn't allow an earned run in 21 innings and had back-to-back quality starts (12.1 IP, 3 ER, 9 H, 4 BB, 8 K) in his two most recent games.
For Weeks and Gallardo, the price would be steep considering their past success and team control through at least 2014 (both have club options in 2015). The trade package would center around top pitching prospect Sonny Gray (2.81 ERA, 102.1 IP, 34 BB, 107 K in 16 Triple-A starts) who would step right into Milwaukee's rotation along with A.J. Griffin (3.84 ERA in 21 starts), giving the pitching-starved Brewers another capable starter that can help right away.
Pitching prospect Michael Ynoa (2.14 ERA in 15 Low-A starts), once a highly touted international signing who is finally healthy after multiple injuries, and second baseman Grant Green (.874 OPS, 11 HR in 81 Triple-A games) would also be included.
Chris Young and the remaining amount of his $8.5 million salary would also go back to Milwaukee in the deal, helping the team fill the outfield void left by the suspension of Ryan Braun. Outfield prospect Michael Choice could then get the call from Triple-A to take on Young's role in Oakland.

A's acquire:
2B Rickie Weeks
RHP Yovani Gallardo
Brewers acquire:
2B Grant Green
OF Chris Young
RHP Sonny Gray
RHP A.J. Griffin
RHP Michael Ynoa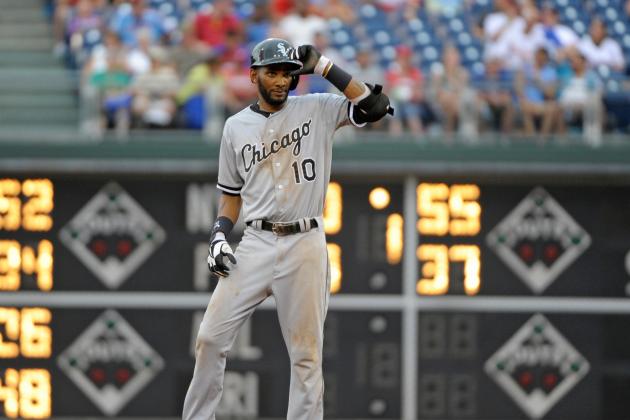 Eric Hartline-USA TODAY Sports

The St. Louis Cardinals have been recently linked to Chicago White Sox shortstop Alexei Ramirez and starting pitcher Jake Peavy. So wouldn't it make sense, assuming the interest is real, to try to expand the deal to include both players?
Ramirez, who hit 69 homers in his first four big league seasons, is having a power outage in 2013. He's only hit one homer, although he's playing solid defense and has already tied his career-high with 20 stolen bases. The 31-year-old is also hitting .314 with 14 doubles over his past 36 games. He'd be a solid upgrade over incumbent starter Pete Kozma.
A very good rotation would get even better with the addition of Peavy, who would take Joe Kelly's spot to form a very formidable group with Adam Wainwright, Jake Westbrook, Lance Lynn and Shelby Miller. If Chris Carpenter does return later in the season and is not needed to start games down the stretch, he could possibly be used in the bullpen—or they could even move Lynn there.
In return for Ramirez and Peavy, the White Sox would receive Kelly (3.88 ERA in 48.2 MLB innings), who would be the odd man out in the rotation, Carlos Martinez (2.05 ERA in 11 starts between Triple-A and Double-A), an elite pitching prospect who has pitched out of the St. Louis bullpen this season and 2012 first-round pick outfielder James Ramsey (.887 OPS, 14 HR in 83 games between Double-A and High-A).

Cardinals acquire:
SS Alexei Ramirez
RHP Jake Peavy
White Sox acquire:
OF James Ramsey
RHP Joe Kelly
RHP Carlos Martinez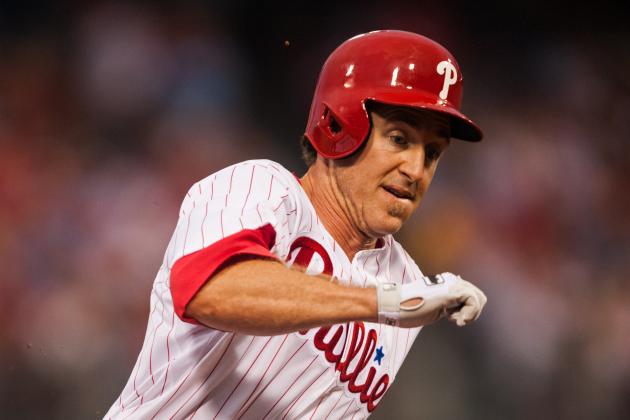 Howard Smith-USA TODAY Sports

Dodgers third baseman Juan Uribe might be exceeding expectations in 2013 with his .735 OPS in 76 games, and second baseman Mark Ellis might be red hot at the moment (.318 BA in July), but that doesn't mean the team won't be in much better shape down the stretch if it could acquire Chase Utley (.864 OPS, 13 HR, 7 SB) and Michael Young (.753 OPS, 7 HR) from the Philadelphia Phillies as upgrades.
The Phillies might not be motivated enough to deal either veteran if they can't get a top prospect in return. Dealing both to the same team, however, could get them a much better deal.
The Dodgers have the ability to take on the remainder of both salaries and a top outfield prospect, Joc Pederson, who is blocked by the Dodgers' current quartet of outfielders, as they are all signed to long-term deals.
In addition to Pederson (.870 OPS, 14 HR, 27 SB in 89 Double-A games)—who would likely take over as the Phillies' starting right fielder in 2014—the Dodgers would send hard-throwing reliever Jose Dominguez (1.78 ERA in 22 games between Triple-A and Double-A) and shortstop Dee Gordon (.777 OPS, 36 SB in 70 Triple-A games), who would work at second base in the offseason to give the team another option to replace Utley. Plus, they would need a three-day window to try to sign Utley to a long-term contract extension.
The 34-year-old Utley is from Southern California and attended UCLA. I'm guessing he'd be open to the possibility of finishing his career in Los Angeles. Without a contract extension, the Dodgers may not want to give up that package of players for two-month rentals.

Dodgers acquire:
2B Chase Utley, plus three-day window to agree on contract extension
3B Michael Young
Phillies acquire:
SS/2B Dee Gordon
OF Joc Pederson
RHP Jose Dominguez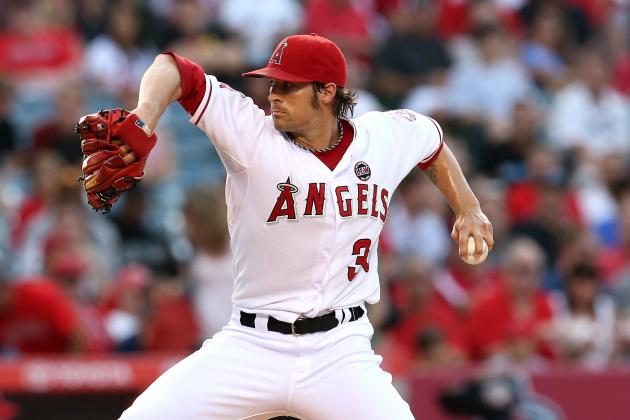 Stephen Dunn/Getty Images

In this projected blockbuster deal involving a player whose name hasn't surfaced in trade rumors, the Boston Red Sox would land Los Angeles Angels lefty C.J. Wilson (3.15 ERA in 20 starts) to replace the ailing Clay Buchholz, who has no set timetable to return from a shoulder injury.
The 32-year-old Wilson's contract is backloaded, however, so he's still due $54 million over the final three years of his contract (2014-16). If the Angels were willing to pick up some of the tab, the prospect return could be much better. In reality, the Sox are in good financial shape without any really bad contracts on the books, so they could probably take on the entire amount and hold onto their top few prospects.
Also included in the deal would be reliever Scott Downs (1.24 ERA, 18 holds), giving the Sox another veteran lefty to pair with Matt Thornton in the late innings.
Why would the Angels, who don't have much starting pitching depth as it is, trade away Wilson with three years left on his deal? Because their farm system is one of the thinnest in baseball and adding two almost big league-ready starters from Boston's system and a young power-hitting third baseman would be a step in the right direction to rebuilding it.
In return for Wilson and Downs, the Angels would receive starting pitchers Allen Webster (4.40 ERA in 13 Triple-A starts) and Anthony Ranaudo (2.80 ERA in 18 Double-A starts), who could be part of the 2014 rotation with Jered Weaver and Tommy Hanson. They would also receive third baseman Will Middlebrooks (.773 OPS, 7 HR in 29 Triple-A games), who could take over regular duties from Alberto Callaspo almost immediately.

Angels acquire:
3B Will Middlebrooks
RHP Anthony Ranaudo
RHP Allen Webster
Red Sox acquire:
LHP Scott Downs
LHP C.J. Wilson, plus $9 million (total cost of remaining contract would be $45 million from 2014-16)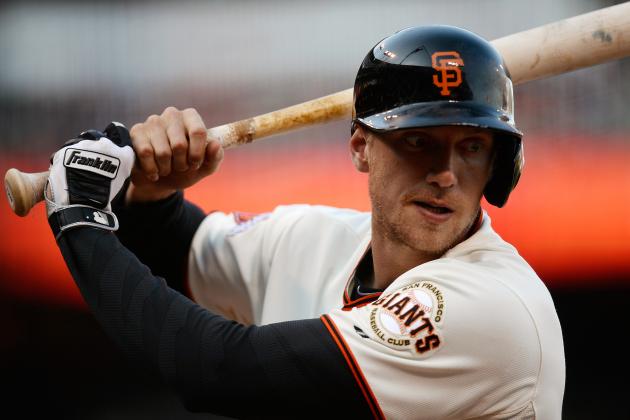 Thearon W. Henderson/Getty Images

Remember Carlos Beltran for Zack Wheeler in July 2011? Didn't work out so well for the San Francisco Giants. Well, here's their chance to make up for it.
This time, it's the Detroit Tigers looking to add some reinforcements for the stretch run. Like the Giants in 2011, the Tigers don't have much in their farm system aside from their top prospect.
That prospect is outfielder Nick Castellanos, who would likely be the Tigers' starting left fielder next April unless he's traded before then. If the Giants were to send Hunter Pence (.766 OPS, 14 HR, 14 SB), who would be traded for the third consecutive July, closer Sergio Romo (2.84 ERA, 24 saves), who has value as a shutdown closer and is signed through the 2014 season, and a mid-level prospect, Detroit might be willing to part with the 21-year-old Castellanos, who might head from Triple-A Toledo to the Giants outfield.
With Pence and Romo, the Tigers could have the extra pieces—both with World Series rings—needed to take the next step and capture the World Series title in 2013.
In addition to Castellanos, the Giants would also get reliever Jose Ortega, who has a 1.31 ERA in 26 Triple-A games.

Giants acquire:
OF Nick Castellanos
RHP Jose Ortega
Tigers acquire:
OF Hunter Pence
OF Mac Williamson
RHP Sergio Romo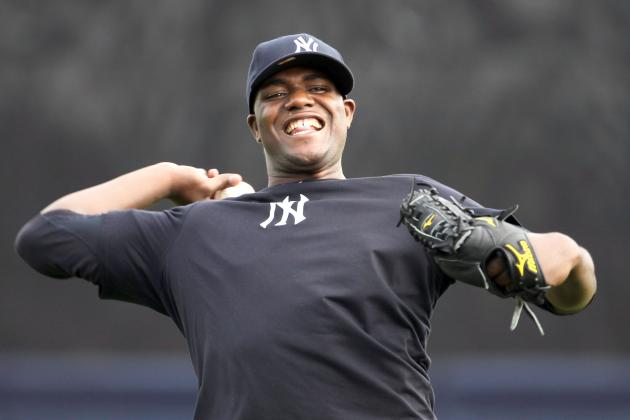 The Star-Ledger-USA TODAY Sports

Where there's smoke, there's fire. And even though the smoke was cleared temporarily when the San Diego Padres told the New York Yankees that Chase Headley wasn't available, the Yankees appear ready to move on from the Alex Rodriguez fiasco.
Acquiring Headley to man the hot corner would help put that distraction to rest.
If anything, the Padres and Yankees have some time to get creative and work out a trade that would benefit both sides. By adding outfielder Chris Denorfia (.708 OPS, 7 HR, 7 SB) to the deal, the Yankees would get a pair of gritty and talented players signed through next season.
After a rough start, Headley is beginning to heat up with an .836 OPS in July. His power numbers aren't there, but it wasn't until the second half of 2012 that he exploded for 23 homers and 73 runs batted in. The Yankees won't have to pay as much as it would've cost to land Headley this past offseason, but it still won't be cheap.
Michael Pineda (3.38 ERA in eight starts between Triple-A, Double-A and High-A), who was an All-Star during his rookie season with the Mariners, has yet to pitch a game with the Yankees since being acquired prior to the 2012 season because of a shoulder injury. Trading him before he gets that chance would seem like a huge letdown.
But the guy they traded for him, Jesus Montero, hasn't developed into the kind of hitter the M's had hoped, so maybe Brian Cashman isn't too attached. Good thing, because he might be required to complete a deal that includes Headley.
Also heading to San Diego would be David Adams (.905 OPS, 4 HR in 38 Triple-A games), who'd have a shot to claim the third base job (or second base if Jedd Gyorko replaces Headley at third base), and center field prospect Mason Williams (.739 OPS, 11 SB in 81 High-A games). Reliever Mark Montgomery would also be included (3.06 ERA in 20 Triple-A games), which would give the Padres the necessary bullpen depth to trade Luke Gregerson and starter Jose A. Ramirez (3.44 ERA between Triple-A and Double-A).
The idea of having Andrew Cashner and Michael Pineda, if they can both stay healthy, at the top of their rotation to start the 2014 season could be all the incentive the Padres need to make this deal.

Padres acquire:
3B/2B David Adams
CF Mason Williams
RHP Michael Pineda
RHP Michael Montgomery
RHP Jose A. Ramirez
Yankees acquire:
3B Chase Headley
OF Chris Denorfia