Ranking the Top 10 Starting Pitchers Available at the MLB Trade Deadline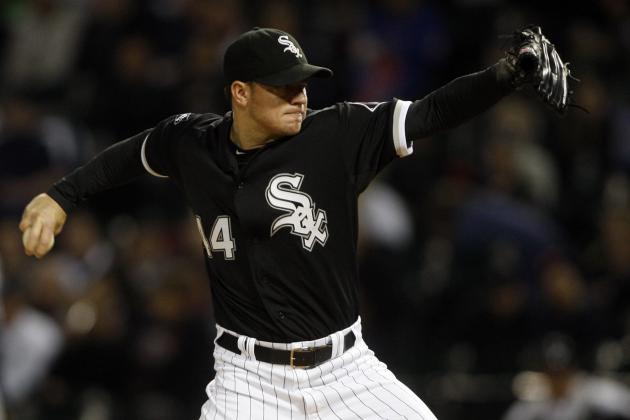 USA TODAY Sports
Peavy's healthy return from a fractured rib puts him at the top of the trade market for starting pitchers.
With Scott Feldman, Matt Garza and Ricky Nolasco already off the board, the list of starting pitchers who might be available on the trade market is dwindling. That doesn't mean there aren't any good pitchers left.
The price tag was high for Garza, who will be a free agent at season's end. The price will probably be just as high and maybe higher for the top four pitchers on my list of remaining starting pitcher trade candidates.
That's because, in addition to being pretty good pitchers, they're all under contract beyond 2013. Their teams have leverage because they don't have to trade them. In addition, acquiring teams will be paying for a pitcher who can help them over the last two months of this season, next season and, in some cases, the 2015 season.
Here are my rankings for the best 10 starting pitchers who are assumed to be available on the trade market. UPDATE 7/25: Ervin Santana was left off of the list because the feeling was that he wasn't available. However, Ken Rosenthal of Fox Sports tweeted that the Royals were willing to at least listen to offers from interested teams. I'd rank him as the No. 2 pitcher on this list.
Begin Slideshow

»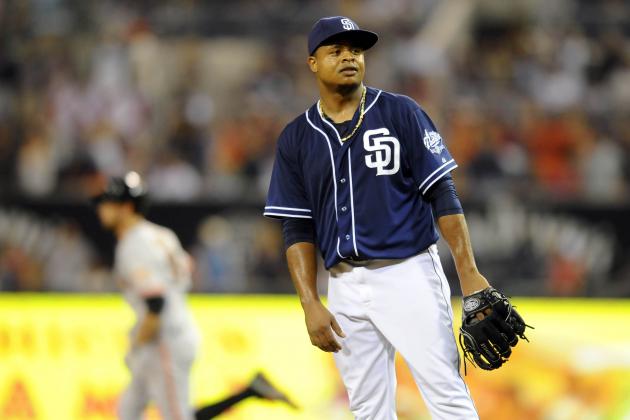 Christopher Hanewinckel-USA TODA

His last three starts (15.1 IP, 15 ER) haven't helped his value, but Edinson Volquez could be a low-cost target that could pay off if he returns to the form he showed during his previous five starts.
From June 12 to July 3, the 30-year-old had a 2.73 ERA with 13 walks and 36 strikeouts in 29.2 innings pitched. This rare display of consistency could motivate a contending team to give him a look, although the Padres would have to pick up some salary.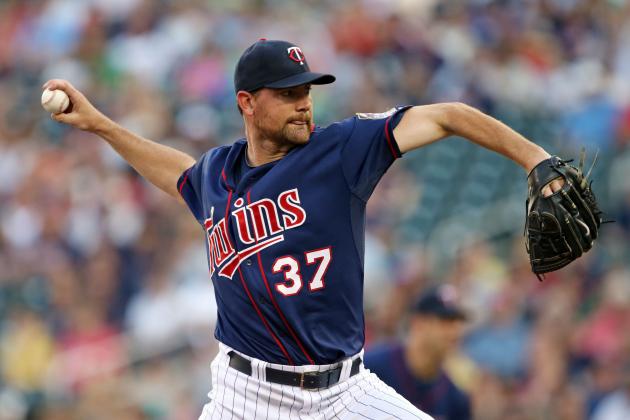 Jesse Johnson-USA TODAY Sports

Earlier in the month, a source told Andy Martino of the New York Daily News that the Twins would shop Mike Pelfrey if he could make a few strong starts after returning from the disabled list. Since returning, he's done just that, making three starts while allowing five earned runs in 17.2 innings with six walks and 12 strikeouts.
The 29-year-old appears to be getting stronger as the season goes on, which is not a surprise for someone returning from Tommy John surgery. Since allowing five earned runs in 5.2 innings on a May 26 start to boost his ERA to 6.85, Pelfrey has a 3.83 ERA in seven starts with 12 walks and 26 strikeouts in 42.1 innings.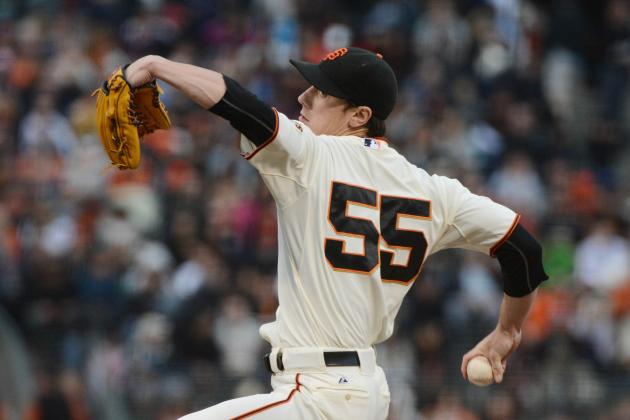 Kyle Terada-USA TODAY Sports

The roller coaster that Tim Lincecum's career has become is what makes him such a risk at the trade deadline. After throwing a 148-pitch no-hitter in his last start before the break, the 29-year-old was shelled for eight earned runs and nine hits in just 3.2 innings in yesterday's start.
Teams really have no idea who they'd be getting if they were to acquire him. It's almost safe to expect a guy who will perform pretty well half the time and pretty poorly the other half. Several teams with interest, however, would have him pitch out of the bullpen, according to Jon Paul Morosi of Fox Sports. One of those teams would be the Detroit Tigers.
But at what cost would a team like the Tigers be willing to acquire a relief pitcher without very much experience in the bullpen? Probably not anywhere close to what the Giants are currently asking, which is what makes a deal unlikely.
If the price comes down, though, and the Giants are willing to pick up a good portion of his remaining salary—he's due an estimated $10 million for the remainder of the season—he could finish the season elsewhere before becoming a free agent in the offseason.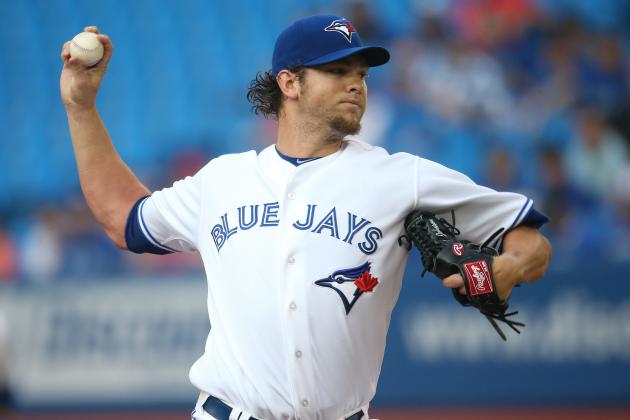 Tom Szczerbowski-USA TODAY Sport

Jerry Crasnick of ESPN is hearing the Blue Jays plan to hold onto Josh Johnson and make him a qualifying offer in the offseason, securing a draft pick if he signs elsewhere. But with the Jays continuing to fall out of contention (45-54, 11 games back of playoff spot) with six consecutive losses, maybe they are motivated to find a deal that would net them a better return than what they'd project from the draft pick.
The 29-year-old's last two starts (8 IP, 12 ER, 14 H) aren't helping his value, however, so unless a team really thinks he's close to turning a corner—he's been pretty good in about half of his starts this season—and could pitch consistently well down the stretch, it's tough to see a deal getting done.
Johnson is set to pitch on Saturday, his last start before the trade deadline. It's likely that a few teams could be keeping a close eye just in case the Jays have a change of heart.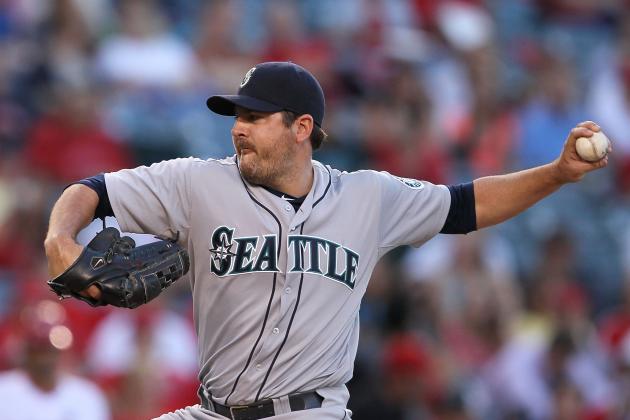 Victor Decolongon/Getty Images

The Mariners are saying they're not sellers at this point. And there's nothing wrong with holding out hope that the momentum from their current eight-game winning streak will continue over the next few games so they can get within five games of a wild-card spot (they're currently 8.5 games back).
Pronouncing themselves "sellers" could shake up the trade market, considering how many soon-to-be free agents with trade value are currently on their roster. Joe Saunders is the lone starting pitcher in that group.
The 32-year-old lefty is also pitching very well as of late, holding opponents to one earned run or less in seven of his last 10 starts. If the M's fall back in the next week, it probably wouldn't be too difficult to see the benefit in trading Saunders and giving the fanbase an early look at top prospect Taijuan Walker or lefty James Paxton, who has been pitching well.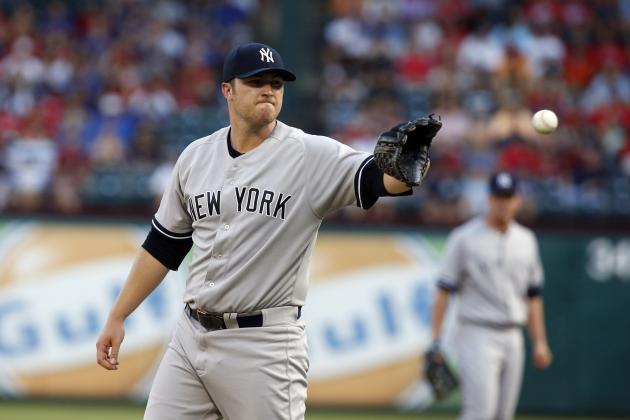 Tim Heitman-USA TODAY Sports

The Yankees are a contending team—and perhaps the only one—that appears willing to trade away a starting pitcher off of their 25-man roster. Jim Bowden (ESPN Insider login required) says the Yankees are shopping Phil Hughes in hopes of landing a bat but have been unsuccessful up until this point.
Teams most likely to be interested in the 27-year-old Hughes are contenders looking to strengthen the back of their rotation. The Yankees would probably have to be willing to accept minor leaguers in return for a deal to be made. Non-contenders are very unlikely to have interest in the free-agent-to-be.
Hughes is having a solid season overall, but his inconsistency makes him a risk for any team willing to give up a prospect or two to acquire him for the remainder of the season. He has the stuff to excel (seven starts of at least seven innings pitched and no more than two earned runs allowed), but he's seen some bad days (less than five innings pitched in six starts; at least five earned runs allowed in five starts).
With David Phelps on a rehab assignment and Michael Pineda an option to join the rotation later in the season, the Yankees must feel like they have enough depth to shop Hughes, who is making $7.15 million this season.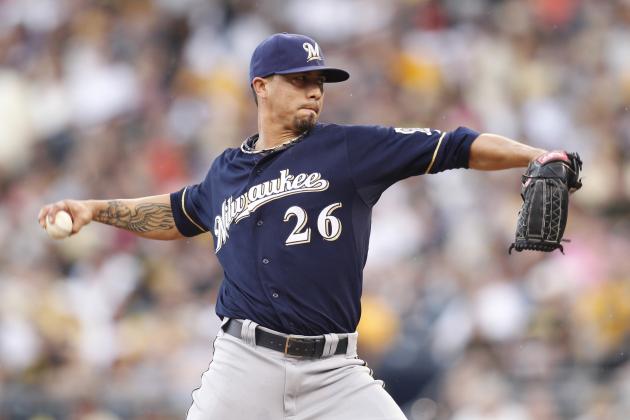 Charles LeClaire-USA TODAY Sport

As is the case with Gallardo, general manager Doug Melvin says he's not motivated to move Kyle Lohse. But unlike Gallardo, whose value has dropped some, the 34-year-old Lohse is performing up to expectations. Teams will likely be willing to offer fair value on a mid-rotation starter signed at a reasonable price for the next two seasons ($11 million in 2014, $11 million in 2015).
In 20 starts, Lohse has a 3.49 ERA with only 19 walks to go along with 76 strikeouts in 121.1 innings. He also has eight quality starts in his last nine games not cut short by a rain delay. The asking price is likely extremely high on the right-hander, especially considering the Brewers forfeited a first-round pick in order to sign him this past offseason, but teams are at least keeping tabs on him, according to Buster Olney of ESPN.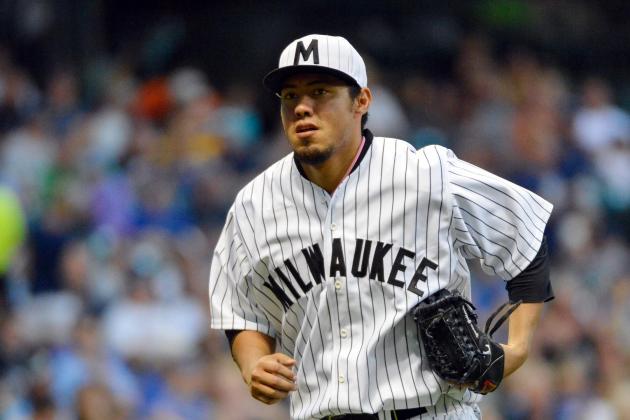 Benny Sieu-USA TODAY Sports

Brewers general manager Doug Melvin says he's gotten multiple calls on Yovani Gallardo but isn't motivated to make a deal at this point. I'm guessing his lack of motivation has to do with the offers he's getting for his ace.
If Melvin's asking price is fitting for a No. 1 starter and opposing teams view Gallardo as a No. 3 or 4 starter—this was the opinion of three scouts who spoke with Jayson Stark of ESPN—there will simply never be a match.
The 27-year-old, who is signed through the 2014 season ($11.25 million) with a $13 million club option for 2015, has pitched much better as of late. In his last eight starts, the right-hander has a 3.50 ERA and hasn't allowed an earned run four times. But his 18 walks and 36 strikeouts in 46.1 innings show that he's not the same pitcher who came into the season with a career 9.2 K/9 (strikeouts per nine innings pitched).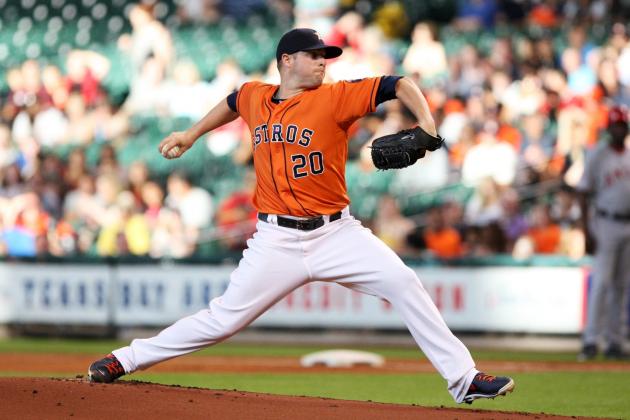 Troy Taormina-USA TODAY Sports

What contender wouldn't want a solid mid-rotation starter who is under team control through 2015? The specific teams aren't yet clear, but Jon Heyman of CBS Sports says Bud Norris is drawing considerable interest.
It's very likely several teams will be keeping tabs on Norris and gauging what it would take to acquire him. Even non-contenders could have interest with an eye on next season.
The 28-year-old has gotten knocked around in his last two starts, but he's been very good overall in his first American League season. He's pitched at least seven innings in eight of his 20 starts and has allowed three earned runs or less 15 times.
Norris is making $3 million in 2013 and is eligible for arbitration in each of the next two offseasons. The price will go up, but not so much that teams will be scared away. The Astros' asking price, reportedly very high, is the only thing keeping him from changing teams by next week.
Dennis Wierzbicki-USA TODAY Spor

One good start (6 IP, 2 ER, 7 H, 0 BB, 3 K on July 20) since returning from a fractured rib that sidelined him for a month-and-a-half might be all it takes for a team to go ahead and pull the trigger on a deal for Jake Peavy.
Just to make sure, though, it's likely any interested team will wait at least one more start before making a decision on whether to aggressively pursue the 32-year-old right-hander. If things go down to the wire, he's scheduled to make another start on July 30.
The Diamondbacks, Red Sox and Cardinals could be fits given the possible need for rotation depth and strong farm system depth that would allow them to put together a solid enough package to acquire the former Cy Young winner. Jon Heyman thinks the A's could be a dark horse to land him.
Peavy, who has a 4.19 ERA, 1.8 BB/9IP, 8.5 K/9IP and eight quality starts in 12 outings, is signed through 2014 ($14.5 million) with a vesting $15 million player option for 2015.