Fired Up: Most Intense Players in the NFL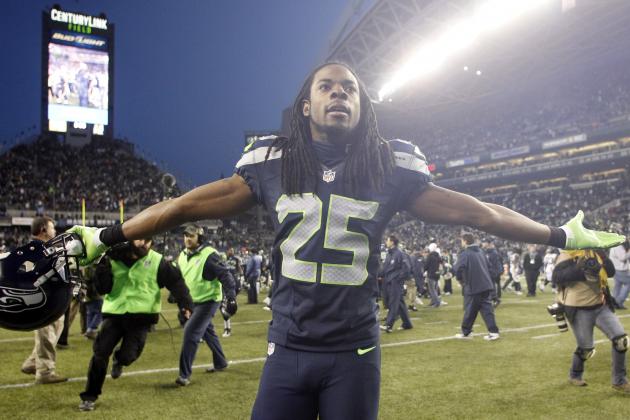 Joe Nicholson-USA TODAY Sports

Intensity is an intangible that any professional football player needs to get hyped up for game day, but very few possess the level of exuberance where it flows from the pores.
Ray Lewis and Brian Dawkins have long been the faces of intensity in the NFL, but for the first time the 1996 season, neither player will be in the middle of a war chant speech on Sundays. That type of intensity is admired by teammates and fans, but loathed by those who oppose them.
While intensity can be good for getting teammates ready for battle and for getting adrenaline pumping, it can also get athletes into trouble with the stripes. Knowing how to balance good intensity and bad intensity is what separates the good players from the elite.
For better or for worse, let's take a look at some of the most intense players in the NFL.
Begin Slideshow

»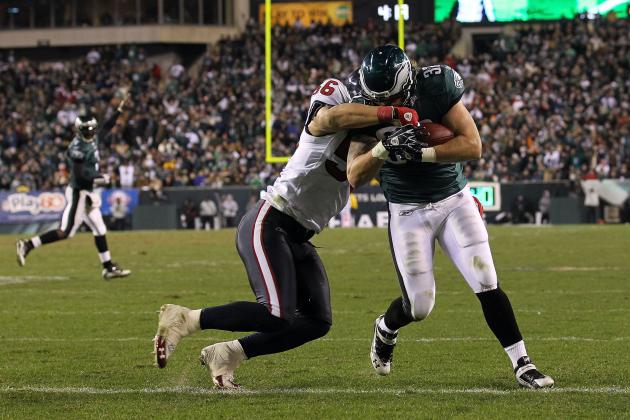 Al Bello/Getty Images

Owen Schmitt is currently a free agent, but that will not stop him from making the list.
Schmitt's well-documented intensity started during his collegiate career at West Virginia. He was known for smacking his bare forehead against his own helmet or a helmet of a teammate after a big play. For Schmitt, who plays fullback, a big play was something as simple as a bone-crushing block to set up a big play for his tailback.
The photos of his maniacal attempts of manliness are a bit of a bloody mess and not for the faint of heart.
One might have thought that a change to a more professional setting would change his interesting ritual. However, several times during a five-year career, Schmitt would come to the sideline with free-flowing crimson drops trailing down his nose.
Some guys just really enjoy the infusion of football and adrenaline.
Troy Polamalu is no stranger to the intensity scene. He has a smile that can light up even the darkest of locker rooms, but his commandment of the middle of a defense on game day makes him revered among his teammates.
The Pittsburgh Steelers safety is more than a running billboard for dandruff-free shampoo products. While the hair has made him a target for some ouch-inducing pulls on interception returns, Polamalu is always in the middle of the opposing offense's business.
He gives 100 percent from the moment he takes the field, and his intensity in the pregame huddle drives his comrades to do the same. The aging safety has seen his production dip a little as injuries have begun to pile up, but he is the type of player who could have a Brian Dawkins effect on a team late into his career.
Now that Ray Lewis has moved on from an illustrious career in the NFL, DeMarcus Ware takes over as one of the most intense defensemen in the league. Ware has long been a thorn in the side of opposing linemen with his relentless motor and a craving to put a quarterback on the ground.
A position switch to defensive end in a new defense—after spending the first eight years as a 3-4 outside linebacker—has led to an even scarier demeanor on the field.
He has sported a fairly unique U-bar facemask since coming into the league, but he is switching to the gladiator-style eight-bar facemask due to his move to end.
Ware needs very little help to intimidate his opponents, but his new "style" on the gridiron may do the trick.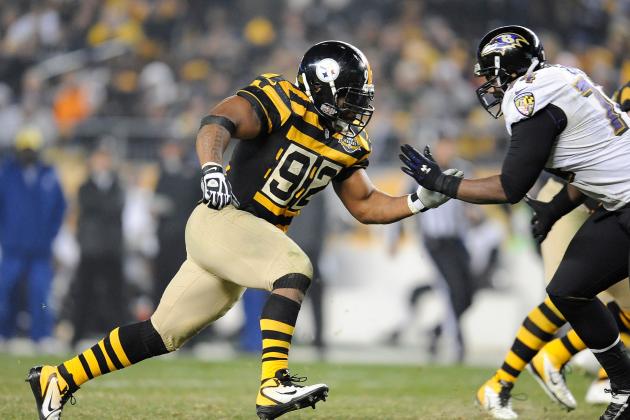 Joe Sargent/Getty Images

James Harrison is another member of the rough-and-tumble Steelers defense from the Super Bowl run a few years ago. Like Polamalu, he was a leader on a talented defense that prided itself on being cohesive and intense.
Polamalu's athleticism made him the Steelers' best defender, but Harrison was easily the most intense. His point of attack off the edge of the defense was unrivaled by few players, and it allowed him to rack up sacks like points in a pinball game.
Harrison traded in gold and black for orange and black this offseason in hopes to extend his career a little longer. The outside linebacker brings a swagger and toughness combined with a deadly stare, which states that he does not care about your feelings being hurt.
His reckless style of play may have endeared him to fans in the Steel City, but his disregard for Roger Goodell's safety rules made him public enemy No. 1 during Goodell's early reign as the commissioner.
Ndamukong Suh entered the NFL with much fanfare during the 2010 season, and he has done very little to diminish that attention since arriving. Suh was one of the most talented defensive linemen to come out in the draft in quite some time, and his play has backed up his positioning as the No. 2 pick after Sam Bradford.
However, he has also been a lightning rod for criticism because of the way that he plays the game. Suh was named the dirtiest player in the NFL in 2011 after Sporting News polled players around the league. The poll was conducted soon after Suh stomped on Green Bay's Evan Dietrich-Smith during the Thanksgiving game during the 2011 season. The incident got him heavily fined and ejected from the contest.
Suh's attitude towards aggressive play has not made him popular among fans outside of the greater Detroit area, but his intensity makes him a favorite for Lions fans.
The theme tends to be that linebackers are a different breed when it comes to level of intensity. San Francisco 49ers middle linebacker Patrick Willis follows a similar mold. Willis has become the top dog at inside linebacker almost overnight after a standout career with the Rebels down in Oxford, Mississippi.
His hard hits and impassioned speeches made him a favorite in the Magnolia State and have endeared him even more to a Niners fanbase that was craving the taste of past success.
Willis' flank-mate, Navarro Bowman, almost matches him in intensity to create one of the craziest linebacking crews in the NFL.
Willis' "homegrown" training regimen is well-known in training circles and seen as one of the most intense around, preparing him for the rigors of the NFL season.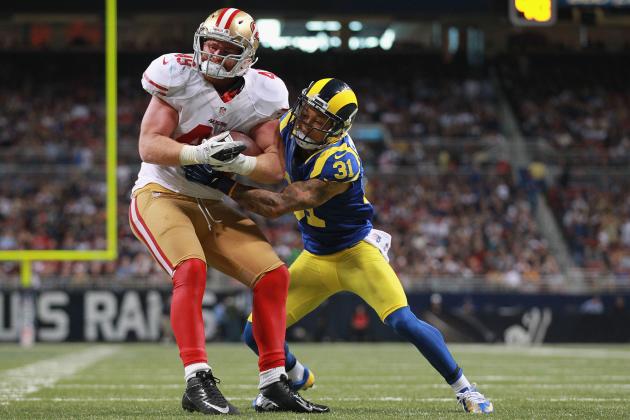 Dilip Vishwanat/Getty Images

Cortland Finnegan is the first cornerback to make the list—and for good reason. He is one of the best antagonists in the NFL and is constantly at the forefront of fights with opposing receivers.
Being matched against the diva position of the NFL helps fuel Finnegan's villain act, and he rarely shies away from being extra physical with his opponent. He has gotten in fights with Andre Johnson, Brandon Marshall and Hines Ward during his seven-year career in the league.
Finnegan was a small-school prospect who was drafted in the seventh round in 2006, which likely adds a layer to his feistiness.
Sometimes, the Rams corner even calls out former teammates in fits of rage for trash-talking, as he did to safety Craig Dahl last month.
There is no shortage of intensity with Finnegan as he prepares for another season under the tutelage of Jeff Fisher.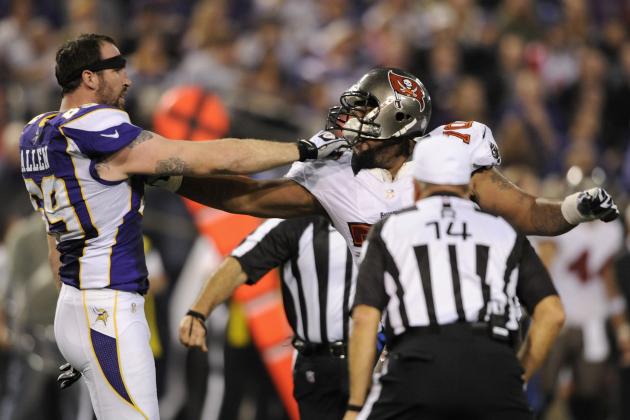 Hannah Foslien/Getty Images

Jared Allen's fresh outlook on never-in-style hairdos make him a humorous personality to follow on Sundays, but his approach to football is as intense as they come.
Allen made himself a household name in Kansas City after being drafted out of Idaho State University. Following a trade to the Minnesota Vikings, he has taken it upon himself to become one of the most feared defenders in the NFL.
Standing at 6'6", Allen's imposing frame is already difficult to deal with, but his pursuit of the signal-caller makes him borderline impossible to block. Allen backs up his physical nature with an intense work ethic that drives him to become one of the elite pass-rushers in NFL history.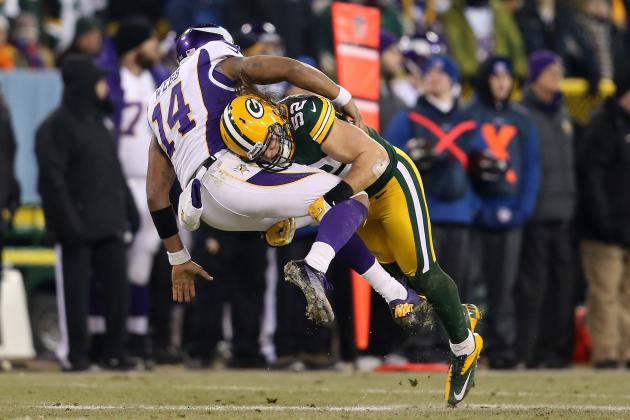 Andy Lyons/Getty Images

No intense-player list would be complete without self-made sack-master Clay Matthews. Matthews comes from a prime lineage of intense NFL players, and his four seasons in the NFL have done nothing to put a damper on those expectations.
He has been one of the few bright spots on a rather pedestrian Green Bay defense over the last few seasons and has, at times, allowed the offense to squeak out victories with a last-second stop. Matthews has quickly become one of the most feared pass-rushers in the NFL and is a joy to hear during spit-distributing warm-up pep talks.
The former Trojan also has the magical ability to come alive as a Fathead and run through your living room wall to tackle your annoying buddy who roots against your team.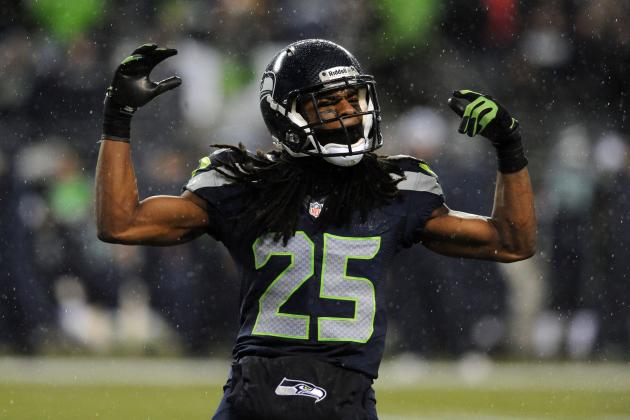 Steve Dykes/Getty Images

Richard Sherman was not a hot prospect coming out Stanford in 2011, but he has quickly made himself into one of the best corners in the NFL.
Sherman quietly had a good season in his rookie year with the Seahawks, but Darrelle Revis' early-season injury in 2012 opened the door for him to put on a show.
A show is exactly what Sherman puts on every time he has a chance for an interview. His on-field intensity is matched by his sometimes silly antics off of it. He has gone toe-to-toe with ESPN's Skip Bayless on First Take's "Embrace Debate" segment, and he was the star of a "U mad bro?" meme involving New England quarterback Tom Brady.
Sherman is a highly intelligent individual—earning his Bachelor's and Master's degrees during his five years with the Cardinal—which makes his explosive comments even better.
There are very few players in the NFL who can match the intense level of trash talk that Sherman puts on display during the season. There are also very few players who can back up that talk the way that he can.