The Baltimore Orioles have filled one of their biggest needs, acquiring former All-Star closer Francisco Rodriguez from the Milwaukee Brewers in exchange for infield prospect Nick Delmonico. The Orioles announced this via their official Twitter feed:
#Orioles acquire RHP Francisco Rodriguez from Brewers in exchange for Minor League INF Nick Delmonico.

— Baltimore Orioles (@Orioles) July 24, 2013
The Orioles bullpen, while not terrible, has been disappointing this year, especially since it was perhaps their biggest strength last season. As of Tuesday, the Orioles rank 17th in the majors with their 3.68 ERA. Last season they ranked fifth with a 3.00 ERA.
K-Rod is another solid right-handed option out of the 'pen for the O's. He'll probably take over the spot left open by former Oriole Pedro Strop.
While not initially the closer at the start of the season, Rodriguez has been very effective closing out games for the Brewers since taking over for Jim Henderson, converting all 10 of his save opportunities this season. His ERA is a stellar 1.09, and the 12-year veteran also recently picked up his 300th career save.
However, K-Rod will not be used as a closer with Baltimore. Although he has six blown saves this season, Orioles closer Jim Johnson continues to lead the majors with his 35 saves. His job is not in immediate danger.
That doesn't mean K-Rod won't be used in high-pressure situations. He's likely second in line for save opportunities and, according to Brittany Ghiroli of MLB.com, Orioles general manager Dan Duquette stated that Rodriguez will be used in late-game scenarios:
Duquette said Rodriguez addition bolstered the pitching staff. Will pitch 7th,8th and 9th inning.

— Brittany Ghiroli (@Britt_Ghiroli) July 24, 2013
Buster Olney of ESPN concludes that K-Rod was one of the best relievers in the trade market and greatly improves the Orioles' bullpen:
K-Rod was the best available late-inning option on the market, and the Orioles get him. Depth is really scarce right now.

— Buster Olney (@Buster_ESPN) July 24, 2013
The Brewers received 21-year-old infield prospect Nick Delmonico in the trade, who was the Orioles' sixth-round pick in 2011 and was ranked as the Orioles' fifth overall prospect according to MLB.com.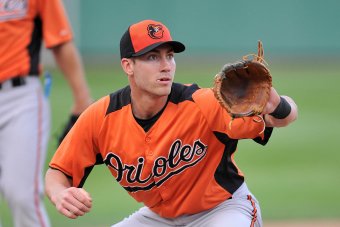 Jerome Miron-USA TODAY Sports
Injuries have limited Delmonico to 60 games with Advanced-A Frederick. However, he has shown signs of legitimate power, already amassing 13 homers.
He has primarily been used as a third baseman this season, although he spent time at first and second base in 2012.