There was a time when the Major League Baseball Players Association would have dug in its heels against Major League Baseball's intentions in the Biogenesis scandal and been determined not to budge.
It has become clearer than ever this week that the union won't do that anymore.
Suspensions have not yet been announced for Alex Rodriguez, Ryan Braun and other players who may or may not have acquired performance-enhancing drugs from Biogenesis, the defunct anti-aging clinic in Miami. But the news is coming, and now we know that the union might prefer not to put up a fight in some cases.
Here's what MLBPA executive director Michael Weiner told the New York Daily News:
I can tell you, if we have a case where there really is overwhelming evidence, that a player committed a violation of the program, our fight is going to be that they make a deal. We're not interested in having players with overwhelming evidence that they violated the (drug) program out there. Most of the players aren't interested in that. We'd like to have a clean program.

Remember that report from the Daily News about A-Rod possibly making a plea deal with Major League Baseball? He swiftly denied the possibility in a talk with CNN's Jason Carroll, but now it at least has an element of reality that it was lacking before.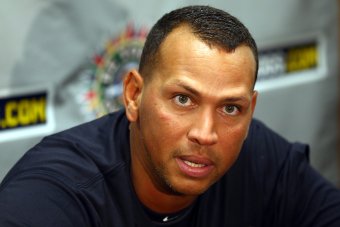 Streeter Lecka/Getty Images
Now, the fact that the union is willing to consider cutting deals in the cases of clearly guilty players isn't a sign that it's not going to put up any fights at all. Weiner said there will be arbitration cases if agreements can't be reached with the commissioner's office when suspensions are announced. So, there likely will be squabbles between the union and the league that could last into the offseason.
What's clear, however, is that the union has no interest in fighting the good fight for players who are unworthy of a good fight. Major League Baseball ought to be perfectly OK with that, just as it must be perfectly OK with the union's entire approach to the Biogenesis scandal.
It was apparent even before Weiner spoke with the Daily News that the union was willing to work with the league rather than fight with it over the scandal. Most notably, Weiner raised eyebrows when he said before the All-Star Game on Tuesday that the suspensions outlined in the Joint Drug Agreement don't necessarily apply to the Biogenesis scandal.
Here's Bill Shaikin of the Los Angeles Times:
Weiner: Biogenesis penalties aren't mandated by MLB drug policy, the 50-100-life scale in agreement.

— Bill Shaikin (@BillShaikin) July 16, 2013
Wendy Thurm of FanGraphs took note of that and asked Shaikin to clarify what the deal was. His response was that alternative suspensions are made possible by the Commissioner's "just cause" discretion in the Joint Drug Agreement.
Now, here's the thing about that. Thurm pointed out in an article that Section 7.A of the Joint Drug Agreement says that the 50-100-life format for suspensions applies for all violations, meaning both positive tests and proof of use and/or possession. The latter, obviously, is what MLB is going for with evidence from Biogenesis and the testimonies of clinic director Anthony Bosch and others.
There is, however, Section 7.G of the Joint Drug Agreement, which allows for players to be subjected to disciplinary action for "just cause" by the Commissioner. There is also Section B under Article XII of the collective bargaining agreement, which reads:
Players may be disciplined for just cause for conduct that is materially detrimental or materially prejudicial to the best interests of Baseball including, but not limited to, engaging in conduct in violation of federal, state or local law.
Consider this a wild card, one that basically leaves the door open for Bud Selig to discipline players if they shame the game.
In the case of Biogenesis, it would appear that either A) Selig is looking to play this wild card and the union is unwilling to fight his right to do so, or B) the union is willing to let the league bend the language of the Joint Drug Agreement.
Either way, the union is clearly being receptive. In fact, it almost seems like the union is encouraging MLB to apply unique judgments to what is a decidedly unique situation. It is essentially saying "We're listening" rather than shouting "You can't do that!"
It's all quite remarkable, as the union wasn't always this reasonable. Just think back to what things were like in the early aughts.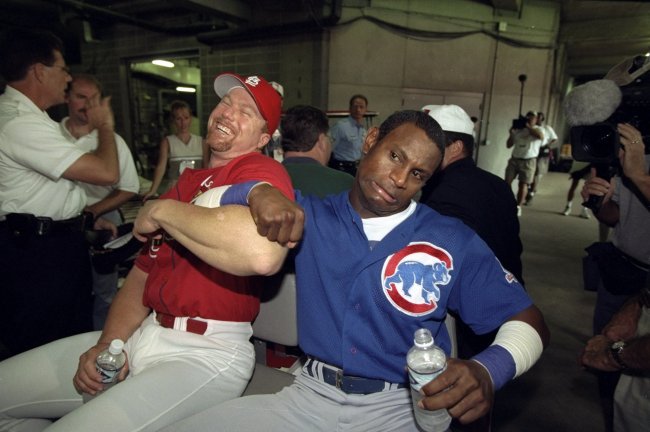 Vincent Laforet/Getty Images
Remember all those home runs that were being hit in the late 1990s and the early 2000s?
Of course you do, but do you remember the precise moment it became clear why all those home runs were being hit?
It was in the summer of 2002 when Sports Illustrated's Tom Verducci published his article on steroids in baseball that featured this quote from 1996 NL MVP Ken Caminiti:
It's no secret what's going on in baseball. At least half the guys are using steroids. They talk about it. They joke about it with each other. The guys who want to protect themselves or their image by lying have that right...
Not long after, The New York Times was reporting on how steroids were all of a sudden being openly discussed in clubhouses. But at the time, then-New York Mets hurler AL Leiter said it was going to be tough to get the union to agree that testing was a good idea. Hitters, after all, outnumbered pitchers.
''If you think the hitters are in favor of it, you'd probably lose," said Leiter.
While he was skeptical, the union was hesitant. In June of 2002, then-union chief Donald Fehr wasn't ready to agree to random tests for steroids. His main interest at the time was protecting the privacy of the players, which was his avenue to protect the players, period.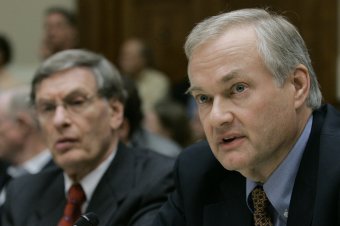 Mark Wilson/Getty Images
''We believe that any program can be successful on steroids, or anything else, only if stringent safeguards are in place to protect the privacy of the employees, particularly so in baseball in which the lives of the players are so much in the public eye,'' Fehr said, according to The Times.
The issue of testing turned into a roadblock later on in the summer when the union and the league were looking to agree to a new CBA. So much so, in fact, that MLB executive vice president Rob Manfred warned that the union was going to have to change its position in order for a deal to be reached.
Point being that it took some pushing and shoving for the two sides to eventually agree on how testing fit into the new CBA that was agreed to in late August of 2002.
And even then, the testing that was put in place did not have an accompanying system of penalties. The testing protocol the union agreed to was a mere first step that wasn't going to get anyone in trouble. Many of its members no doubt approved of that.
But the union eventually came around. By the winter of 2004, in the wake of the San Francisco Chronicle's report on Barry Bonds' grand jury testimony in the BALCO case, the union was ready to move PEDs up on its agenda. A while later, a system of penalties was put in place for the 2005 season. For 2006, the penalties were rearranged to the current 50-100-life format.
The union certainly has gone to bat for players within the lifespan of the 50-100-life format. This week's Daily News report noted that the union backed Braun when he won his appeal of a positive testosterone test following the 2011 season. The paper also learned from a source that there have been 10 to 15 unreported cases of Weiner and the union convincing MLB to drop cases.
But the general vibe that the union gives off couldn't be more different now than it was a decade ago. Weiner was hinting during spring training that the players and the union were open to stricter PED policies, and it later agreed to in-season testing for HGH.
And now we have this week's events, which have served to clarify that there's not necessarily a war brewing between the union and the league over Biogenesis.
The MLBPA once acted like an organization hell-bent on doing everything in its power to protect juicers. Now it's acting like an organization that truly wants a clean league just as much as Major League Baseball and, indeed, the fans.
If you want to talk baseball, hit me up on Twitter.