The U.S. Futures defeated the World Futures at the 2013 Major League Baseball All-Star Futures Game on Sunday afternoon at Citi Field.
The official Twitter account for the Futures Game announced the winner of the exhibition after A.J. Cole (Washington Nationals) retired Jesus Galindo (San Francisco Giants) for the final out of the game:
That's a wrap - US defeats World, 4-2, and extends its lead to 9-6 in the series. WP: @jessebiddle_54 (@Phillies) SV: Cole (@Nationals).

— Futures Game (@MLBFutures) July 14, 2013
Miami Marlins top prospect Christian Yelich drove in the day's first run for the U.S. Futures in the second inning on a double to center field that scored Joc Pederson (Los Angeles Dodgers).
The World Team responded in the fourth inning with a big frame off of Boston Red Sox pitching prospect Anthony Ranaudo. Arismendy Alcantara (Chicago Cubs) hit a leadoff bomb to the upper deck in right field to get the inning started, tying the game at one run apiece.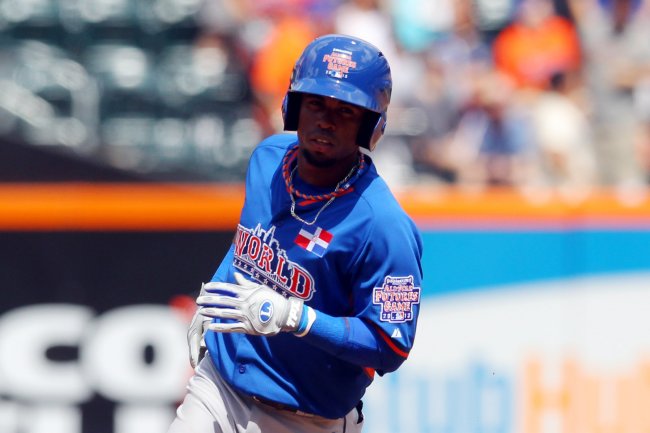 Brad Penner-USA TODAY Sports
Jason Parks of Baseball Prospectus likes what he saw:
Arismendy Alcantara just went upper deck big fly off Ranaudo. #Cubs second baseman of the future. He's a player.

— Jason Parks (@ProfessorParks) July 14, 2013
Xander Bogaerts (Boston Red Sox) hit a single off his former teammate and then advanced to second base after a wild pitch with Miguel Sano (Minnesota Twins) batting. After a fielder's choice, Jordan Lennerton (Detroit Tigers) hit a sacrifice fly to left field, which Bogaerts attempted to score on.
The shortstop sprinted home and evaded a strong throw—that was a bit off line—to score the second run of the day for the World Futures.
J.J. Cooper of Baseball America shared his thoughts on the play:
That was everything you hope to see in a #futuresgame moment. Sac fly to LF, Pederson shows good arm. Bogaerts shows better slide.

— JJ Cooper (@jjcoop36) July 14, 2013
The U.S. Futures regained the lead in the bottom half of the frame when Matt Davidson (Arizona Diamondbacks) hit a monster two-run home run to dead center field to give his team a 3-2 advantage.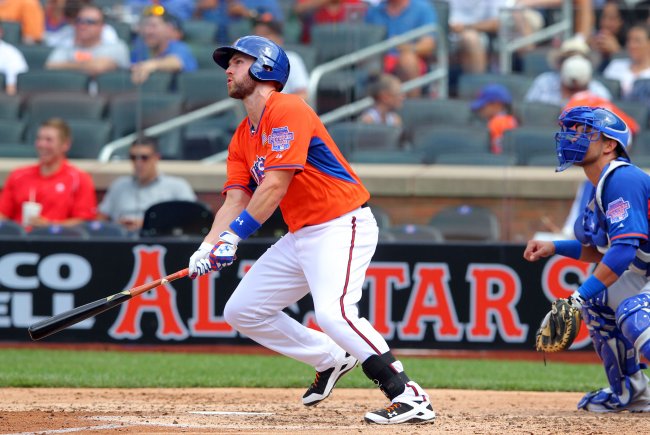 Brad Penner-USA TODAY Sports
Jack Magruder of Fox Sports describes what he saw:
#Dbacks top prospect 3B Matt Davidson with a two-run homer to center field, driving a changeup up and out. About 420. Big-time power

— Jack Magruder (@JackMagruder) July 14, 2013
Team USA padded its lead in the bottom of the eighth inning when Garin Cecchini (Boston Red Sox) smacked an RBI double to right field that scored Billy Hamilton (Cincinnati Reds).
Team USA's pitching was stellar from then on, as the World Futures struggled to get many batters on base. After Ranaudo exited the game in the fourth inning, Jesse Biddle (Philadelphia Phillies), Eddie Butler (Colorado Rockies) and Jimmy Nelson (Milwaukee Brewers) combined to throw 3.1 scoreless and hitless innings.
C.J. Riefenhauser (Tampa Bay Rays) tossed a scoreless eighth, and after Kyle Crick (San Francisco Giants) faced a few batters in the ninth, Cole finished off the World Futures to secure the victory for Team USA. It was the fourth straight victory for the U.S. Futures, and definitely an impressive one.
Davidson was named the MVP of the exhibition for his big home run, per the official Twitter account of the Futures Game:
2013 Futures Game Larry Doby MVP Award presented to @Dbacks prospect Matt Davidson (@MattDavidson6). First Arizona player to take the honor.

— Futures Game (@MLBFutures) July 14, 2013
The Team USA pitching staff limited the World Futures to just four hits throughout the game. That's domination right there. While several top pitching prospects had great outings on Sunday, Archie Bradley (Arizona Diamondbacks) arguably was the best. He tossed a perfect inning in the third, and made it look easy.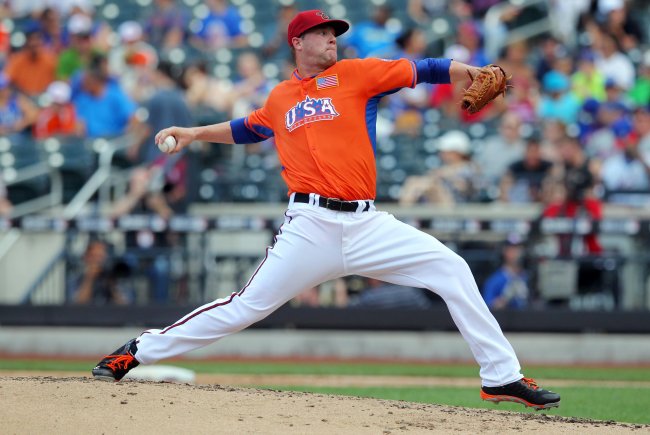 Brad Penner-USA TODAY Sports
Ben Badler of Baseball America called Bradley's stuff filthy:
Archie Bradley with an overpowering 96-98 mph fastball and a low-80s hammer with power and depth. Filthy.

— Ben Badler (@BenBadler) July 14, 2013
Bogaerts was easily the top player for the World Futures on Sunday, as he went 2-for-3 with a run and a walk. Unfortunately for him, the rest of his teammates didn't have much success in the batter's box. The shortstop had nearly all of his team's offense, with the exception of Alcantara.
While some prospects shined more than others in the 2013 Futures Game, that doesn't take away from what they've done already and what their futures hold. Every player who took the field in Queens on Sunday is bound to have more breakout moments.