Ranking MLB's 10 Best Defensive Catchers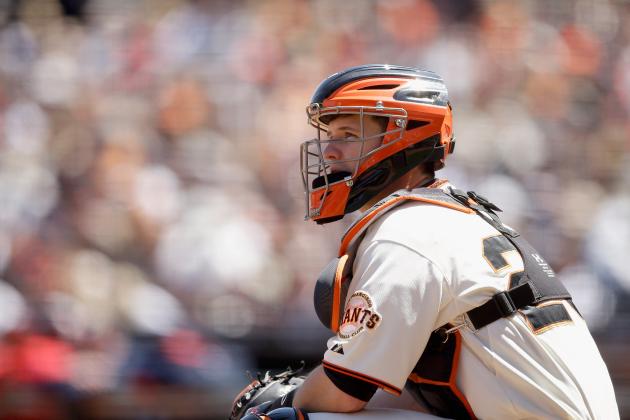 Ezra Shaw/Getty Images

Who are the 10 best defensive catchers?
The catching position is vital to the success of any ball club and often is the smartest player on the field. It's no wonder that 12 of the 30 major league managers are former catchers.
While they are the No. 2 position in the scorecard, they're more often number one in the field.
After reviewing plenty of qualified battery members for this list, it came down to the best in regards to the following criteria: position prowess, significance to his club and league-wide recognition.
It's obvious teams want an athlete who can play the position, but they'll covet one that can think it. A catcher's proclivity in handling his pitching staff, understanding his responsibilities and reading every situation is paramount.
How a team utilizes and values this player can determine the course of a game, maybe a season. Some cherish their young catcher as a franchise player, while others are astute in protecting an aging veteran.
Of course the league takes notice as well. Throughout the majors, catchers are honored with praise and reward, often in the form of hardware. You will see some of the most underrated backstoppers as well as some of the more decorated at their position.
But before we get started, here's a look at some who didn't quite make the cut...
Begin Slideshow

»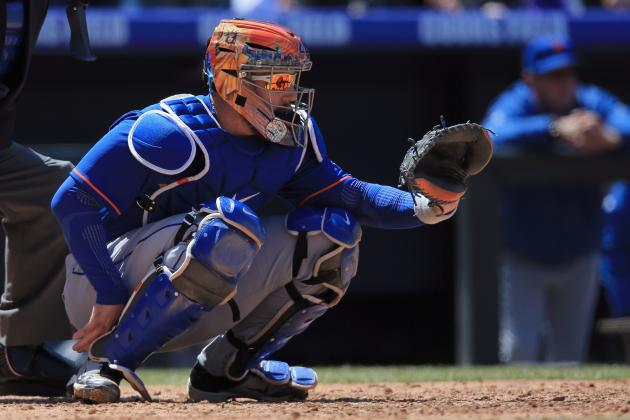 Doug Pensinger/Getty Images
John Buck, New York Mets
An honorable mention has to go out to these three who just didn't quite crack the top 10.
John Buck, New York Mets: Buck started out the year tearing the cover off the ball but has fallen off dramatically. He's been steady behind the plate, but his defensive numbers hover around average, as does the ball club.
Jonathan Lucroy, Milwaukee Brewers: Lucroy has been a big hitter for the Brewers, but he hasn't appeared in quite as many games as those who made the list. While he provides some stability for the club at an integral position, the pitching staff has struggled mightily and the Brew Crew have the second-worst win percentage in the NL (.409).
Salvador Perez, Kansas City Royals: This kid will easily be on the list in a few seasons. He's in the top 10 in most fielding statistics, but the sample size is still too small. Having started just 181 games in his young career, there is plenty of room for improvement in this budding star.
Enough about them. It's time to get a look at those you've been clicking for!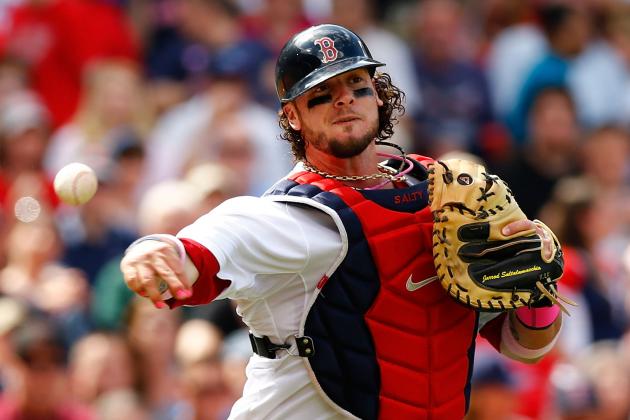 Jared Wickerham/Getty Images

Jarrod may be 10th on our list, but he's certainly No. 1 in syllables, letters, vowels and mispronunciation!
After stints in Atlanta and Texas, he appears to have found a home with the Red Sox. Since he's donned the Beantown red and white, he's helped steady a previously underachieving pitching staff. Most notable is the team's turnaround from a disastrous 69-93 in 2012 to the best record in the AL (54-37).
Now that he's locked down the starting job, he's been the anchor of the battery and a commendable fixture in the clubhouse, which was much needed after last year's debacle under former manager Bobby Valentine.
And, of course, there are the numbers. In 564 innings he has tallied 24 assists and 547 putouts—nearly one per inning. His .993 fielding percentage is above his career average and looks to be a solid option moving forward.
Kevin C. Cox/Getty Images
Brian McCann, Atlanta Braves
Brian McCann is actually an interesting story this season.
The guy has been a terrific piece for the Atlanta Braves organization since he came into the league in 2005. He started this year on the disabled list after offseason shoulder surgery but has come back with a vengeance.
He's definitely valued by the team, as evidenced by the altered role of hot catching prospect Evan Gattis when McCann returned. Gattis was extremely productive but was moved to the outfield after warming McCann's seat the first part of the year.
In 375 innings this season, McCann has 329 putouts with just one error. He sports a quality .997 fielding percentage; above par for his career.
He has received five Silver Slugger Awards and is a six-time NL All-Star in his nine-year career.
Russell Martin has been a tremendous acquisition for the upstart Pittsburgh Pirates.
After spending the last two seasons with the New York Yankees, Martin's gotten an opportunity to play a larger role in the clubhouse with a team that's really coming together. He brings postseason experience and passion for the sport (see video), which the Pirates aren't accustomed to on their budget.
His value is immeasurable, and he's contributed immensely to the success of young pitchers Jeff Locke and Garret Cole. He can call a smart game from behind the plate, and it has helped the Pirates parlay that into the second-best record in the NL.
Outside of Pittsburgh there is a tremendous respect for Martin. In 2007 he received both a Silver Slugger Award and a Gold Glove Award as a member of the Los Angeles Dodgers. He is also a three-time All-Star.
This season, Russell has been remarkable among catchers in the field. He has an impressive 21 runners caught stealing and .500 caught stealing percentage; both best in the majors. He also sports a solid .998 fielding percentage in 584 innings, good for second-best in MLB.
Sparks fly when Alex Avila suits up behind the plate!
Avila has been a staple for the Detroit Tigers in a position they've lacked definitive quality in since Ivan Rodriguez was dealt in 2008.
He's been a workhorse for the club since taking over as the primary catcher in 2010. In 2011, his first full season behind the plate, Avila was forced to catch 1,157 innings due to injuries to Detroit's other options.
The man takes a beating behind the plate on a nightly basis, catching a nasty arsenal that includes Justin Verlander, Max Scherzer and Doug Fister. He also caught Verlander's no-hitter in Toronto on May 7, 2011. In 2012, he was hampered by nagging injuries but still led the AL in runners caught stealing.
Avila earned his first All-Star appearance in 2011 and was also voted as the American League's starting catcher. He finished in the voting just ahead of the aforementioned Russell Martin.
He's missed some time this season with injury and struggled at the plate but has still been effective behind it. In 471 innings he has a .996 fielding percentage and an impressive 21 assists in limited time.
The 16-year veteran is in his first season with the Texas Rangers and has already provided more than they expected.
After losing Mike Napoli to the Red Sox, the Rangers went after the longtime Chicago White Sox catcher to fill the void.
The kind of player who always plays with a chip on his shoulder, Pierzynski provides some extra fire in the dugout and it's certainly given the Rangers life. He's playing like he's 36 years young and shows no signs of slowing down.
Most impressively, in 544 innings he has 494 putouts, 37 assists and zero errors. He currently leads all catchers with a perfect 1.000 fielding percentage and has participated in turning three double plays.
He was a member of the 2005 World Champion Chicago White Sox, caught Mark Buehrle's no-hitter on April 18, 2007 and Philip Humber's perfect game on April 21, 2012. He's a two-time All-Star (2002, 2006) and a recipient of the Silver Slugger Award in 2012.
He was also voted the Most-Hated Player in Baseball in 2012.
Miguel Montero opens the top five as possibly the most underrated catcher in the game.
Since 2011, no player has started more games at the position than Montero (344). That totals 3,048 innings, in which he's totaled just 22 errors and 197 assists.
The 30-year-old is in his eighth year with Arizona, continues to be their iron man behind the plate and has developed a quality locker room presence. Smart and technically-sound, "The Microwave" has been the definition of consistency in the field for the scrappy D-Backs.
He was voted to the 2011 NL All-Star team and caught Edwin Jackson's no-hitter on June 25, 2010. He doesn't get much love publicly or statistically, but Arizona loves him for his play and work ethic, and consider him their best-kept secret.
While he may not be a national fan favorite like the next guy on the list, he'll certainly get some love here.
Of course Joe Mauer would make the top half of the list. He is probably the most decorated catcher in the game today.
The reason Mauer comes in above the previous five is his track record. Mauer is the only catcher in MLB history to win three batting titles, he's a six-time All-Star, has earned three consecutive Gold Gloves (2008-2010) and was the AL MVP in 2009.
The reason he's below the final four is his health. Although injuries have been a detriment the last few seasons, he's still strapping on the chest pad and going to work. He does take more games off, but as an AL luxury, he does serve as the designated hitter.
As the video above shows, he's still got it. He's an outstanding talent who commands a pitching staff with the 29th ranked ERA (4.54) while still remaining competitive. He is the face of the franchise and has certainly earned his share of respect on and off the field.
He sports an above-average caught-stealing percentage of .458 and has just two errors in 485 innings behind the plate. His .995 fielding percentage ranks in the top 10 in the majors, alongside each of the final four in this list. He was also voted onto this year's AL All-Star roster.
The fifth overall pick in the 2007 MLB draft is more than capable of holding his own among the best.
If you haven't had the luxury of seeing Matt Wieters in person, this video will just have to hold you over. The 6'5" South Carolina native has one of the strongest arms in the league, and not just at his position. His natural ability and aptitude to call an effective game put him in elite status.
He has grown in the organization alongside talents like Adam Jones and Nick Markakis, so there really isn't a specific face to the franchise. His play commands respect from teammates and opponents alike, and his 14 runners caught stealing this year ranks sixth in the majors.
He is a two-time All-Star, two-time Gold Glove winner and the 2011 Fielding Bible Award winner, given to the best defensive player at each position based on sabermetric statistical analysis (say that 10 times fast).
Wieters will easily be a mainstay in the stat column and will be an All-Star for years to come.
There is no doubt that Buster Posey deserves to be on this list, possibly even No. 1. Unfortunately he isn't, but we'll get to that.
Gerald Dempsey "Buster" Posey III is coming off the best season in his career and has certainly picked up this season where he left off.
He's a captivating young man with just as much prowess in the field as at the plate (see video). In 606 innings he has 27 assists, 12 runners caught stealing and just one error. He solidifies that with a .998 fielding percentage, tied with Russell Martin for the NL lead.
He is certainly the face of the San Francisco Giants franchise and will be leaned on heavily as the team fights to regain their championship status from a year ago.
After recovering from a brutal injury he sustained in a collision at home plate in 2011, Posey has taken his play to a new level that has earned him more honors than I knew existed.
He's a two-time World Series champion (2010, 2012), the reigning NL MVP and batting champion, Silver Slugger winner (2012), NL Hank Aaron Award winner (2012), NL Comeback Player of the Year (2012) and NL Rookie of the Year winner (2010).
All of that by the age of 26.
He's got everything going for him, and he will be the best defensive catcher in the game soon enough. There is just one man who stands in his way...
*Disclaimer: video contains vulgar language and filthy arm strength.*
Yadier Molina is the best defensive catcher in the game today. He's a two-time World Series Champion (2006, 2011), five-time All-Star, five-time Gold Glove winner, five-time Fielding Bible Award winner and a two-time Platinum Glove winner.
More than any catcher in the game today, his defensive play does the talking. Only Miguel Montero has played more at catcher than Molina since 2011—by two innings.
So far this season, he has started a league-high 78 games at catcher but is currently day-to-day with knee inflammation. He leads all catchers in starts, putouts, total chances, double plays and stolen bases allowed. He is second in total innings, passed balls, caught stealing percentage and catcher's ERA.
His play is integral to one of the more successful teams in MLB history and has helped the Cardinals to the best record in baseball (53-34). If he is out for an extended period of time, the Cardinals could be in serious trouble.
You can't argue with the statistics, his winning pedigree or his trophy case. Yadier Molina has been one of the more dominant catchers over the course of his career, and at 30 years old, he certainly has a few more left in him.