Ranking the Top 25 NFL Defensive Player of the Year Candidates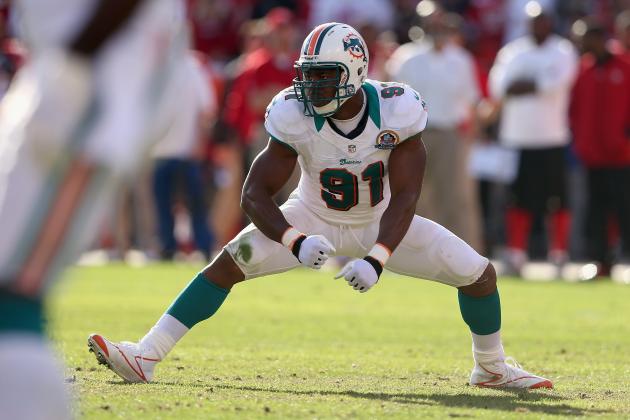 Ezra Shaw/Getty Images

The race to be named the NFL Defensive Player of the Year for 2013 will feature the usual suspects. Houston Texans defensive end J.J. Watt and Denver Broncos outside linebacker Von Miller will continue to terrorize offenses.
The big two will also be joined by a host of promising youngsters, including a stellar NFC West cornerback and an underrated AFC East pass-rusher.
Here are the best 25 candidates who will vie to be named NFL Defensive Player of the Year.
Begin Slideshow

»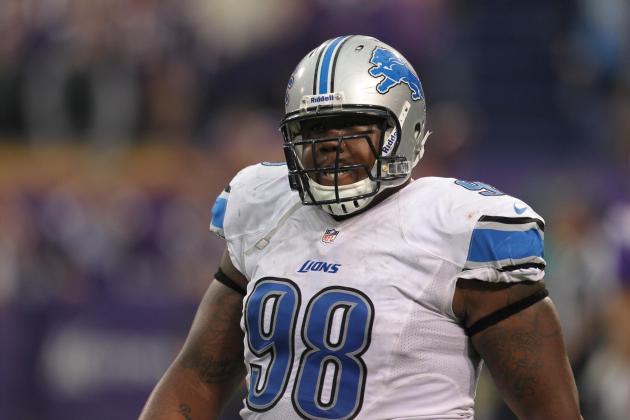 Brace Hemmelgarn-USA TODAY Sports
Durability could keep Nick Fairley out of the running.
Jared Allen
Defensive end Jared Allen tops the honorable mentions list. He is the best defensive playmaker the Minnesota Vikings have. However, the team can now rely more often on young ends Brian Robison and Everson Griffen. Playing in a more competitive rotation will reduce Allen's production enough to keep him out of the running for the award.
Sean Lee
The Dallas Cowboys boast one of the league's best young talents in middle linebacker Sean Lee. Playing in a new 4-3 scheme will do wonders for Lee if can he stay healthy. He hasn't managed that yet.
Nick Fairley and Ndamukong Suh

Intimidating tackle duo Nick Fairley and Ndamukong Suh narrowly missed the cut. Fairley has struggled to avoid niggling injuries, despite incredible talent. Suh just cannot seem to avoid disciplinary issues.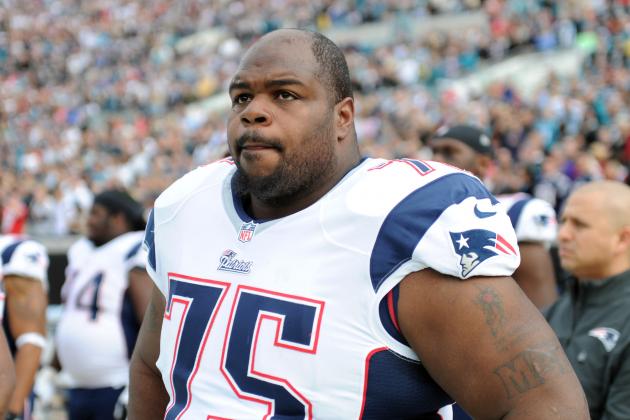 USA TODAY Sports
Vince Wilfork is the fulcrum of New England's defense.
Working along the interior of a defensive line means Vince Wilfork's best work often goes unnoticed. However, the mammoth tackle has become more of an obvious force since the New England Patriots switched to a 4-3 front.
The nine-year veteran can still occupy multiple blockers and destroy any hint of a running game. Yet Wilfork has become more of a force applying pressure against the pass.
His ability to shove linemen back into the face of quarterbacks disrupts pass plays at their source. He is firmly established as the focal point of the Pats defense.
However, despite greater exposure than before, Wilfork's position makes him the least likely candidate on this list to scoop the league-wide award.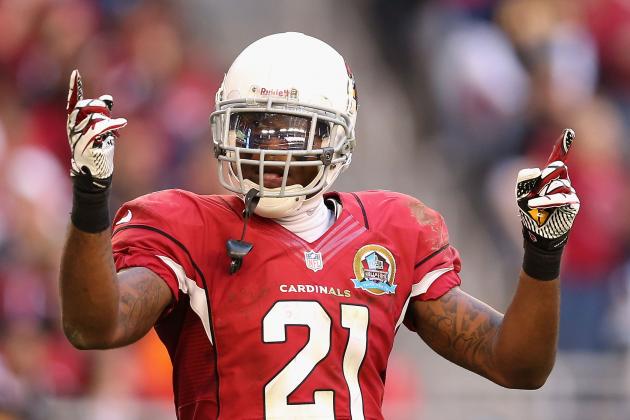 Christian Petersen/Getty Images
Patrick Peterson is already one of the NFL's best cornerbacks.
Silky smooth cover man Patrick Peterson is quickly becoming one of the league's best at his position. His ability to excel at press or off-coverage techniques makes Peterson a threat to snare any pass that comes his way.
He collected seven interceptions in 2012 and could be even better this season, depending on the success of new defensive coordinator Todd Bowles.
Bowles struggled when calling the defensive plays for the Philadelphia Eagles last season, and he might not take as many chances as previous coordinator Ray Horton did. If he can get the balance between coverage and pressure right, Peterson could enjoy a huge year.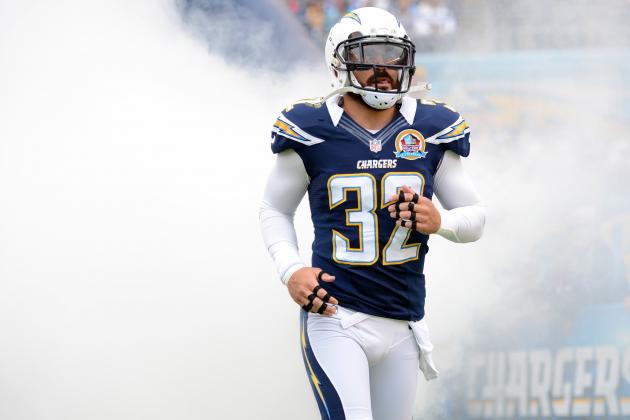 Jake Roth-USA TODAY Sports
Eric Weddle should be more prolific in 2013.
Dynamic safety Eric Weddle will be helped by the abundance of talent the San Diego Chargers possess up front.
The Chargers can field brilliant young tackle Corey Liuget and veteran rush end Dwight Freeney to create pressure. That pressure will cause plenty of errant throws for Weddle to pounce on. He has the playmaking skills and versatility to be disruptive at every level of the defense.
Weddle's interception totals were down in 2012, but if Freeney delivers a better pass rush, the opportunistic free safety will be back to his ball-hawking best.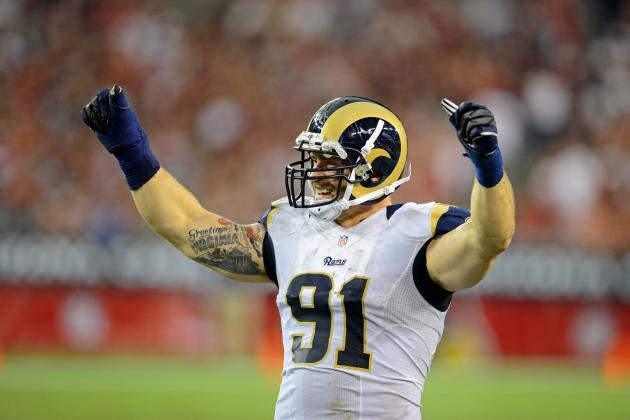 Mark J. Rebilas-USA TODAY Sports
Chris Long is a dynamic pass-rusher.
Chris Long has been consistently productive for the past three seasons. In that time, he has tallied 33 sacks and become the most dangerous player on the St. Louis Rams defense.
Long will again lead a sack-happy unit in 2013. He is the star of a powerful front four, which also features youthful speed-rusher Robert Quinn.
With Quinn and tackle Michael Brockers demanding attention, Long will be free to create even more havoc this season.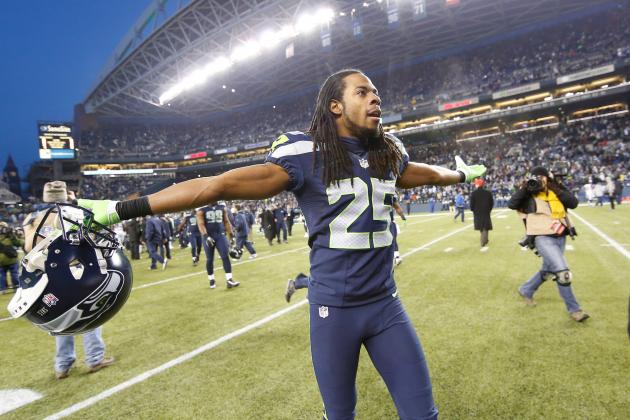 Otto Greule Jr/Getty Images
Richard Sherman may not be able to back up all of his talk in 2013.
Richard Sherman perfectly suits the aggressive, press schemes favored by the Seattle Seahawks. His size (6'3'', 195 lbs) and tenacity make him a real force in bump-and-run man coverage.
Sherman was in prolific form in 2012. He snared eight interceptions and forced three fumbles. If he can replicate that level of performance this season, he will be a strong contender for the award.
What might count against the antagonistic ace is that he won't surprise teams this season. Quarterbacks now know to avoid Sherman, and that could affect his numbers (a la Darrelle Revis).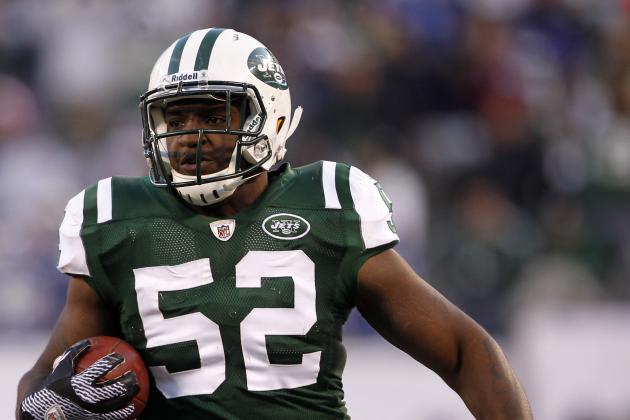 Rich Schultz/Getty Images
A return to an attacking defense is great news for David Harris.
The New York Jets plan to unveil a more blitz-happy defense this season, according to ESPN New York's Rich Cimini. That is great news for all-action inside linebacker David Harris.
He is a good blitzer and should become a key member of New York's pressure schemes. Harris also swarms to the ball quicker than most, evidenced by his 123 tackles last season.
The intelligent and fleet-footed 250-pounder will have to post strong statistics in every category to be considered for the award. But a more attack-minded system is sure to improve Harris' production.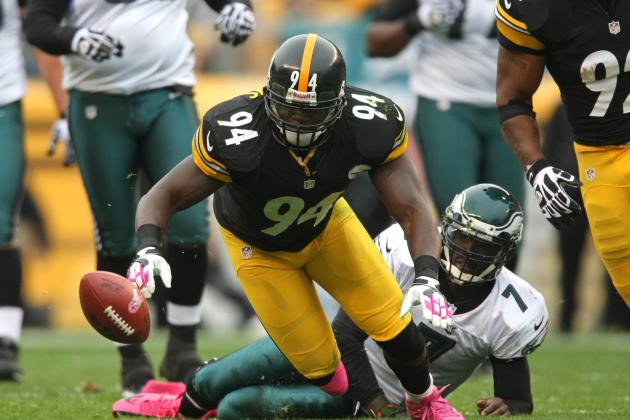 Jason Bridge-USA TODAY Sports
Lawrence Timmons is Pittsburgh's best playmaker.
There are few better pure linebackers in the NFL than Lawrence Timmons.
The Pittsburgh Steelers will need his versatility more than ever as they attempt to replace premier pass-rusher James Harrison. Timmons has the blitz skills to threaten both the edges and the interior of pass protection. He is a vital part of Pittsburgh's fire zone schemes.
Timmons is also essential to the coverage designs of legendary coordinator Dick LeBeau. He has the all-around game to post big enough numbers in every meaningful defensive category to merit consideration for the award.
However, Timmons is sometimes overshadowed by some of the bigger names on the Steelers' feared defense, which is the only thing that could hurt his chances.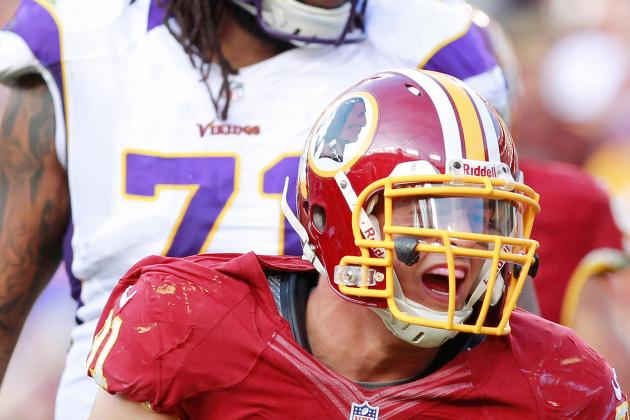 Geoff Burke-USA TODAY Sports
Ryan Kerrigan could enjoy his best year yet.
Ryan Kerrigan has quickly and quietly become a prodigious 3-4 outside linebacker. He has a knack for making a big play and continues to hone his rush skills.
In 2012, playing without the support of top pass-rusher Brian Orakpo, Kerrigan still managed to record 8.5 sacks. Orakpo's return means he will be even better this term.
If Kerrigan breaks double-digit sacks for the first time and still displays a flair for creating turnovers, he will be an intriguing candidate for the award.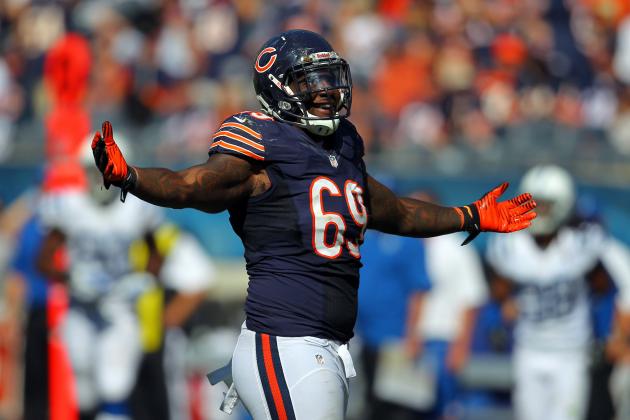 Dennis Wierzbicki-USA TODAY Sports
Henry Melton will key a more versatile defense in Chicago.
Criminally underrated defensive tackle Henry Melton will make people take notice this season. The cat-quick interior lineman will be the key to a more creative and aggressive defense for the Chicago Bears.
New coordinator Mel Tucker is using Melton as a standing pass-rusher in certain looks, according to the Chicago Sun-Times' Adam L. Jahns. Melton is agile enough to make this plan work.
If the Bears do add more variety to their pressure schemes, Melton will become a more prolific playmaker. However, he would still need to comfortably surpass 10 sacks to have a real chance to claim the award.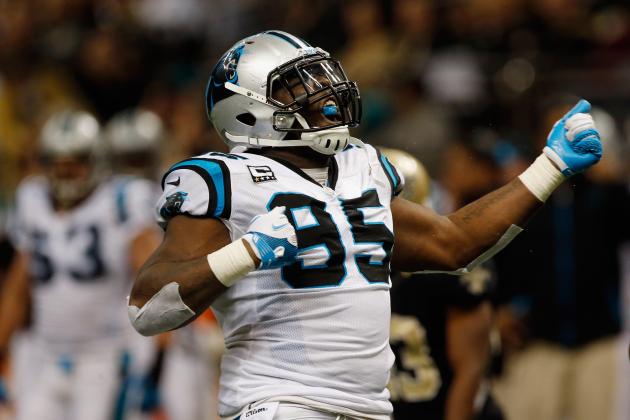 Chris Graythen/Getty Images
Charles Johnson should have a hugely productive season.
Charles Johnson is the best true 4-3 defensive end in the NFL. His explosive power makes him a threatening pass-rusher.
The threat by Johnson will be even greater this season, thanks to better defensive tackles.
The Carolina Panthers made the coup of the 2013 draft when they landed Star Lotulelei at pick No. 14. He could partner with fellow rookie Kawann Short or veteran Dwan Edwards to give Carolina a formidable interior.
Every edge-rusher in a 4-3 benefits from the play of the two defensive tackles, and Johnson will be no different. Add in fellow rush end Greg Hardy, and the Panthers will boast a terrifying front four.
Johnson was good enough to collect 12.5 sacks and force seven fumbles last season. He should be even more dominant surrounded by superior talent. That might help him beat the bigger names to the league-wide award.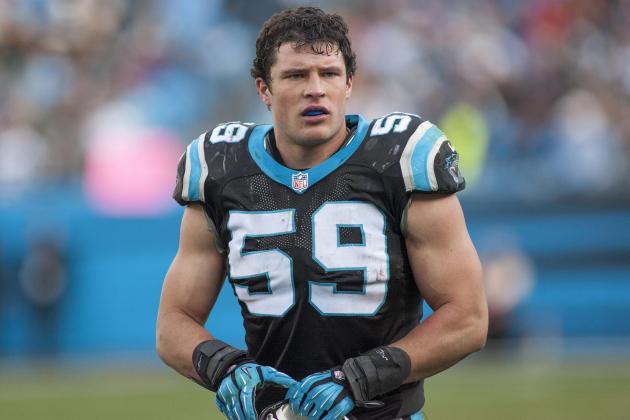 USA TODAY Sports
A strong line could make Luke Kuechly an even bigger star in 2013.
As much as Charles Johnson will be helped by the talent around him, middle linebacker Luke Kuechly will be the greatest beneficiary of Carolina's dominant-looking line.
The active thumper tackled his way to NFL Defensive Rookie of the Year honors in 2012. He was in on 164 total stops, 103 of which were solo tackles.
If the tackle tandem works out, Kuechly could exceed that production in his second year.
Middle linebackers have to do a lot to win Defensive Player of the Year, but if Kuechly tops last season's tackle mark and increases his production in other areas, he will be a viable candidate.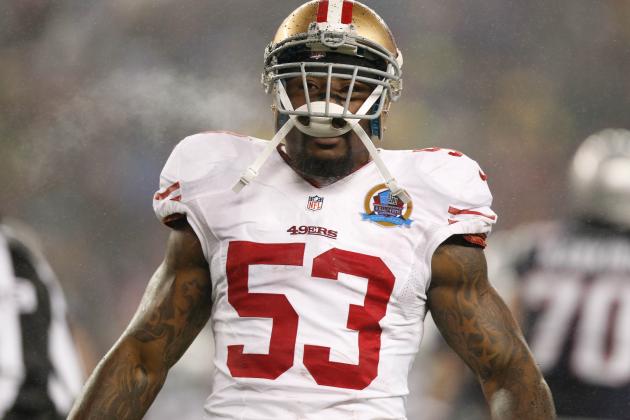 Greg M. Cooper-USA TODAY Sports
NaVorro Bowman is the heart of the San Francisco defense.
Luke Kuechly would have to exceed the efforts of his fellow inside linebackers. So too would the talented NaVorro Bowman, who has become indispensable at the heart of the defense for the San Francisco 49ers.
A true jack of all trades, Bowman is a threat in coverage, a brutal force against the run and a surprisingly good blitz man. He made 148 tackles in 2012, adding two sacks and an interception for good measure.
Like Lawrence Timmons for the Steelers, Bowman can be overshadowed by some of the bigger names around him. That could hurt his chances come awards time.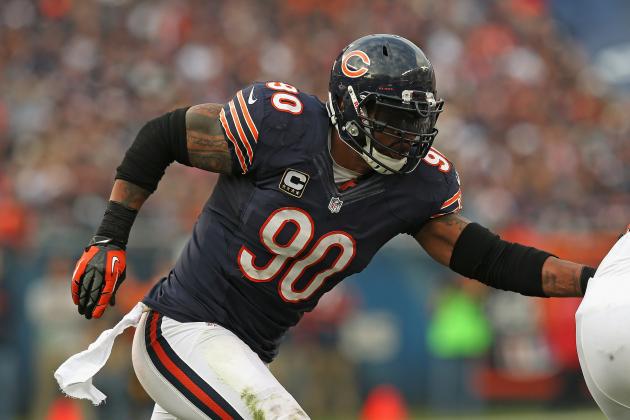 Jonathan Daniel/Getty Images
Julius Peppers is still a force for the Bears.
Julius Peppers is still the most feared pass-rushing ace for the Chicago Bears. His length and unerring quickness pose a major challenge to any blocking scheme.
In a more varied system, Peppers could use his athletic gifts from different angles and alignments. Blog Chi City Sports has indicated that the Bears have experimented with some 3-4 looks, using ends like Peppers as standing rushers.
Moving him across the formation will help create favorable matchups for this still-prolific sack artist. Peppers may be nearing the end of his playing days, but the 33-year-old could produce one final great season to earn the award.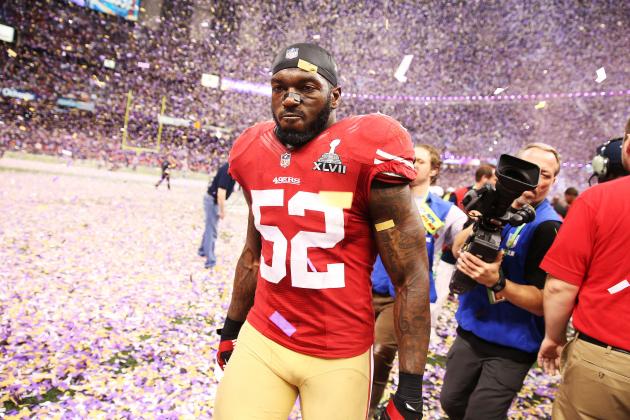 Christian Petersen/Getty Images
Patrick Willis will produce another big season.
For many, Patrick Willis is the model of a modern NFL middle linebacker. He shifts his mighty frame all over the field at alarming speed to destroy offensive schemes.
Willis is still a punishing hitter, but in recent seasons, he has become a key to coordinator Vic Fangio's coverage designs. Willis broke up nine passes in 2012, after turning away 12 the season before. He also intercepted a pair of passes and chipped in with 120 tackles to push the 49ers to a Super Bowl.
Willis makes one of the league's best defenses work, and if he raises his number of forced turnovers, the six-year pro could claim the award.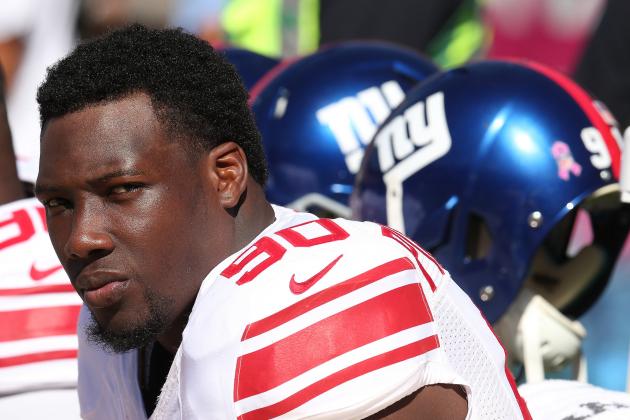 Stephen Dunn/Getty Images
Jason Pierre-Paul must get back to his 2011 form.
Jason Pierre-Paul had a down year in 2012, but that was partly due to offenses paying him more attention and similarly average performances from the rest of his fellow linemen.
Things should change this season, as the New York Giants improved their rotation up front. Former Philadelphia Eagles Mike Patterson and Cullen Jenkins are better pass-rushers than the Giants have had at defensive tackle.
Their pressure inside will reduce the number of double-teams Pierre-Paul faces, which will boost his production. Although, it will take numbers akin to his 2011 season for Pierre-Paul to claim league-wide honors.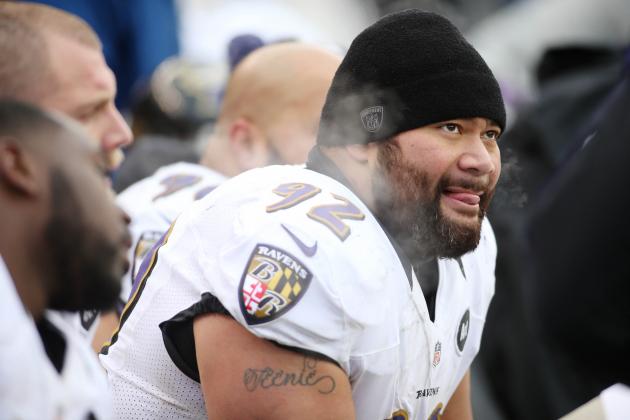 Chris Humphreys-USA TODAY Sports
Haloti Ngata's versatility is vital to the Ravens.
Haloti Ngata was not quite himself in 2012, but he still managed to be the linchpin of the Baltimore Ravens defense. The hulking tackle will be back to his best this season, thanks to an improved pass rush.
The Ravens added Elvis Dumervil to boost their ability to get to quarterbacks. With greater threats on the edge, Ngata will have more to room to be a destructive force in the middle.
He is superb in every area of defensive tackle play. He is an above-average pass-rusher, as evidenced by his 10 sacks in the last two years, and he is also a powerful force against the run.
Ngata will still struggle to overcome the edge pass-rushers at awards time, but he is versatile and skilled enough to certainly be in the running.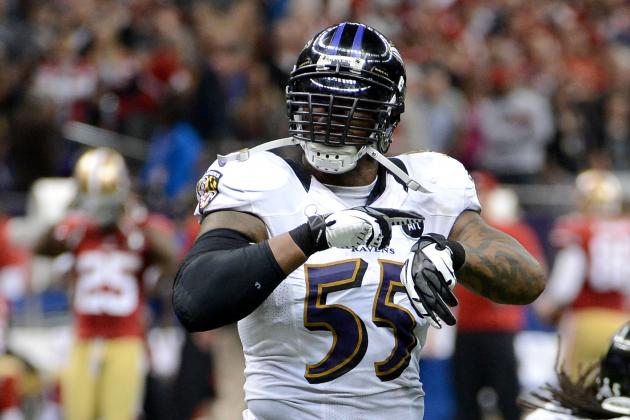 Harry How/Getty Images
A fresh Terrell Suggs will be back to his dominant best this season.
An offseason Achilles injury prevented Terrell Suggs from being his usual dominant self in 2012. However, he will be back to chasing down quarterbacks on a regular basis this season.
With Elvis Dumervil on the other side, Suggs could enjoy a massive year. In the two years prior to last season, he tallied 25 sacks.
Suggs is still as destructive as any hybrid rush end in the league, and the 30-year-old will be motivated to deliver one of his finest seasons yet.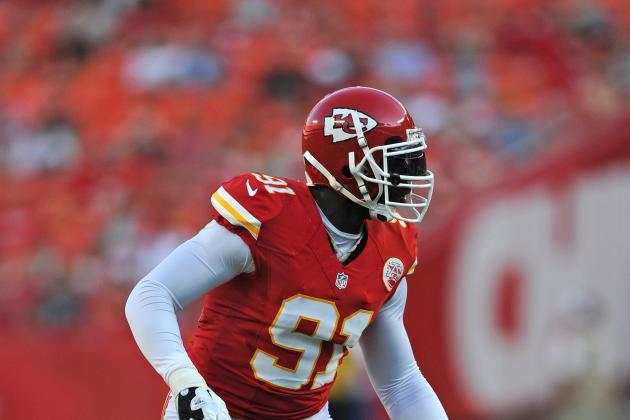 Peter Aiken/Getty Images
Tamba Hali deserves more respect.
Tamba Hali does not get the recognition of the more illustrious names at his position, but he is just as talented. He will thrive in a new style of defense for the Kansas City Chiefs this season.
New coordinator Bob Sutton has promised a more attacking, multiple-front defense, according to KCChiefs.com. That should free Hali from the constraints of the 2-gap 3-4, favored by previous head coach Romeo Crennel.
Hali was a feared pass-rusher in that conservative scheme. He will be even more dangerous if the Chiefs turn him loose more often.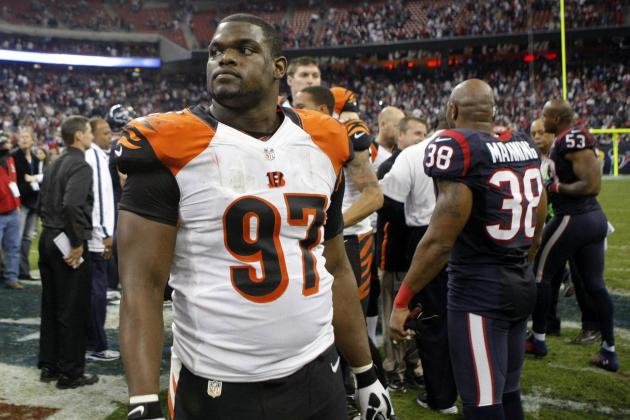 USA TODAY Sports
Geno Atkins is the interior lineman with the best chance to win the award.
No interior pass-rusher in the league can rival Geno Atkins. He is essential to the defensive front of the Cincinnati Bengals.
Outstanding seasons from others somewhat overshadowed Atkins' brilliant 2012 campaign. He notched 12.5 sacks as a gap-splitting defensive tackle.
The Bengals base their pressure schemes around Atkins' strength and range. He is the centerpiece of a marauding front four and will be just as deadly this season.
USA TODAY Sports
Cameron Wake will again dominate.
Cameron Wake simply has a natural gift for rushing the passer. Moving to defensive end in a 4-3 only made him more prolific in 2012.
Wake registered a career-best 15 quarterback takedowns, and he is able to win with a strong initial burst and excellent leverage.
The Miami Dolphins have surrounded him with some stellar talent, including mighty tackle tandem Randy Starks and Paul Soliai. They help keep blockers off Wake, and he could have even more freedom this season.
The Dolphins also traded up to draft edge-rusher Dion Jordan third overall. If he makes an early impact, offenses won't be able to slide their protection toward Wake as often. That will allow the ex-CFL star to have a monster year.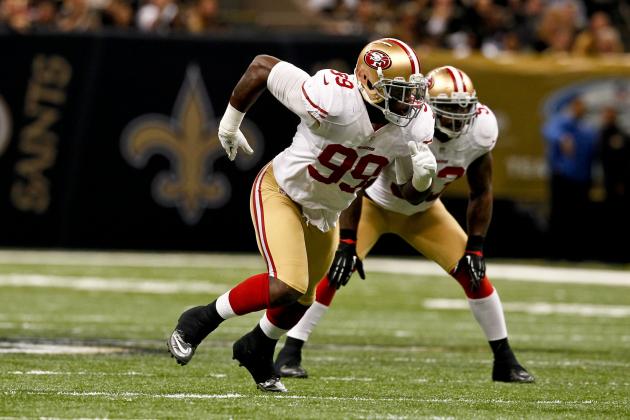 Derick E. Hingle-USA TODAY Sports
Aldon Smith will again be near the top of the sack charts.
Aldon Smith can rival any pass-rusher for takeoff speed and natural power. He was in awesome form in 2012, logging an eye-popping 19.5 sacks.
Many credit his production to the play of the 49ers' punishing defensive line, particularly end Justin Smith. That certainly helped, but it's a mistake to ignore the younger Smith's obvious flair for pass-rushing. He's the featured rusher on the San Francisco defense for good reason.
Aldon Smith will again be near the top of the sack charts in 2013.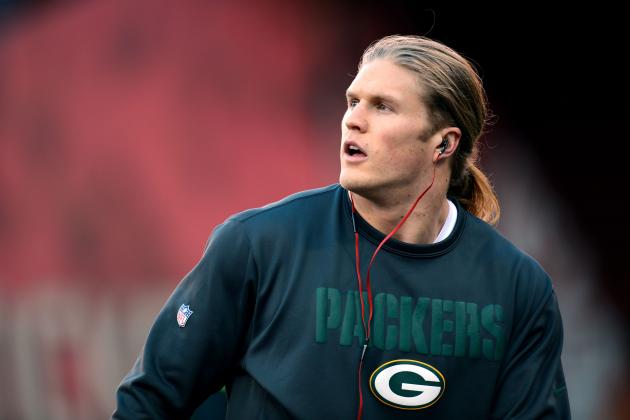 Thearon W. Henderson/Getty Images
Clay Matthews needs better support around him.
With better support, Clay Matthews might have registered even more than his still-impressive 13 sacks in 2012. This season, that support might come from a young and talented defensive line.
Nose tackle B.J. Raji is one of the game's best, but it is rookie Datone Jones who could help make Matthews even more destructive. His ability to push the pass pocket should give Green Bay's premier outside linebacker more free rush lanes on the outside.
That, along with coordinator Dom Capers continuing to scheme ways to rush him from anywhere, means Matthews will once again be one of the league's best sack artists.
USA TODAY Sports
Switching to a 4-3 could make DeMarcus Ware even more dangerous.
Moving to defensive end in a 4-3 is only going to make the best pass-rusher of his generation even more dominant. DeMarcus Ware will have extra rush opportunities as the Dallas Cowboys shift to Monte Kiffin's four-man front scheme.
It is a system that relies on the front four for the lion's share of pressure. Linemen in Kifffin's defense are taught to only play run as they make their way to the quarterback.
That means Ware, who has had at least 10 sacks since his sophomore season in 2006, will be turned loose more often.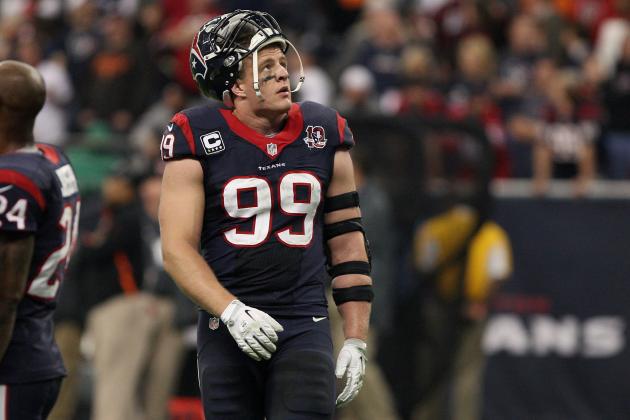 USA TODAY Sports
J.J. Watt could be just as good in 2013 as he was in 2012.
Some might expect J.J. Watt to not be as productive when faced with greater attention after his stunning 2012 campaign. Yet the Houston Texans defensive end faced plenty of double- and triple-teaming last season and still could not be stopped.
Few will succeed in corralling him in 2013 either. Watt is given license to attack single gaps by defensive coordinator Wade Phillips.
Houston's 3-4/5-2 hybrid front is tweaked to let Watt consistently line up between guards and tackles. That is also the same position he occupies whenever the Texans field nickel or dime fronts.
From there, he is a devastating pass-rushing force. He collected 20.5 sacks last season and also led the league in tackles for loss.
Watt's initial burst, long arms and hand strength help set up and defeat blockers on almost every play. With Phillips rushing up to five players on most snaps, opponents won't be able to double Watt as often as they need to.
He could be every bit as good as he was in 2012.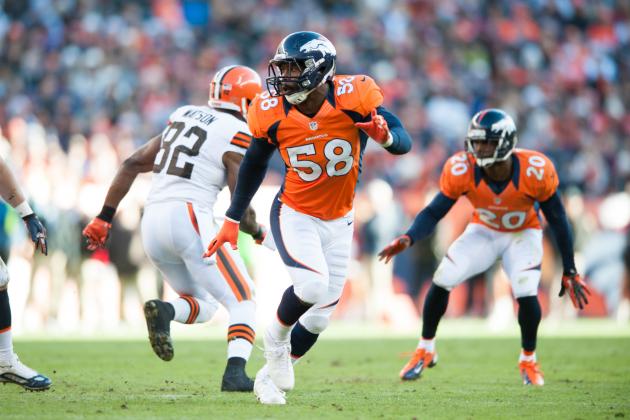 Dustin Bradford/Getty Images
Von Miller can destroy an offense from a variety of positions.
As good as J.J. Watt is, he won't deny Von Miller NFL Defensive Player of the Year honors a second time. Miller is too productive from too many positions for offenses to successfully account for him.
Whether he lines up as an outside linebacker or as a defensive end, Miller is a lethal pass-rusher. He logged 18.5 sacks last season and can rush from anywhere across a defensive alignment.
But he is also steadily expanding his repertoire. He has become more competent in coverage, and few players are as stout when setting the edge against the run.
Miller's ability to make highlight-reel-worthy plays at every level of a defense makes him the top candidate to be named NFL Defensive Player of the Year.