Underlining Each MLB Contender's Weakest Link at Midseason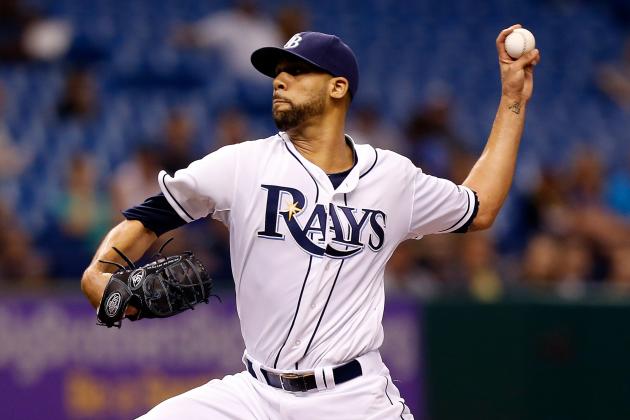 J. Meric/Getty Images

When the month of July rolls around in the MLB, the time comes for teams to first decide whether they'll be buyers or sellers leading up to the deadline and then what needs to be addressed if they are in fact buyers.
For some teams, their weaknesses will be solved by in-house players coming back from injury or top prospects being called up to make a second-half impact. For others, however, what they do at the trade deadline could mean the difference between sitting at home come October and contending for a title.
Here is a look at each MLB contender's weakest link at midseason. For the sake of this article, I considered everyone less than six games out of a playoff spot, whether division lead or wild card, to be a contender.
Begin Slideshow

»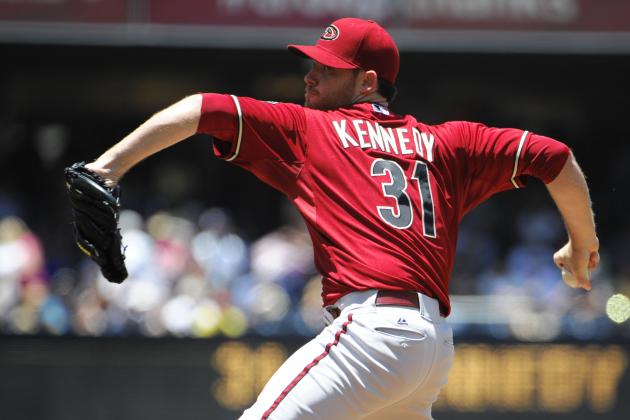 Denis Poroy/Getty Images

Even with the emergence of Patrick Corbin as one of the best pitchers in the league, the Diamondbacks rotation has been a disappointment so far this season.
Veterans Brandon McCarthy (11 GS, 2-4, 5.00 ERA) and Ian Kennedy (16 GS, 3-4, 5.16 ERA) have fallen well short of expectations, and Wade Miley and Trevor Cahill both have ERAs over 4.00.
With Cahill and McCarthy currently on the DL, the team has turned to prospects Tyler Skaggs and Randall Delgado, who have both pitched well.
The depth is there, as is the talent, so chances are that five guys will step forward once everyone is healthy and the team won't need to add anyone. To this point, however, the starting pitching has been an issue.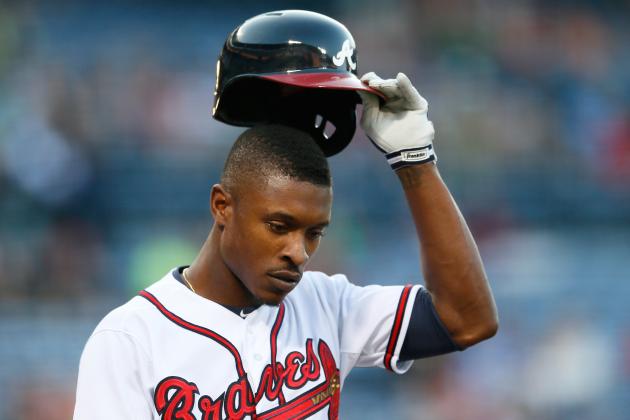 Kevin C. Cox/Getty Images

Expected to have one of the best offenses in the league this season following the offseason acquisitions of brothers B.J. and Justin Upton, the Braves have instead struggled mightily to make consistent contact.
Hitting just .248/.324/.409 as a team with an NL-high 754 strikeouts, the Braves have four regulars hitting under .250 on the year.
Though they have a solid five-game lead over the Nationals in the NL East, they will need to get things going offensively if they are going to have a real shot at contending for the NL pennant.
It may not be a matter of acquiring someone at the deadline for Atlanta, but instead making a team-wide change in its approach at the plate.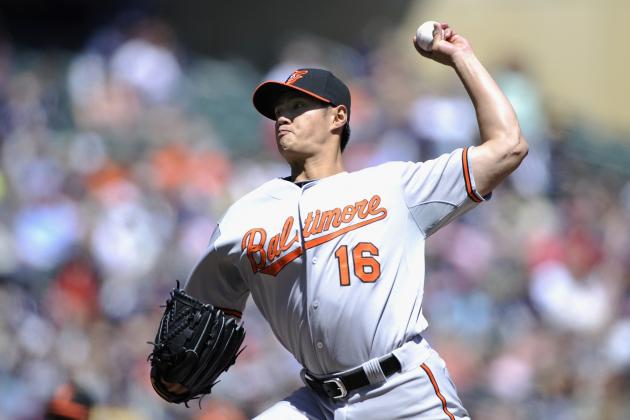 Hannah Foslien/Getty Images

Even with their recent acquisition of Scott Feldman from the Chicago Cubs and the return of Wei-Yin Chen, starting pitching remains the weak link on the Orioles roster.
Those two should certainly help things, as they'll provide some support to the duo of Chris Tillman and Miguel Gonzalez, who have both pitched well so far this season.
It's not a terrible staff, but it's essentially a collection of No. 3 starter types with no real staff ace. And in a deep AL East, that lack of a marquee arm may come back to bite them down the stretch.
Second base has also been a weakness for much of the season. However, Ryan Flaherty has hit .287/.319/.460 with 11 RBI and 10 runs since being recalled from the minors on May 29, and he should be able to hold down the fort alongside Brian Roberts.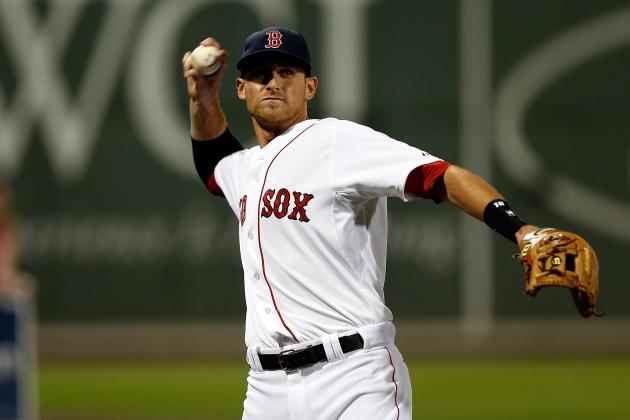 J. Meric/Getty Images

After Will Middlebrooks hit .288 with 15 home runs and 54 RBI in 286 at-bats as a rookie last season, it not only looked like the Red Sox had the third base position locked down, but that they had a legitimate future star on their hands.
However, the 24-year-old struggled to a .192/.228/.389 line in 203 at-bats this season before being sent down to Triple-A last week in hopes that he can get back on track for the second-half playoff push.
In his place, shortstop Jose Iglesias has seen the bulk of the action at the hot corner, and the 23-year-old has hit a ridiculous .410/.459/.528 in 144 at-bats this season.
With Stephen Drew struggling as the starting shortstop, the team's best bet moving forward may be to move Iglesias into the everyday shortstop role and look to acquire a third baseman at the deadline.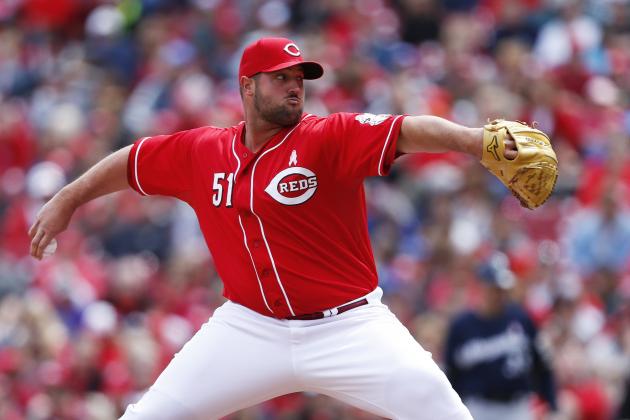 Joe Robbins/Getty Images

When the Reds opted to return Aroldis Chapman to the closer role, they had already signed Jonathan Broxton to a free-agent deal, and it looked like the back end of the bullpen would be a major strength for the team.
Chapman has been dominant once again, but Broxton (29 G, 4.33 ERA) struggled before landing on the DL with a strained elbow. Sean Marshall has also battled injury, and Logan Ondrusek struggled to the point of demotion after a terrific season last year.
Someone like Jesse Crain, whom the White Sox will likely make available at the deadline, could be a big addition for them down the stretch. Getting Marshall and Broxton back healthy will help, but for a team looking to win it all, adding an arm would be a benefit.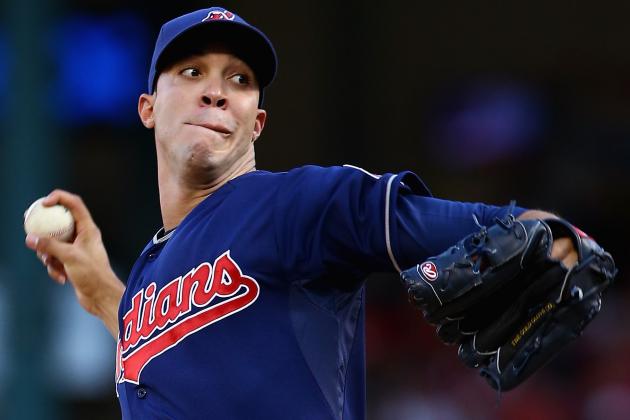 Tom Pennington/Getty Images

The Indians have been surprise contenders this season thanks in large part to a balanced offensive attack led by second baseman Jason Kipnis, who is enjoying a breakout year.
While the pitching has been better than expected, led by Justin Masterson and Zach McAllister, the back end of their rotation has been wildly inconsistent.
Corey Kluber (14 GS, 4.23 ERA) Ubaldo Jimenez (17 GS, 4.67 ERA) and Scott Kazmir (14 GS, 4.86 ERA) have all pitched well at times, but they have had their fair share of rough outings as well.
If they are going to have a legitimate shot at making the postseason, they'll need to look into adding a reliable veteran arm, much like the Orioles did with their acquisition of Joe Saunders at the deadline last year.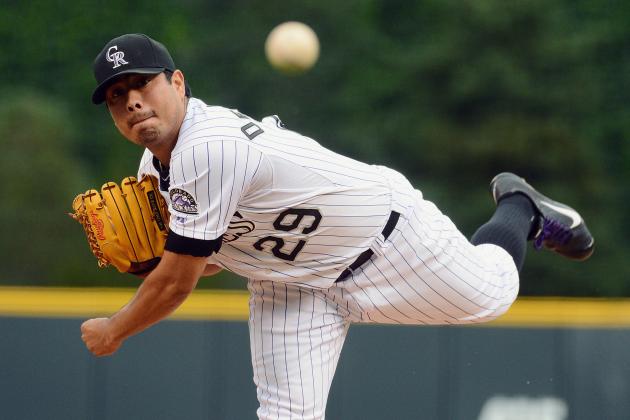 Garrett Ellwood/Getty Images

With one of the most potent offensive attacks in the league, pitching has once again held back the Rockies, as finding five viable starters remains a tough task for the organization.
Jorge De La Rosa (8-5, 3.19 ERA) and Jhoulys Chacin (8-3, 3.74 ERA) have both pitched well from the get-go, and Tyler Chatwood (4-2, 2.75 ERA) has been terrific in 10 starts.
However, the rest of the starting pitchers have gone a combined 10-19 with a 6.01 ERA, with veteran Roy Oswalt and young left-hander Drew Pomeranz currently making up the rest of the rotation.
Provided Troy Tulowitzki comes back healthy and avoids further injury and that the top three starters continue to pitch like they have, the Rockies should be able to stay in the thick of things in the NL West. So don't be surprised to see them make a play for an impact arm at the deadline.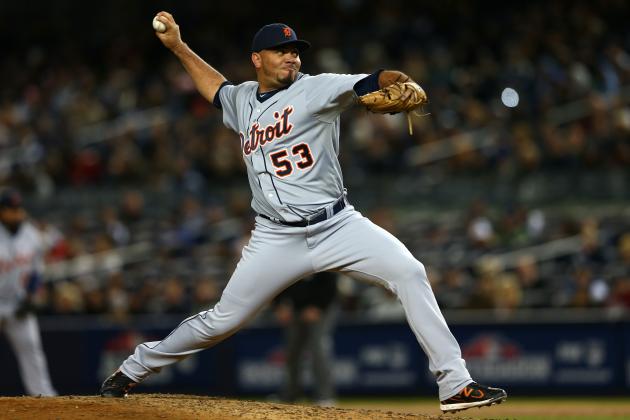 Elsa/Getty Images

The Tigers opted against adding a free-agent arm such as Rafael Soriano in the offseason, instead deciding to fill the void left by the departed Jose Valverde in-house.
Flame-throwing prospect Bruce Rondon was the front-runner to move into the role, but when he struggled in the spring, the team sent him to the minors to open the season and a closer-by-committee was implemented.
It wasn't long before the team brought Valverde back. But when he flopped, the team was forced to move top setup man Joaquin Benoit to the ninth inning, hurting the bullpen depth as a whole.
Rondon is in the majors now, and he could wind up sliding into the role if he pitches well. However, don't be surprised if the team makes a run at someone like Jonathan Papelbon at the deadline should he be made available.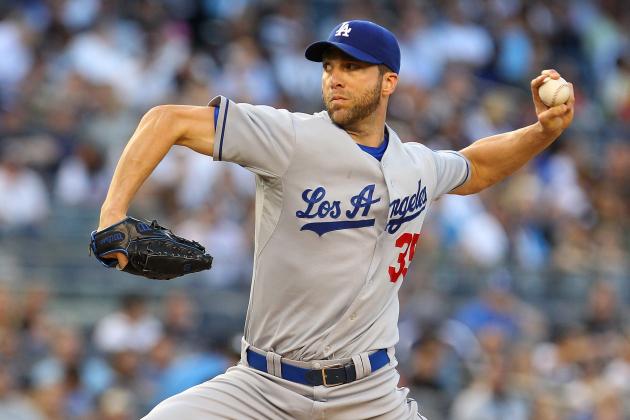 Mike Stobe/Getty Images

With the emergence of Yasiel Puig and the return of Hanley Ramirez from injury, the Dodgers offense has gotten a much-needed shot in the arm, and it's no coincidence the team has been playing much better baseball as a result.
At this point, it looks like the back end of the Dodgers' starting rotation is their biggest weakness, though they do have a number of arms to contend for those spots.
Clayton Kershaw, Hyun-Jin Ryu and Zack Greinke have all been great, and Stephen Fife (7 GS, 3-2, 2.83 ERA) has shined in the No. 4 starter role. However, current No. 5 starter Chris Capuano (2-6, 5.19 ERA) has struggled.
Ted Lilly could make an impact as he works his way back from a sprained neck, but given the way they've been throwing around money over the past year, don't be surprised to see the Dodgers make a run at guys like Ricky Nolasco and Matt Garza.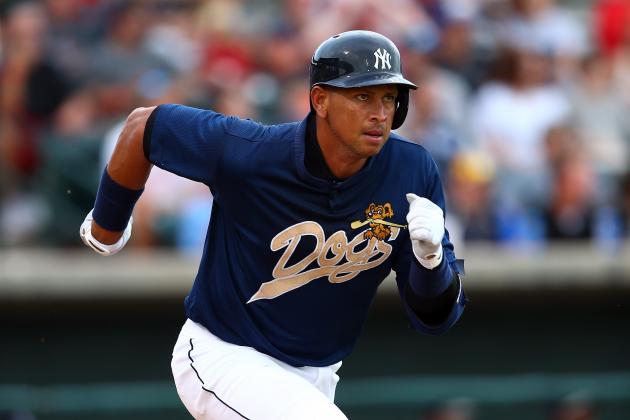 Streeter Lecka/Getty Images

While the veteran trio of Vernon Wells, Lyle Overbay and Travis Hafner stepped up admirably in the early going this season, they have since fallen off significantly, and the Yankees offense has been anemic in turn.
The team scored an MLB-low 88 runs in the month of June, hitting just .223 and getting on base at a dismal .290 clip.
Reinforcement will come in the returns of veteran stars Alex Rodriguez and Derek Jeter, but pinning the Yankees' playoff hopes on a pair of guys well past their prime is not going to cut it. The team will likely look to add a bat or two at the deadline as well.
A right-handed hitter who can platoon with either Overbay or Hafner would make sense, as would upgrading the catcher spot, though the market is generally thin on quality backstops.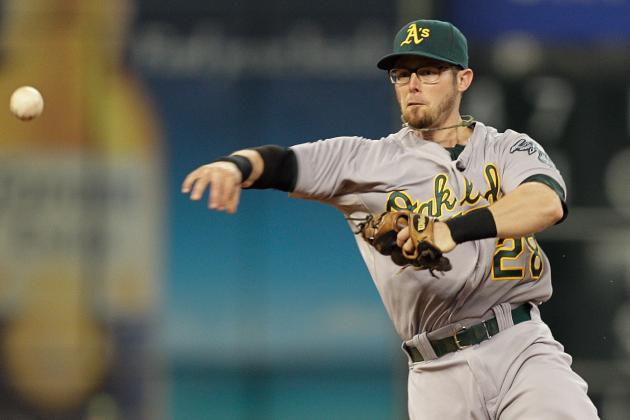 Bob Levey/Getty Images

The A's made a terrific move in the offseason to trade Chris Carter and Brad Peacock to the Astros for shortstop Jed Lowrie. Lowrie has been a welcome addition to the team's offense and one of the most productive shortstops in the AL.
Second base has been a different story, however, as they have gotten very little production from the platoon of Eric Sogard and Adam Rosales.
Sogard is hitting .257 on the season, but he has zero power and has posted an OPS of just .659. Meanwhile, Rosales is strictly a defensive player.
Unless Chase Utley is made available, there likely won't be any impact second basemen available on the market. Prospect Grant Green (.319/.375/.503, 11 HR, 49 RBI at Triple-A) could get a look, as he has settled in at second base after bouncing around positions his first few pro seasons.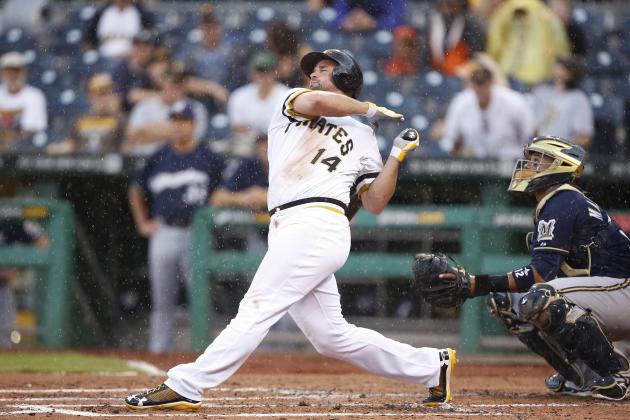 Joe Robbins/Getty Images

With a vastly improved offense, a solid veteran-led rotation and one of the best bullpens in all of baseball, the Pirates don't have many holes right now as they look to finally get over the hump and post their first winning season since 1992.
The platoons of Garret Jones/Gaby Sanchez at first base and Travis Snider/Jose Tabata in right field have worked fairly well, but the team lacks an impact pinch-hitter type of the bench and could look to add a veteran bat at the deadline.
Fans are understandably approaching the team's success with cautious optimism, given the collapses the Pirates have suffered the past two seasons. But they look to be the real deal this time around and have the pieces to make some real noise in October.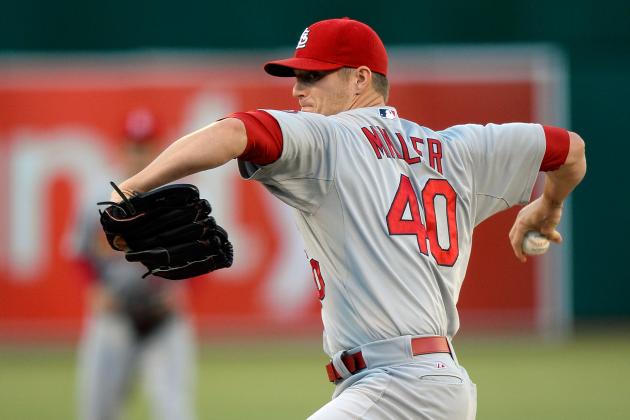 Thearon W. Henderson/Getty Images

It's hard to say a team has no weaknesses, especially when it's not even leading its own division. However, the Cardinals are the most complete team in baseball right now top to bottom, and they won't need to change much in the second half.
Offensively, they've gotten contributions up and down the lineup, and they're the best clutch-hitting team in baseball. Rookie shortstop Pete Kozma is the only real weak link, hitting .236/.281/.299. Nonetheless, the team likes what he brings to the table defensively and can platoon him with Daniel Descalso.
The starting rotation has overcome the losses of Chris Carpenter, Kyle Lohse and an injury to Jaime Garcia to again be one of the best in the league. Rookie Shelby Miller has been phenomenal, and Adam Wainwright is again one of the game's true aces.
The bullpen was the biggest question mark early on, but Edward Mujica and Trevor Rosenthal stepped up big to shore up the back end of the 'pen, and youngsters like Seth Maness and Kevin Siegrist have filled in the blanks in middle relief.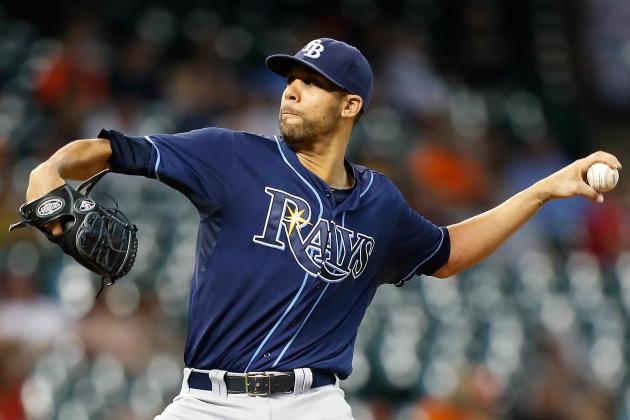 Bob Levey/Getty Images

During their recent run of success in the AL East, the Rays have been carried by their starting pitching, winning despite an offense that was regularly among the most feeble in the American League.
This season has been the polar opposite. The Rays rank fifth in the AL with 414 runs scored on the season, but they have gotten just a 4.20 ERA out of their starting pitchers so far.
Getting David Price back healthy and pitching like an ace again would be a huge step in the right direction, and the eventual return of Alex Cobb from his scary head injury will help as well. But at the very least, it doesn't look like the Rays will be able to lean on their staff this season.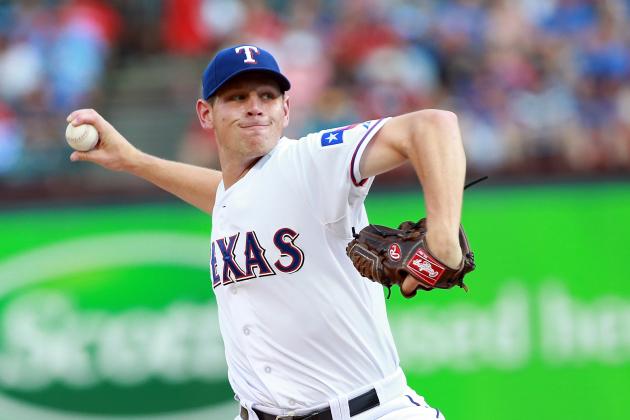 Rick Yeatts/Getty Images

The Rangers have had to deal with a ton of injuries this season, specifically to their starting pitching. While they have still managed to win games so far, it has begun to catch up with them.
Yu Darvish and Derek Holland have been solid atop the rotation, but rookies Nick Tepesch and Justin Grimm have fallen off after strong starts, with both posting ERAs north of 7.00 over the past month.
Martin Perez has come back strong from a broken ulna this spring, going 2-0 with a 0.95 ERA in three stats since rejoining the rotation on June 22.
Getting Alexi Ogando back from shoulder inflammation will also help bolster the staff, but with the returns of Matt Harrison and Colby Lewis still up in the air, the Rangers may look to add an arm at the deadline as they look to make another run at the AL West title this season.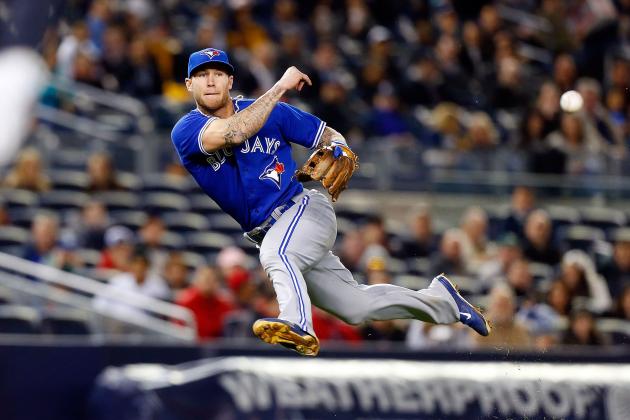 Jim McIsaac/Getty Images

With their starting pitching turning things around over the past month or so and Jose Reyes now back healthy at shortstop and atop the lineup, the third base position has to be considered the weakest spot on the Blue Jays roster as of right now.
Hailed as a breakout candidate for the past two seasons, Brett Lawrie has instead been sidetracked by injuries. The 23-year-old has played in just 37 games so far this season.
He's currently on a rehab assignment coming back from a ankle injury. But the team has indicated that it will leave him in the minors once he's healthy, opting to let him get some at-bats under his belt and some confidence built up before it calls him up, according to Jason Mastrodonato of MLB.com.
In his place, the duo of Maicer Izturis and Mark DeRosa have been unspectacular at best, so Lawrie's return to Toronto can't come soon enough.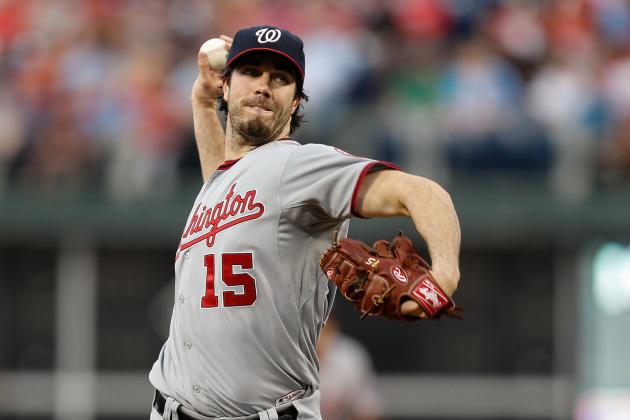 Brian Garfinkel/Getty Images

While the trio of Jordan Zimmermann (12-3, 2.57 ERA), Stephen Strasburg (5-6, 2.45 ERA) and Gio Gonzalez (6-3, 3.14 ERA) has been solid, the back of the Nationals rotation has been very shaky.
Ross Detwiler started off the year strong with a 1.38 ERA through his first four starts, but he's had a 5.56 ERA in nine starts since, as he's been a shaky No. 5 starter at best.
Then there's Dan Haren, who was signed to a one-year, $13 million deal in the offseason to replace Edwin Jackson. He was 4-9 with a 6.15 ERA in 15 starts before landing on the DL with shoulder inflammation.
Taylor Jordan has thrown well in two starts replacing Haren, but for the Nationals to close the gap between them and the Braves and to make a serious run at a title, they may need to add an arm at the deadline.