Where Homer Bailey's No-Hitter Ranks Among MLB's Last 10 'No-Nos'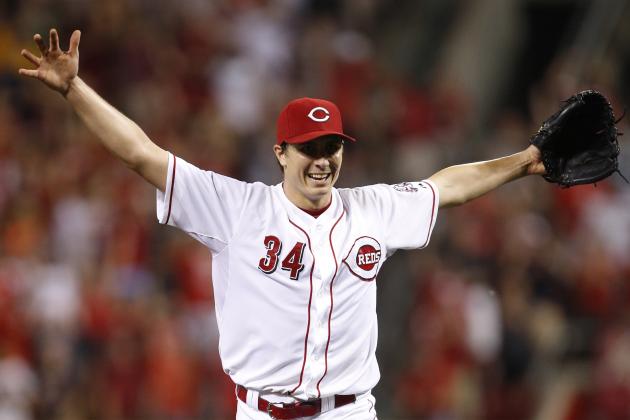 Joe Robbins/Getty Images

Homer Bailey just threw the first no-hitter of the 2013 MLB season, sailing through the San Francisco Giants lineup as his Cincinnati Reds won the game, 3-0.
This was Bailey's second no-hitter, with the last one coming on September 28, 2012 against the Pittsburgh Pirates.
Bailey's latest no-hitter featured just one walk and nine strikeouts and was a display of dominance.
But how does this no-hitter compare to his last one and the last 10 in the MLB? Let's take a look.
Begin Slideshow

»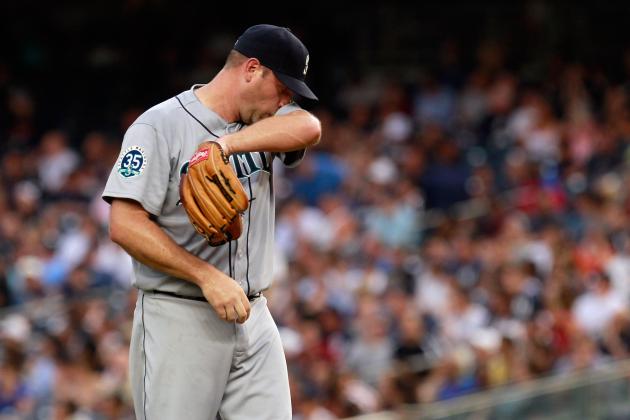 Mike Stobe/Getty Images

Date: June 8, 2012
Final Score: Seattle Mariners 1, Los Angeles Dodgers 0
The Mariners threw a no-hitter against the Dodgers, but the team needed six pitchers to get the job done, whereas all of the other no-hitters on this list only needed one.
Kevin Millwood started the game for the Mariners, but he threw just 68 pitches over six innings, walking one batter and exiting the game before he could even get credit for the win.
Charlie Furbush, Stephen Pryor, Lucas Luetge and Brandon League would all pitch before Tom Wilhelmsen came in to close the game. Pryor got the "W" despite giving up two walks and recording only one out.
The Mariners struck out nine and walked three, but the fact that they needed so many pitchers to get the job done has the team far down on this list.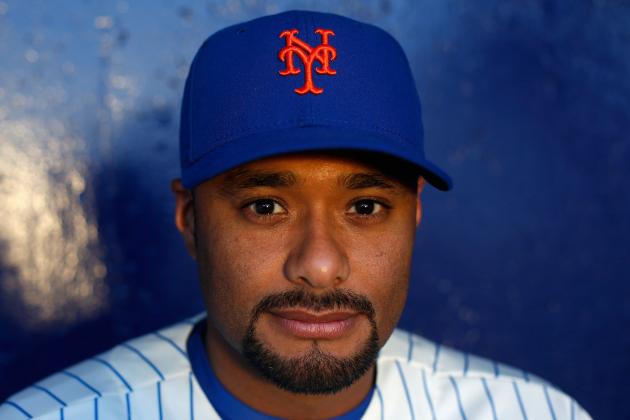 Chris Trotman/Getty Images

Date: June 1, 2012
Final Score: New York Mets 8, St. Louis Cardinals 0
Johan Santana had everything going for him when he toed the rubber against the St. Louis Cardinals last year, taking the bats out of the Cardinals' hands. Facing guys like Carlos Beltran and Matt Holliday is never easy, but Santana was able to shut them and the rest of the team down.
The biggest knock against Santana is that he walked five batters in the game, which is the most of any game on this list.
While this was the first no-hitter in Mets franchise history, it wasn't exactly spectacular, comparatively speaking.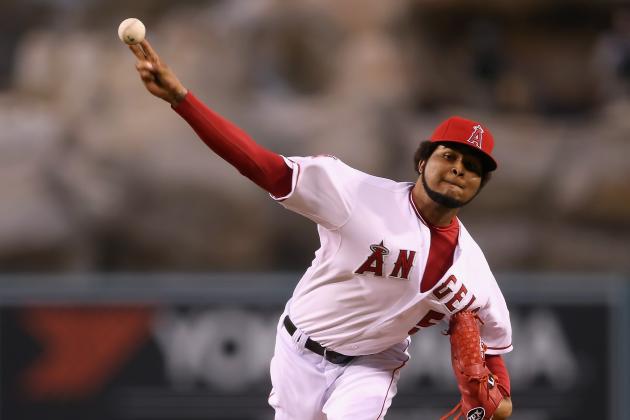 Jeff Gross/Getty Images

Date: July 27, 2011
Final Score: Los Angeles Angels of Anaheim 3, Cleveland Indians 1
Ervin Santana threw one of the more dominant games on this list, striking out 10 Indians and walking only one en route to his no-no.
The Indians were 52-49 going into the game and were having a solid season to that point, but Santana picked them apart.
The only problem with Santana's start is that he gave up a run in the first inning, after Ezequiel Carrera reached on an error, stole second, moved to third on a ground ball and came home on a wild pitch.
Apart from that miscue, however, Santana was masterful, and he could've easily cracked the top five if he hadn't surrendered that run.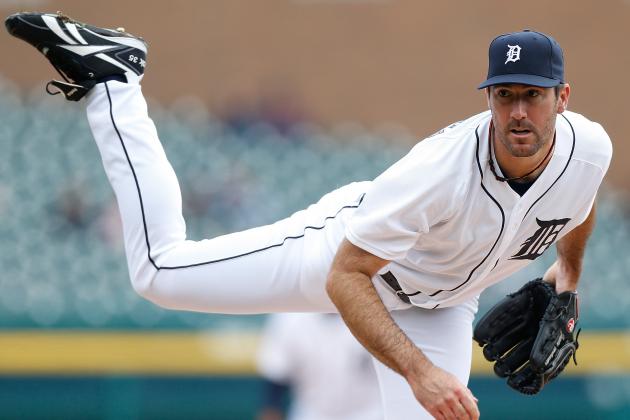 Gregory Shamus/Getty Images

Date: May 7, 2011
Final Score: Detroit Tigers 9, Toronto Blue Jays 0
The highlight of Justin Verlander's Cy Young- and MVP-winning 2011 campaign came against the Blue Jays as he threw a no-hitter.
Jose Bautista was out of the lineup and Verlander only recorded four strikeouts, but the Tigers ace looked like an artist at work on this day.
Verlander lost his perfect game in the eighth inning, walking J.P. Arencibia with one out. However, he got Edwin Encarnacion to ground into a double play to finish the inning, and he still finished the game having faced only 27 batters.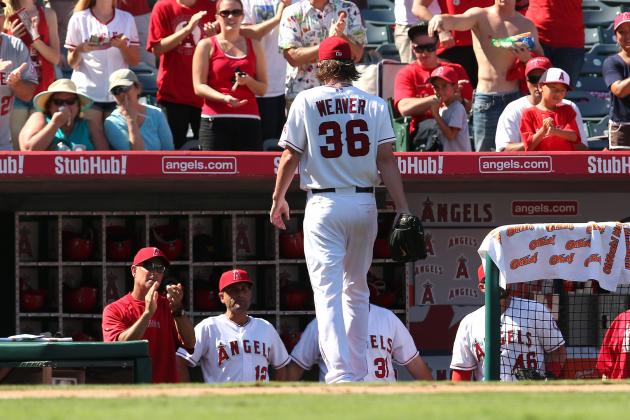 Stephen Dunn/Getty Images

Date: May 2, 2012
Final Score: Los Angeles Angels of Anaheim 9, Minnesota Twins 0
Jered Weaver had the game of his life against the Twins last year.
Weaver fanned nine batters and walked only one during his no-no. However, two batters would reach base, as Chris Parmelee reached first on a passed ball after striking out and Josh Willingham walked.
The Twins simply couldn't mount anything against Weaver, as Joe Mauer and Co. had a rough day in L.A.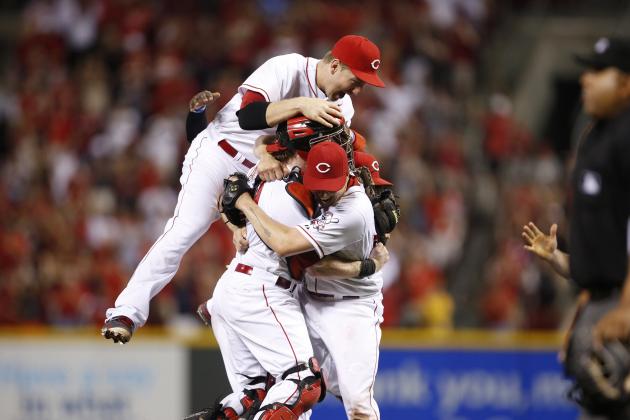 Joe Robbins/Getty Images

Date: September 28, 2012
Final Score: Cincinnati Reds 1, Pittsburgh Pirates 0
Homer Bailey's first no-hitter wasn't quite as good as the one on Tuesday night, but it still cracks the top five.
Bailey went on the road to take on the 76-80 Pirates, with Pittsburgh owning a 42-33 home record at the time. However, Andrew McCutchen's bunch couldn't even get past second base against Bailey, with Clint Barmes reaching first on a throwing error and McCutchen stealing second after he walked in the seventh inning.
A.J. Burnett threw a gem of his own in this game, but he couldn't best Bailey's 10 strikeouts in this no-hit performance.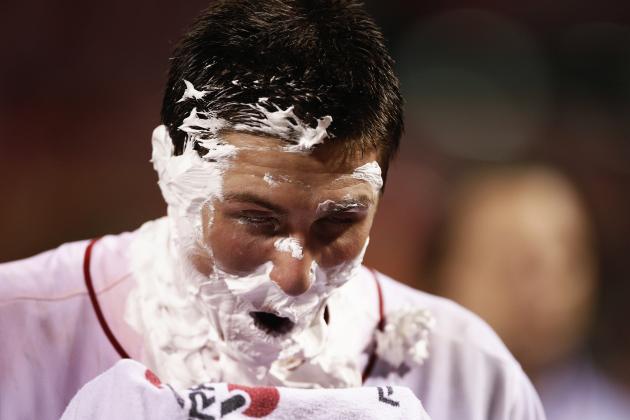 Joe Robbins/Getty Images

Date: July 2, 2013
Final Score: Cincinnati Reds 3, San Francisco Giants 0
Homer Bailey makes his second appearance on this list after throwing a no-hitter against the reigning World Series champs.
Buster Posey, Pablo Sandoval, Hunter Pence and the Giants couldn't get anything going against Bailey, who is now responsible for the last two no-hitters in the MLB.
Bailey needed just 109 pitches to throw the 275th no-no in MLB history, striking out nine. He gave up his bid at a perfect game in the seventh inning when he walked Gregor Blanco, but he closed out the game strong, never surrendering so much as a single.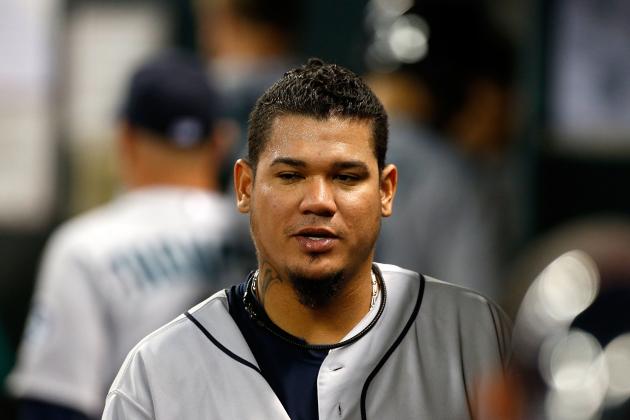 Scott Halleran/Getty Images

Date: August 15, 2012
Final Score: Seattle Mariners 1, Tampa Bay Rays 0
King Felix ruled over the 63-53 Rays last year when he faced them at home, striking out 12 batters and finishing the game in 113 pitches.
Oh, and did I mention that he was perfect?
Hernandez didn't surrender any pesky walks like every pitcher on this list prior to him, instead throwing a perfect game.
He had 27 up and 27 down and made Evan Longoria's Rays look like a Little League team.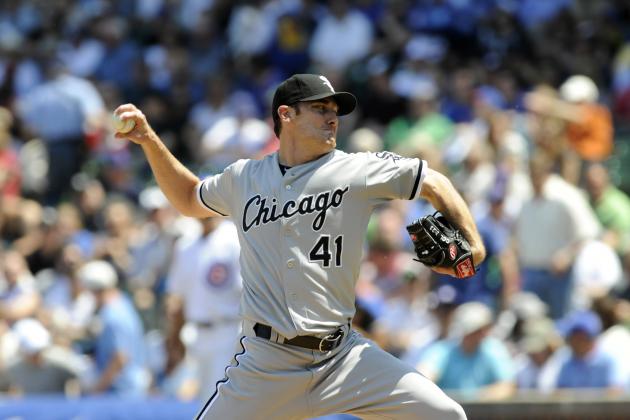 David Banks/Getty Images

Date: April 21, 2012
Final Score: Chicago White Sox 4, Seattle Mariners 0
Very few fans knew who Philip Humber was before his second start of the 2012 season.
Humber came out against the Mariners and threw a perfect game for the first no-no of seven in 2012 and the first perfect game in the month of April since Charlie Robertson did it in 1922.
What was truly special about this game compared to other perfect games was not that Humber struck out nine batters, but rather that he needed just 96 pitches to do it.
Humber is the only guy on this list to complete his game with fewer than 100 pitches, but he ranks only second.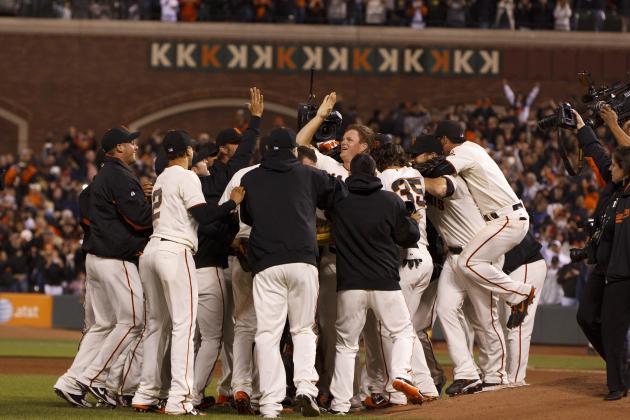 Jason O. Watson/Getty Images

Date: June 13, 2012
Final Score: San Francisco Giants 10, Houston Astros 0
While Matt Cain's perfect game did come against the Houston Astros, it remains the best no-no of the last 10 no-hitters thrown.
Cain struck out a ridiculous 14 batters en route to his perfect game, tying Sandy Koufax for the most strikeouts in a perfect game since 1900. But even those strikes pale in comparison to Gregor Blanco's ridiculous catch out in center field in the seventh inning to save the perfect game.
ESPN provided some truly incredible stats about Cain's perfect game:
Eleven of his 14 strikeouts came on fastballs, seven of which were looking. The other three were via the changeup (2) and curveball (1).

Cain increased his velocity as the game progressed. While he maxed out at 93 mph and threw three fastballs less than 90 mph over the first six innings, Cain threw two fastballs at 94 mph in the last three innings. He didn't throw a fastball less than 91 mph in the 9th inning.

Cain used the fastball with success to all locations, throwing 66 heaters at an average velocity of 91.6 mph (fastest of the season). Cain changed eye levels with the pitch, gaining at least eight outs in each vertical location.

With two strikes, Cain mixed his up pitch selection, using each of his four pitches. Along with the 14 strikeouts, Cain got eight more outs in at-bats with a two strike count.

Cain threw first-pitch strikes to 19 of the 27 batters he faced (70.4 percent). With Cain ahead in the count, he was able to retire 19 of 27 batters, including 11 of his 14 strikeouts.
Cain didn't face the toughest lineup, but his perfect game remains the top no-hitter of the last 10.