Grading Matt Harvey, Shelby Miller and Wave of Stud Pitching Prospects in Action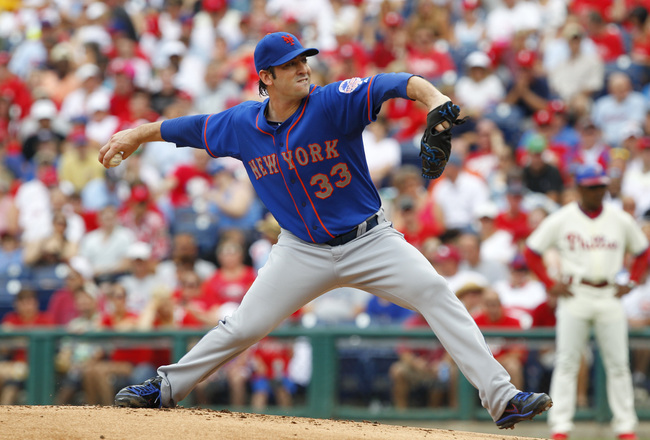 Hunter Martin/Getty Images
On the MLB schedule for Friday, a veritable who's who of young pitching stars were scheduled to start.
Matt Harvey and Shelby Miller were just two of the bright young arms in the game slated to work—Gerrit Cole, Julio Teheran, Miller, Harvey, Allen Webster, Alex Colome and Trevor Bauer all took the mound on Friday.
Each one of them were highly touted prospects who have made their way to the majors—all with thoughts of achieving greatness at the highest level.
Harvey and Miller are already having seasons worthy of All-Star consideration. Teheran has been a more-than-pleasant surprise as well.
Here is a more comprehensive look at each young stud pitching prospect with grades based on their performance thus far in 2013.
Trevor Bauer: Cleveland Indians
David Banks/Getty Images
Trevor Bauer was a key piece in a three-way trade between the Arizona Diamondbacks, Cincinnati Reds and Cleveland Indians in December.
Bauer, the third overall draft pick in the 2011 MLB draft by the Diamondbacks, made his debut last season. The results, however, were a mixed bag.
Bauer posted a 6.06 ERA in four starts, and whispers of discontent could be heard as Bauer apparently had communication issues with catcher Miguel Montero.
Following the trade, reports of a wider rift between Montero and Bauer were revealed, so a change of scenery was, at that point, probably in Bauer's best interests.
After a decent spring training with Cleveland, Bauer was sent down to the minors.
The biggest issue for Bauer at this stage of his development has been his command. He walked 13 batters in 16.1 innings with the Diamondbacks last season, and in three spot starts for Cleveland this year, Bauer issued another 15 walks in 16.1 innings.
That is simply not a recipe for success.
Bauer got another spot start on Friday with the Indians playing a doubleheader against the Chicago White Sox. It wasn't pretty—he was hit hard early and often, giving up home runs to both Adam Dunn and Jeff Keppinger. He was lifted after allowing five runs on six hits in two-thirds of an inning.
Bauer will likely be sent back down this weekend to continue working on command and effectiveness. His skills simply haven't translated well at the major league level as of yet.
Grade: D
It's hard to like anything Bauer has accomplished thus far in just eight starts. Work clearly needs to be done to reach the next level.
Alex Colome: Tampa Bay Rays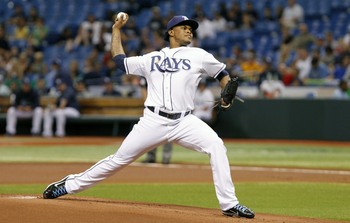 Kim Klement-USA TODAY Sports
For the past several years now, the Tampa Bay Rays have produced a bevy of great young arms. David Price, Matt Moore, Jeremy Hellickson, Wade Davis and Chris Archer have all come out of the Rays' system.
There's another young arm who has also impressed early this season—Alex Colome.
Signed out of the Dominican Republic in 2007, Colome was given all the time he needed by the Rays' great development staff. Their efforts paid off, as Colome excelled in both Double-A and Triple-A ball last year, posting a 3.44 ERA in 17 starts with an 8.8 K/9 rate.
Command is still a bit of an issue for the 24-year-old Dominican. In 14 starts this year for the Durham Bulls, Colome has a 3.07 ERA but a 3.7 BB/9 rate.
Still, the Rays have been thrilled with the progress, and he made his MLB debut on May 30 against the Miami Marlins.
Colome picked up the victory in his first start, allowing just one unearned run on five hits in 5.2 innings while walking just two and striking out seven. He followed up with another start last week against the New York Yankees, allowing three runs—none earned—on five hits in 4.1 innings, picking up a no-decision.
Control issues bit Colome in that start, however, issuing five walks against just three strikeouts.
On Friday, Colome faced the Detroit Tigers, and he received a lesson from the great Miguel Cabrera. The reigning MVP and Triple Crown winner blasted two Colome mistake pitches for home runs, putting Tampa Bay in an early hole.
It was the home runs that did Colome in on this night—he departed after six innings, allowing four runs on six hits. Yet, his 2.25 ERA is still pretty darned good. He certainly appears to be a keeper.
Grade: B-
There's a lot to like about Colome's array of pitches, and he's not afraid to use them. No doubt that manager Joe Maddon will talk to him about attacking hitters and getting ahead of the count.
Allen Webster: Boston Red Sox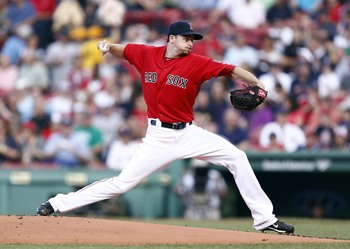 Mark L. Baer-USA TODAY Sports
When the Boston Red Sox entered into their megadeal with the Los Angeles Dodgers last summer, they got back two potential pitching studs—Rubby De La Rosa and Allen Webster.
De La Rosa was called up two weeks ago but never made an appearance before making his way back to Triple-A Pawtucket.
Webster was the real prize for the Red Sox. The top pitching prospect in the Dodgers farm system at the start of last year, Webster was the linchpin in the deal for the Sox.
He's been praised for an electric arm and isn't afraid to pitch to contact. His fastball will touch 95 to 96 mph as well.
Webster made his major league debut in late April against the Kansas City Royals, allowing two earned runs on five hits in six innings, picking up a no-decision. He made another start in May against the Minnesota Twins, and he was hit early and often, giving up eight runs on six hits while walking three in just 1.2 innings.
Webster took the hill again against the Detroit Tigers last week. He lasted a bit longer but still allowed five runs on eight hits in 4.1 innings to pick up his second loss of the season.
The first inning has been his Achilles' heel—Webster allowed eight earned runs in the opening frame of his three starts for a 24.00 ERA.
On Friday against the Toronto Blue Jays, Webster was making his fourth MLB start against a team that's been red-hot in the month of June.
Now was not the time for first-inning jitters.
Webster got through the first inning unscathed. In fact, he kept the hot Blue Jays hitters at bay until he found trouble in the fifth, allowing three runs.
He gave up one more in the sixth inning before retiring for the night after 100 pitches. But he did what the Red Sox asked—keep them in the game against one of the hottest teams in the majors.
Grade: C-
The 9.50 ERA looks ugly, but much of that can be chalked up to his terrible start against the Twins. His stuff works—he has the ability to miss bats and isn't afraid to challenge hitters with his mid-90s fastball.
Gerrit Cole: Pittsburgh Pirates
Charles LeClaire-USA TODAY Sport
Make it four wins in his four major league starts for Pittsburgh Pirates hot young prospect Gerrit Cole.
Cole—the top overall pick in the 2011 MLB draft—made his much-anticipated MLB debut on June 11 against the San Francisco Giants. He was more than ready, posting a 2.84 ERA and 8.2 K/9 rate over 38 starts in the minors.
Cole came out with a blazing fastball in his debut, hitting 99 mph on the radar gun repeatedly. He was rewarded with a stellar display of hitting by his offense as well, as Pittsburgh rolled to a 8-2 victory.
Cole worked 6.1 innings, allowing two runs on seven hits while walking none and striking out only two. In fact, Cole didn't allow his first major league walk until his third start last Sunday against the Los Angeles Angels.
Cole has an overpowering fastball for sure, but he's also favored it far too often. He finally started showing off his sharp slider, striking out five Angels batters in his third win of the season.
He faced the Milwaukee Brewers on Friday, looking for his fourth consecutive win. However, Cole was in trouble early, clearly out of sync to start his night. He surrendered three runs on four singles, a walk and a hit batsman.
Fortunately for Cole, Pittsburgh answered back with a seven-run second inning, and he settled down the rest of the way. He left after six innings, allowing three runs on eight hits, walking three and striking out three.
Even on a night when he wasn't at his best, Cole managed to find his way back from a rough start to keep things together.
Grade: B+
Absolutely a terrific start for the Pirates' future ace. As he gains more confidence at the major league level, he'll naturally develop more confidence in his stellar array of secondary pitches as well. He's already shown the ability to work well in high-leverage situations.
Julio Teheran: Atlanta Braves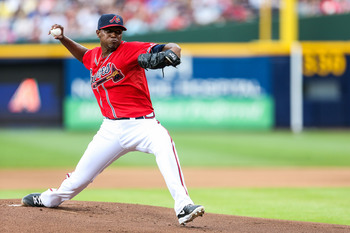 Daniel Shirey/Getty Images
The phrase "good things come to those who wait" comes to mind when thinking about Atlanta Braves pitching prospect Julio Teheran.
The 22-year-old right-hander was signed out of Colombia in July 2007. He slowly made his way through the Braves' system and quickly rose through the top prospect rankings, reaching Baseball America's Top 100 list back in 2010.
The Braves patiently waited, although they he did make his major league debut at the age of 20 in May 2011. Teheran made five appearances that year, three of them starts. He also made a spot start in June of last year.
Finally, after a solid spring training, the Braves deemed him ready and trekked north with Teheran as their fifth starter.
He's done nothing to make the Braves regret that decision at all.
Entering Friday's game against the Arizona Diamondbacks, Teheran was 5-4 with a 3.32 ERA in 14 starts. He featured a 7.2 K/9 rate and an outstanding 1.6 BB/9 rate.
On a night the Braves retired Chipper Jones' No. 10 jersey and inducted him into the Braves Hall of Fame, Teheran showed the capacity crowd of 48,242 that he's pretty special himself.
Teheran breezed through six scoreless innings, allowing just four hits, striking out 10 and walking just one.
He threw 67 of 103 pitches for strikes and was never in any real danger.
A nice gift to give to Jones on his special night, and the sellout crowd saw a youngster who just could be an ace in waiting.
Grade: B+
Teheran has been everything the Braves have wanted and more at this point. At just 22, he clearly has a bright future ahead.
Matt Harvey: New York Mets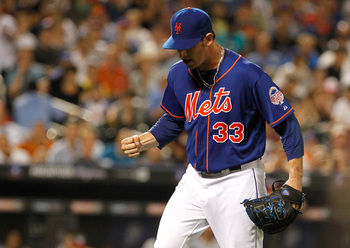 Mike Stobe/Getty Images
You have to hand it to the New York Mets—they really know how to ruin a great Matt Harvey start.
Harvey—selected by the Mets with the seventh overall pick in the 2010 MLB draft, showed a glimpse of what might be last season, posting a 2.78 ERA in 10 starts.
This year, the dominance has been astounding. He's 7-1 with a 2.00 ERA in 17 starts. However, the Mets have either given him poor run support or his bullpen has let him down. Of his nine no-decisions, Harvey has thrown seven quality starts. He nearly threw a perfect game in an early May game against the Chicago White Sox, allowing just one hit in nine innings.
The Mets at least managed to win that game with a 10th-inning run.
Without question, Harvey is the premier right-handed pitcher in the National League right now. He could easily be 14-1 at this point.
On Friday against the Washington Nationals, Harvey gave up just a run on three hits, striking out 11 batters before exiting in the seventh inning after having thrown 109 pitches. The Mets had a 3-1 lead at the time and tacked on another run in the bottom half of the inning.
Yet again, the bullpen failed to hold a lead handed to them, and Harvey's efforts go for naught.
Grade: A
Just about every time out on the mound is a chance for Harvey to throw a no-hitter. He did it again on Friday, not allowing a baserunner until Ian Desmond hit a two-out home run in the fifth inning.
Shelby Miller: St. Louis Cardinals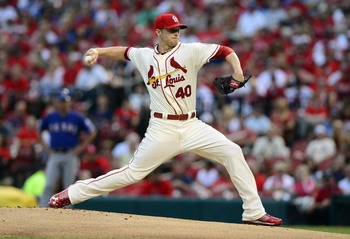 Jeff Curry-USA TODAY Sports
Shelby Miller had a relatively brief and unproductive outing on Friday, but that is not indicative of the performance seen from him for much of the 2013 season.
Miller, the Cardinals' first-round pick in the 2009 draft, made his debut with five relief appearances last year being starting his first MLB game on Oct. 3. He was terrific, allowing just one hit in six scoreless innings, walking two and striking out seven.
He's followed up that success with a stellar start to the 2013 campaign, posting an 8-5 record and 2.35 ERA in his first 15 starts with a 1.00 WHIP and 9.9 K/9 rate.
On Friday, Miller simply didn't have it.
Facing the Oakland Athletics, Miller got through the first inning in 10 pitches, but the second inning was a complete disaster. By the time Miller exited with just two outs, he had thrown a whopping 51 pitches, the most by any pitcher in any one inning this season. He was charged with five runs on six hits with two walks and no strikeouts. The outing raised Miller's ERA to 2.79.
Grade: A-
Everyone is going to throw a stinker every now and then—it happens. Miller has been stellar for most of the season and absolutely projects as the ace for the Cardinals for many years to come.
Doug Mead is a featured columnist with Bleacher Report. His work has been featured in the Seattle Post-Intelligencer, SF Gate, CBS Sports, the Los Angeles Times and the Houston Chronicle.
Feel free to talk baseball with Doug anytime on Twitter.
Keep Reading