Which NFL Team Is the Best Fit for FB Vonta Leach?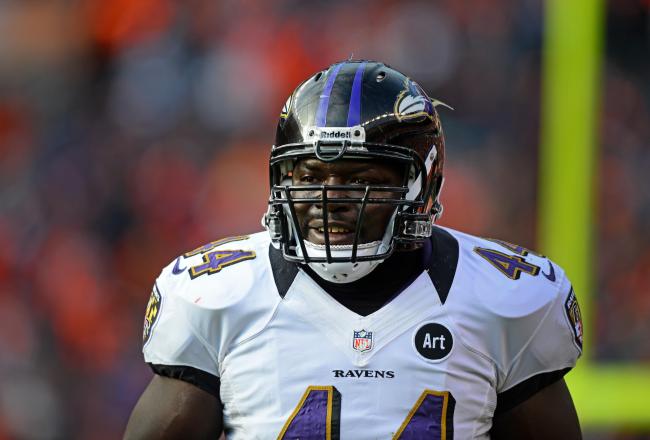 Mark J. Rebilas-USA TODAY Sports
The fullback position may be fading in importance in the NFL, but don't tell that to free agent Vonta Leach.
Arguably the top fullback in the game, Leach has attracted serious interest on the open market since his release from the Baltimore Ravens on June 11. The three-time All-Pro and Pro Bowler will now have his choice of landing spots.
The Miami Dolphins have to be considered his best and most likely fit.
According to Armando Salguero of the Miami Herald, Leach is expected to pick a team by next week. The Dolphins appear to be the leaders, with the New York Giants, Kansas City Chiefs, Ravens and Houston Texans also in the mix.
Expect Vonta Leach to sign with someone next wk. Dolphins lead pack because have most cap space but NYG, KC, Balt. and Houston in picture.

— Armando Salguero (@ArmandoSalguero) June 27, 2013
Leach, 31, remains highly regarded around the league.
According to Pro Football Focus (subscription required), Leach has graded out as the top fullback in each of the last two seasons. He's also the only fullback to finish in the top three in at least four of the five seasons since PFF started grading players.
The running backs playing behind Leach have been the biggest beneficiaries.
Since 2008, Leach has led the way for four 1,000-yard rushers, including Steve Slaton, Arian Foster and Ray Rice. For his efforts, Leach has been named an NFL All-Pro in each of the last three seasons.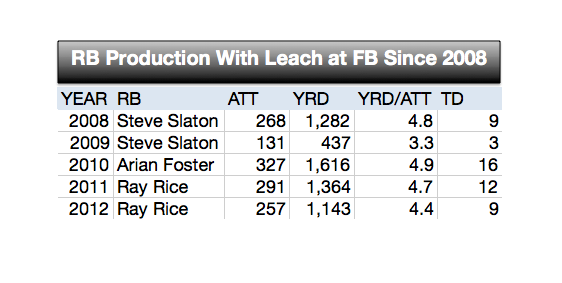 The Ravens were forced to release Leach when the two sides couldn't agree on a contract restructuring. The fullback was scheduled to count over $4.3 million against Baltimore's cap in 2013.
Now a free agent, Leach can pick his best fit. But in which NFL city does that fit rest? We searched his top suitors to find an answer.
New York Giants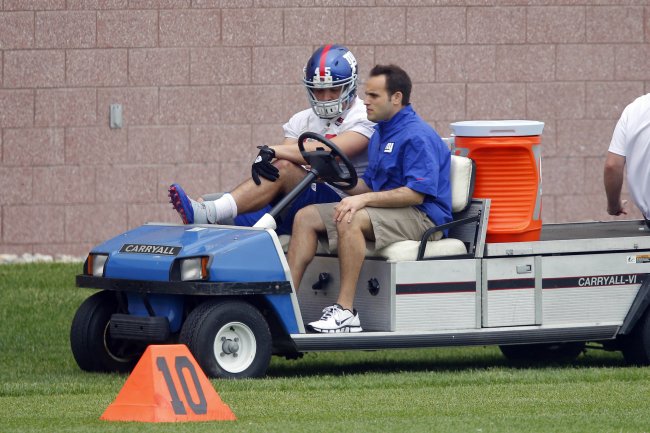 Jim O'Connor-USA TODAY Sports
Without an injury to starting fullback Henry Hynoski, the Giants wouldn't even be considered in this race. However, Hynoski injured his knee during OTAs and is now in danger of starting the 2013 season on the physically unable to perform list.
According to Dave Hutchinson of the Newark Star-Ledger, the Giants are "concerned" with Hynoski's recovery, and he's certain to miss at least the start of training camp. There's hope he'll return for Week 1, but nothing is set in stone.
If the Giants are unsatisfied with the recovery timeline of Hynoski, there's no better replacement on the open market than Leach.
It's also worth noting that the Giants also lost Martellus Bennett, who was one of the team's better blockers, this offseason. The team may fear that the combined losses of Hynoski and Bennett, at least in the short term, would severely hurt its ability to run the football in 2013.
However, money plays a big part of the equation for New York.
While other rivals for Leach are comfortably under the cap, the Giants have just $3.6 million in space to work with, per Spotrac. General manager Jerry Reese would have to get creative to fit Leach and his contract demands within the team's cap structure.
Kansas City Chiefs
The connection between Leach and Kansas City is a rather obvious one.
New Chiefs general manager John Dorsey, who spent the better part of two decades in the Packers front office, helped get Leach to Green Bay back in 2004. He was signed as an undrafted free agent out of East Carolina.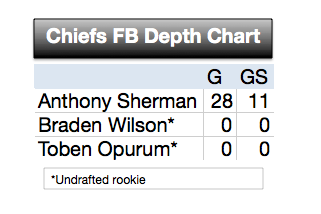 Fast forward almost 10 years, and Dorsey obviously wants Leach back on his football team.
The Chiefs have an obvious need at fullback, with Anthony Sherman leading a trio of underwhelming players at the position. If signed, Leach would become the immediate starter in a backfield that includes Jamaal Charles.
Like New York, money is tight in Kansas City.
The Chiefs have just $3.3 million in cap space, and top overall pick Eric Fisher still remains unsigned. These realities make it unlikely that Kansas City would have enough cap flexibility to swing a deal, even if the connection and need are present.
Baltimore Ravens
While the Ravens cut Leach less than a month ago, Baltimore still remains a realistic landing spot.
According to Mike Preston of the Baltimore Sun, the Ravens are "monitoring the situation," likely in hopes of Leach being unable to find an offer as good as the one he could have in Baltimore.
Before his release, Leach was entering the final year of a three-year, $11 million deal signed in 2010. The Ravens were willing to offer $2 million a year in a restructured deal, per Preston, but the deal also included incentives that were unlikely to be reached.
Leach is hoping to find a better overall deal from a team such as the Dolphins.
However, the Ravens could get back into the mix if Miami isn't offering the right money. Leach was a valuable part of the Baltimore offense, and Ray Rice rushed for over 1,000 yards in each of the two seasons he was the starting fullback.
The Ravens are currently $6.6 million under the cap, so general manager Ozzie Newsome could likely fit him in next season. The market will dictate whether or not Baltimore has a real chance of retaining Leach at a more team-friendly price.
Houston Texans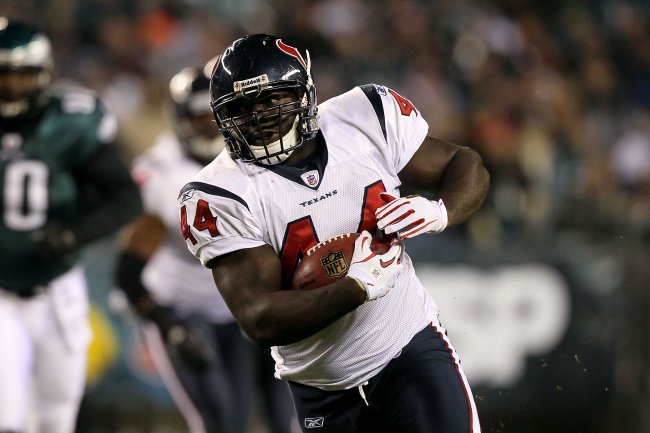 Jim McIsaac/Getty Images
Leach spent five seasons in Houston from 2006-10. There's an obvious familiarity there, and Leach has made it clear he would welcome a return.
According to NFL.com, Leach told KRIV-TV that his "first choice" would be Houston, and that returning to the Texans would be "a storybook ending."
However, the rest of the pieces just don't add up for a reunion.
The Texans have just $3.6 million in cap room. Earlier in the offseason, the team signed fullback Greg Jones from the Jacksonville Jaguars. Without cap flexibility or an immediate need, the Texans appear to be nothing more than a pipe dream for Leach.
Miami Dolphins
Leach is an ideal fit in Miami on two different fronts.
On the coaching side, Leach has a connection with Dolphins offensive coordinator Mike Sherman, who was the Packers head coach during Leach's three-year stint in Green Bay. Only after the Packers dumped Sherman was Leach shown the door.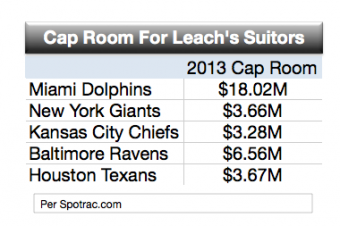 Later, Sherman was on the staff while Leach was in Houston.
But more important than any familiarity, Leach would be a massive upgrade at fullback on South Beach.
While Jorvorskie Lane returns as the incumbent starter, the second-year pro finished last season as the No. 17 overall fullback at PFF. In terms of run blocking, he finished 14th (Leach was first, by a considerable margin).
With the Dolphins set to introduce former second-round pick Lamar Miller as the lead back next season, an accomplished lead blocker like Leach could do wonders for the Miami running game.
And if the Dolphins are serious about adding Leach, no team is in a better situation cap-wise to swing a deal.
Despite a flurry of free-agent activity this offseason, Miami is still roughly $18 million under the 2013 cap. Even a lucrative deal for Leach could be comfortably fit in the Dolphins' current financials.
Leach may have other suitors, but the Dolphins are clearly the best overall fit in terms of need and available cap room.
This article is
What is the duplicate article?
Why is this article offensive?
Where is this article plagiarized from?
Why is this article poorly edited?