Oakland Athletics vs. Texas Rangers Live Blog: Updates and Analysis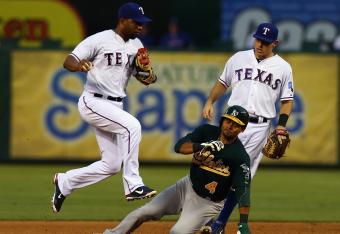 Tom Pennington/Getty Images
Wednesday night features a rubber match between the Texas Rangers and Oakland Athletics as each team battles in the AL West. The A's remain three games ahead of Texas for the division lead, but the Rangers will try to change that in the third game of this four-game series.
This series, tied so far at one apiece, is a significant one, as each of these teams are trying to claim the division lead heading into the All-Star break. So far this season, these teams have been pretty even, each winning four games in the season series.
Pitching for Oakland will be southpaw Tommy Milone. Milone has pitched well in his last few starts, but he hasn't gotten enough run support to win those games.
From the other dugout, Justin Grimm will take the mound for Texas. Grimm has not gotten the job done lately, losing two of his last three starts.
This should be a good battle in Arlington. Here are tonight's starting lineups:
Oakland Athletics
1. Young, CF
2. Lowrie, SS
3. Cespedes, DH
4. Moss, 1B
5. Donaldson, 3B
6. Smith, LF
7. Reddick, RF
8. Norris, C
9. Sogard, 2B
Texas Rangers
1. Kinsler, 2B
2. Andrus, SS
3. Cruz, RF
4. Beltre, 3B
5. Berkman, DH
6. Pierzynski, C
7. Chirinos, 1B
8. Murphy, LF
9. Martin, CF
To watch this game, tune in to Fox Sports Southwest or CSN California. First pitch is at 8:05 p.m. ET.
That'll do it in Arlington. Rangers hold on for the 9-4 victory. Texas is now only two games behind Oakland for the AL West lead.
The final game in this four game series is Thursday at 2:05 pm ET. Oakland's A.J. Griffin goes up against Josh Lindblom of the Rangers.
Texas while try to close in on Oakland as the Athletics will try to hold off the Rangers' charge for the division lead.
Oakland adds a run in the top of the eighth, making it 9-4. Cespedes doubled and scored on a Donaldson single.
That run probably won't be enough to ignite a comeback. The Rangers can trade outs for runs this late in the ballgame.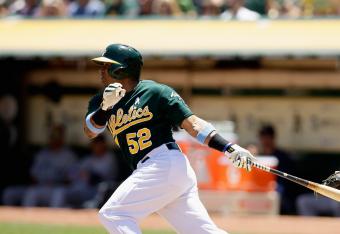 Rangers are at it again, tacking on another run in the seventh. The lead is now 9-3. A double, a couple of walks and a wild pitch led to another run for Texas.
This game has turned into a blowout heading into the eighth inning. The Rangers are up six and an Oakland comeback is looking less and less likely.
Cespedes will lead off and try to make something happen for Oakland, but they need a miracle at this point. Oakland has only four hits all night, compared to Texas' 13.
Rangers rallying in the sixth, now lead 7-3. Four consecutive singles, a sacrifice, and then another single have brought home three runs this inning.
Martin, Kinsler, and Cruz all have RBI singles in the inning. The Rangers have extended their lead to four runs now, and they are hopeful they will not squander yet another lead.
The Rangers have out-hit Oakland 11 to 4 in this game.
#Rangers regain lead on grounder to third by Cruz, terrific slide by Martin to go around Norris. Not great throw by Donaldson. #Athletics

— Susan Slusser (@susanslusser) June 20, 2013
Guess what? Rangers retake the lead 4-3. No surprise there, as these teams continue to score.
Leadoff singles by Murphy and Martin led to an RBI sacrifice fly by Kinsler to tie the game, and then a fielder's choice hit by Cruz to bring Martin home.
Rangers are still rallying in the fifth with runners on first and second and only one out.
A's take the lead on a three-run bomb by Chris Young. Two walks by Grimm came back to haunt him after the two-out home run.
These two teams have been in seesaw battles before, and this game is proving to be the same. Heading to the bottom of the fifth, A's lead by one.
Sogard singled up the middle for the A's first hit of the game, but was picked off trying to take second. Young singled during the same at-bat, but the A's could not bring anyone home.
We're headed to the bottom of the third, Rangers still lead 2-0. Martin leads off for the Rangers, followed by the top of the order. The second time through the lineup, the Rangers will be looking to add some more runs against Milone.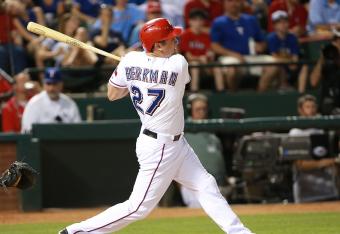 Rangers strike first and take 2-0 lead. Lance Berkman, a switch-hitter, hit a two-run homer out to left-center in the bottom of the second.
Berkman hit the home run right-handed versus the lefty Milone. The long ball was Berkman's sixth on the year.
The Rangers hold an early lead but there is plenty of baseball left.
Scoreless through one in Arlington. Neither pitcher has surrendered a hit thus far, but both of these teams can put up runs in a hurry.
Moss, Donaldson and Smith due up for Oakland to start the second. They will try to do the first damage off of Grimm.
This article is
What is the duplicate article?
Why is this article offensive?
Where is this article plagiarized from?
Why is this article poorly edited?