Picking the Under-25 MLB All-Star Team for 2013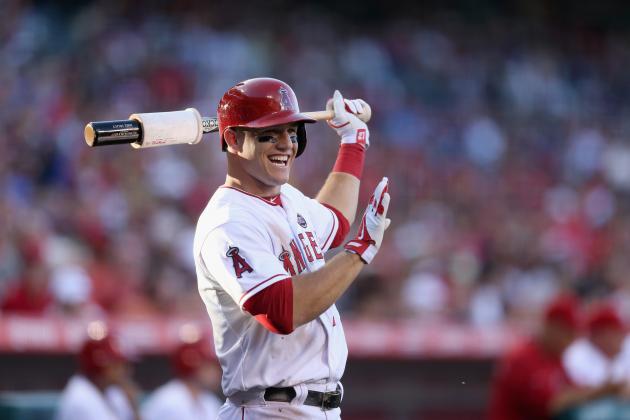 Jeff Gross/Getty Images
Mike Trout is the poster boy for the 2013 Under-25 All-Star Team.
What if the Major League Baseball All-Star Game was played only by those younger than 25 years old?
While "old fogeys" like Miguel Cabrera (30 years old), Robinson Cano (also 30), Joey Votto (29) and even Buster Posey (26) will get their due on the big stage at Citi Field in July, we thought it would be more fun to focus on identifying the most All-Star-worthy youngsters in the game this season.
Here's a look at the Under-25 All-Star Team for 2013.
All statistics come from Baseball-Reference and FanGraphs; WAR totals come from FanGraphs.
Begin Slideshow

»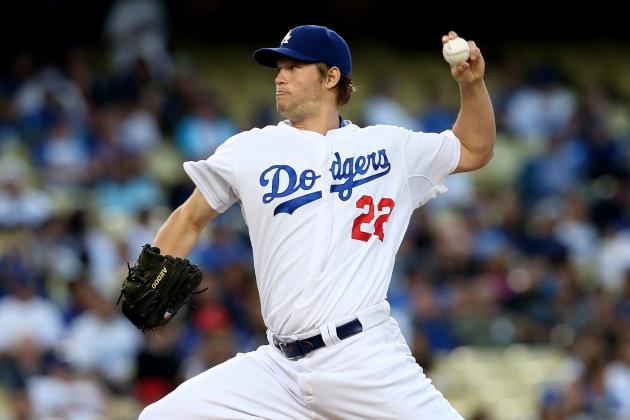 Stephen Dunn/Getty Images
Being born on March 19, 1988, makes Clayton Kershaw 25 years old—and ineligible for this.
Before we get into the names, let's hit on the guidelines used.
1. In the Same League
While the actual All-Star Game splits things up between the leagues, this will combine the two, thus increasing the player pool and making it more challenging to win a starting spot.
2. Just for Starters
In the real thing, it's all about who starts, and that objective won't change. We'll be choosing one each at catcher, first base, second base, third base, shortstop, starting pitcher and relief pitcher, as well as three outfielders.
3. 25 Is Too Old
To be considered, a player has to be in his age-24 season or younger per baseball age, meaning he has to be no older than 24 as of July 1, 2013.
4. 2013 Rules
While some prefer their All-Stars to be weighted more toward career performance, the agenda here is to find only the best of 2013, with minimal consideration given to prior seasons.
Statistics: .304/.326/.420, 16 XBH, 3 HR, 22 R, 26 RBI, 0 SB, 1.4 WAR
Salvador Perez has flown under the radar some because he missed the start of 2012 due to injury, but he's off to a great start this year.
In addition to being one of the better hitting catchers, which tends to earn more of the attention as far as All-Star consideration goes, Perez is also a dynamite defender.
That gives the 23-year-old the edge over Wilin Rosario of the Rockies, who's got more power (11 HR, 35 RBI) but is not in Perez's class with the leather.
And it's not like Perez is a slouch with the stick. His high-contact approach (13.5 percent strikeout rate) allows him to put the ball in play—and hard. He has the ability to hit .300 and the oomph to smack 10-plus homers and 30 doubles.
Honorable Mention: Wilin Rosario, Rockies (24 years old)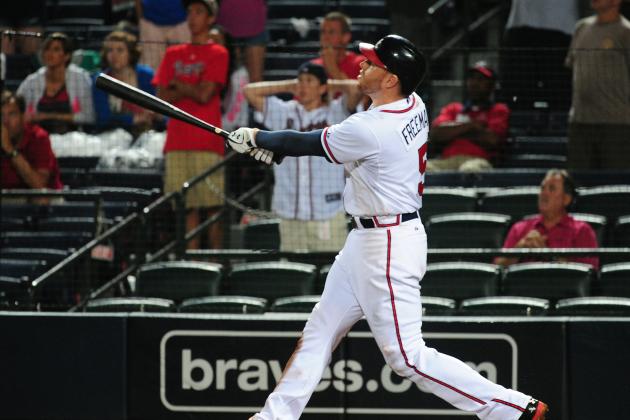 Scott Cunningham/Getty Images

Statistics: .327/.383/.489, 21 XBH, 7 HR, 33 R, 48 RBI, 0 SB, 1.1 WAR
Let's just go ahead and say that Freddie Freeman is taking the next step.
Already in his third season, the 23-year-old has started to transition from productive player to a fearsome hitter in the middle of the Atlanta Braves lineup.
The lefty-swinging Freeman is already among the league leaders in batting average and RBI, and while the over-the-fence power isn't quite yet of the prototypical first baseman variety, it looks like there's more to come from his 6'5", 225-pound frame.
Honorable Mentions: Anthony Rizzo, Cubs (23 years old); Eric Hosmer, Royals (23 years old)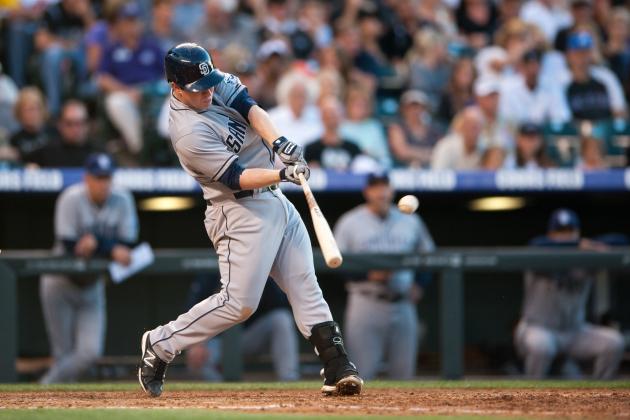 Dustin Bradford/Getty Images

Statistics: .284/.341/.461 25 XBH, 8 HR, 36 R, 25 RBI, 1 SB, 1.7 WAR
It took Jedd Gyorko a while to get going, but he's turned things around in his rookie season.
To wit, the 24-year-old was hitting just .247 with no homers through April. But since the calendar flipped to May, all he's done is hit .309 with all eight of his four-baggers.
Granted, he just went on the disabled list with a groin injury, but it's not expected to keep him out long enough to prevent him from fending off the competition.
Honorable Mentions: Jose Altuve, Astros (23 Years Old); Jurickson Profar, Rangers (20 years old)
Statistics: .322/.354/.489, 39 XBH, 5 HR, 45 R, 37 RBI, 5 SB, 3.8 WAR
Manny Machado is to the infield what Mike Trout and Bryce Harper are to the outfield.
Not only is the 20-year-old phenom playing elite defense at a position he only started playing after his mid-2012 promotion (he came up as a shortstop), he's also leading the sport with 99 hits and a whopping 32 doubles....in his first full season in the majors.
Machado is the easy answer to the question, "Who's baseball's next superstar?"
Honorable Mentions: Nolan Arenado, Rockies (22 years old); Matt Dominguez, Astros (23 years old); Brett Lawrie, Blue Jays (23 years old)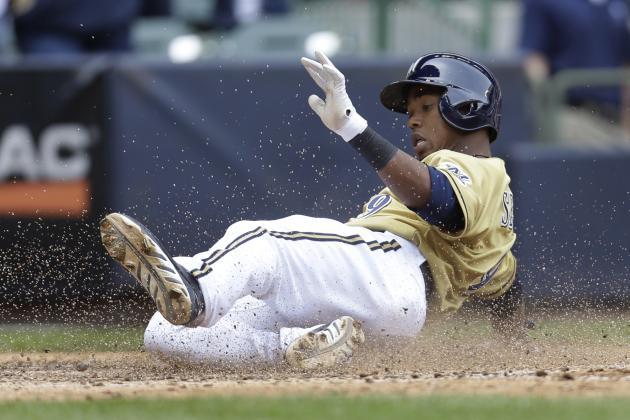 Mike McGinnis/Getty Images

Statistics: .330/.364/.526, 25 XBH, 10 HR, 40 R, 30 RBI, 19 SB, 3.1 WAR
Step aside, Starlin Castro. Apologies, Elvis Andrus. Maybe next year, Andrelton Simmons. Not quite, Didi Gregorius.
With respect to all the young Cubs, Rangers, Braves and D-Backs shortstops, Jean Segura has simply been way better this season. The 23-year-old has come out of nowhere this year as both a base-hit machine and stolen base fiend.
Segura's power display has been especially surprising, with 10 HRs thus far. If he can keep it up, we could be looking at the best of an extremely deep crop of young shortstops.
Honorable Mentions: Didi Gregorius, Diamondbacks (23 years old); Andrelton Simmons, Braves (23 years old); Elvis Andrus (24 years old); Jose Iglesias, Red Sox (23 years old); Starlin Castro (23 years old)
Statistics: .305/.382/.550, 39 XBH, 12 HR, 51 R, 44 RBI, 15 SB, 3.9 WAR
Talk about an encore, huh?
After one of the best rookie years in baseball history, Mike Trout is following up with another incredible campaign.
And to think, the 2012 AL Rookie of the Year and MVP runner-up was hitting just .252 with all of two homers and four steals as April was coming to a close, causing some to wonder if last year was too good to be true.
Trout is arguably the best all-around player in the major leagues. At 21 years old.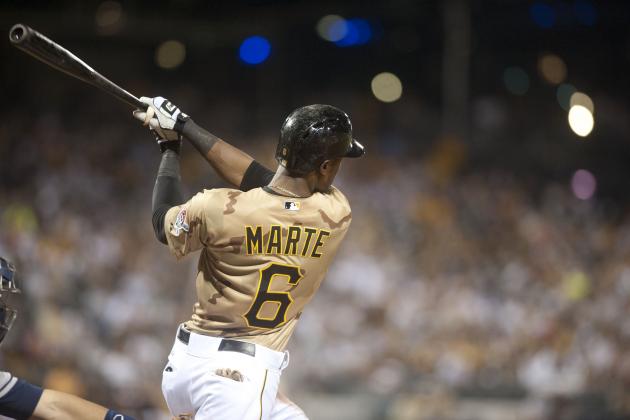 Vincent Pugliese/Getty Images

Statistics: .281/.349/.414, 19 XBH, 6 HR, 42 R, 19 RBI, 20 SB, 2.0 WAR
After starting out the season like a bat out of hell, Starling Marte has cooled some. He's still an under-25 All-Star, though.
The 24-year-old is a natural center fielder, which makes him a plus with the leather in left alongside Andrew McCutchen.
Marte also has speed to burn—his 20 steals rank fourth in the league—and more pop than you would otherwise think from such an athletic player.
The biggest challenge for him going forward will be to continue working on his less-than-stellar approach; he's still walking only 4.5 percent of the time, while whiffing in 22.0 percent of his trips to the plate.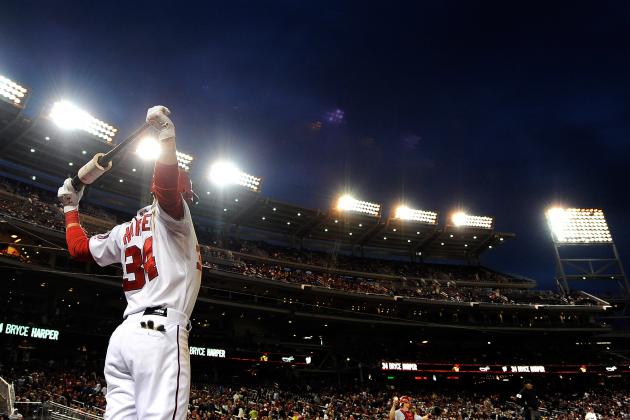 Patrick McDermott/Getty Images

Statistics: .287/.386/.587, 20 XBH, 12 HR, 29 R, 23 RBI, 2 SB, 1.8 WAR
This final spot was tricky because the top candidates have all suffered through injury-plagued seasons.
While it's slightly anti-climactic to give it to a guy who's currently on the disabled list with a knee injury, Bryce Harper's performance when healthy this season is more than deserving.
Despite the fact that he's played in only 44 of the Nationals' first 69 games, Harper has been more productive pretty much across the board than his historic rookie season at, uh, 19 years old.
That's the big thing to remember with Harper—his age. Among all 20-year-olds in history, Harper's current .411 wOBA (per FanGraphs), if maintained, would be better than Trout's in 2012 (.409) and the best by anyone since Alex Rodriguez's .443 in 1996.
Honorable Mentions: Marcell Ozuna, Marlins (22 years old); Jason Heyward, Braves (23 years old); Giancarlo Stanton, Marlins (23 years old)
Statistics: 5-1 W-L, 2.04 ERA, 0.91 WHIP, 9.5 K/9, 3.3 WAR
There is a tremendous amount of young pitching in baseball. Just check out the Honorable Mentions category below.
But Matt Harvey wins the day for 2013 so far, as he's continued to dominate hitters with his four-pitch arsenal and consistent mid-90s heat.
The biggest sign of Harvey's development this year? He's walking fewer than two batters per nine after having some issues with his control coming up through the minors.
To have as dynamic an arsenal and also be as fully polished as Harvey is—at 24—is impressive. And then some.
Honorable Mentions: Shelby Miller, Cardinals (22 years old); Chris Sale, White Sox (24 years old); Patrick Corbin, Diamondbacks (23 years old); Madison Bumgarner, Giants (23 years old); Stephen Strasburg, Nationals (24 years old); Julio Teheran, Braves (22 years old); Jose Fernandez, Marlins (20 years old); Matt Moore, Rays (24 years old); Rick Porcello, Tigers (24 years old)
Statistics: 1-0 W-L, 0 SV, 1.82 ERA, 1.07 WHIP, 12.7 K/9, 1.1 WAR
If you think Trevor Rosenthal doesn't deserve to be the reliever on this U-25 team team simply because he isn't the closer on his own team, well, you haven't seen him throw a baseball.
Which he does at 100 miles per hour quite often.
Rosenthal, 23, also possesses a plus curveball and still-being-refined changeup with which he uses to make big leaguers look like little leaguers.
While he struggled a bit out of the gate, and thus lost out on a shot to close for the Cardinals, Rosenthal recently went through a 20-game stretch in which he didn't surrender a single run over 21.1 innings while striking out 30 and walking three.
Sometimes a pitcher doesn't need to compile saves to prove he's a closer.
Honorable Mentions: Addison Reed, White Sox (24 years old); Drew Smyly, Tigers (24 years old); Robbie Ross, Rangers (24 years old); Cody Allen, Indians (24 years old)