10 Players to Watch for Future MLB Stardom in Midwest League All-Star Game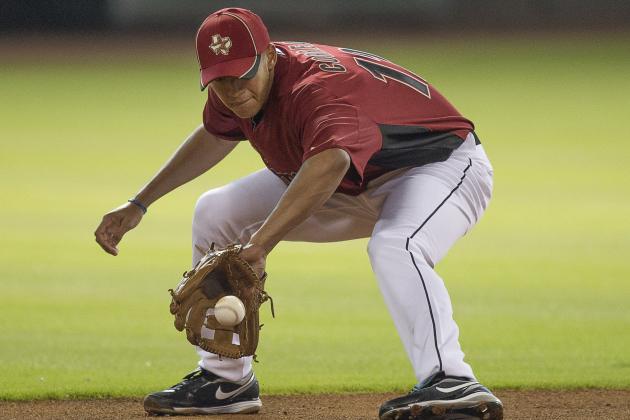 Bob Levey/Getty Images
Houston's Carlos Correa will be one of the biggest stars on the field in Dayton Tuesday.
The future of Major League Baseball starts in the minor leagues. There are a wide variety of levels down on the farm, with everything ranging from Dominican and short-season summer league clubs, all the way up to full-season leagues across the country.
One of the most star-studded levels in all of minor league baseball right now is the Midwest League, which is holding its All-Star game in Dayton, Ohio, home of the Cincinnati Reds' Low-A affiliate.
Led by Minnesota Twins' uber-prospect, and arguably the best prospect in baseball right now, Byron Buxton, the game has the potential to produce a few true superstars. Several players will carve out good big league careers and, sadly, some who are going to stall in Double-A.
But that is the beauty of baseball at the lower levels, where there is so much hope and so much volatility. Anything can happen between now and the years before we see these players in the big leagues.
In going over the rosters for the two teams in this game, here are the names you absolutely need to know for the future.
Note: Rosters courtesy of MiLB.com. Also, while some players originally on the team would have made the list, we are only using those who will play in the game. For example. Tampa Bay's Taylor Guerrieri is an All Star, but won't play and is therefore not on the list.
Begin Slideshow

»
Age: 22
2013 Stats: 13 G, 2-1, 2.17 ERA, 45.2 IP, 36 H, 16 R (11 ER), 2 HR, 14 BB, 40 K, .212 BAA
Ynoa is a name that prospect fiends know very well, as he was part of a very competitive and expensive bidding war in 2008 before eventually landing a $4.25 million bonus from the Oakland Athletics.
Now, nearly five years to the day after that deal was agreed to, Ynoa is finally starting to show why he warranted that kind of money as a 16-year-old. A big reason for his numerous delays have been health related. He has already eclipsed his career high in innings pitched this season at 45.2.
While Ynoa is old for the Midwest League, his overall level of experience is not that far advanced beyond the level because he hasn't been able to pitch. Now that he is throwing, the stuff looks promising, if not as good as it once did.
The fastball is now sitting in the low 90s and he has to learn to throw off-speed stuff, but just from a physical standpoint, he is 6'7", 210 pounds and an imposing force on the mound. He likely ends up as a reliever, if he gets to the big leagues, because of the health issues, which includes Tommy John surgery in 2010.
Age: 19
2013 Stats: 16 G (10 GS), 3-4, 2.08 ERA, 60.2 IP, 48 H, 23 R (14 ER), 0 HR, 26 BB, 68 K, .221 BAA
The Astros signed McCullers away from the University of Florida with an overslot $2.5 million bonus as a supplemental first-round pick in the 2012 draft. He was revered for his arm strength, big mid-90s fastball and knockout curveball in high school, carrying that with him to the Midwest League.
Even though he has only started 10 games in 16 appearances, the Astros often use him for four or five innings at a time. All of the concerns McCullers had as an amateur, including an ugly delivery that can put stress on his shoulder and cause command issues, are still there, as evidenced by the 26 walks in just 60.2 innings.
But McCullers has also taken to his first experience in full-season baseball. He has yet to give up a home run in 16 games. (It is important to acknowledge that the Midwest League is one of the most difficult to hit homers in because of bigger ball parks and the fact the ball doesn't carry well.)
As a starter or, more likely, reliever, McCullers will have a very big future in the big leagues.
Age: 19
2013 Stats: 9 G, 4-3, 3.17 ERA, 48.1 IP, 51 H, 26 R (17 ER), 1 HR, 15 BB, 56 K, .263 BAA
One of eight Minnesota Twins prospects in this game, Berrios has been terrific in Low-A this season despite not turning 19 until just a few weeks ago. There are some concerns that his size--listed at 6'0", 187 pounds, a little short for a right-handed pitcher--could push him to the bullpen.
Hopefully that isn't the case, because Berrios' arm as a starter is already electric. He has a potentially plus fastball that already sits in the low 90s and a really good changeup that will get better as his feel for it improves. The breaking ball is still a work-in progress, as the slider tends to spin more like a flat cutter that can be hit.
But for one of the youngest pitchers in the Midwest League already having more than a strikeout per inning and showing better control than expected, Berrios has the potential to move very quickly.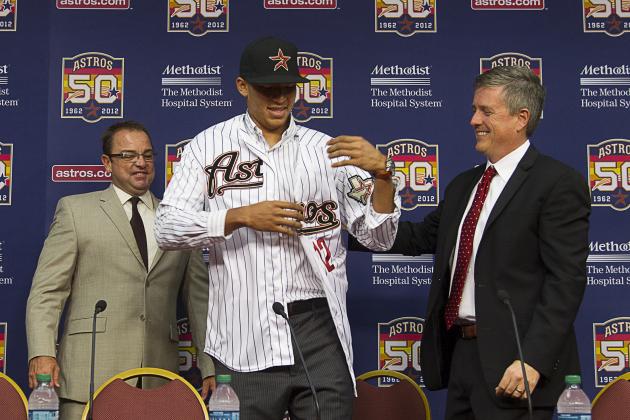 Bob Levey/Getty Images

Age: 18
2013 Stats: 55 G, .304/.400/.430, 65 H, 13 2B, 1 3B, 4 HR, 44 RBI, 92 TB, 32 BB, 46 K, 7 SB
If you happen to notice a trend with a lot of Astros and Twins prospects in this game, there are two reasons for it. One, the two teams have 11 of the 25 players on the Western Division team. Two, and more importantly, a lot of the top players in their respective systems are in the low levels of the minors.
Correa is arguably the best of a very good Astros bunch. He is always going to be judged, fairly or not, by what Byron Buxton becomes given their connection as the first (Correa) and second (Buxton) picks in the 2012 draft.
Instead of comparing the two, look at what Correa is doing on his own. He is 10 months younger than Buxton, yet still hitting over .300 with an on-base and slugging percentage over .400 in one of the most difficult hitting leagues in the minors.
In addition to those rate stats, Correa is also showing a very keen eye at the plate (46-32 strikeout-to-walk ratio) and improved baserunning. He still ends up at third base in pro ball, but this is a special hitter who will be a star in the big leagues.
Age: 20
2013 Stats: 12 G, 3-2, 2.71 ERA, 66.1 IP, 56 H, 23 R (20 ER), 1 HR, 19 BB, 51 K, .232 BAA
Living in Fort Wayne, I have the chance to see Ross and the Tincaps more often than anyone else. It may give me some prospect bias--it is where my love of Rymer Liriano began, after all--but that doesn't diminish what the young right-handed pitcher can do on the mound.
Last year could have been Ross' breakout year, but he battled some arm issues and was only able to pitch 54.2 innings before being shut down. There have been no problems thus far, with the 20-year-old looking healthy and as strong as ever.
Ross works with a fastball-slider combination right now. The heater is a solid offering that sits in the low 90s and the command has gotten a little better. He's still learning to throw and control the slider and changeup, which is why his strikeout total is a little low for a pitcher with an arm as good as his.
He still looks a little more like a thrower than pitcher at this point, with some whip in his delivery. But at 6'3", 185 pounds with more room to fill out, Ross should have no problems learning how to pitch and turn into at least a solid mid-rotation starter in the big leagues.
Age: 19
2013 Stats: 60 G, .291/.395/.493, 65 H, 10 2B, 4 3B, 9 HR, 42 RBI, 110 TB, 36 BB, 44 K, 3 SB
Representing the hometown Dayton Dragons in the game, Winker has been a very pleasant surprise in the Reds' system already. Not that he was a complete unknown, taken 49th overall in the 2012 draft.
The biggest adjustment Winker has made already is in his plate selection. He was always a good hitter, though there were some doubts that he would be able to adjust right away against professional pitching. A 44-36 strikeout-to-walk ratio and .395 on-base percentage have quieted that talk.
While not a superstar talent, Winker stands out in a Reds system that is really lacking position players at the top. Billy Hamilton is having issues hitting in Triple-A, so Winker's ability to barrel the ball and hit for average power are valued assets for this franchise.
Age: 21
2013 Stats: 61 G, .323/.350/.464, 85 H, 16 2B, 9 3B, 1 HR, 37 RBI, 122 TB, 8 BB, 57 K, 41 SB
An exciting, albeit still raw, athlete in the Tampa Bay system, Toles is one of nine Rays' prospects selected to play in the Midwest League All-Star game, the most of any team this year.
You can tell by looking at Toles' stats exactly what his strengths are and why there is such an extreme divide between what he is and what he could be. His speed is legitimately plus-plus and he wreaks havoc on the basepaths.
But Toles, despite being a little older than a lot of players in the league, is still learning to harness his raw baseball skills. He has a swing that is geared for line drives, but will often be so long through the zone that he struggles to catch up to velocity. He also struggles at working the count and recognizing pitches.
There is a long way for Toles to go before we know exactly what he is. That doesn't take away from the fact he could be a very good all-around center fielder in the big leagues someday.
Age: 20
2013 Stats: 66 G, .274/.327/.373, 69 H, 11 2B, 1 3B, 4 HR, 37 RBI, 94 TB, 20 BB, 40 K, 2 SB
Lopes isn't the kind of prospect who will really standout in a game like this, especially up against the talent we have already mentioned. He doesn't have a true plus tool, but does do a few things that give him a chance to be a good big leaguer.
Having finally made the inevitable move from shortstop to second base is a big help for Lopes, but there is still more work to be done. His on-field performance with the bat has been lackluster, despite the fact he has very good bat control and knows how to work a count.
Playing second base does put more pressure on the bat, though Lopes does have good power in his swing and could be a 15-20 homer player at his peak. He doesn't profile well defensively, but his arm and hands are good enough to get by.
Age: 19
2013 Stats: 12 G, 4-7, 5.27 ERA, 56.1 IP, 65 H, 44 R (33 ER), 5 HR, 21 BB, 42 K, .295 BAA
Romano is exactly the kind of player who I want to see in a game like this. His stat line doesn't suggest someone who should be an All-Star, but you are also looking at the tools and what the player could be in the future.
In that regard, Romano checks out very well. He has a powerful, workhorse frame at 6'5", 250 pounds. He has the right arm to match it with a very good sinking fastball that sits in the low 90s and two off-speed pitches that he doesn't throw for strikes enough yet.
Romano is much more of a thrower than pitcher at this very-young stage of his career. He often looks awkward on the mound, but he can have moments of brilliance that remind you of what he could turn into.
Age: 19
2013 Stats: 64 G, .344/.431/.561, 87 H, 15 2B, 8 3B, 8 HR, 52 RBI, 142 TB, 40 BB, 51 K, 29 SB
Even though we tackled the western division roster earlier, I wanted to save Buxton for last. The things that he is doing, and the superlatives that are getting thrown around to describe his game, are staggering.
Even though context and age are two very important factors to keep in mind, since we really have no idea how he will adjust to advanced pitching in Double-A, Buxton has looked far better than anyone would have guessed right out of the gate. And that is no small feat considering he was widely considered the best pure raw talent in the 2012 draft.
The one knock against Buxton prior to last June was that his actual on-field skills were going to take a long time to develop. Obviously he has put all that talk to rest with just a remarkable first half. He is a true five plus-tool talent and a potential MVP when he gets to the big leagues.
And to think, we have just scratched the surface of what Buxton is capable of doing.