3 Trades MLB Teams Can't Afford to Wait Until July to Make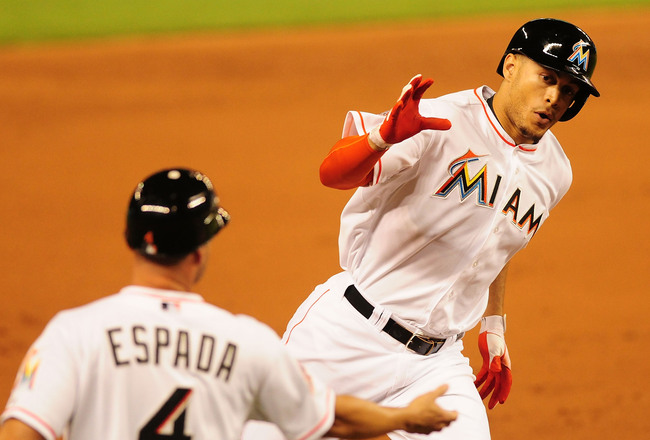 Will the Marlins cash in now with several contenders in need of an impact power bat?
Jason Arnold/Getty Images
Teams will normally assess where they are in the standings much closer to the trade deadline on July 31st before deciding if they will be "buyers" or "sellers". Yet, here we are in June and there are a handful of teams that have to feel like they are heading in the wrong direction and it's getting close to "do or die" time.
Back in April, I made some arguments for why teams should consider making trades earlier in the season, if possible, with the few extra wins in the standings potentially being the difference between going to the playoffs or going home for the winter.
In these June trade ideas, the goal is for a team to avoid dropping out of contention and into "seller" mode by the end of July or, in some cases, to just make a trade a month earlier to try and win a few extra games. The challenge is finding a non-contending team—Astros, Brewers, Cubs, Marlins, Mets are included in this group—that has an impact player that they're willing to trade now.
Here are three potential trades that should be made now.
Rangers acquire Giancarlo Stanton from Marlins for Jurickson Profar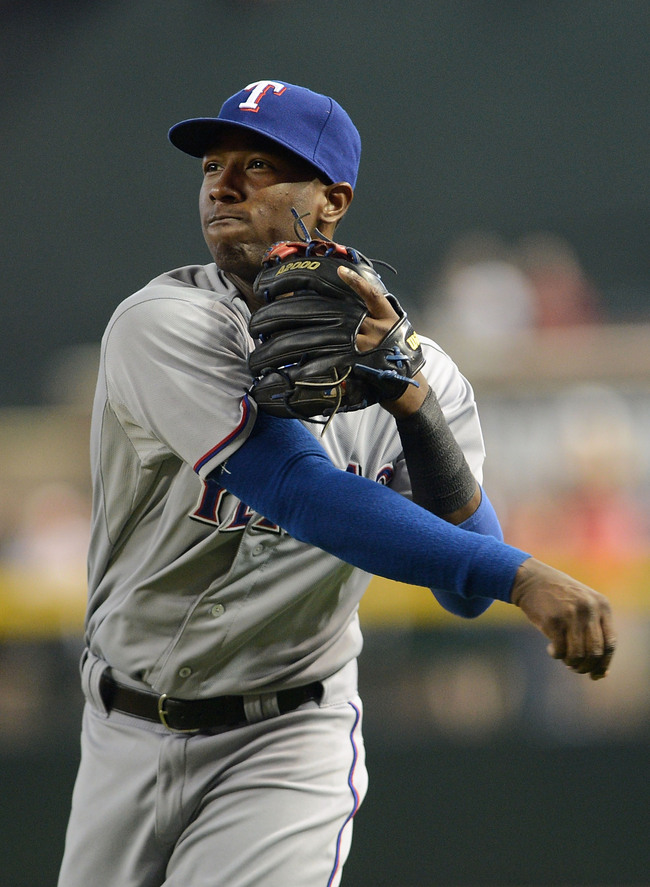 Jennifer Stewart/Getty Images
Here we go again. Admit that you've missed the Giancarlo Stanton trade speculation while he's been on the disabled list. I know I've missed writing about it. Anyway, he homered in his second game back with the Marlins after missing about six weeks with a hamstring injury. While he was out, Marcell Ozuna made the jump from Double-A and looks to be a solid long-term option in right field should the Marlins trade Stanton.
With top outfield prospect Christian Yelich expected to be in Miami no later than early next season, the Marlins might feel comfortable dealing Stanton for what would be a lucrative return of young talent. Why not do it now if they can get a young star like Jurickson Profar (pictured) back?
The 20-year-old Profar has had an impressive stint with the Rangers but he's not guaranteed regular playing time once Ian Kinsler returns from the disabled list in the next few days. He could be a valuable utility infielder during the second half of the season and a very good second baseman in 2014 and beyond.
But the impact that the 23-year-old Stanton would have in the middle of their lineup, not only for the remainder of this year but for at least the next three seasons —he's under team control through 2016— could take the Rangers from being a very good offensive team to potentially the best in baseball.
If the Rangers departed with Profar, an elite defender at shortstop who is capable of hitting .300 with 15 homers and 20 stolen bases per season, lefty Martin Perez (2.10 ERA in five Triple-A starts) and one of their impressive Low-A prospects like catcher Jorge Alfaro (10 HR in 62 games), third baseman Joey Gallo (21 HR in 65 games) or center fielder Lewis Brinson (13 HR, 12 SB in 62 games), they could have a lineup that looks something like this ...
1 Ian Kinsler, 2B (.869 OPS)
2 Elvis Andrus, SS (.612 OPS, 16 SB)
3 Adrian Beltre, 3B (.869 OPS)
4 Giancarlo Stanton, RF (97 HR in 1411 career at-bats)
5 Lance Berkman, DH (.789 OPS)
6 Nelson Cruz, LF (.841 OPS)
7 AJ Pierzynski, C (.767 OPS)
8 Mitch Moreland, 1B (.899 OPS)
9 Leonys Martin, CF (.715 OPS, 8 SB)
Dodgers acquire Aramis Ramirez from Brewers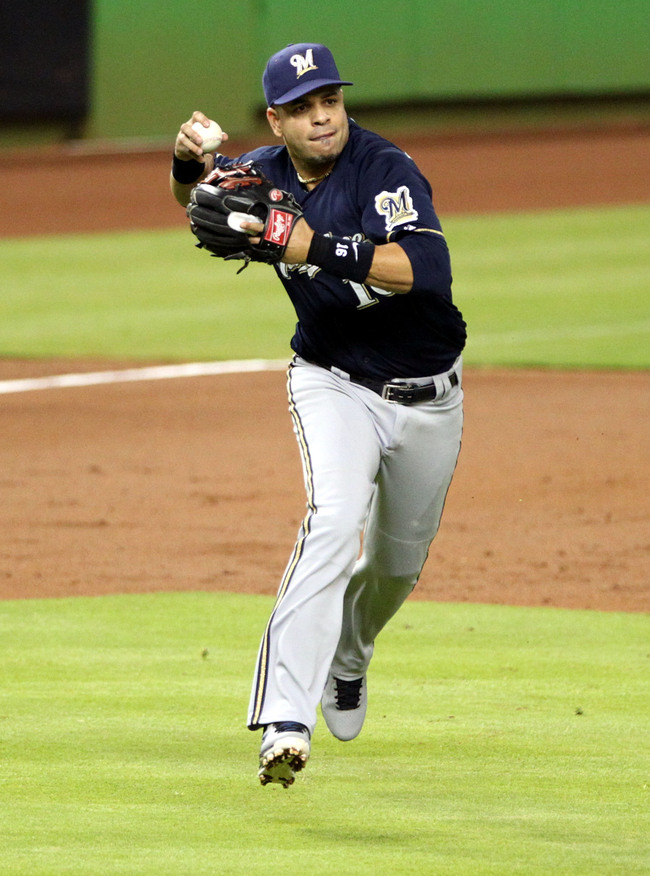 Marc Serota/Getty Images
Despite a rash of injuries that has reduced the 25-man roster to the point of being laughable at times, the Dodgers aren't dead in the water. At least not yet.
They are 28-37 but only 8.5 games back in an NL West that lacks a team that is capable of running away with the division. They are getting healthier and have a one of the best top of the rotations in baseball with Clayton Kershaw, Zack Greinke and Hyun-Jin Ryu. And don't forget about that Yasiel Puig guy, who may not be the greatest baseball to ever walk the face of the earth as you may have been heard, but it's evident he has unbelievable talent and he's already made a huge impact since his call-up.
A healthy Carl Crawford, Matt Kemp and Hanley Ramirez in the lineup together in the second half of the season would be necessary for this Dodgers team to make a run. Adding a right-handed power hitter like Aramis Ramirez to play the hot corner would also help. And since Kemp and Crawford are on the disabled list and a few more weeks of bad baseball could put them right out of contention for good, it could make sense to pursue that middle-of-the-order bat now.
The 34 year-old Ramirez is having a productive season (.825 OPS in 23 games) despite spending time on the disabled list with a sprained knee. With that knee still not 100%, it could be risky for the Dodgers to take on another injury risk —especially one that is due $16 million in 2014 with a four million dollar buyout if his $14 million mutual option for 2015 isn't exercised.
It's also risky to have a season that started with World Series aspirations go down the drain with more than two months left to play. The excitement that has come along with new ownership, a seemingly unlimited payroll and the acquisition of several big name players would all but disappear during the second half of the season if things get any worse. They currently lead baseball in home attendance (43,074 per game).
Taking on the majority, if not all of Ramirez' remaining salary and sending over a mid-level prospect could get the Dodgers their upgrade at the hot corner. Their best prospects —third baseman Corey Seager, outfielder Joc Pederson and starting pitcher Zach Lee— won't need to be included. The challenge is finding good enough alternatives in a Dodgers' farm system that's relatively thin after that trio.
The Brewers' biggest need is starting pitching and the best best pitching prospect the Dodgers have besides Lee is lefty Chris Reed, the 16th overall pick in the 2011 draft. His overall numbers aren't eye-popping but his ceiling is high and this is the kind of a move that could really come back to bite the Dodgers. But this is "do or die" time in Los Angeles.
General manager Ned Colletti won't be around to be scrutinized in a couple of years anyways if Reed turns out to be a good big league starter and the Dodgers don't make the playoffs with Ramirez in the lineup in either of the next two seasons. The Brewers won't be motivated enough to move a proven middle-of-the-order bat without getting a prospect of Reed's caliber in return.
The Dodgers lineup at full health with Aramis Ramirez ...
1 Carl Crawford, LF
2 Hanley Ramirez, SS
3 Adrian Gonzalez, 1B
4 Matt Kemp, CF
5 Aramis Ramirez, 3B
6 Yasiel Puig, RF
7 AJ Ellis, C
8 Mark Ellis, 2B
Phillies acquire Josh Willingham from Twins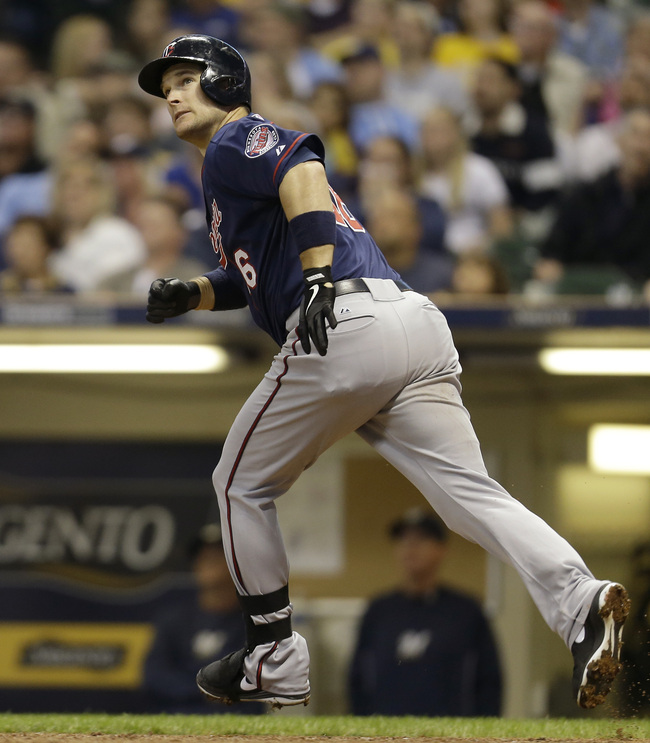 Mike McGinnis/Getty Images
The outfielder the Phillies acquired from the Twins this past offseason, Ben Revere, has had his moments but has been mediocre, at best. Maybe the second time can be the charm if they can somehow pry away right-handed slugger Josh Willingham to be their everyday left fielder.
At 32-35, the Phillies are barely holding on at 7.5 games back of a playoff spot. General manager Ruben Amaro Jr. has recently come out and said he wouldn't be starting from scratch by trading veterans Cliff Lee, Cole Hamels or Jonathan Papelbon. So why not add some talent to the roster and go all out to make a playoff run? Making a big acquisition would certainly be "going all out.".
The Twins aren't that far out themselves at 29-34 and 6.5 games out in the AL Central. It's also easy to look at that 25-man roster and know it's not happening for them in 2013. And that's OK because their farm system is full of talent, especially with potential superstars of the future Byron Buxton and Miguel Sano, and the future beyond 2013 and 2014 is bright. Willingham will be gone by then so they might as well get what they can for him now while he's at peak value.
Offering up top pitching prospect Jesse Biddle could be enough to land the 34-year-old Willingham but they're not likely to go with that scenario. They'd rather put together a package that could include either Freddy Galvis —he's be an immediate upgrade at shortstop for Minnesota— or second baseman Cesar Hernandez and a mid-level pitching prospect. Right-hander Perci Garner, who has a 3.12 ERA in 12 starts with High-A Clearwater, might be enough.
Here's what the Phillies lineup might look like once Chase Utley returns from the disabled list and with the addition of Willingham, who has a .771 OPS (10 HR, 31 RBI, 34 BB) on the season ...
1 Jimmy Rollins, SS
2 Michael Young, 3B
3 Chase Utley, 2B
4 Ryan Howard, 1B
5 Josh Willingham, LF
6 Domonic Brown, RF
7 Carlos Ruiz, C
8 Ben Revere, CF
Keep Reading