I imagine Darnell Dockett was asked how many bars he wanted on his facemask, to which he replied, "All of them."
The Arizona Cardinals tweeted out the following image on Wednesday:
What do u think of the facemask that @ddockett is wearing @ #CardsFanFest? Retweet if u approve! #AZCardinals @nfl pic.twitter.com/reLeORYy1Q

— Arizona Cardinals (@AZCardinals) June 12, 2013
Of course, that kind of design draws comparisons to the other NFL player rocking bars on their facemasks. New York Giants defensive end Justin Tuck immediately comes to mind.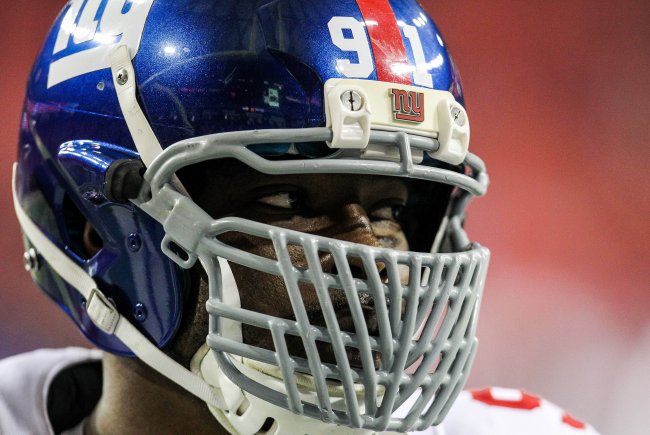 USA TODAY Sports
If you are wondering why Tuck decided to depart from the wide-open look of conventional helmets, it's to protect his neck from being twisted by players grabbing at his facemask.
The design and motivation behind the facemask was covered in a 2012 report over at Giants.com. In it, Tuck pretty much foretold the future.
"Everybody is like, 'Can I get that facemask?' No, it's exclusive to me, no one else can have it," Tuck said. "But it's a copycat league in everything people do so I wouldn't be surprised if there are a few of those floating around before we play."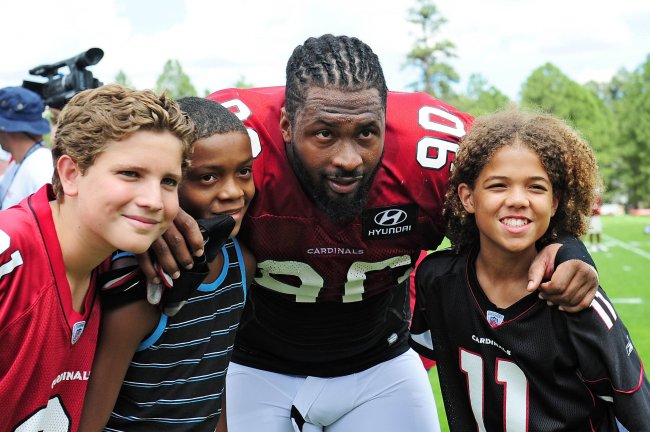 Jennifer Stewart-USA TODAY Sports
There is no word on whether Dockett plans to use that helmet during the season or if he simply unveiled something unique for the Cardinals fan fest on Tuesday.
Yahoo! Sports reports the grill comes by way of Bad-Ass Masks. They call this version the "Freight Train" over at their Facebook page.
If that helmet design company sounds familiar, they recently unveiled a facemask just as fashion-forward as Dockett's.
Here are the fan-made helmets designed for the Arizona Wildcats:
Thanks to the heads up from @AndyJ0seph, the AZ helmets are fan made. They're still super awesome. pic.twitter.com/ftkG7NGDrb

— SportsNation (@SportsNation) June 10, 2013
From Tuck to Dockett, there has been a great deal of nicknames and clever monikers thrown out for this type of mask. I think I have one for Dockett.
Let's just hope the star defensive end can breathe in that thing.
As for the rest of the NFL, you have been put on notice. It's time you get with the program and destroy those ho-hum helmets for more inventive fare.
Brace yourselves—ridiculously over-designed facemasks are coming.
Continue the party on Twitter: