Things continue to get worse for former Cincinnati Bengals and New England Patriots wide receiver Chad Johnson. After his courtroom antics Monday, it looks like he'll be in for at least another 30 days of bad luck.
As noted in this SportsCenter tweet, Johnson was sentenced to 30 days in jail following a domestic violence incident, but only after he angered judge Kathleen McHugh when he slapped his lawyer on the posterior:
THIS JUST IN: Chad Johnson angers judge with playful antics, sentenced to 30-day jail term for violating probation: http://t.co/rK7zhOxdeU

— SportsCenter (@SportsCenter) June 10, 2013
According to a South Florida Sun-Sentinel report by Rafael Olmeda, Johnson was closing in on a plea deal that would keep him out of jail, but his in-court behavior was enough for McHugh to reject the deal and sentence the former star receiver to 30 days in jail.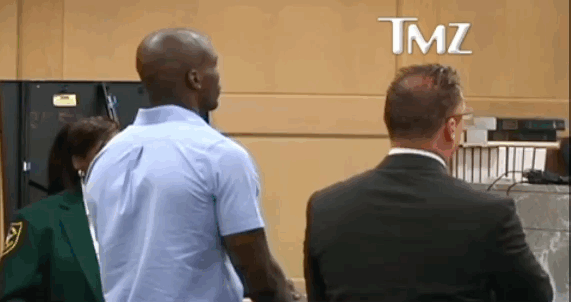 Johnson spoke out on Twitter following the incident:
While the 35-year-old six-time Pro Bowler may have been making light of the situation, not everyone was so accepting of his courtroom behavior. ESPN's Stephen A. Smith had plenty to say on the topic:
I'm not going to lie: after hearing the news on Chad Johnson, very little else is on my mind re: Sports right now. I'm so damn disgusted!!!!

— Stephen A Smith (@stephenasmith) June 10, 2013
I simply cannot believe Chad's silliness. You don't play around in court. Especially with a FEMALE judge presiding over DOMESTIC VIOLENCE.

— Stephen A Smith (@stephenasmith) June 10, 2013
Smith's ESPN colleague Ed Werder wasn't as critical of Johnson, however, citing another legal matter involving Dallas Cowboys defensive tackle Josh Brent, in which Brent was found guilty of driving under the influence, resulting in an accident that claimed the life of teammate Jerry Brown:
Chad Johnson going to jail for 30 days for courtroom antics; Josh Brent remains free after fatal accident and claims he's violated probation

— Ed Werder (@Edwerderespn) June 10, 2013
Werder was perhaps comparing apples to oranges, but in any case, opinions vary on the severity of Johnson's courtroom indiscretion.
Tim Micallef of SportsNet 590 called the video "among the more ridiculous things" he has seen:
This is among the more ridiculous things I've seen - on so many levels: http://t.co/bfisJFnzyo Chad Johnson's ill-timed celly #AManNamed85

— Tim Micallef (@tim_micallef) June 10, 2013
Jerome Solomon of the Houston Chronicle seems to consider the sentencing an overreaction, however:
Judicial overreaction? RT @TMZ: We just got video of Chad Johnson slapping his lawyer's ass, watch it here: http://t.co/9Ar9d28paX

— Jerome Solomon (@JeromeSolomon) June 10, 2013
The Twitter reaction didn't stop there. As expected, several more media members chimed in on the topic, including Charles Robinson of Yahoo! Sports:
Why should Chad Johnson's lawyer need to tell him not to act foolish in front of a judge? Chad is a 35 year old MAN and should know better.

— Charles Robinson (@CharlesRobinson) June 10, 2013
While Robinson pointed out the childishness of Johnson's behavior, Omar Kelly of the South Florida Sun-Sentinel was quick to point out that the 35-year-old is a good person and has fallen on some hard times:
Chad Johnson will spend a couple nights in jail & they'll call it "sending him a message." Sad to see what's happened to his life. Good guy

— Omar Kelly (@OmarKelly) June 10, 2013
This particular incident is a good warning for all athletes who may one day be in the NFL spotlight. USC linebacker Scott Starr took notice, though he seemed to be more focused on McHugh's reaction than what Johnson did:
Just watched the tape of Chad Johnson in court today. That judge is something else smh

— Scott Starr (@SS47ERA) June 10, 2013
Whatever the case, Johnson now faces a jail term he could have easily avoided, though the whole incident detracts from the seriousness of his initial indiscretion.
In a case originally focused on domestic violence against ex-wife Evelyn Lozada, the focus has instead shifted to what turned out to be another misstep in Johnson's life after the NFL.