Stock Up, Stock Down on MLB's Top 10 Prospects After Week 10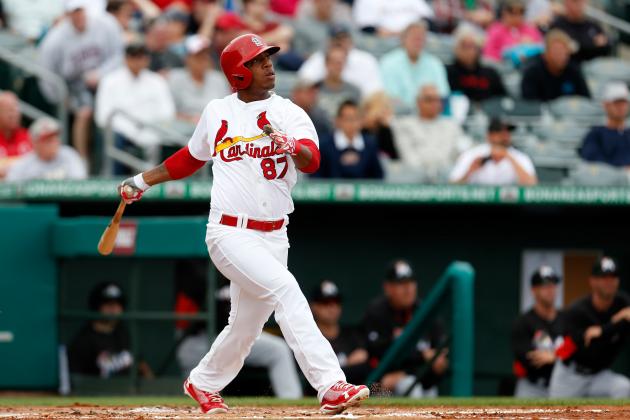 Chris Trotman/Getty Images

The recent promotions of young, heralded prospects such as Yasiel Puig, Jurickson Profar and Kevin Gausman have baseball fans ready for more in the coming months.

With the 2013 MLB draft in the books, organizations can fully turn their respective attentions toward improving their big league roster for the present, future and, in some cases, both.

That's where the aforementioned prospects come into play. Not just because they are expected to contribute sooner than later, but for what they represent: hope.

For some teams, it's the hope of tomorrow. For others, it's the hope of adding an impact arm or bat to a pennant race this summer.

While the list is fluid due to the needs of each organization around the sport, here's a stock watch for the top 10 prospects still riding the bus around minor league cities.

Odds are, they won't be for long.

*All stats courtesy of MiLB.com and valid through the start of play on June 10.
Begin Slideshow

»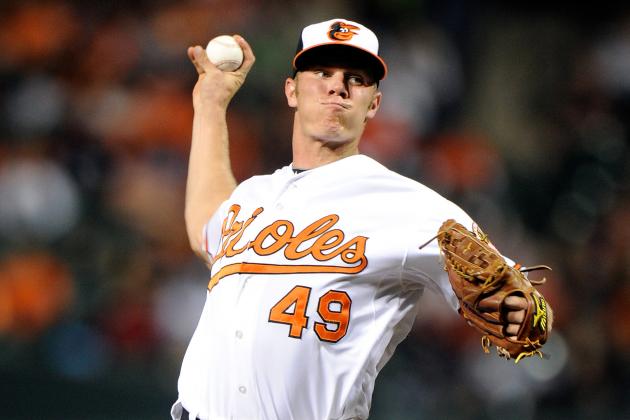 Greg Fiume/Getty Images

Stats: Injured all season

While the stats for Bundy point to a young pitcher who should be much, much further down the list, he's not undergoing surgery and has been cleared to be begin a throwing program that will land him back on the mound for an Orioles affiliate soon.

Of course, zero pitches or innings thrown in 2013 have put a dent in Bundy's fast track to the majors that began when he was taken with the fourth overall pick in the 2011 draft.

If the elbow injections, rest and throwing program work as prescribed, his name will begin to gain steam again later in the summer.

Bundy's stock has plummeted in comparison to where it was this time last summer, but don't let that fool you.

Buy low, folks. There's a ton of potential here.

Stock: Down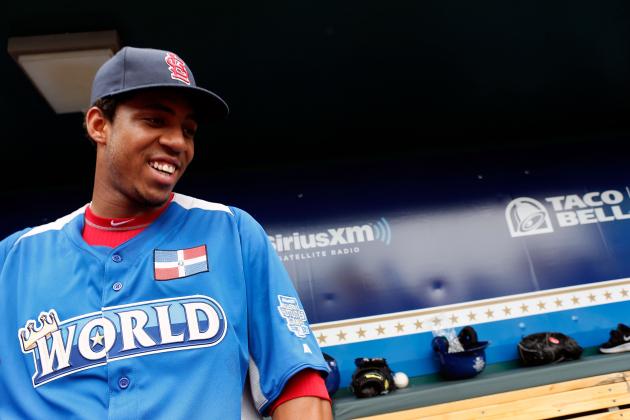 Jamie Squire/Getty Images

Stats: .315/.348/.480, 4 HR, 20 RBI, 17 R

The 20-year-old outfield prospect is back after missing almost a month of baseball with an ankle injury in Tripe-A.

As the summer goes on, assuming Taveras stays healthy, it's likely that he'll force the Cardinals to make a difficult decision regarding their roster and playing time.

While the team is loaded with talent, Taveras' 385/.424/.590 slash line against right-handed pitching may be too good to keep out of the big leagues in a pennant race.

Even if St. Louis shows restraint, the idea of him as the everyday right fielder in 2013 is growing more likely by the day.

Stock: Up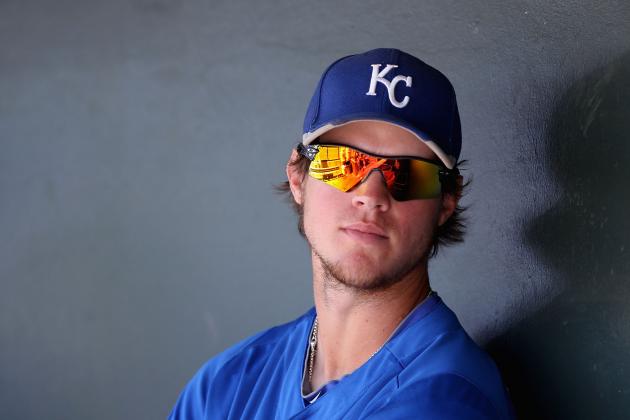 Christian Petersen/Getty Images

Stats: .287/.361/.513, 12 HR, 52 RBI, 39 R
When the blockbuster deal between Kansas City and Tampa Bay went down last winter, it was almost a lock that Myers, if not ready to make the Opening Day roster for the Rays, would be in Tampa Bay by now.

The fact that Tampa Bay's offense, with luminaries like Luke Scott, Kelly Johnson and James Loney penciled into the regular lineup rotation, started off slowly just intensified the "Wil Meyers call-up!" talk.
As the weeks passed, a twofold shift took place in the Tampa organization.

First, those players started to hit, leading Tampa Bay to the best offensive output in baseball over the last 50 games. Second, Myers didn't get off to a red hot start in Durham at the plate. On top of that, he was, and still is, continuing to make himself more of a polished all-around player.
A June slash line of .382/.421/.765 makes it seem like Myers is ready for Tampa Bay.
Before long, Tampa Bay will ready for Myers.

Stock: Up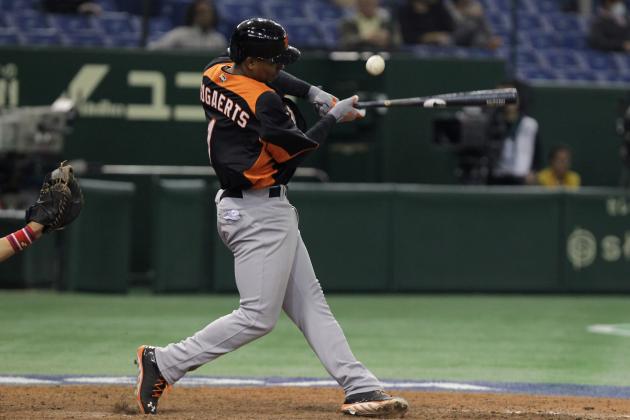 Chung Sung-Jun/Getty Images

Stats: .308/.403/.507, 6 HR, 33 RBI, 40 R

With a total OPS of over .900, including an insane 1.283 mark in early June, Xander Bogaerts is proving to be too talented for the Eastern League to handle.

With a 21st birthday not set to arrive until after the season, it may be a bit premature to boost Bogaerts to Triple-A, but his play merits it.

The jury is still out on his long-term position, but it's clear that Boston has a future hitter on its hands.

When the rosters expand in September, he may get a chance to experience Fenway Park, regardless of his Double- or Triple-A status.

Stock: Up
Stats: .330/.424/.655, 16 HR, 48 RBI, 51 R

As you can imagine by looking at those Florida State League statistics, Miguel Sano is way, way too good for High-A baseball.

Luckily for opposing FSL pitchers trying to keep their jobs, the Twins have noticed.

Sano is on his way to terrorize Double-A pitching starting this week. If his light-tower power continues to play in the advanced levels of the minors, it's only a matter of time before Minnesota's third baseman arrives to join Joe Mauer as a centerpiece of the Twins lineup.

Stock: Up
Stats: .342/.439/.562, 7 HR, 44 RBI, 59 R, 26 SB

If the specter of Miguel Sano's power isn't enough to get a Twins fan excited for the future, welcome to the Byron Buxton experience.

The best way to describe Buxton's ability to hit: anywhere, anytime and against anyone.

While the season slash lines, stolen bases, power and stellar BB/K ratio (39/44) speak for themselves, it's the season splits for the 2012 draft pick that stand out.

Buxton hits versus lefties (.400) or righties (.332), during the day (.391) and at night (.320) and with runners on (.337) or with the bases empty (.346).

In short, he hits all the time.

Stock: Up
Stats: 12 GS, 63 IP, 66 K, 25 BB, 4.14 ERA, 4.04 FIP

As in the case of Wil Myers, don't expect to see Wheeler's name on a list of prospects in the minor leagues for much longer.

In what could amount to the highlight of the season for Mets fans, Wheeler may debut next week during a double-header with Atlanta, according to Adam Rubin of ESPN, with Matt Harvey, the current phenom ace in New York, taking the ball along with him.

Despite pedestrian numbers in Triple-A, Wheeler has been more average than bad, especially considering the thin air and high run-scoring environment of the Pacific Coast League.

Expecting him to dominate out of the gate, as Harvey did last July, isn't fair.

The command and polish aren't there yet, but the stuff clearly will arrive with Wheeler in New York.

Stock: Even


Stats: .282/.381/.420, 4 HR, 40 RBI, 33 R

The 18-year-old Carlos Correa is proving to be mature beyond his years as a shortstop and hitter, justifying the faith that the Houston Astros franchise had in him when selecting him with the No. 1 overall pick in the 2012 MLB draft.

Of all his accolades, perhaps none is as impressive as the .438 mark he's put up with runners in scoring position this season.

While acknowledging that the 64 at-bats Correa has been allotted in those situations is a very, very small sample size, and those baserunners were on in front of him as a product of their own skill, it's worth pointing out that this prospect does not seem to feel pressure, often thriving in the biggest moments.

Take that for what you will, but in an organization where he'll be looked to as one of the saviors in the coming years, handling pressure will be vital to success in Houston.

Stock: Up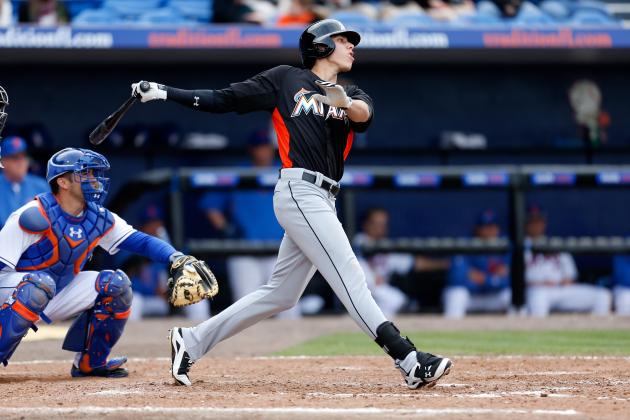 Chris Trotman/Getty Images

Stats: .262/.340/.518, 6 HR, 28 RBI, 25 R

While Giancarlo Stanton's future is always tied to the collective success of the Miami Marlins outfield and lineup, it may turn out that Christian Yelich's progression and advancement through the system nets the franchise more on-field value in the coming years.

If the organization decides to move Stanton in a blockbuster deal, Yelich could step in as a pure hitter, raking enough to make a trade seem more logical than another sell-off in Miami.

Yelich's numbers are down from a tremendous 2012 (.918) OPS, but expect them to rise as he fully adjusts to Double-A ball.

Stock: Even
Stats: 12 GS, 71.1 IP, 77 K, 29 BB, 2.52 ERA, 3.56 FIP

Perhaps the best thing about Taijuan Walker's 2013 has been his consistency rather than his dominance.

The double-digit strikeout games aren't littered throughout the game logs, but neither are five-plus-walk games. Shutouts haven't been the norm, but Walker has only allowed more than four runs in a start once in his last 10 outings.

As long as he is allowing a .194 batting average against, those around the game will imagine how great he'll be at the next level.

With consistency could come greatness alongside Felix Hernandez in the future Mariners rotation.

Stock: Up


Agree? Disagree? Comment below, follow me on Twitter or "like" my Facebook page to talk all things baseball!