2013 MLB Rookie of the Year Stock Watch, Week 10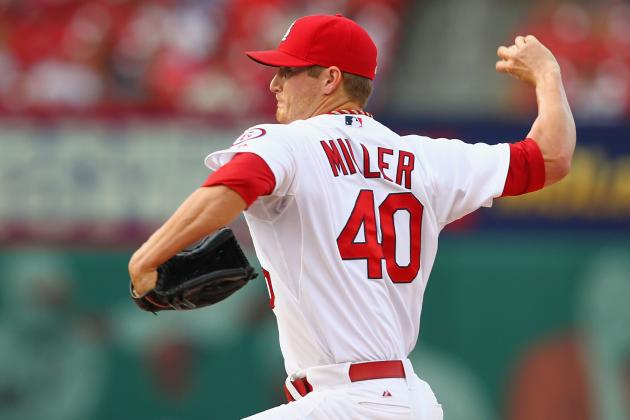 Dilip Vishwanat/Getty Images

As the 2013 Major League Baseball season chugs along toward midseason and the impending All-Star break and away from the coverage of the MLB draft, it's a good time to take stock of the young players making a huge impact in the sport right now.

While the stars of tomorrow are being drafted this weekend, recent draft selections are in the majors and are helping their teams win in a big way.

The bulk of talent seems to be in the National League right now, but the recent arrival of Jurickson Profar in Texas, Kevin Gausman in Baltimore and the impending arrival of Wil Myers in Tampa could change the outlook of these races within a few weeks or months.

Without further ado, here is the 2013 MLB Rookie of the Year stock watch for Week 10 of the MLB season.


Begin Slideshow

»
Stats: 12 GS, 75.1 IP, 81 K, 17 BB, 57 H, 1.91 ERA, 2.40 FIP, 2.3 WAR

Forget the Rookie of the Year watch, you can make a legitimate case for Shelby Miller as the NL Cy Young winner through the first third of the season.

His call-up last September (13.2 IP, 16 K) clearly wasn't a fluke.

Miller, a 2009 first-round pick, has burst onto the scene in dominant fashion, striking out hitters at a prolific rate and profiling as a future ace, if not one deserving of that moniker already.

As the Cardinals lean on the backs of their young pitching, expect Miller to lead them into contention all season, raising his profile for many awards along the way.

Stock: Up
Stats: .270/.337/.608, 13 HR, 33 RBI, 23 R, 1.9 WAR

The recent return of Brian McCann to the Braves clubhouse looked like a death nail in the Evan Gattis redemption story, run to Rookie of the Year fame and power-hitting fest of 2013.

Yet here's Gattis, learning to play the outfield on the fly, rewriting the script one more time for the Braves and his career.

Early on, his strikeout rate, lack of big league experience and assumed issues with versatility beyond catching looked to be reasons why Gattis wouldn't get enough playing time—outside of pinch-hitting and backup catching duty—to stay in this race.
Kudos to the entire Braves organization for realizing that any hitter slugging over .600 is too valuable to sit down and for finding ways to incorporate this power hitter into the regular lineup.
Stock: Up
Stats: .322/.387/.493, 4 HR, 14 RBI, 26 R, 1.6 WAR
From Paul Goldschmidt to a strong pitching staff, there are many reasons why the Arizona Diamondbacks enter play this weekend in first place in the NL West.

An underrated aspect of their current 25-man roster is rookie shortstop Didi Gregorius, acquired in an offseason three-way deal with Cincinnati and Cleveland.

Although the main narratives around that trade focused on Arizona GM Kevin Towers moving on from former top pick Trevor Bauer, it's Gregorius' play that's making the headlines now.

With tremendous defensive ability, anything he provides with the bat makes him that much more valuable.If Gregorius' OPS can continue to sit in the upper .800s, Arizona will reap a ton of value from the deal.
If the young shortstop falters when going through the schedule for a second and third time, look for names like Jedd Gyorko, Julio Teheran or Hyun-Jin Ryu to take this spot.

Stock: Up
Stats: 9 GS, 52 IP, 44 K, 15 BB, 44 H, 4.67 ERA, 3.16 FIP, 1.3 WAR

While the American League candidates have provided less sizzle than their NL counterparts, looking forward to future dominant performances from Oakland's Dan Straily isn't a stretch.

In fact, despite an ERA above 4.60, Straily has profiled as a much, much more effective pitcher in his 52 big league innings this season.
Although he's a fly-ball pitcher, Straily's strikeout ability (7.62 K/9) and the friendly confines of AL West parks like Oakland-Alameda County Coliseum, Safeco Field and Angel Stadium should allow him to avoid home run issues as the year moves along.

Stock: Even
Stats: 10 GS, 55 IP, 39 K, 14 BB, 56 H, 3.44 ERA, 3.94 FIP, 1.0 WAR

Injuries to the Texas rotation have opened up opportunities for Tepesch and fellow rookie Justin Grimm to step into the spotlight, pitch behind one of the best offenses in the league and learn on the job while arms like Matt Harrison, Neftali Feliz and Colby Lewis mend.

So far, so good for Tepesch.
His stock is on the rise after 6.1 innings of one-run ball against Kansas City earlier in the week.

While he may be pitching a bit over his head, the 3.94 FIP bodes well for his future.

Stock: Up
Stats: .435/.486/.581, 1 HR, 7 RBI, 12 R, 1.2 WAR

There's no question that Jose Iglesias arrived in the majors with the ability to play defense, particularity at shortstop, but many wondered how a .622 career minor league OPS would translate into the AL East.

Thus far, including a rocket home run shot off Hiroki Kuroda on Sunday night in Yankee Stadium, the 23-year-old infielder is more than holding his own while he fills in for Will Middlebrooks.

While names like Kevin Gausman, Wil Myers and Sean Doolittle could take this spot on this list in the coming weeks, keep an eye on the progression, specifically on offense, from Iglesias.

Stock: Up