Fantasy Baseball: Week 10 Start 'Em or Sit 'Em Breakdown
Tom Szczerbowski/Getty Images
Should R.A. Dickey's fantasy owners hand him the ball for his next start?
Fantasy baseball is hard, but it's time to put your thinking hat and number-crunching glasses on to set your lineup for the week.
Fantasy baseball is also a game of attrition. With a 852.9 percent increase in games compared to the football season, there are many more roster dilemmas to resolve.
For those still actively managing their squad(s) through two months, kudos. Now let's get to work by examining some starting pitchers whose startability is a question mark leading into the 10th week of the season.
Before yelling at me when one (probably more) of these tips flops, remember that Matt Harvey allowed 12 baserunners and four runs against the Miami Marlins on Sunday. Sometimes you just can't predict baseball.
Note: All Statistics, unless otherwise noted, courtesy of FanGraphs.com.
Begin Slideshow

»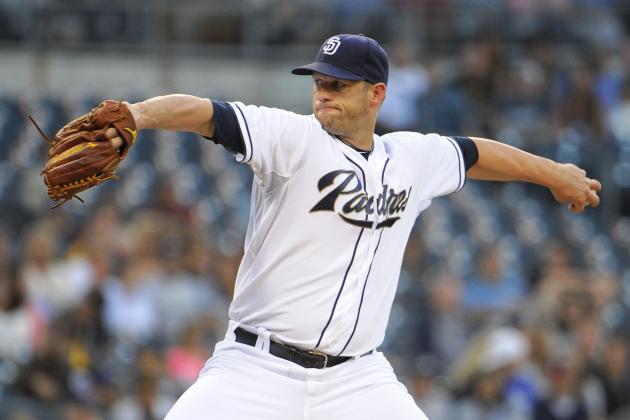 Denis Poroy/Getty Images
An easy schedule and friendly home ballpark have helped Eric Stults.
Scheduled Starts: Monday at Los Angeles Dodgers, Saturday at Colorado Rockies
A 12-strikeout performance usually gets everyone's attention.
Eric Stults completed May with eight dazzling innings against the Seattle Mariners, emphatically ending the month with an exclamation point. It wasn't just that one game; he notched a 2.66 ERA during six May starts.
Any decent pitcher on the San Diego Padres needs to be on your radar. The 33-year-old has joined Andrew Cashner in that category, but that does not mean he's good enough to trust outside of Petco Park.
At Dodger Stadium, sure. At Coors Field, absolutely not.
In daily lineups, it's easy enough to leave him on the bench or drop him after his first start. Managers who must set their lineup for the entire week, on the other hand, face a conundrum. Is one alluring start worth a highly problematic one?
Not in Stults' case. The veteran failed to stick in a big league rotation before San Diego's lack of pitching and pitcher-friendly ballpark allowed him to shine. He has, however, posted a 4.21 ERA and 1.38 WHIP on the road.
Also helping matters, Stults boosted his appeal while facing the lowly Cubs, Marlins, Nationals and Mariners. He's nothing more than a streamer to employ in the ideal circumstance.
Verdict: Start Monday, Sit Saturday (Sit in leagues with weekly roster changes)
J. Meric/Getty Images
The reigning Cy Young winner is not the same pitcher in 2013.
Scheduled Start: Wednesday vs. San Francisco Giants
We're getting to the point where many furious managers are toying with, or executing the notion of dropping R.A. Dickey.
In a regular mixed league, it's not all that crazy. The 38-year-old has posted a 5.18 ERA, and don't go crying to his FIP for help because that's nearly as bad at 4.90. That unhittable knuckleball from last year now looks like something a parent throws to a child at little league.
Dickey has lost 2.4 miles per hour on his knuckler this season, which would be a remarkable difference even for a considerably quicker fastball.
But he's facing the San Francisco Giants, who were victim to a 10-strikeout outing on May 14 that gave Dickey's owners false hope. Memories of that performance could buy him another week in the lineup.
I want to believe in Dickey, but it's getting harder to hold on hope for a man with significantly less strikeouts, exponentially more walks and a rarity pitch that has lost its luster following an incredibly unlikely Cy Young campaign.
Bench him, but give Dickey a bit more time before sending him to the waiver wire.
Verdict: Sit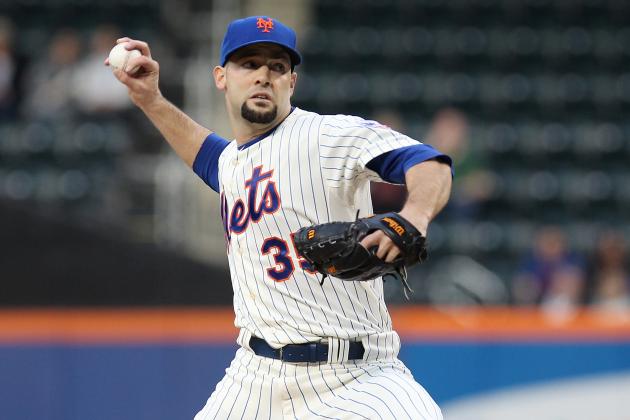 Mike Stobe/Getty Images
Dillon Gee is starting to turn the corner after a rough start.
Scheduled Start: Wednesday at Washington Nationals
Where did that come from?
Looking to save his job from a lurking Zack Wheeler, Dillon Gee delivered the best start of his career at Yankee Stadium. He needed a mere 88 pitches to tally 12 strikeouts alongside zero walks.
Heading into the season, Gee looked like a nice pick to close out a draft. Nobody gave him the time of the day due to his six wins and 4.10 ERA, but a 3.71 FIP, 50.3 percent ground-ball rate, 7.96 K/9 ratio and 2.38 walk rate all resembled a usable fantasy starter.
His strikeouts and walks have only veered slightly in the wrong directions, but not enough to explain a 5.68 ERA and 1.58 WHIP.
That's where the fourth-highest BABIP (.356) in baseball comes in. As the old, grammatically incorrect saying goes, batters have been hitting them where the fielders ain't.
The Nationals rank 27th in runs scored, and that was mostly with Bryce Harper, who is now sidelined with a sore knee. This is the perfect opportunity for Gee to return his season numbers closer to the norm.
Pick up Gee for a spot start, and consider keeping him around if he impresses.
Verdict: Start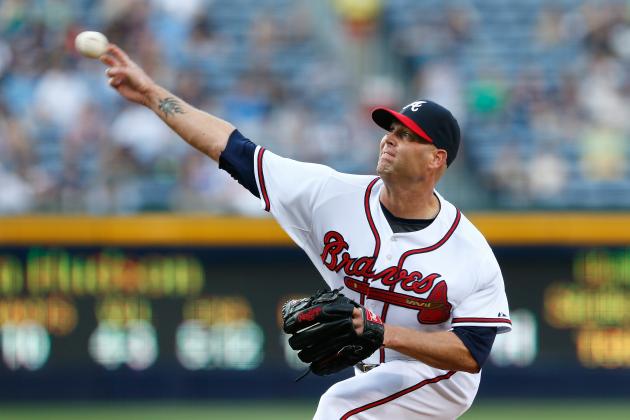 Kevin C. Cox/Getty Images
Does Tim Hudson have anything left to offer fantasy gamers?
Scheduled Start: Thursday at Los Angeles Dodgers
With deepest apologies to those who snatched Tim Hudson thinking they secured old reliable, they only got half of that equation right.
The 37-year-old is posting numbers akin to what one would expect from a soft-tossing veteran.
If his 4.80 ERA stood through the end of the year, it'd represent his second-lowest mark in 14 years. Hudson's a liability in the strikeout department, so those who sign up for his services do so with the expectations of receiving an exemplary ERA and WHIP.
I've seen him get flat-out dropped, but does 7.1 shutout innings against Washington mean those owners reacted too soon?
Maybe, maybe not. It depends on the league. In a standard, 10- to 12-team mixed league with an innings cap, Hudson's role has now changed to that of a streaming option. The ERA and WHIP should get better, but not enough to routinely deal with the low strikeout totals.
Los Angeles, however, is a matchup where Hudson is worth a start. Not that he was doing anything, but Matt Kemp is now out of commission. Pitching in Los Angeles also gives Hudson some leeway with fly balls.
Verdict: Start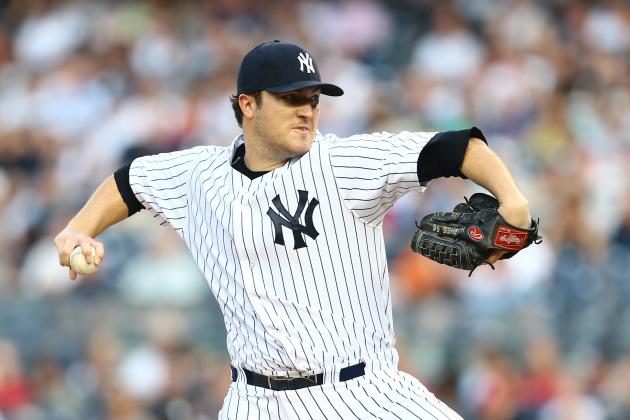 Al Bello/Getty Images
Many players dream of wearing pinstripes, but Phil Hughes probably wouldn't mind playing for someone else.
Scheduled Start: Thursday at Seattle Mariners
Do you own Phil Hughes? If so, how are those migraines treating you?
He'll assemble a brief series of gems before a six-run shellacking ruins any progress made through that hot streak. It's hard to trust a pitcher who has surrendered five or more earned runs four times this year.
He's also thrown at least six innings with two or fewer runs relinquished in six starts, and his 55 strikeouts and 15 walks through 58.2 innings are praiseworthy.
I contemplated making this slide a GIF of someone shrugging and calling it a day, but that's probably not considered real analysis.
Hughes badly needs a change of scenery, and he'll likely get it when he hits free agency this offseason. An extreme fly-ball pitcher (nearly half of his batted balls have been fliers in 2013) cannot survive in Yankee Stadium for long.
This week, he'll get a taste of life in a greener terrain, squaring off against the Mariners at Safeco Field. Seattle put up a seven-spot on Hughes before he could escape the first inning in their last meeting, but that was at Yankee Stadium. For Hughes, this amounts to a drastic difference.
In three pitcher-friendly ballparks (Citi Field, Tropicana Field, Oakland Coliseum), Hughes gave up three runs through 21 innings. He's worth using in the right place, and Seattle is the right place.
Verdict: Start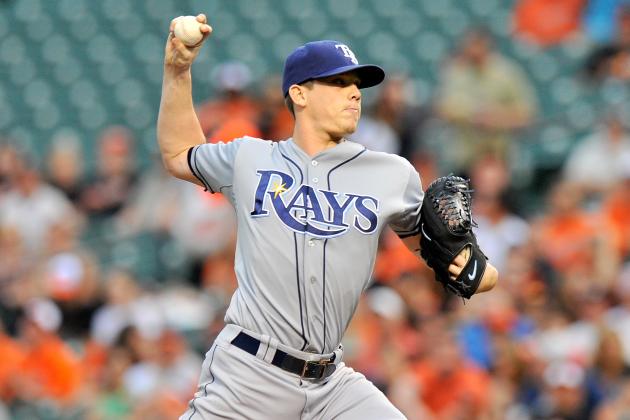 Greg Fiume/Getty Images
Luck has finally left Jeremy Hellickson's side.
Scheduled Start: Saturday vs. Baltimore Orioles
The universe tends to unfold as it should.
For the past two years, Jeremy Hellickson has confounded fantasy owners by drastically out-pitching his peripherals. The young pitcher registered a 2.95 ERA despite a 4.44 FIP and 5.57 K/9 ratio in 2011. That's a fluke, so stay away. Easy, right?
Wrong. In 2012 he posted a 3.10 ERA alongside a 4.60 FIP and slightly improved 6.31 K/9 ratio.
Just as Hellickson tricked analysts into studying how he defies the numbers, he began to fall down to earth.
The regression gods have smote the 26-year-old this year, allotting him a 5.59 ERA. Funny thing is he's actually pitched slightly better.
His 4.14 xFIP, an expected Fielding Independent Rate calculated with an average HR/FB rate of 10.5 percent, represents a lower rate than the previous two seasons. He's upped his K/9 ratio to 6.93 while cutting his walks down to 2.31 per nine innings.
Keep an eye on him in case an impatient owner cuts ties with him, but Hellickson still is not sturdy enough to start against Chris Davis, Manny Machado and the red-hot Baltimore Orioles.
Verdict: Sit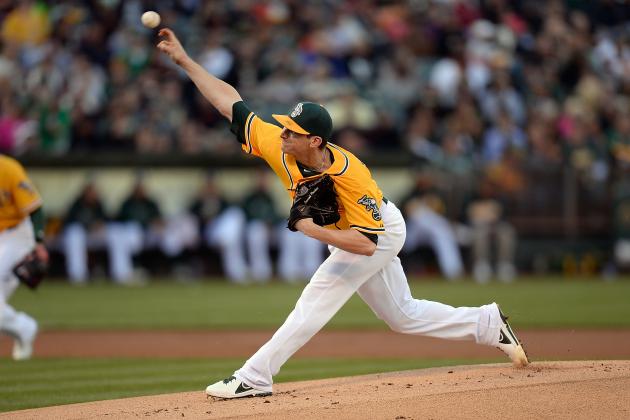 Thearon W. Henderson/Getty Images
Jarrod Parker has worked back into our good graces.
Scheduled Start: Saturday at Chicago White Sox
Last week, I advised you to pick up a surging Jarrod Parker before a two-start week, adding that you should keep him around if he succeeds.
Naturally you all listened since you wholeheartedly trust my wisdom and know I'm only wrong 65 percent of the time. He allowed two runs through those two starts, so there you go.
Now that Parker holds a spot on your squad, let's keep trotting him out there.
Following an abysmal April that cost him a seat on many imaginary baseball teams, Parker marched back with a 3.62 ERA and 1.08 WHIP during May. Throw in his recent start on June 2, and he has recorded a 3.03 ERA and 1.01 WHIP through his past six outings.
The best part? His strikeouts are back. He's punched out 33 batters through the last 38.2 innings. Considering that his swinging strike percentage has actually climbed from last season's mark, that seems like a better representation of his true skills.
He just hurled 6.1 shutout innings against the White Sox, so put his rough start in the rearview mirror and use Parker with confidence.
Verdict: Start