2014 MLB Free Agency: Stock Up, Stock Down for 10 2014 FAs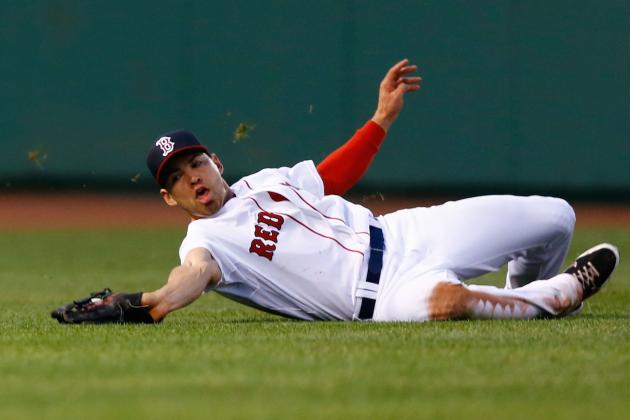 Jared Wickerham/Getty Images
Ellsbury ran wild yesterday with five stolen bases against the Phillies, but his stock is down until he can show some more power.
The competition to be the second-best free agent behind Yankees second baseman Robinson Cano this upcoming offseason is two months in, and there are no clear-cut answers as of yet. Injuries to Matt Garza and Josh Johnson and Tim Lincecum's continued decline from his former dominant self have the starting pitching market full of question marks.
Adam Wainwright of the Cardinals would've easily been the top starting pitcher had he not agreed to a five-year, $97.5 million contract extension in early April. And as crazy as it sounds, Brewers center fielder Carlos Gomez might've been in line to receive the next highest contract for a position player behind Cano. The 27-year-old, who agreed to a three-year, $24 million contract extension before the season, is on pace for a 30-30 season (30 HR, 30 SB).
Here's a look at five soon-to-be free agents whose stock has risen the most and five whose stock has dropped the most.
Begin Slideshow

»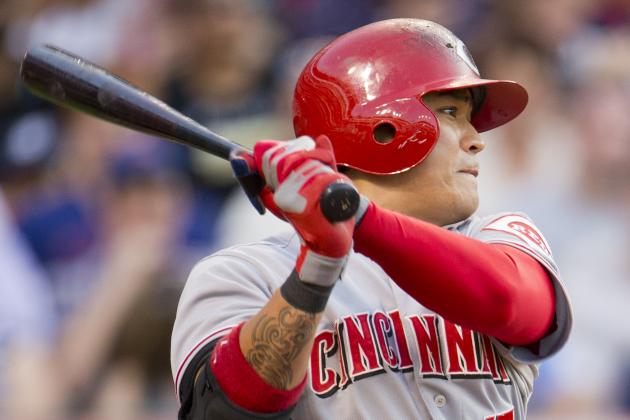 Jason Miller/Getty Images

Stock Up!
Had Choo been a free agent after a very solid 2012 season (.814 OPS, 16 HR, 21 SB), he probably would've been in line for a payday somewhere in the four-year, $52 million range. As a comparison, Shane Victorino received a three-year, $39 million deal after posting a .704 OPS with 11 homers and 39 stolen bases.
On pace for a career season in Cincinnati, the 30-year-old should command a deal closer to the one B.J. Upton signed with the Braves (five years, $75.25 million). While Upton was paid big money based on his upside, age (28), speed and center field defense, Choo's value is in his consistent track record of production throughout his career.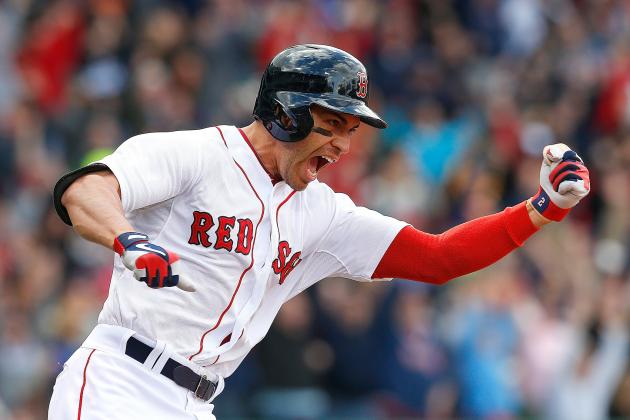 Jim Rogash/Getty Images

Stock down!
Don't think a drop in stock is going to put Ellsbury in the poor house. He's starting to resemble the player he was earlier in his career, especially during his current hot streak (9-for-23, 4 2B, 3B) and with his current 60-plus stolen base pace.
But the difference between what he would get if he can hit 20-30 homers and what he'll get otherwise—he only has one so far—could be massive. I'll put him at five years and $65 million at his current pace. With the power numbers, which he's displayed just once in his career (32 HR in 2011), he could surpass Carl Crawford's seven-year, $142 million deal.
A power surge over the last two or three months of the season could boost the 29-year-old's value, so don't count him out just yet from joining the nine-figure contract club.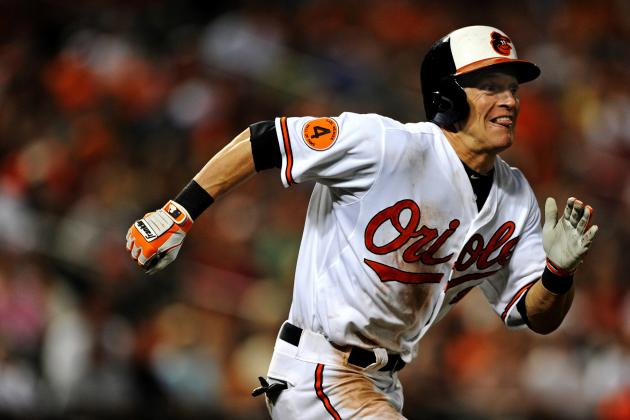 Patrick Smith/Getty Images

Stock up!
It was apparent this offseason that none of the 30 MLB teams were convinced that McLouth's impressive two-and-a-half month stint in Baltimore meant he was back to the player he had been back in Pittsburgh from 2007 until mid-2009, when he was traded to the Braves and began an alarming decline in production.
When it was all said and done, all the 31-year-old could get was a one-year, $2 million deal to remain in Baltimore. He's not only picked up where he left off at the end of last season, he's been even better with a slash line of .297/.376/.440 with 17 stolen bases in 47 games.
If he can keep up the pace of a 50 stolen base season and an on-base percentage above .350, he'll get at least a three-year deal in the neighborhood of $30-36 million.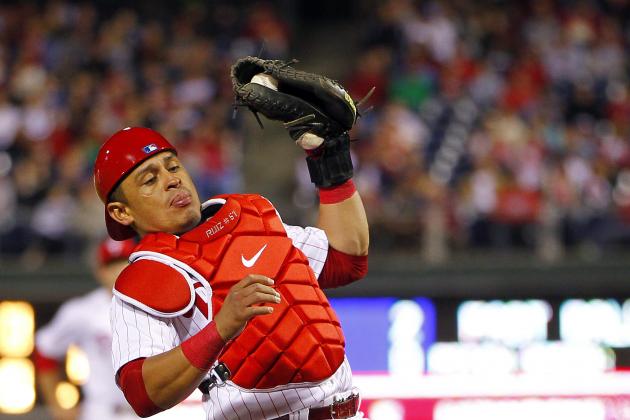 Rich Schultz/Getty Images

Stock down!
A breakout season at age 33 came a year too soon for Ruiz, who won't be a free agent until after a 2013 season in which he's already served a 25-game amphetamine suspension and then posted a measly .561 OPS before landing on the disabled list after just 16 games because of a strained hamstring.
Unless the same hitter from 2012 (.934 OPS, 16 HR) shows up in the near future, Ruiz could have a hard time finding a starting job next season, let alone a big multi-year contract.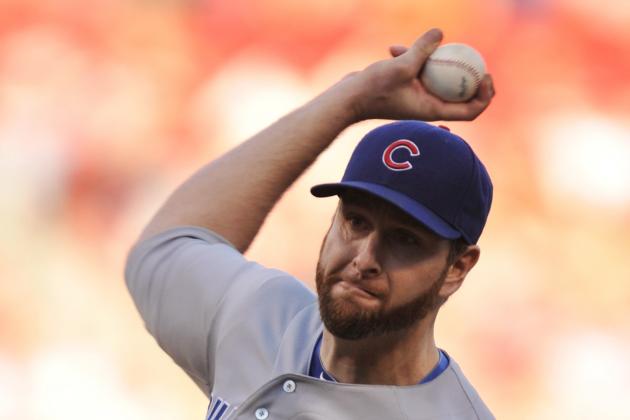 Jamie Sabau/Getty Images

Stock up!
The 30-year-old landed a one-year, $6 million contract with the Cubs after posting a 5.09 ERA in 2012. Now in the midst of his best major league season (2.82 ERA in 10 starts), Feldman won't get anything less than a three-year, $30 million deal if he can continue to deliver quality starts.
Feldman is unlikely to get anything near what teammate Matt Garza will be paid in free agency, but his value is certainly on the rise, and he'll be highly coveted this offseason.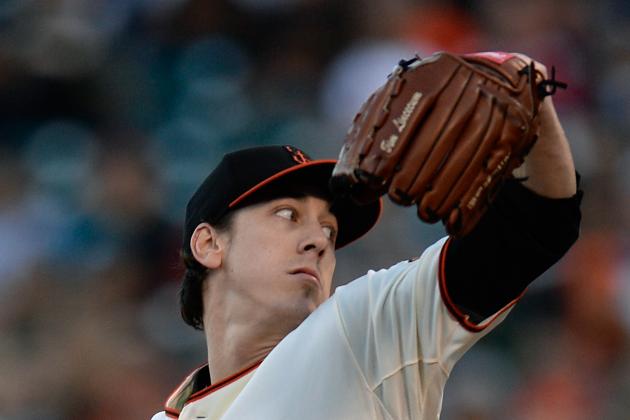 Thearon W. Henderson/Getty Images

Stock down!
For a two-time Cy Young award winner who'll reach free agency before the age of 30, Lincecum will sure be a risky signing this offseason. The 28-year-old has allowed at least four earned runs in seven of his 11 starts, and he has a 5.16 ERA and 4.3 BB/9 since the start of the 2012 season.
He won't get anywhere near what he could've earned had he continued as one of the best pitchers in baseball—Zack Greinke's six-year, $147 million deal would've been a starting point. A one-year deal with a high base salary might be the best move for Lincecum, so he can try to rebuild his value before hitting the free-agent market as a 30-year-old after the 2014 season.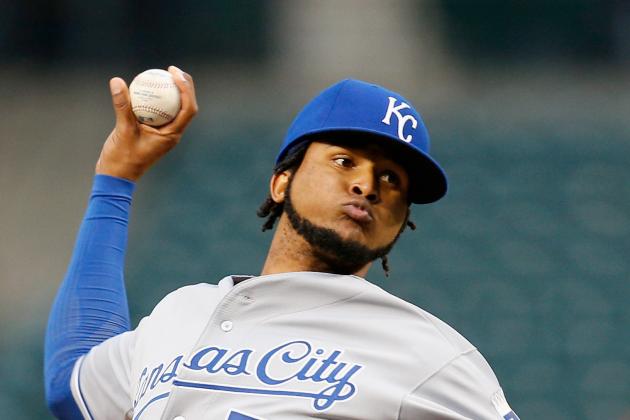 Rob Carr/Getty Images

Stock up!
There weren't many teams in baseball, if any, besides the Royals who were willing to take on Ervin Santana's $13 million salary (the Angels are paying $1 million) when the Angels were shopping him this offseason. With the way he's pitching now, there will be several teams willing to pay him that—and probably much more—on a multi-year deal for the 2014 season.
Through 10 starts, the 30-year-old has yet to be knocked out of a game before completing six innings and has pitched at least seven innings in all but three of his starts. With a 3.33 ERA, 11 walks and 57 strikeouts in 70.1 innings, Santana might be the top free-agent starter on the market if the offseason started today.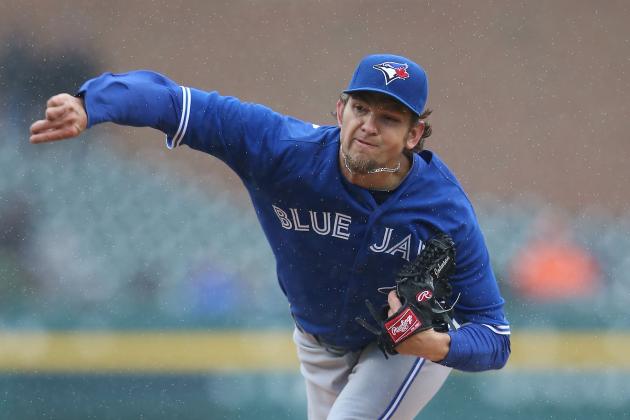 Leon Halip/Getty Images

Like Lincecum, Johnson was once considered to be one of the top starting pitchers in baseball after dominating over an 84-start span from 2008-2011 (36-13, 2.80 ERA, 2.5 BB/9, 8.5 K/9) before his career was sidetracked by a shoulder injury.
The right-hander returned to make 31 starts in 2012 but wasn't as effective as he had been previously. Traded to Toronto this past offseason, the 29-year-old landed on the disabled list after four starts with a triceps injury. He's set to return on Tuesday, where he'll try to give the Jays a boost, as well as his value, which has taken a hit with his six-week absence.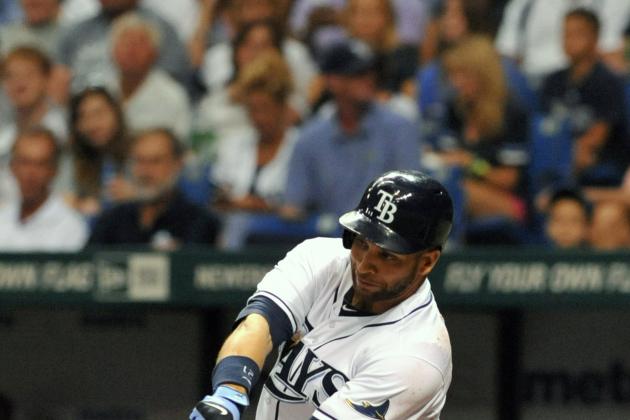 Al Messerschmidt/Getty Images

Stock up!
It was surprising that Loney even got a $2 million major league deal after a disastrous 2012, in which he posted a career-worst .629 OPS with six homers in 144 games with the Dodgers and Red Sox. It's a different story in 2013, though, as the 29-year-old is having his best major league season with a .331 batting average and seven homers through the Rays' first 54 games.
With four homers in his last six games, Loney is starting to show some power. A four-year deal worth $40-48 million wouldn't be out of the question if he finishes the season with a .300 average and 20 homers.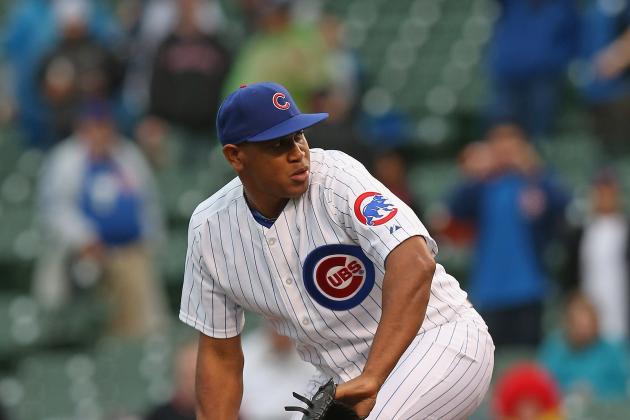 Jonathan Daniel/Getty Images

Stock down!
It's easy to forget Marmol's terrific finish to the 2012 season and what kind of value he'd have if he had been a free agent this past offseason. After the All-Star break, Marmol posted a 1.52 ERA with 12 saves in 13 chances and 39 strikeouts in 29.2 innings pitched. He was so bad in the first half that he lost his closer's job temporarily.
In a repeat of last season, Marmol lost his closing job after a shaky start. The 30-year-old is doing all he can to win it back, allowing just one earned run in his last 9.1 innings with one walk and 10 strikeouts. He might not get it back this time, though, with veteran Kevin Gregg doing a terrific job in the role.