Ranking the Best Pitcher-Hitter Combinations in MLB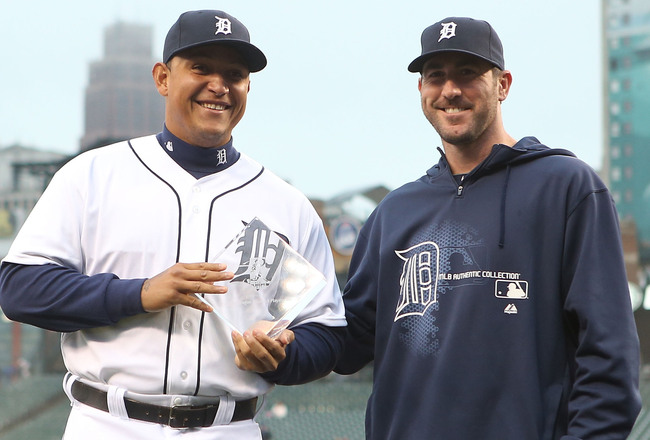 Leon Halip/Getty Images
Having a big-time starting pitcher leading the rotation or a big-time bat in the heart of a team's lineup is a prerequisite for success in baseball.
It's the teams who have both that are the most successful.
This isn't the MLB All-Star Game, where every team must be represented.
No, we are on a quest to find the best pitcher-hitter combinations in baseball—and then figure out who truly is the best of the best.
Basement-dwellers need not apply.
Detroit's Justin Verlander and Miguel Cabrera made the cut (obviously), but do they sit atop our rankings? Or have they met their match in perhaps a younger, up-and-coming combination?
There's only one way to find out.
*Unless otherwise noted, all statistics courtesy of Baseball-Reference.com and are current through games of May 31.
Honorable Mention
Brian Kersey/Getty Images
There are certainly more than 10 pairs of pitchers and hitters that are worthy of consideration and even more hitters who deserve mention but lack the corresponding impact pitcher to gain entry onto our list.
Had I extended this to a somewhat awkward-looking top 15, these duos would have been the next five in:
— Mike Minor and Justin Upton, Atlanta Braves
— Mat Latos and Joey Votto, Cincinnati Reds
—Jered Weaver and Mike Trout, Los Angeles Angels
— Yovani Gallardo and Ryan Braun, Milwaukee Brewers
— A.J. Burnett and Andrew McCutchen, Pittsburgh Pirates
10. CC Sabathia and Robinson Cano, New York Yankees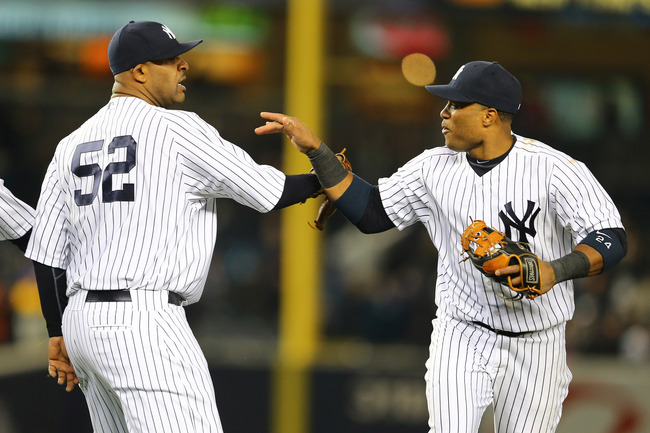 Al Bello/Getty Images
It's true that CC Sabathia hasn't been very Sabathia-esque in 2013, allowing at least four earned runs in a third of his starts on the season.
But the larger-than-life southpaw turned in his finest performance of 2013 on Friday night against the Boston Red Sox, reaffirming his standing as the team's ace and one of the best left-handed starters in the game—something that wasn't lost on B/R's Doug Mead:
Yankees' CC Sabathia Reestablishes Ace Status with Gem Against Boston Red Sox | Bleacher Report lnkd.in/zqk8t7

— Doug Mead (@Sports_A_Holic) June 1, 2013
Robinson Cano, meanwhile, has been a steadying force for a team whose lineup has been constantly changing throughout the season thanks to the rash of injuries that the Yankees are dealing with.
The best second baseman in baseball, Cano leads the team in nearly every offensive category and is among the league leaders in home runs (14), slugging percentage (.537) and OPS (.886).
9. Matt Moore and Evan Longoria, Tampa Bay Rays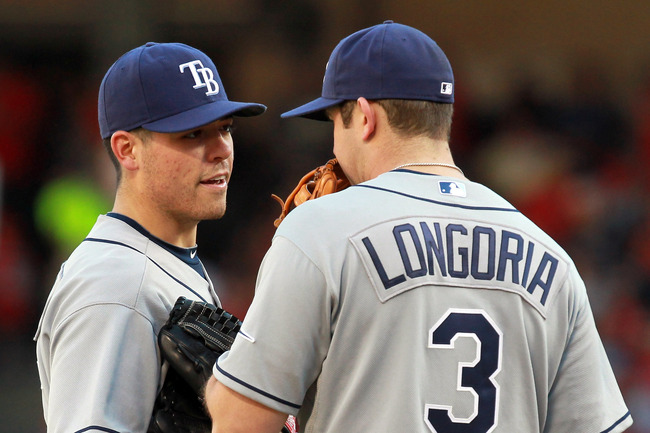 Ronald Martinez/Getty Images
Sooner or later, Matt Moore was going to replace David Price as the ace of Tampa Bay's rotation. But the expectation was that it would be after Price departed the team due to its financial restrictions, not while the reigning AL Cy Young Award winner was still a key piece of the puzzle.
Yet that's exactly what has happened this season, with Moore finally living up to the hype that made him one of baseball's most highly rated pitching prospects in each of the past three seasons.
Undefeated on the season, Moore's eight wins have him tied with Arizona's Patrick Corbin, Cleveland's Justin Masterson and Washington's Jordan Zimmermann for the most in baseball, while his 2.18 ERA is the third-lowest mark in the American League.
Entering the prime of his career, Evan Longoria has quickly reminded people why he is widely considered one of the premier third basemen in baseball when he's healthy—something that has evaded him in each of the past two seasons.
While he doesn't lead Tampa Bay in most offensive categories, it's no secret that the players who do—James Loney and Kelly Johnson—wouldn't be having the seasons they are without Longoria's imposing presence in the middle of the team's lineup.
8. Madison Bumgarner and Buster Posey, San Francisco Giants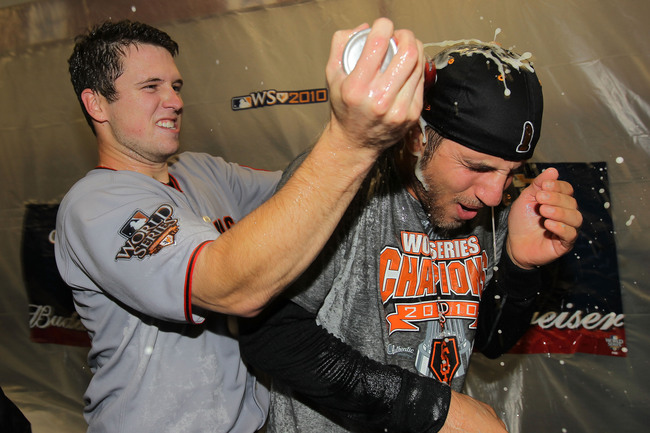 Doug Pensinger/Getty Images
Just as in Tampa Bay, a younger pitcher has forced his more ballyhooed teammate to abdicate his throne as the ace of the team's pitching staff in San Francisco.
While he was ineffective in May (1-3 with a 5.17 ERA in five starts), Madison Bumgarner has jumped ahead of Matt Cain as the best starting pitcher in the Bay Area, ranking eighth in the National League in strikeouts (69) and 10th in WHIP (1.04).
Posey may not be among the league leaders in any statistical category, but that doesn't mean that he's having a poor season.
With a solid .294/.382/.492 slash line, seven home runs and 31 RBI, Posey has been one of the most consistent hitters in the heart of the lineup for the defending World Series champions, firmly cementing himself as the best catcher in baseball under the age of 27.
7. Patrick Corbin and Paul Goldschmidt, Arizona Diamondbacks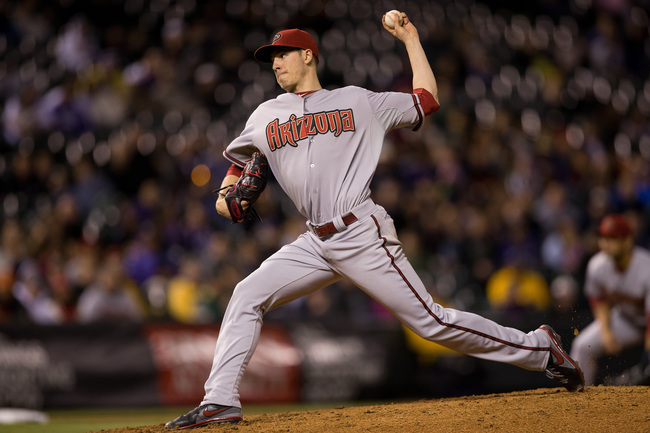 Justin Edmonds/Getty Images
In the revolving door that has been the role of ace on the Arizona Diamondbacks over the past few seasons, Patrick Corbin has stepped up and commandeered the spot for himself.
It's a good thing for Arizona that he did, with the team's past two aces, Ian Kennedy and Wade Miley, sitting with a combined 5-8 record, 4.86 ERA and 1.35 WHIP.
Corbin has seemingly come out of nowhere to lead the National League in wins (eight) and ERA (1.71), with a WHIP (1.02) that ranks among the league's 10 lowest.
Goldschmidt, who broke out in 2012, is breaking out once again this season.
Hitting .330 with 12 home runs and 41 RBI, the 25-year-old is among the league leaders in multiple offensive categories and has more than effectively replaced Justin Upton's production in the heart of Arizona's lineup.
6. Stephen Strasburg and Bryce Harper, Washington Nationals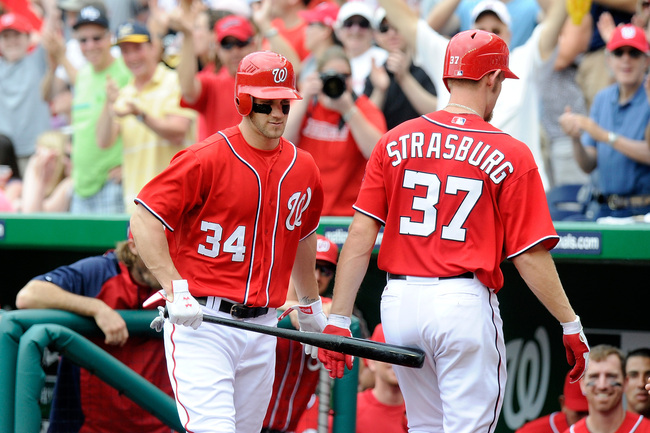 Greg Fiume/Getty Images
The two most heavily hyped prospects in recent memory, Washington's Stephen Strasburg and Bryce Harper continue to make strides in their development and are, without question, the pitcher-hitter combination with the most upside of any in the game.
Amazingly enough, Strasburg has been overshadowed this season by his uber-talented rotation-mate, Jordan Zimmermann, which is made even more amazing when you consider Strasburg's numbers on the season: a 2.54 ERA, 1.06 WHIP and 73 strikeouts in 74.1 innings pitched.
Harper, meanwhile, has been the one bat in Washington's lineup that manager Davey Johnson has been able to count on when he's in the lineup.
Last year's National League Rookie of the Year leads the team in batting average (.294), on-base percentage (.386), slugging percentage (.587), OPS (.973) and home runs (12), the latter three among the highest in the National League.
While the duo atop our list currently has a stranglehold on the top spot, it won't be long before Strasburg and Harper are a serious threat to knock them off.
5. Matt Harvey and David Wright, New York Mets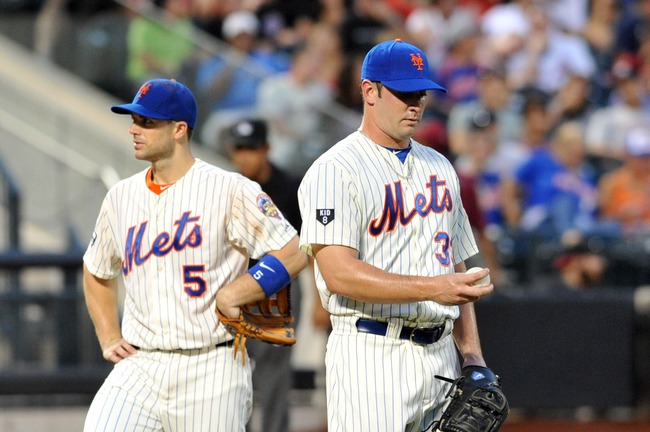 Jason Szenes/Getty Images
One of the best third basemen in the game for quite some time, David Wright continues to play at a high level and serve as a legitimate force in what has been an underwhelming offense in Flushing this season.
Wright ranks among the league leaders in walks (29) and stolen bases (11), posting a solid .283/.384/.476 slash line to go along with 20 extra-base hits (seven home runs), 30 RBI and 29 runs scored.
But it's Matt Harvey who has taken baseball by storm this season, staking claim to the title of "ace" on the team's rotation and establishing himself as one of the most exciting young pitchers in baseball.
Undefeated in 11 starts (5-0), Harvey's 0.82 WHIP is the lowest in baseball, while his 78 innings pitched, 84 strikeouts and 1.85 ERA are among the best marks of any pitcher in either league this season.
4. Adam Wainwright and Yadier Molina, St. Louis Cardinals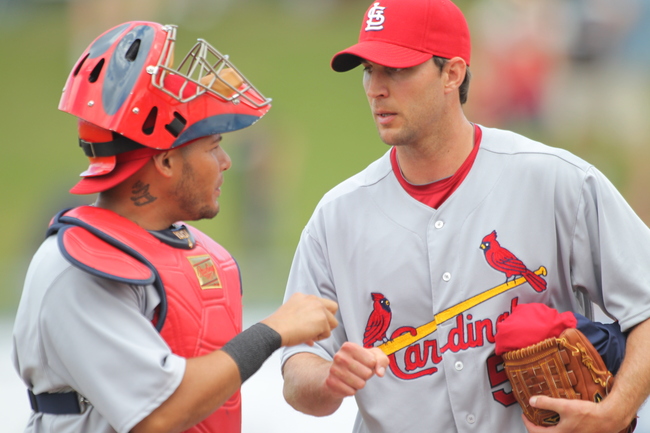 Marc Serota/Getty Images
When it comes to the traditional battery in baseball, no other team can compete with the pairing of Yadier Molina behind the plate and Adam Wainwright on the mound.
Wainwright, two years removed from Tommy John surgery, has been spectacular this season, with numbers that put him near the top of the National League leaderboards in nearly every pitching category.
Of all his gaudy numbers, the most impressive is this: Wainwright has issued only six walks in 80 innings of work while striking out 74 batters, which works out to a 12.33 K/BB ratio, the best in baseball. At his current pace, he will finish the season with 18 walks and 226 strikeouts.
Think about how insane that is for a second.
While Wainwright's talent and natural ability are the overriding reasons for his success, you cannot overlook the impact that Molina's game-calling acumen and skills behind the dish have had.
But Molina doesn't only impact the game with his glove, as he's developed into one of the game's premier-hitting backstops. His .353 batting average leads the Cardinals and is second in the National League, trailing Milwaukee's Jean Segura by .001 for the league lead.
3. Clay Buchholz and David Ortiz, Boston Red Sox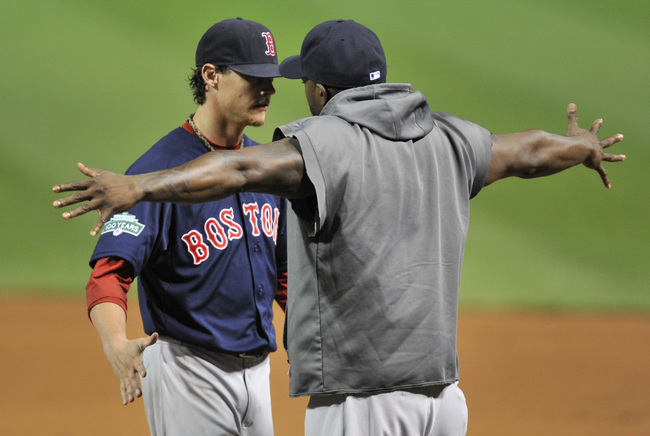 David Richard-USA TODAY Sports
\While Jon Lester and Dustin Pedroia might be more polished, Clay Buchholz and David Ortiz get the nod as the best pitcher-hitter combination in Boston—and one of the best in all of baseball.
Buchholz has allowed more than two earned runs and failed to pitch at least seven innings in only one of his 10 starts on the season. His 1.73 ERA leads the American League, while he lands among the league leaders in wins (seven), WHIP (1.05), walks (27) and strikeouts (73).
Ortiz, who leads the team in home runs with nine and whose 35 RBI are second on the team to only Mike Napoli (40), would rank among the league leaders in batting average (.333), slugging percentage (.609) and OPS (1.009) were it not for just falling short of the requisite number of at-bats to qualify.
For those who want to argue that Pedroia, hitting .336 on the season, should be the pick here, consider this:
| | | | | | |
| --- | --- | --- | --- | --- | --- |
| | G | AB | R | 2B | TB |
| Pedroia | 56 | 217 | 38 | 16 | 98 |
| Ortiz | 37 | 138 | 25 | 11 | 84 |
| Difference | -19 | -79 | -13 | -5 | -14 |
Had Big Papi not missed more than half of the season's opening month, it's fair to assume that he'd be ahead of his talented teammate in both runs and total bases.
2. Clayton Kershaw and Adrian Gonzalez, Los Angeles Dodgers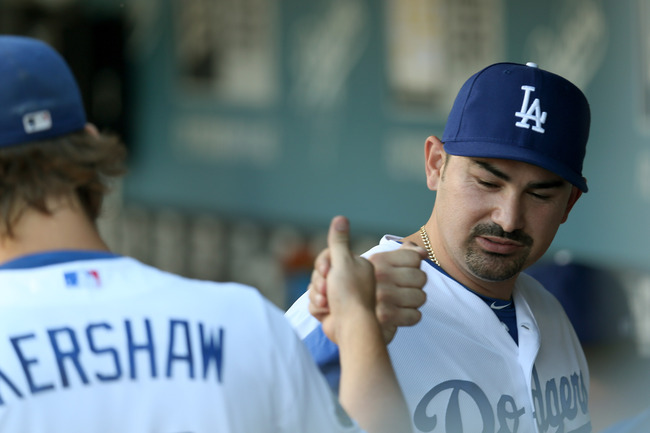 Stephen Dunn/Getty Images
Despite the fact that things may be crumbling around them, Clayton Kershaw and Adrian Gonzalez continue to perform at a high level in Los Angeles.
Kershaw, the best pitcher on the planet, ranks among the leaders in nearly every pitching category, including ERA (1.85).
His relatively mundane win-loss record (5-3) can be attributed to the fact that he doesn't get much run support. The 2.88 runs per game that the Dodgers score when he's on the mound is tied for the eighth-lowest in baseball with Philadelphia's Cole Hamels.
Adrian Gonzalez has done his best to help Kershaw pick up the victory when he's on the mound, hitting .297 with three extra-base hits (two doubles and a home run), seven RBI and a pair of runs scored in the 11 of Kershaw's starts in which he's played.
On the season, Gonzalez leads Dodgers regulars in nearly every statistical category, with his .324 batting average and 40 RBI among the National League leaders.
1. Justin Verlander and Miguel Cabrera, Detroit Tigers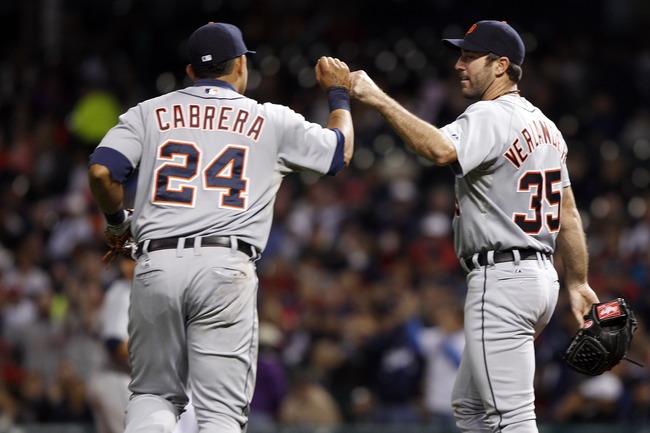 David Maxwell/Getty Images
When it comes to pitcher-hitter combinations, you can't beat Detroit's duo of Justin Verlander and Miguel Cabrera.
Winning back-to-back MVP awards and back-to-back Triple Crowns has a way of separating you from the rest of the pack.
While most other pitchers would be happy with Verlander's numbers on the season—6-4 with a 3.68 ERA and 1.36 WHIP—they are rather pedestrian for the ace of Detroit's staff. Yet, despite his struggles on the season, he remains one of the premier starters in all of baseball.
That said, Cabrera's numbers are so good that Verlander's struggles matter less when it comes to naming the best pitcher-hitter combination in baseball.
Cabrera is not only putting up MVP-caliber numbers again this season, but he's a legitimate threat to win another Triple Crown.
Three years, three MVP awards and three Triple Crowns?
That it's a real possibility only amplifies how incredibly good these two are—and how incredibly lucky the fans of Detroit are to call them their own.
Keep Reading