Updating Each MLB Team's Biggest Trade Asset Heading into June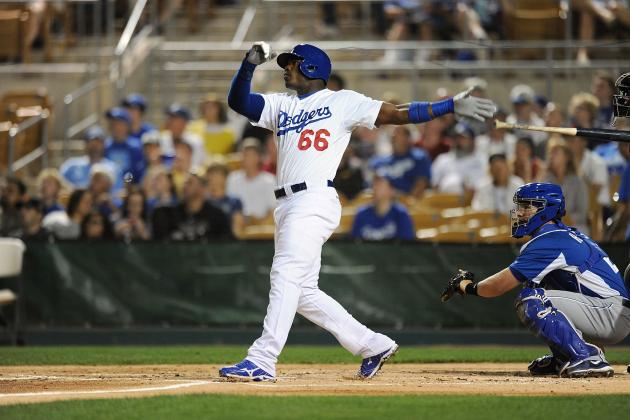 Norm Hall/Getty Images
Puig is the Dodgers' top trade chip if they were in playoff contention and were to go into "buy" mode, which is still undetermined.
As of today, there are still 24 teams who have a legitimate shot at a playoff spot, in my opinion, while the other six can already start looking ahead to 2014. More than half of those still in the playoff mix will probably fade out of contention in the next six weeks unless they get some help. Most of the remaining 12 teams will be looking for reinforcements to put themselves in a stronger position to go deeper in the playoffs if they do get in.
In other words, just about every team in baseball will be active on the trade market. Here's a look at each team's best trade chip as we head into June.
Begin Slideshow

»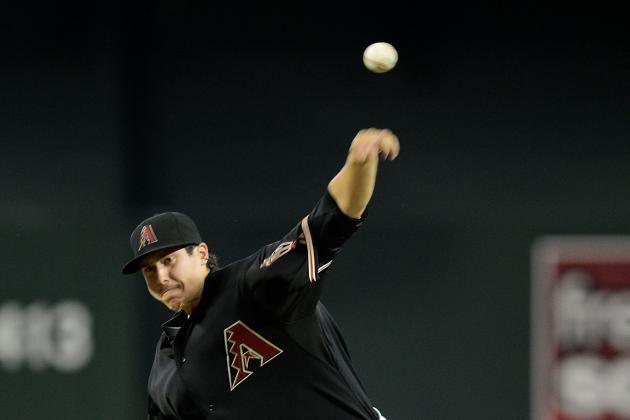 Jennifer Stewart/Getty Images

Fellow prospect Archie Bradley's stock is rising through the roof right about now, but I have to think the D'backs are more likely to trade Skaggs, their top prospect coming into the season.
The rotation already has two very good mid-to-back of the rotation lefties in Pat Corbin and Wade Miley, which could make the left-handed Skaggs expendable, as will the presence of Bradley (1.01 ERA, 62.2 IP, 44 H, 26 BB, 80 K in 11 starts between Double-A and High-A), a hard-throwing right-hander who could be the team's ace by 2015.
After getting knocked around for nine earned runs in his second start of the season, the 21-year-old Skaggs has been very good with Triple-A Reno and recently tossed six shutout innings in a spot start for the big league club. He'd bring back an impact big leaguer in any deal.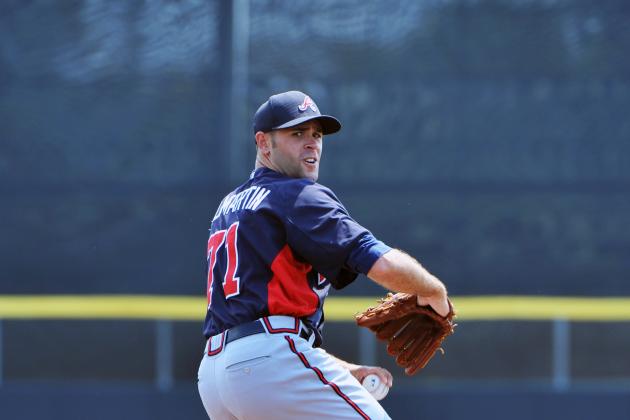 Al Messerschmidt/Getty Images

The rotation depth has taken somewhat of a hit with Double-A prospect J.R. Graham currently sidelined with a shoulder strain and teammate Alex Wood set to join the Braves' bullpen on Thursday as they look to find a replacement for injured lefty relievers Eric O'Flaherty and Jonny Venters.
That leaves Sean Gilmartin, the 28th overall pick in the 2011 draft, as the next best trade chip the Braves can potentially use to upgrade their roster. The 23-year-old lefty, who has a 4.06 ERA in nine Triple-A starts, is a near major league ready back-of-the-rotation starter who could help net the Braves a reliable setup man to bridge the gap to closer Craig Kimbrel.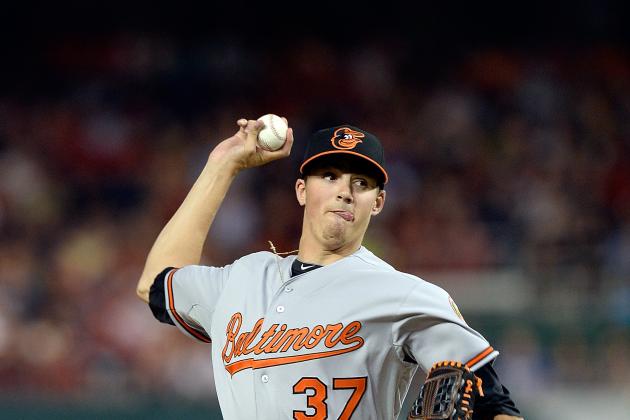 Patrick McDermott/Getty Images

The 22-year-old Gausman might have the best stuff in the Orioles' rotation but it doesn't mean he's ready for the majors. After allowing 11 earned runs and 15 hits in nine innings over his first two big league starts, Gausman could find himself back in the minors unless he rights the ship this weekend against a very good Tigers lineup.
While Gausman could likely figure things out after a few more starts and eventually help out in 2013, the O's aren't in a situation where they can wait on a young pitcher to develop. At 29-24, they're 2.5 games out in the AL East but are sorely missing a top-of-the-rotation starter that could push them over the top.
Using Gausman as a trade chip would pretty much make them players for the best pitchers available in a trade. That list could be very short, but it could include David Price if he can come back soon from a triceps injury and the Rays fall out of contention. If not a pitcher, Gausman could certainly help land them another impact bat and they could try to just out-slug everyone.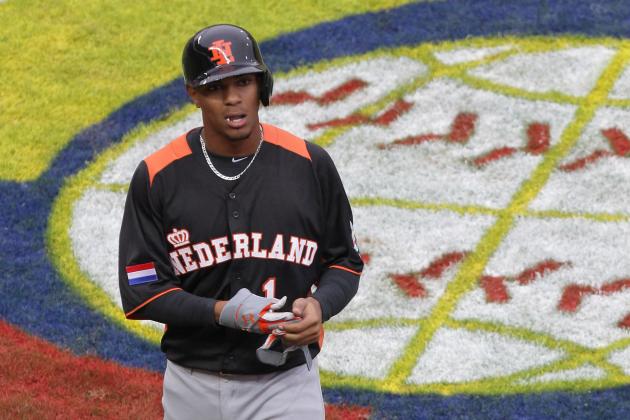 Chung Sung-Jun/Getty Images

Who wouldn't want a power-hitting shortstop—maybe third baseman depending on who you ask—who is putting up big numbers in Double-A at age 20? The answer is no one.
Although the home run power has been slow to come this season, Bogaerts had a two-homer game on Wednesday to give him four on the season to go with nine doubles, five triples and a .287/.372/.459 slash line. He's good enough to headline a package for the best hitters on the market, including Giancarlo Stanton if he can come back healthy soon and the Marlins made him available.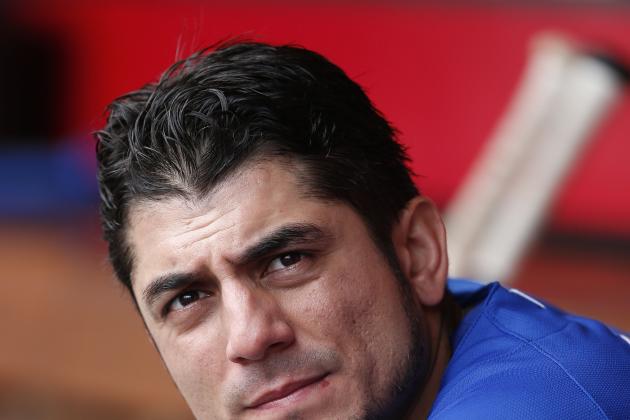 Joe Robbins/Getty Images

The Cubs actually have multiple players they can shop, including Scott Feldman and Alfonso Soriano, but it's Garza who could be the top starting pitcher available. He'll need at least a couple of weeks to build up his value, though.
In two starts since returning from a strained lat that had sidelined him since the start of the season, Garza has been really good in one (5 IP, 0 R, H, 3 BB, 5 K) and not so good in the other (4 IP, 4 ER, 4 H, 4 BB, 7 K). If he has a lot more good ones between now and mid-July, the Cubs could net a top prospect for what will be a rental of Garza for the final two-plus months of the season.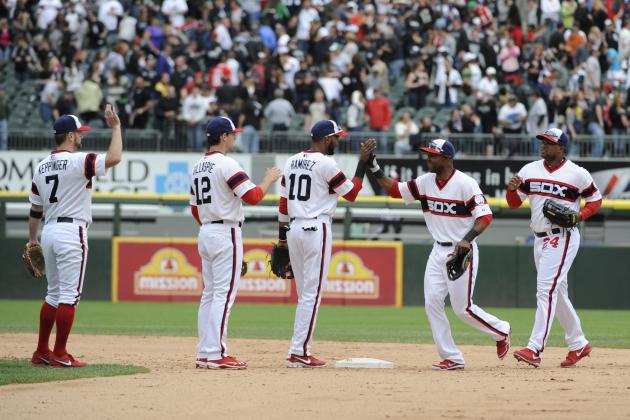 David Banks/Getty Images

The 23-year-old Johnson is moving quickly, reaching Double-A less than two years after being drafted in the second round of the amateur draft. The way he's dominated through 10 starts (2.15 ERA, 58.2 IP, 39 H, 15 BB, 58 K), he won't be long for the next level and could be in the majors for good by 2014.
If the Sox can continue to hang around in the AL Central—they're currently 24-26 and 4.5 games out—they could be looking for reinforcements in a month or two and Johnson might be the first player that teams in "sell" mode ask about.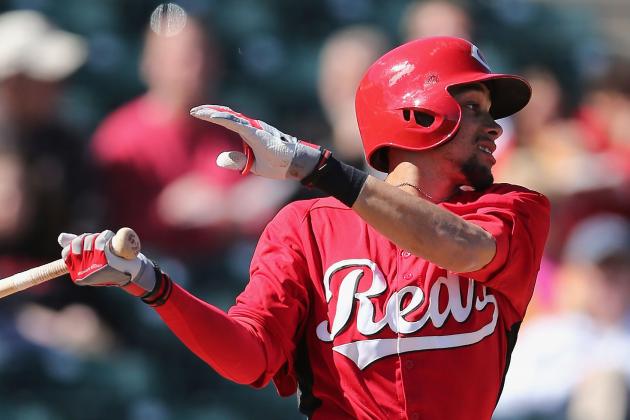 Christian Petersen/Getty Images

Making "6th starter" Tony Cingrani available in a trade is extremely risky considering the lack of depth behind him. They'd be banking on the five-man rotation staying healthy for the remainder of the season. And while Hamilton could be the Reds' starting center fielder on Opening Day 2014, they'll have an entire offseason to figure out an alternative if they decide to trade him this season.
His stock has dropped a bit with a slow start in Triple-A, but the 22-year-old, who had a record-breaking 155 stolen bases between Double-A and High-A in 2012, has gotten it going the past few weeks (.429 OBP in last 10 games) and it's likely most teams would jump at the chance to acquire a potential game-changing leadoff man.
Jamie Squire/Getty Images

The Indians, despite an impressive offseason in which they landed Michael Bourn, Mark Reynolds and Nick Swisher, could still use another impact player on their roster if they want to stay close to the Tigers and possibly even beat them out for the division title.
Being aggressive in free agency has paid off as the team is 28-24 and only 1.5 games out in the AL Central. Being aggressive on the trade market could mean dangling one of the best prospects in baseball, shortstop Francisco Lindor.
The 19-year-old, who is in line to replace Asdrubal Cabrera when he departs as a free agent after the 2014 season, has an .893 OPS in High-A with 13 stolen bases in 49 games. A trade involving Lindor is unlikely unless an impact player under team control for at least three more seasons became available.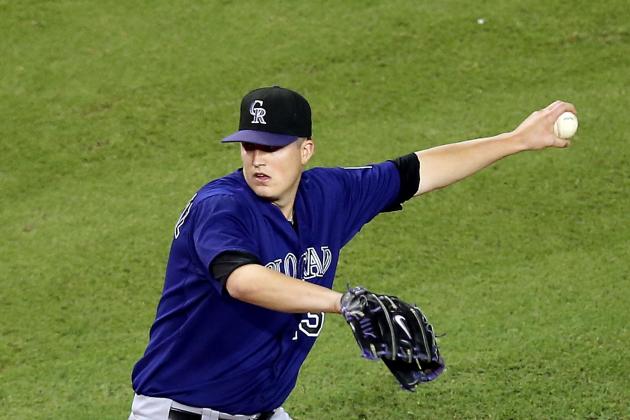 Christian Petersen/Getty Images

One of the best pitching prospects in baseball when he was acquired from the Indians in the Ubaldo Jimenez deal a few years back, Pomeranz is putting up solid numbers in Triple-A Colorado Springs (4.02 ERA, 56 IP, 53 H, 21 BB, 62 K in 10 starts) after spending most of the 2012 season in the big league rotation.
It's surprising that he's in the minors considering he was one of the few bright spots of last season's disaster—he was only one of two pitchers with an ERA under 5.00 (Jhoulys Chacin was the other)—but the Rockies have played well and are near the top of a very winnable division.
They don't have enough starting pitching to pull it off, in my opinion, so if the 24-year-old Pomeranz isn't going to be a solution, they should trade him for a more reliable veteran who could help push them over the top and back into the playoffs.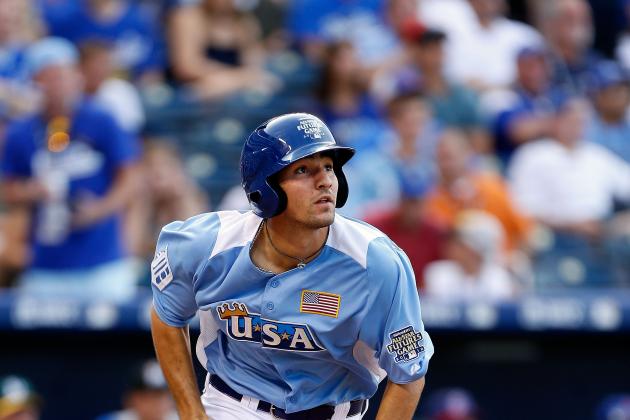 Jamie Squire/Getty Images

It wouldn't be much of a surprise if Castellanos is playing left field on a semi-regular basis for the Tigers at some point in the second half of the season. The 21-year-old has an .830 OPS this month for Triple-A Toledo and has eight hits in his last 17 at-bats, including a homer and two doubles.
A rookie could only have so much of an impact, however, on a team with World Series aspirations. His biggest contribution to the 2013 team could be the impact corner outfielder he could bring them back in a trade.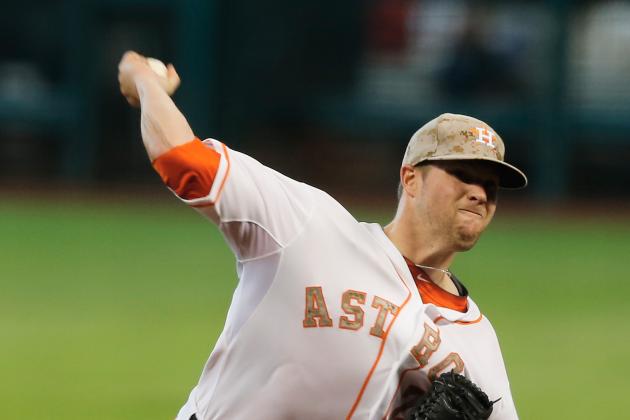 Scott Halleran/Getty Images

It's not always pretty (72 hits allowed in 63 IP) but Norris is giving a very bad Astros team a chance to win nearly every time he takes the mound. The 28-year-old has quality starts (at least 6 IP with 3 ER or less) in five of his last six outings and has made it through the seventh inning in four of 11 starts.
While the Astros don't necessarily have to trade their ace, who is under team control through 2015, general manager Jeff Luhnow is certainly going to consider a deal that could potentially make the team better in the future.
Losing Norris for 10-15 starts could mean that the team loses 120 games instead of the 112 they're on pace for. If Luhnow feels confident he could replace Norris' production in 2014 and 2015 and add to his much-improved farm system now, look for him to pull the trigger.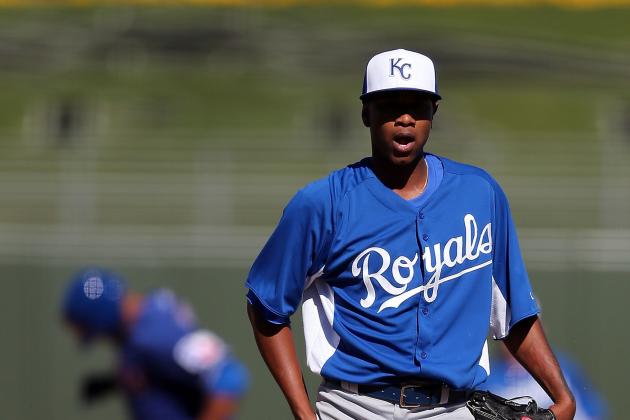 Christian Petersen/Getty Images

The Royals have gone into a free fall, dropping eight games in a row to land in the AL Central cellar. It's still too early, however, to start talking about who they might be willing to trade if they went into "sell" mode. Regardless, I'll do it anyways. Ervin Santana and James Shields would be on the short list.
But in case they're able to get back on track and get within striking distance of a playoff spot within the next month or two, they do have a handful of prospects who could help them land an impact bat to replace one of several black holes in their lineup.
Right-hander Yordano Ventura is likely at the top of that list with his upper-90s fastball and a big league ETA of 2014. At just 21 years old, he's succeeding at the Double-A level (2.56 ERA, 52.2 IP, 37 H, 17 BB, 68 K in 10 starts).
With starting pitching an area of strength in the organization, they could afford to trade pitching for an impact hitter as opposed to waiting for guys to get it going or bringing in one of the greatest hitters in franchise history to be their hitting coach.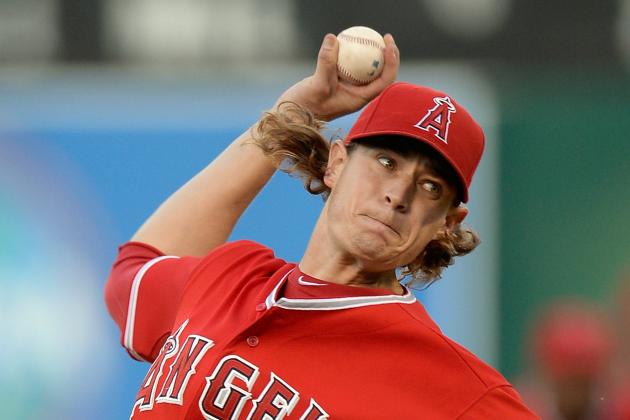 Thearon W. Henderson/Getty Images

Don't count the Angels out just yet! They're showing some signs of life with nine wins in their last 11 games and have ace Jered Weaver back after he missed nearly two months with a fractured elbow.
If they need another shot in the arm, don't look to the farm system for any immediate help. Also don't expect the group of prospects they have to bring back an impact player. They'll likely have to trade someone from their big league roster to upgrade in another area.
The bullpen has the potential to be very good if tit can finally get back to full health—Ryan Madson and Sean Burnett are on the disabled list with injuries. If that does happen, Garrett Richards' role in the 'pen could become less important and they can shop him to a team who thinks he can still be a very good starting pitcher.
In four starts earlier in the season, the 25-year-old was dominant in one (7 IP, 0 R, 2 H, 0 BB, 8 K) but was shaky in his other three (16 ER in 19 IP). On a non-contending team, he could develop in the big league rotation and would have more of an opportunity to prove he can be a capable starter.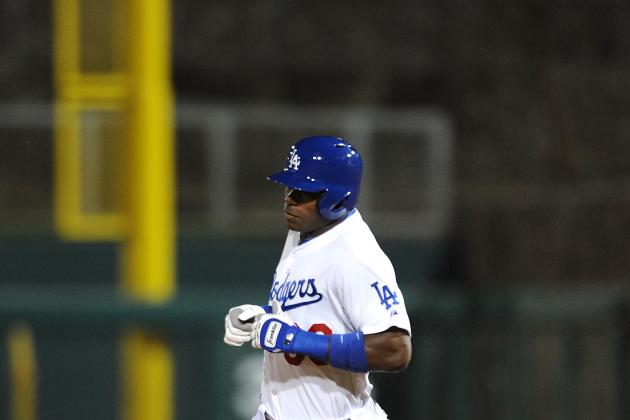 Norm Hall/Getty Images

As bad as things have gone for the Dodgers, they're only 7.5 games out in the NL West and have more than enough talent on the roster to make a strong second half run. A healthy Hanley Ramirez and Matt Kemp would make a huge difference.
For them to even consider adding to the 25-man roster, though, the current squad will have to get it going and build some momentum heading into late July. As much sense as it might seem for general manager Ned Colletti to trade Andre Ethier to make room for Yasiel Puig in right field, it's not that easy.
Ethier is still owed a ton of money and he's doesn't appear to be anywhere close to the same hitter who earned that deal. A few teams could use him, but they're not paying the $75-plus million he's due between now and the end of the 2017 season. The Dodgers would have to eat a huge chunk of that salary.
At the same time, Puig is a raw talent and is no sure thing to make the jump from Double-A to be an impact major league hitter. The win-now move is to trade Puig for another impact player. It may not be the smart move, but since when is a team with an estimated $216 million payroll not in win-now mode?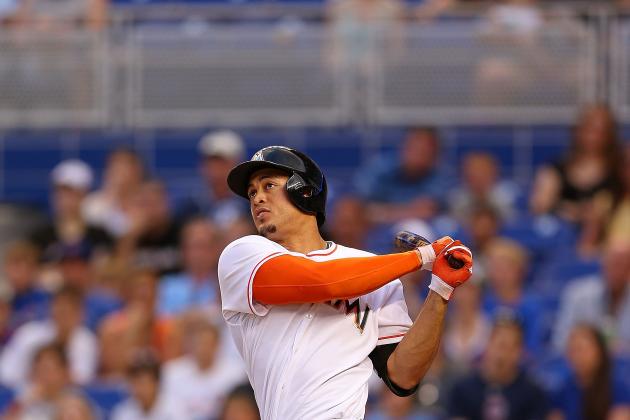 Mike Ehrmann/Getty Images

Still at least a few weeks away from returning to action from a hamstring injury, Stanton's name could dominate the rumor mill from the day he steps back on the field. The Marlins are on pace to lost 120 games and a healthy Stanton probably won't be enough to avoid it.
While he stands to be the face of the franchise for the next several seasons—he's under team control through 2016—the Marlins will at least take offers and could make a move if they can land a couple of elite prospects in return. Several contenders could use a power-hitting corner outfielder and there may even be a few, including the Boston Red Sox and Texas Rangers, that can put together an impressive enough package of talent to entice the Marlins.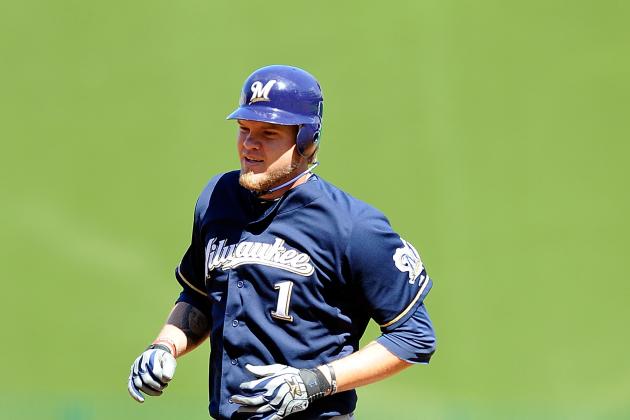 Patrick McDermott/Getty Images

Since putting together a nine-game winning streak last month, the Brew Crew is only 8-24 and could be dead in the water by the time Corey Hart returns from a knee injury that's kept him out of action since the start of the season.
The 31-year-old, who has averaged 29 homers and 83 runs batted in over the past three seasons, could make it back sometime in June, just in time to prove he's healthy and capable of helping a contender down the stretch.
Hart can block trades to 15 clubs, which could lessen the chances he's dealt, but he could be motivated to waive the no-trade clause in order to play in a pennant race before he reaches free agency after the season.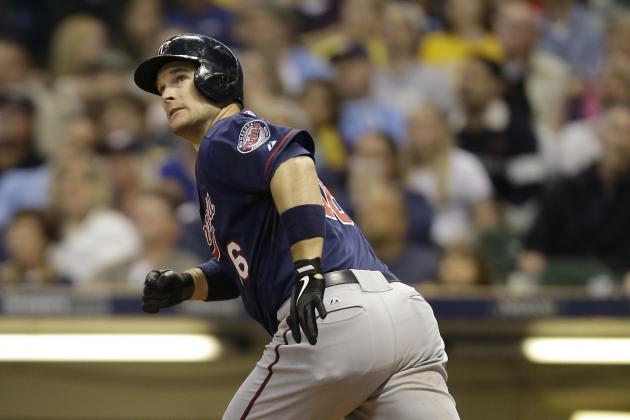 Mike McGinnis/Getty Images

The Twins have some talented pitching prospects closing in on the majors with Kyle Gibson expected to be in the rotation very soon and Trevor May and Alex Meyer possibilities for 2014. The position player talent is even more impressive with Byron Buxton and Miguel Sano two of the top prospects in the game. But they aren't likely to arrive sooner than 2015.
Fielding a competitive lineup in 2014 could be tough if they trade away one of their best hitters. So the Twins could have a tough decision to make over the next two months. Do they trade slugger Josh Willingham, while his value is highest because he's signed for another season at a bargain rate ($7 million), or keep him around so they won't have to worry about trying to replace his production this upcoming offseason?
With as many teams that will have strong interest in the 34-year-old, I think they trade him and worry about finding another middle-of-the-lineup hitter before the start of next season.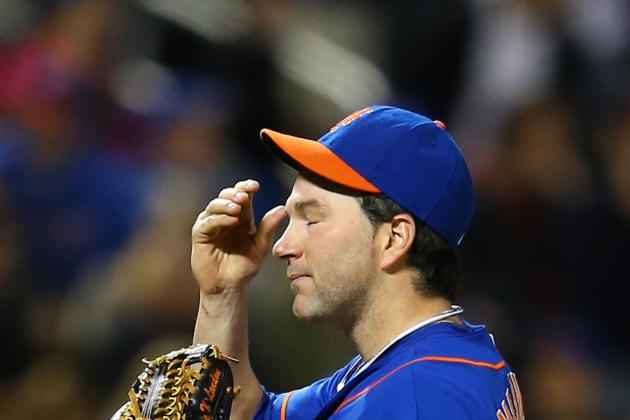 Al Bello/Getty Images

The best thing that could happen for a non-contending Mets team is to have a guy like Marcum, who is a free agent at season's end, build up his trade value by stringing together some impressive starts.
Since returning from the disabled list in late April, the 31-year-old has pitched better with each start, including his no walk, 12-strikeout performance on May 26th. There won't be many contenders who are completely happy with their rotation and Marcum would be one of the top back-of-the-rotation options who won't be overly costly in a trade.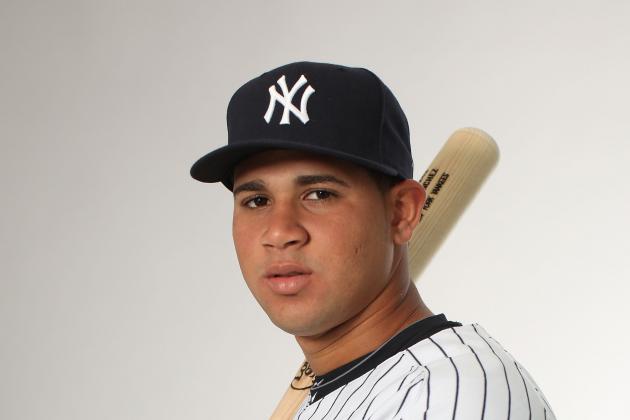 Nick Laham/Getty Images

As the Yankees continue to get healthy—Mark Teixeira and Kevin Youkilis are expected to return from the disabled list on Friday—they could have all the help they need to lock down a playoff spot. And in a year where they've gotten it done without a big name leading the way, it might not make sense to go after big-name player in a trade.
It's not that they don't have the resources, though. The team's needs aren't clear as of yet with so many injuries but should a clear hole in the roster develop over the next month or two, they have some talent in the low minors that would certainly draw interest.
Blue chip prospect Gary Sanchez, a power-hitting catcher who has an .841 OPS as a 19-year-old for High-A Tampa, would top the list and could be a strong centerpiece in any deal for an impact major leaguer.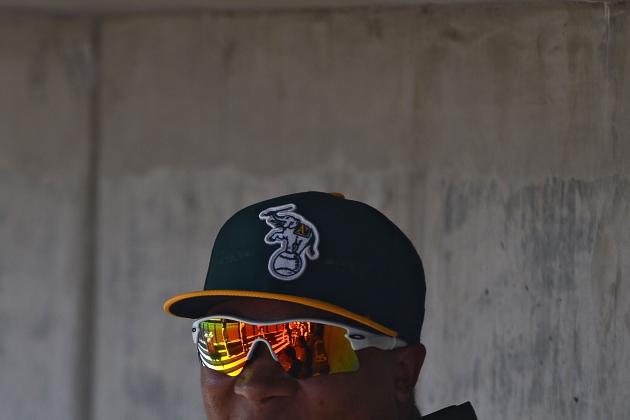 Jennifer Stewart/Getty Images

If the A's pick up Coco Crisp's $7.5 million club option for 2014—a strong possibility given his strong start to the season (.853 OPS, 10 SB), next season's outfield picture could be just as crowded as it is in 2013, which might not be great news for prospect Michael Choice. The 23-year-old is handling Triple-A just fine right now (.876 OPS in 50 games) and probably won't need a repeat of the level in 2014.
With the team clicking on all cylinders at the moment, it doesn't appear to need much help. But if a need arises in a month or two and it falls further behind the Rangers in the AL West, Choice could be a logical trade chip for the A's to add some help down the stretch.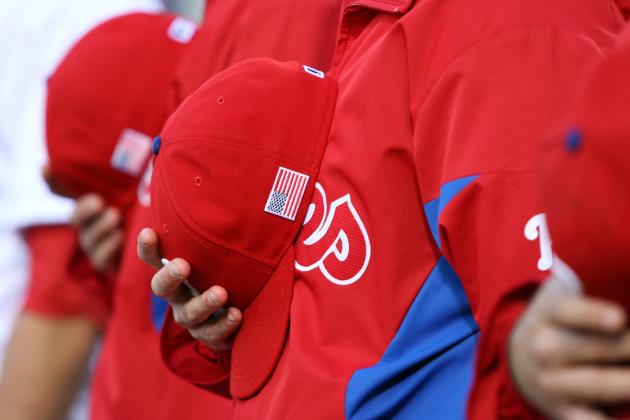 Hunter Martin/Getty Images

Despite speculation that the Phillies could possibly have a fire sale with a less-than-impressive roster in a tough division, they're still hanging around at 26-27 and 5.5 games out in the NL East. They've gotten unexpected contributions from Domonic Brown on offense (13 HR, 32 RBI) and Jonathan Pettibone in the rotation (3.21 ERA in seven starts).
However they're doing it, it's no mirage that their roster lacks enough talent to hang around for much longer. If there's any chance to avoid a free fall out of playoff contention and into "sell" mode, they'll have to act quickly and aggressively, which means their top pitching prospect might have to serve as a trade chip.
Biddle, the 27th overall pick in the 2010 draft, has been nearly unhittable in 10 Double-A starts. The 21-year-old lefty has held opponents to a .163 batting average while posting a 3.15 ERA with 66 strikeouts in 54.1 innings. He struck out 16 hitters while tossing one-hit ball over seven shutout innings on April 22nd.
In any trade scenario, Biddle will undoubtedly be the first player teams ask for and the guy the Phillies would have to give up in order to land an impact player in return.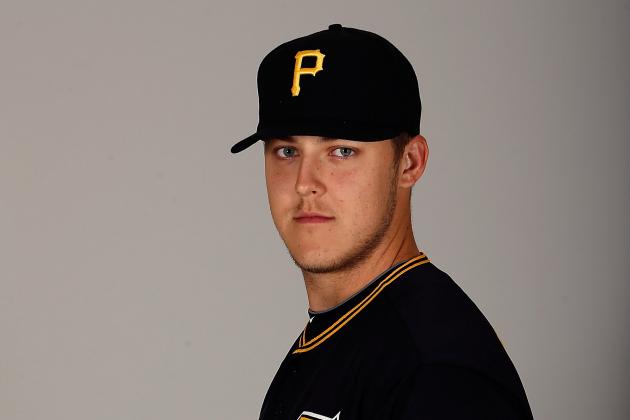 J. Meric/Getty Images

The Bucs are one of the few teams that have more than one prospect who could headline a deal for an impact player. Whether it's pitching prospects Gerrit Cole or Jameson Taillon (pictured) or High-A center fielder Gregory Polanco, who has seen his value skyrocket in the last year, the Bucs have the trade chips to go out and acquire any big-name player on the market.
While Cole is considered the better prospect, Taillon is not far behind and Cole has underwhelming results compared to his stuff. As a result, teams could lean towards the 21-year-old Taillon, who has a 3.26 ERA in 11 Double-A starts with 68 strikeouts in 60.2 innings pitched.
Using Taillon to add an impact bat to what may be the most talented Bucs roster in two decades might not be a bad move, especially if it helps to end their 20-year winning drought and gets them into the playoffs once again.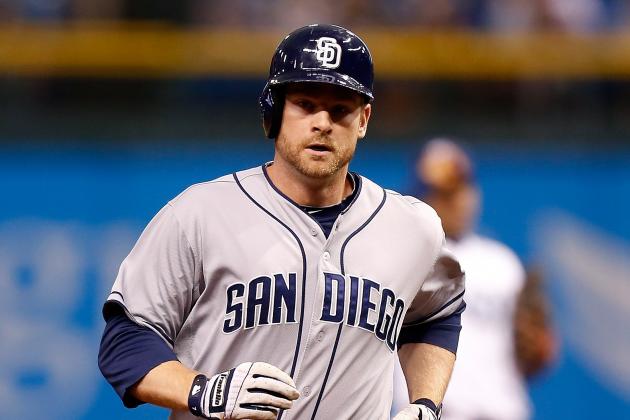 J. Meric/Getty Images

It's not out of realm of possibility that the Padres find themselves in "buyer" mode in July. They have a talented lineup and a pitching staff that is much better than it appears "on paper". While they don't really have an elite prospect who could headline a big trade, they do have plenty of depth and could put together a strong package of B-level prospects.
On the other hand, they could land that elite prospect if they were to fall out of contention and make third baseman Chase Headley available for a trade. Unfortunately, he appears to be back to the solid, yet unspectacular player he had been for years before turning into a superstar slugger in the second half of last season.
Before anyone else notices, the Padres should try to take advantage of the buzz that was created after he hit .308 with 23 homers and 73 runs batted in after the 2012 All-Star break and trade him soon.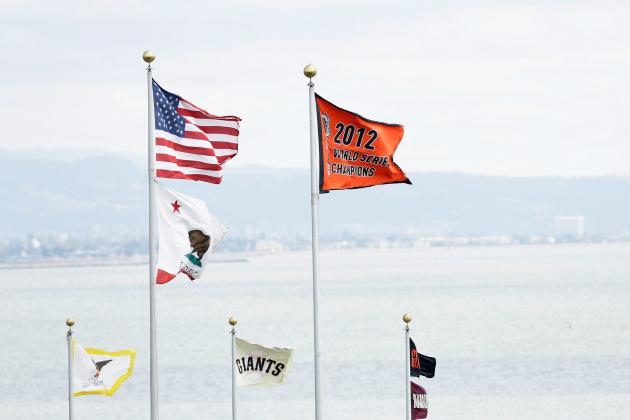 Ezra Shaw/Getty Images

Taking a look at a Giants team that is underwhelming on offense and without the dominant pitching that's often carried them over the last several years, it's time to wonder which trade(s) general manager Brian Sabean will make in order to spark his team this time around.
It's not difficult to pinpoint where the team needs help—left fielder Gregor Blanco has a .663 OPS. With several good pitching prospects down in the low minors, Sabean shouldn't find it too difficult to find an upgrade as long as he's willing to give up one of them.
Martin Agosta, Ty Blach, Clayton Blackburn and Chris Stratton are all intriguing prospects, but 20-year-old right-hander Kyle Crick is considered the best. Currently out of action with an oblique strain, Crick is coming off of a season in which he had a 2.51 ERA with 128 strikeouts in 111.1 innings with Low-A Augusta.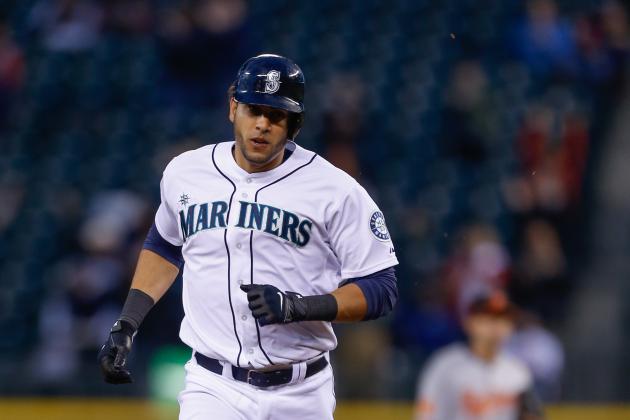 Otto Greule Jr/Getty Images

The M's will have several free-agents-to-be who they can shop if they're out of contention, including Jason Bay, Franklin Gutierrez, Raul Ibañez and Kendrys Morales, but none will be more coveted than Michael Morse, who would be a nice fit in the middle of a contending team's lineup.
The 31-year-old hit had six homers in the first nine games of the season and recently hit his 11th before a quad injury knocked him out of action for the time being. He can play either corner outfield spot, as well as first base, but a team that can use him as its designated hitter—the Orioles come to mind—would be an ideal landing spot for the right-handed slugger.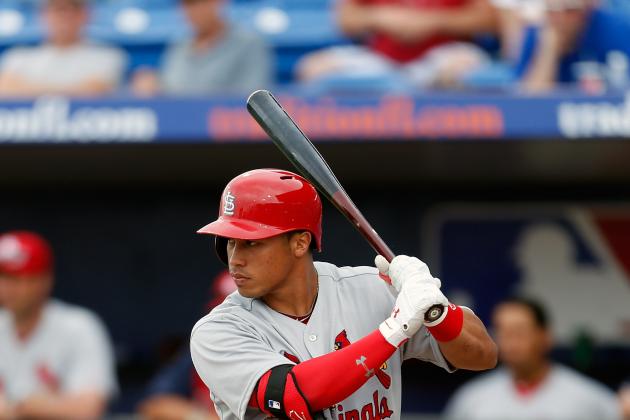 Chris Trotman/Getty Images

With a pitching staff that's been decimated by injuries, the Cardinals are unlikely to trade any of their pitching prospects. They're not likely to deal top outfield prospect Oscar Taveras, either. To be clear, they have the best record in baseball and shouldn't be expected to make any trades anytime soon.
But if their lead in the NL Central slips away—the Reds and Pirates are each 2.5 games out— there's a slight possibility they could get desperate enough to acquire an impact player and Wong might be their best bet to land one.
The 22-year-old, who has an impressive .335 batting average in 46 Triple-A games, could be starting at second base for several teams right now while the Cardinals are getting solid production out of Matt Carpenter in his first season at the position.
If Jake Westbrook can't return from an elbow injury, the pitching depth could be thin enough that the Cards are tempted to make a move.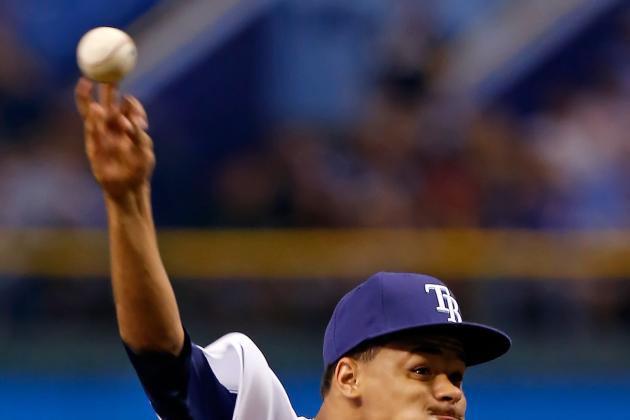 J. Meric/Getty Images

It appears that Archer could get his first start of the season on Saturday and, depending on how he fares, he could stay for good. When David Price returns from the disabled list in a few weeks, the Rays will likely choose between Roberto Hernandez, Alex Colome, Jake Odorizzi and Archer to fill out the rotation.
If they feel comfortable enough with one of the other three not named Archer, then they can potentially shop the guy who can get them the most back in a deal. That would be Archer. The 24-year-old hasn't pitched particularly great this season (3.96 ERA in 10 Triple-A starts), but he has the highest upside of any Rays pitching prospect and could be highly-coveted if the Rays are "buyers" at the trade deadline.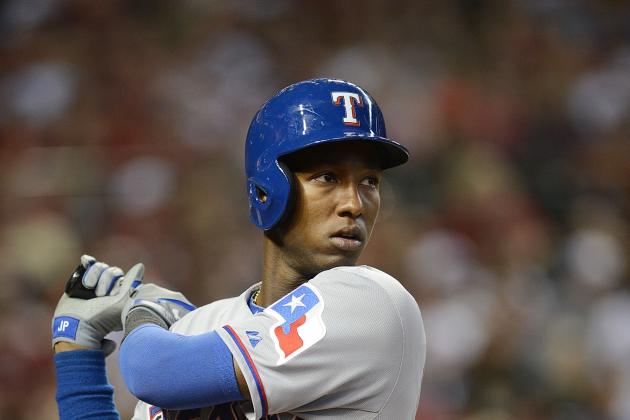 Jennifer Stewart/Getty Images

In what is expected to be a temporary stay in the majors, Profar sure is making the most out of his opportunity. In seven games, the 20-year-old is 10-for-27 with a homer and five runs batted in. This shouldn't surprise anyone considering he's the best prospect in the game.
When Ian Kinsler returns from the disabled list sometime next month, there's unlikely to be enough at-bats to go around so Profar would go back to Triple-A. That may not change until next season when they've cleared the second base job for him by moving Kinsler to another position.
Or maybe they cash in one of the best trade chips in baseball now and give their 2013 team a strong chance a World Series ring by acquiring another big bat (Giancarlo Stanton?) or No. 1 starter (David Price?).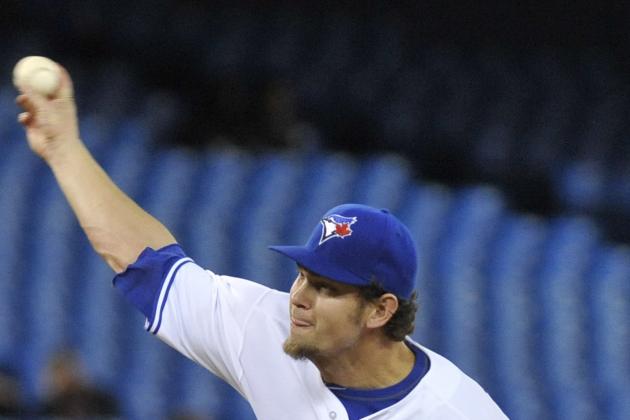 Brad White/Getty Images

The 23-30 Jays are talented enough to sneak back into the playoff race, especially if Josh Johnson pitches well after he returns from the disabled list. But what if he does and it's still not enough? Well, at least the Jays can take solace in knowing they have one of the top trade chips heading towards the trade deadline.
Close to re-joining the rotation after missing several weeks with a triceps injury, the 29-year-old Johnson has allowed a run and four hits in seven innings over two rehab starts. Previously, he had alternated good and bad starts through his first four outings before landing on the disabled list.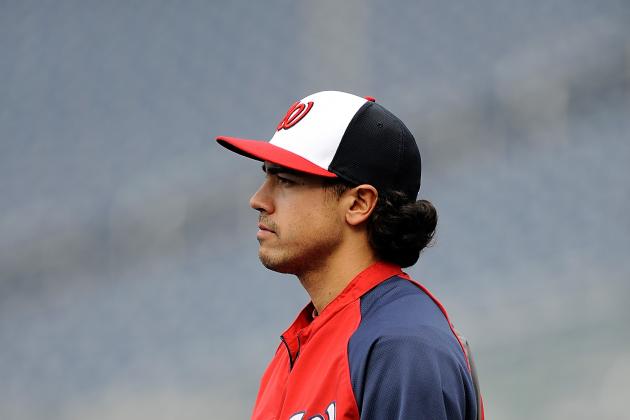 Patrick McDermott/Getty Images

Despite the struggles of second baseman Danny Espinosa (.487 OPS, partially torn rotator cuff, fractured wrist), the Nats don't appear to have any plans of moving top prospect Anthony Rendon to the position so he can potentially take over later this season.
As of now, he's insurance in case third baseman Ryan Zimmerman gets injured again. Zimmerman has been known to get injured on occasion, so there's really no sense of urgency in trading the 22-year-old Rendon just because he might be ready to produce in the majors.
If they continue to play uninspired baseball, though, as they have through 53 games (27-26, 4.5 games out in the NL East), they could use Rendon as a trade chip to acquire a big-name player who can help spark them.