San Francisco Giants: 6 Possible Replacements for Ryan Vogelsong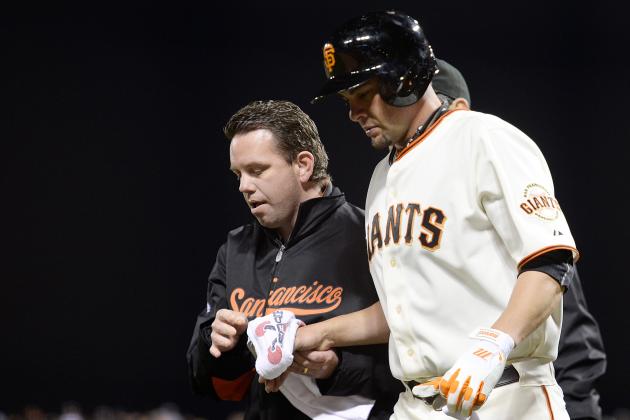 Thearon W. Henderson/Getty Images

After Ryan Vogelsong fractured his pitching hand on Monday night, the San Francisco Giants are faced with the decision of who will replace him in the starting rotation.
Despite the suddenness of the injury, it is likely that the leading candidates to fill Vogelsong's spot have already been placed under the microscope.
The right-hander's early-season struggles (1-4, 7.19 ERA in 9 starts) have been well-documented, and manager Bruce Bochy had recently broached the topic of skipping Vogelsong's turn in the rotation.
So now that the unfortunate injury has forced the Giants' hand, who is most likely to become the team's new fifth starter?
Since Vogelsong is expected to miss only 6-8 weeks, the replacement almost certainly will come from within the organization.
*All statistics courtesy of MLB.com and MiLB.com and current through May 20.
Begin Slideshow

»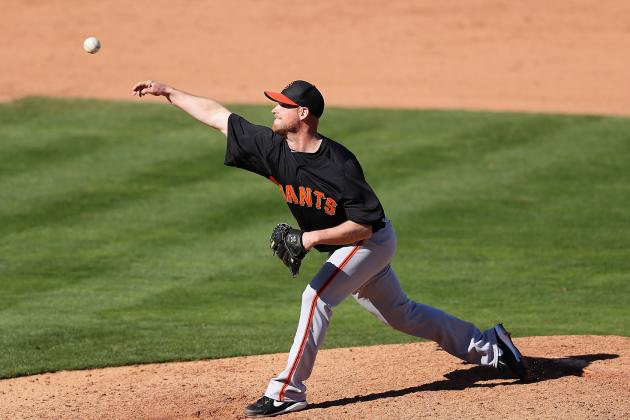 Christian Petersen/Getty Images
Gaudin has excelled in 2013 as the Giants' long reliever.
Another great find by veteran-loving general manager Brian Sabean, Chad Gaudin represents the most likely candidate to keep Vogelsong's rotation spot warm.
Gaudin has been used mostly as a long reliever this season, and the results cannot be denied. Through 25.2 innings, Gaudin has a nifty 2.10 ERA. Further, he leads all Giants relievers with 24 strikeouts.
The bearded righty is no stranger to the starting rotation. In his 11-year career, Gaudin has started 79 games. As recently as 2009, Gaudin made 25 starts between the San Diego Padres and New York Yankees.
In 2007—his only full season as a starter—Gaudin went 11-13 with a 4.42 ERA in 34 starts with the Oakland Athletics.
Andrew Baggarly of CSN Bay Area reported on Tuesday that Gaudin is expected to get the ball on Sunday, the day the fifth starter is next slated to pitch.
While Gaudin is clearly the best option on the roster, his conversion to the starting rotation would definitely weaken the Giants' bullpen, which currently ranks third in the league with a 2.82 ERA.
Rich Pilling/Getty Images
Mike Kickham has been pitching well in Fresno.
If the Giants elect to go with a minor leaguer, 24-year-old Mike Kickham would be the best option.
The left-hander—a sixth-round pick in the 2010 draft—has spent the entirety of the 2013 season pitching in Triple-A Fresno, where he's posted a 2-4 record with an ERA of 4.72. Through 47.2 innings, Kickham has fanned 50 batters.
While his overall numbers are not particularly impressive, he has pitched well of late. Over his last four starts (25 IP), Kickham has a cool 1.80 ERA. In that span, he's struck out 25 batters and walked only six.
According to MLB.com, Kickham ranks as the Giants' No. 12 prospect. Jonathan Mayo says of Kickham:
He has pretty good stuff from the left side with a fastball that touches 93 mph. It has good sink to it, eliciting many groundball outs. He has a curve and a slider and can vary them well. He maintains good arm speed on his changeup, giving him the chance for a four-pitch mix.
On merit alone, Kickham seems like a plausible replacement. But should the Giants choose to call him up, they would have to clear a spot on the 40-man roster.
This would not present a huge problem, as the Giants could easily part with Tony Abreu. The utility infielder has not played a game with the Giants and is currently on the 15-day DL.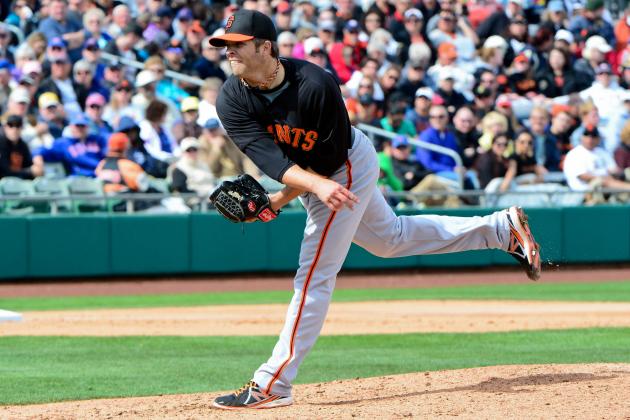 Matt Kartozian-USA TODAY Sports
Jusin Fitzgerald has finally made the jump to Triple-A in 2013.
Justin Fitzgerald, a UC Davis product and Santa Rosa native, is having his best minor league season to date.
After going 3-0 with a 1.09 in Double-A Richmond to begin the year, the big righty was promoted to Triple-A Fresno. In his first-ever Triple-A start, Fitzgerald allowed two earned runs in five innings while striking out four.
Though Fitzgerald is not considered a prospect (he turned 27 in March), he has had a very respectable minor league career. Overall, he is 32-23 with a 3.30 ERA in 572 innings pitched since being selected in the 11th round of the 2008 draft.
This season, he has struck out 45 batters through 38 innings.
If the Giants want to find out what they truly have in Fitzgerald, now could be the time.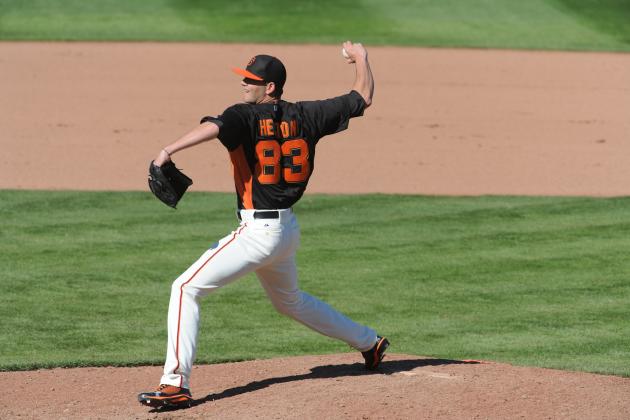 Rich Pilling/Getty Images
Chris Heston is looking to find success in Fresno.
A tall, lanky right-hander, Heston makes this list only because he is currently on the Giants' 40-man roster.
Despite being ranked as the Giants' eighth overall prospect by MLB.com, Heston has been a huge disappointment after his breakout season in 2012 (9-8, 2.24 ERA in Double-A Richmond).
Through nine starts this season with Triple-A Fresno, Heston is 5-2 with a 5.33 ERA. His 1.66 walks plus hits per inning pitched ratio (WHIP) suggests that he may not be able to handle big league hitters quite yet.
But the Giants still like his stuff. His MLB.com scouting report reads:
His sinking fastball may top out at around 92 mph, but he uses a good downhill plane and gets a lot of groundball outs with it. His big curve often has good bite and rotation and thanks to good arm speed, his changeup is effective and deceptive. He commands all of his pitches well, getting ahead of hitters regularly. His ceiling might be limited, but it's looking like his floor is too, with a future in the middle to back of a rotation coming soon.
While Heston—just 25 years old—is still trying to figure things out in Triple-A, he may soon be forced to put his skills to the test against major league competition.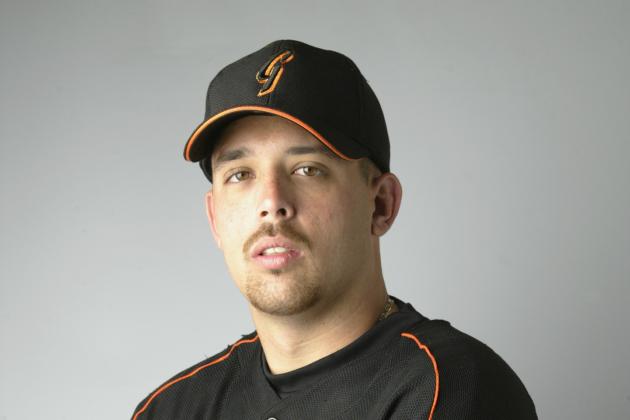 Jed Jacobsohn/Getty Images
Boof Bonser was the 21st overall selection in the 2000 MLB draft.
If the name sounds familiar, it's because the Giants shipped Bonser—a former first-round draft pick—to the Minnesota Twins in 2003 as part of the infamous A.J. Pierzynski deal.
Ten years later, it certainly would be fitting if Bonser were to fill in for Vogelsong.
After being drafted by the Giants, both pitchers struggled to find success at the big league level. Like Vogelsong, Bonser became a minor league journeyman before ultimately returning to where he started.
Bonser, however, has not had the same success that Vogelsong did upon re-signing with the Giants.
Through nine Triple-A starts, Bonser is 2-3 with a 4.89 ERA. His most recent start (7 IP, 2 ER) was his best of the season.
What may make Bonser an attractive option to the Giants is that he has major league experience. The numbers aren't pretty (19-25, 5.18 ERA), but Bonser has made 111 appearances in the big leagues, 60 of which have come as a starting pitcher.
Hey, it would be a fun story, if nothing else.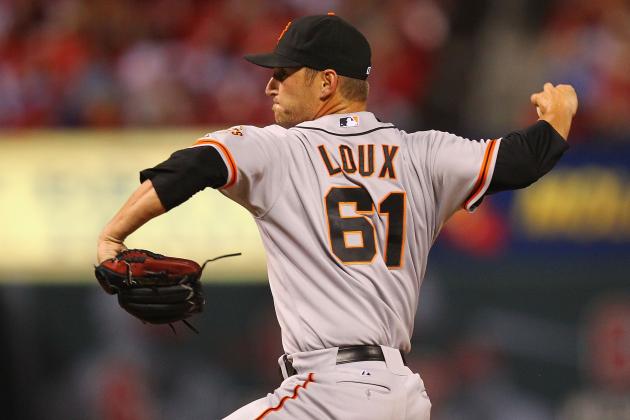 Dilip Vishwanat/Getty Images

Another Fresno Grizzly with major league experience, Loux is an uninspiring option at best.
The former Los Angeles Angel is 4-1 with a 3.68 ERA through seven starts in Triple-A. In 36.2 innings, he's managed only 15 strikeouts.
But Loux has been solid in his last three starts, allowing only four earned runs across 17 innings.
In 2012, Loux appeared in 19 games with the Giants and posted a 4.97 ERA over 25.1 innings. He has made 13 starts in his big league career.
The 33-year-old made his major league debut in 2002 as a member of the Detroit Tigers.