Struggling MLB Players Who Should Be DFA'd Immediately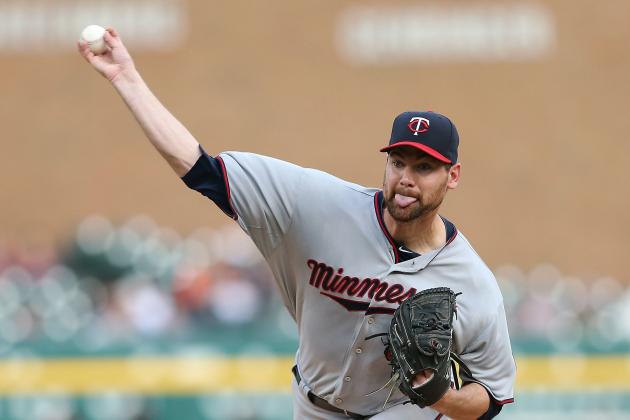 Leon Halip/Getty Images

There comes a point in every professional ballplayer's career when they simply can't cut it anymore.
Sometimes it's due to a major injury, other times it's the years of wear-and-tear that they have subjected their bodies to that simply takes its toll and makes them ineffective. Whatever the reason, the days of being a productive major league player are firmly behind them.
More often than not, it's up to the team that they play for to drive that last point home—by designating the player for assignment.
We've seen it on more than one occasion so far in 2013, with players like Derek Lowe and Jon Rauch being DFA'd by Miami and Texas, respectively.
They won't be the last.
With that in mind, let's take a look at a handful of players around the game who have become a detriment to their respective team's success and who those teams would be best served by cutting ties with.
Begin Slideshow

»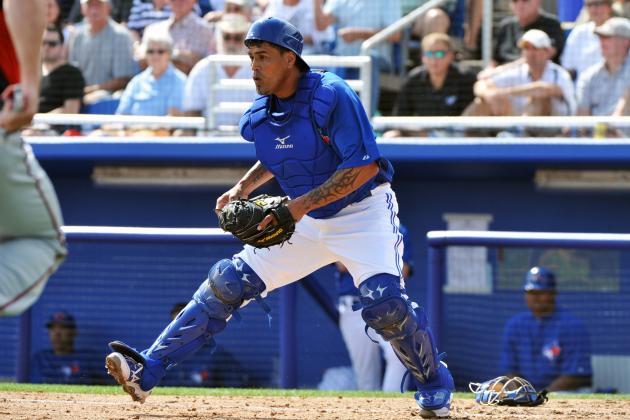 Al Messerschmidt/Getty Images

2013 Stats: 12 G, .167/.242/.233, 0 HR, 0 RBI
One of 13 active players to make their major league debut in 1997, Henry Blanco has enjoyed a long career as a backup catcher despite offering little-to-no production on offense, evidenced by his career .226/.290/.336 slash line.
Blanco, who celebrates his 42nd birthday in August, is simply incapable of playing for any extended period of time at this point in his career and when he does play, he's been largely ineffective. Of the 76 players who have caught at least one inning in 2013, Blanco's 5.72 CERA (via ESPN) ranks 72nd.
While part of the blame for that lies with Toronto's struggling pitching staff, starter J.P. Arencibia has a CERA of 4.61, more than a full run less than his veteran teammate. When Blanco does get into a game, he's not calling a good one.
Speaking of Arencibia, what happens if he gets hurt?
While the Blue Jays acquired a pair of catchers, Mike Nickeas and Josh Thole, in the trade that bought R.A. Dickey to Toronto, the pair has spent the entire season with Triple-A Buffalo. Both are capable of, at the very least, matching Blanco's mediocre performance while providing the team with a viable replacement should Arencibia be unavailable for whatever the reason.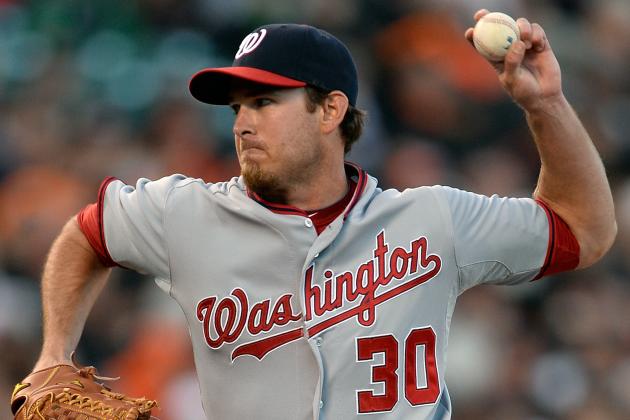 Thearon W. Henderson/Getty Images

2013 Stats: 10 G (1 GS), 1-0, 8.84 ERA, 1.80 WHIP, 4 BB, 11 K
Regardless of the level of competition or the role he's playing, Zach Duke has been more of a hindrance than a help to Washington in the team's attempt to defend its NL East title.
The splits don't lie:
| | | | | | | |
| --- | --- | --- | --- | --- | --- | --- |
| | G | W-L | ERA | WHIP | IP | H |
| As Starter | 1 | 0-1 | 10.80 | 2.10 | 3.1 | 7 |
| As Reliever | 9 | 0-0 | 8.40 | 1.73 | 15 | 22 |
| WP of .500 or Better | 7 | 0-1 | 8.59 | 1.84 | 14.2 | 23 |
| WP Below .500 | 3 | 0-0 | 9.82 | 1.64 | 3.2 | 6 |
To be fair, Duke has not allowed an earned run in five of his 10 appearances, so not every one of his outings in 2013 has been a colossal disaster. But being successful 50 percent of the time simply doesn't cut it in a major league bullpen.
While the Nationals don't have a Sean Burnett, Mike Gonzalez or Tom Gorzelanny waiting in the wings at Triple-A Syracuse, the team has already promoted one veteran southpaw, Fernando Abad, and when he returns from a concussion, J.C. Romero would be a logical option for the team as well.
Neither Abad nor Romero has been great in recent years, but aside from 15 innings down the stretch for the Nationals in 2012, neither has Duke.
The Nationals tried to catch lightning in a bottle with Duke and failed. The team might as well try its chances with someone else—they certainly couldn't be much worse than Duke.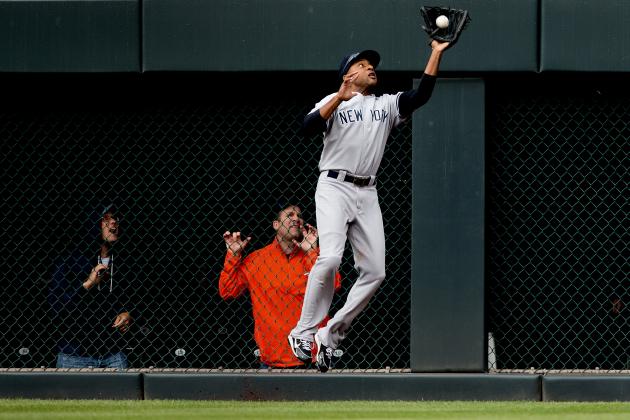 Justin Edmonds/Getty Images

2013 Stats: 21 G, .114/.220/.182, 1 HR, 1 RBI
Why is Ben Francisco still occupying a spot on the Yankees' 25-man roster?
Reporters asked GM Brian Cashman that very question and, as Andy McCullough of the Newark Star-Ledger notes, they got a rather interesting response:
Cashman on Ben Francisco's roster spot: "Just in terms of your fan comments section, just say I'm holding onto him to piss everybody off."

— Andy McCullough (@McCulloughSL) May 18, 2013
With the return of Curtis Granderson, the Yankees are now carrying five outfielders: Brett Gardner, Granderson, Vernon Wells,Ichiro Suzuki and Francisco. While Francisco offers a right-handed bat on a predominantly left-handed-hitting club, his lack of production doesn't justify the roster spot.
As the members of the team who are now on the disabled list return to action, it stands to reason that the team's hand is going to be forced—and that Francisco will be designated for assignment, if not released outright.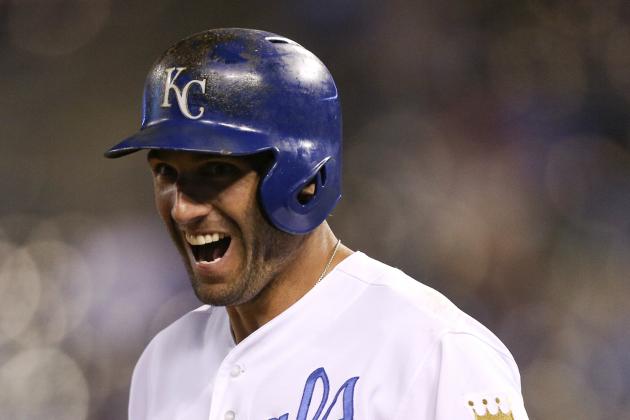 Ed Zurga/Getty Images

2013 Stats: 37 G, .226/.264/.316, 1 HR, 10 RBI
Since hitting .285 with 20 home runs, 85 RBI and 22 stolen bases in 2011, his first season in Kansas City, Jeff Francoeur has compiled a .233/.283/.366 slash line, 17 home runs, 59 RBI and six steals.
That's not good.
Dropped to eighth in the lineup, the 29-year-old outfielder has essentially become an automatic out. While he still has one of the best throwing arms in baseball, that asset no longer makes up for his lack of production at the plate on a Royals team that has its eye on contending for a playoff spot.
It's not as if the Royals don't have options to replace him.
Jarrod Dyson had begun to take playing time away from Francoeur before spraining his ankle and landing on the disabled list, while veteran Xavier Nady has been hitting well at Triple-A Omaha (.329 BA, 6 HR and 24 RBI in 37 games).
Making $7.5 million in the last year of his contract, his lack of production makes trading Francoeur nearly impossible, with designating him for assignment the most logical option for the team to cut ties with the underachieving veteran.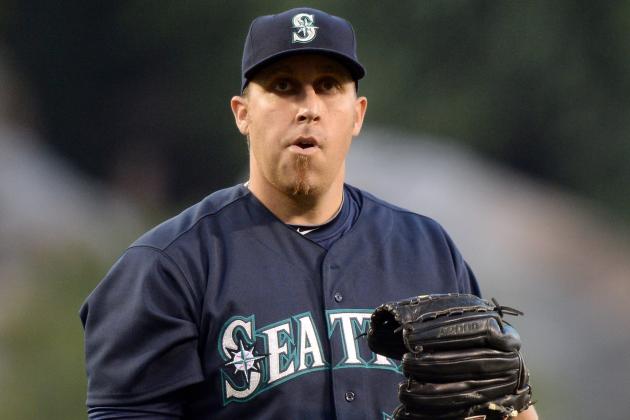 Harry How/Getty Images

2013 Stats: 6 G (6 GS), 1-5, 8.58 ERA, 1.55 WHIP, 5 BB, 27 K
It's bad enough that Aaron Harang hasn't made it through five innings in half of his starts in a Seattle uniform this season, including his latest outing against the Los Angeles Angels, a performance that garnered Twitter responses like this one from Geoff Baker of the Seattle Times:
Aaron Harang trying to singlehandedly revive the Angels offense. HR by Hamilton, RBI single by Pujols. #Mariners down 3-0 in 1st
— Geoff Baker (@gbakermariners) May 22, 2013
It's not like the Mariners don't have multiple options to replace him in the rotation—and I'm not even talking about the team's trio of highly-touted pitching prospects: Danny Hultzen, James Paxton and Taijuan Walker.
Either 26-year-old Andrew Carraway (5-1, 2.98 ERA) or 30-year-old big-league veteran Jeremy Bonderman (2-3, 3.79 ERA), both pitching for Triple-A Tacoma would be the logical choice to replace Harang in the starting rotation.
For a team that was supposed to have a more potent offense than it has in years, the Mariners have struggled to score runs in 2013, ranking 25th out of 30 MLB teams with 169 runs scored on the season.
Continuing to trot Harang out every fifth day, with his penchant for giving up home runs and inability to keep the opposition from putting runs on the board, is insane and only digging the Mariners a hole that its offense is unable to get the team out of.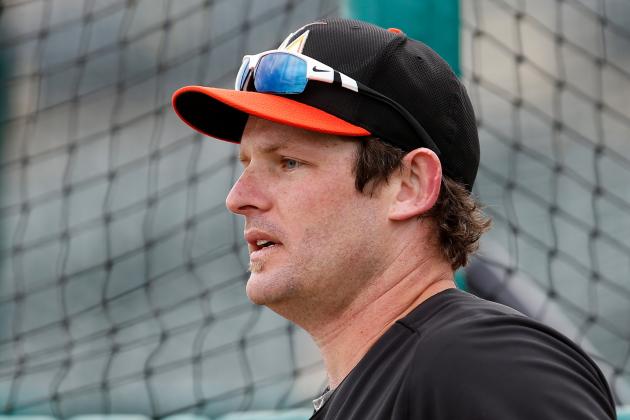 Chris Trotman/Getty Images

2013 Stats: 19 G, .185/.290/.185, 0 HR, 0 RBI
I hate to kick a guy when he's down, which is exactly what designating Austin Kearns for assignment, currently on the restricted list as he deals with some family issues, would be akin to doing.
But at some point even the lowly Miami Marlins need to move on from its failed experiment with the veteran outfielder, which is exactly what his tenure in a Marlins uniform has been. Kearns offers little in the way of offensive production and isn't a defensive whiz by any stretch of the imagination.
The team has plenty of middling players in the minor leagues (Gorkys Hernandez, for example), who could serve as a right-handed bat off of the bench and play the outfield when needed.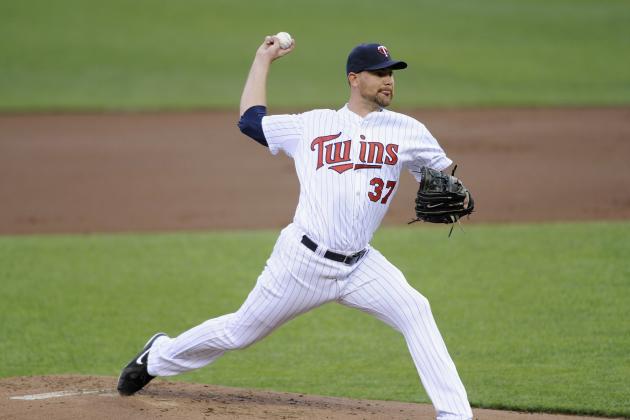 Hannah Foslien/Getty Images

2013 Stats: 9 G (9 GS), 3-4, 6.69 ERA, 1.81 WHIP, 12 BB, 19 K
When it comes to struggling players, finding one small sliver of success to build upon can be the key to turning things around.
As noted by one Twins fan, you have to dig deep to find that building block for Mike Pelfrey:
Mike Pelfrey fared pretty well during that rain delay. Didn't allow a hit or earned run. Gotta build on that.
— Parker Hageman (@OverTheBaggy) May 22, 2013
Things have gotten that bad for Pelfrey, once a top pitching prospect for the New York Mets.
Only two of his nine starts on the season qualify as quality ones, and since not allowing an earned run against Detroit in his first start of the season, Pelfrey has pitched to a 7.71 ERA and 1.89 WHIP.
It's time for the Twins to shake things up, and that includes getting Pelfrey as far away from the major league rotation as possible.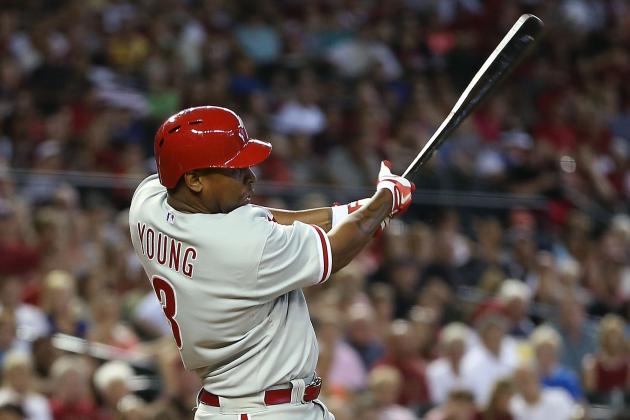 Christian Petersen/Getty Images

2013 Stats: 19 G, .233/.304/.450, 3 HR, 7 RBI
He's coming off of what was arguably his best game with the Phillies, so the timing of his inclusion may seem off, but let's be real about this: Delmon Young has not helped things in Philadelphia this season.
We've watched helplessly as fly balls sail over his head in right field, only to bounce against the wall and go for extra bases. We've watched Young have trouble fielding balls that drop in front of him and roll towards him.
Young's outfield defense makes you cringe.
He hasn't been much better at the plate, where he struggles to make consistent contact and get on base with any regularity.
With Darin Ruf waiting in the wings at Triple-A Lehigh Valley, the time has come for the Phillies to see whether Ruf can help to inject some life into an offense that has floundered for most of the season.