MLB's Biggest Busts of the 1st Quarter of the 2013 Season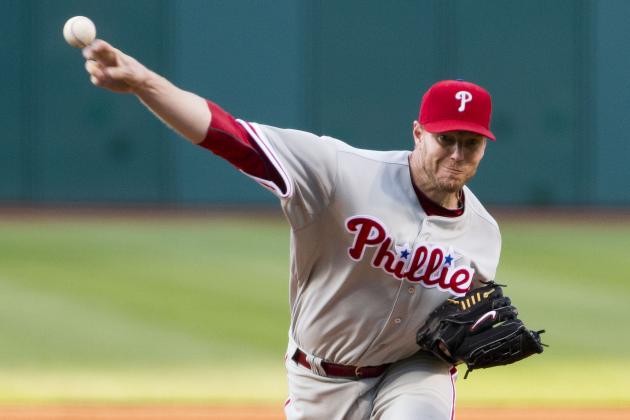 Jason Miller/Getty Images
To say Roy Halladay's 2013 season is a disaster is an understatement.
For an athlete, being labeled a bust might be worse than being labeled as bad or underwhelming because busts fall so far short of expectations that many wonder if they will ever turn back into themselves.
Occasionally, a player turns into a bust just because of time. Athletes age much faster than anyone else, and when the decline hits, it isn't pretty to watch.
Other times, when a player turns into a bust, it is because we put unfair and/or unrealistic expectations on him due to an unexpectedly successful season.
There are so many explanations for why a player—especially a Major League Baseball player—is unable to carry his performance from one season to the next, but you just hope it doesn't happen as quickly as it often does.
As we look back at the first quarter of the 2013 MLB season, here are the biggest busts that we have seen so far.
Note: All stats courtesy of Baseball-Reference.com unless otherwise noted.
Begin Slideshow

»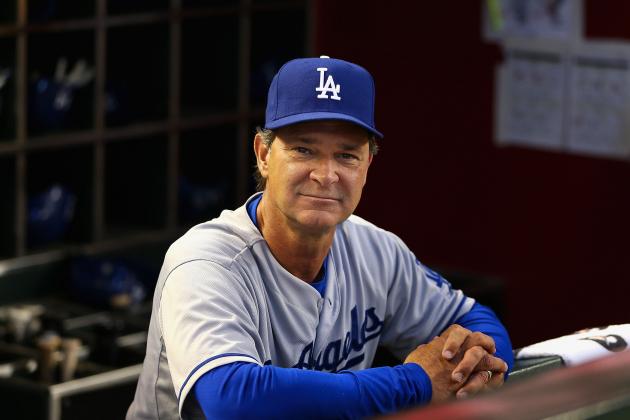 Christian Petersen/Getty Images
Does the Dodgers' slow start put Don Mattingly on the hot seat?
It is easy to say, looking where things are right now, that the Dodgers were overrated coming into the season—and they were. Just adding a bunch of big contracts with recognizable names doesn't mean a team has made itself that much better.
What's really surprising about the Dodgers' 17-22 start is that they are getting some really good/great performances along the way. Clayton Kershaw is working hard to get that $200 million contract with a 1.40 ERA, 67 strikeouts, 39 hits allowed and 17 walks in 64.1 innings.
Hyun-Jin Ryu is striking out more than a batter per inning with 51 strikeouts in 50.1 innings and giving the team a better-than-league-average ERA (3.40). Carl Crawford is alive and kicking with a .311/.369/.481 slash line. Adrian Gonzalez can still rake at .349/.401/.508.
But then you look at the injuries this team has had—Chad Billingsley finally having the Tommy John surgery he should have gotten last year, Hanley Ramirez appearing in just four games, Zack Greinke getting his collarbone broken by a bull-rushing Carlos Quentin and Matt Kemp struggling to come back from shoulder surgery—and it is easy to see why things are falling apart.
Not to mention, Andre Ethier is slugging a paltry .385, Dee Gordon (.220/.304/.341) is somehow a better option than Luis Cruz (.087/.111/.087) and Josh Beckett and Brandon League both have ERAs over 5.00.
Considering the number of games the Dodgers have lost to injury, as well as the underwhelming performances of key players, no wonder they are bringing up the rear in the National League West.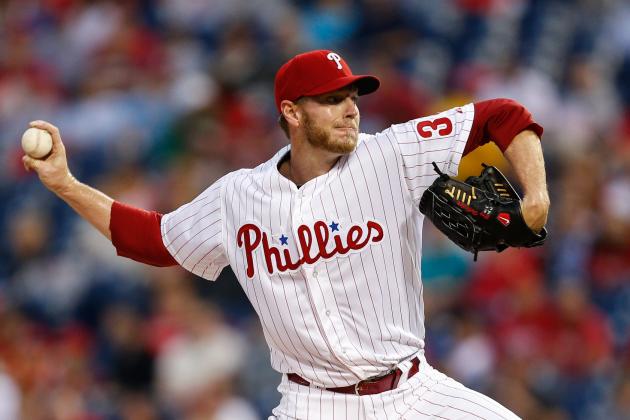 Brian Garfinkel/Getty Images
Remember the greatness that once was, because it's (likely) not coming back.
No one would ever be angry to see that Roy Halladay was struggling, not even the normally quick-to-turn Philadelphia crowd. Instead, watching the two-time Cy Young winner pitch this year is just sad.
Halladay certainly never looked for pity from anyone. He is a competitor who is going to give his team everything he has when he steps on that mound. That attitude and confidence, along with incredible stuff and command, are what made him so great for so long.
But now, with an 8.65 ERA while allowing 50 baserunners and nine home runs in 34.1 innings pitched, Halladay has clearly hit that point in his career where he will have to find a new way to pitch if he decides to return.
It was clear right out of the gate that something wasn't right with Halladay, as his velocity was down in spring training. He gave up six hits, five runs and two home runs with nine strikeouts in 3.1 innings against the Atlanta Braves in his first start.
Now, after declaring that he was hiding shoulder problems from the team and going under the knife, Halladay has to rehab and could supposedly start throwing again in July, but who knows when he will set foot on the mound in a big-league game again?
At 36 years old, with a number of career-defining accolades and the admiration of everyone for being the best pitcher in the sport for a long period, Halladay's best days are behind him. And that is just depressing.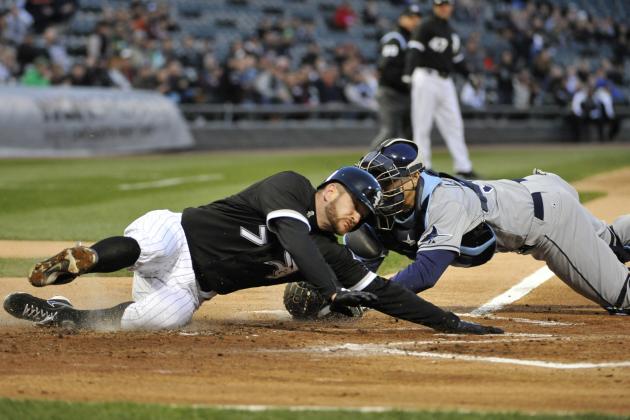 David Banks/Getty Images
It has been tough season for baseball fans in Chicago, but the White Sox have been awful.
If anyone can try to explain exactly what the White Sox are doing, or where they think they are as a franchise, I am more than willing to listen.
They fooled themselves into thinking they were contenders thanks to a fluky season in 2012, with general manager Ken Williams doing a half-hearted job of trying to rebuild the farm system by trading Sergio Santos to the Toronto Blue Jays in December 2011 for cents on the dollar.
Eventually, time, bad contracts and poor drafting/development within the system were going to catch up to them. Yet the organization decided that it still had pieces to contend, which led to the signing of Jeff Keppinger, coming off a career year with Tampa Bay (which always seems to be the place to go to rebuild your career).
So far this season, the White Sox rank 25th or lower in runs, hits, doubles, average and on-base percentage. They also rank 24th in slugging percentage and total bases.
Father Time has finally caught up to Paul Konerko, who is hitting a paltry .216/.277/.343. Keppinger has proved, once again, that he is not an everyday player by hitting .188/.191/.210 with one walk—which came in the team's 39th game—in 138 at-bats.
Adam Dunn is doing his thing, hitting home runs and not much else. Alex Rios remains a strong player (.289/.353/.533), but there is nothing around him.
Before long, Williams will have to give into the realities of the situation and start trying to build the farm system back up. The only problem is he waited so long to do it that the most valuable assets he had have hit their decline at the same time, so they have no value on the market.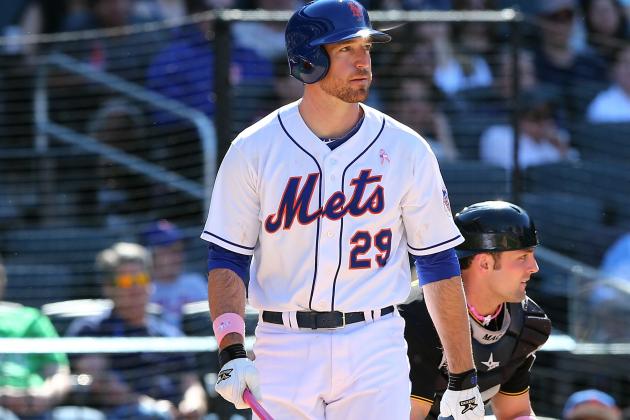 Elsa/Getty Images
Ike Davis' days as a starter should be numbered, but who else do the Mets have?
Ike Davis is a player who was always a little overrated because he played in New York and he did have one season where he hit over 30 home runs. But he has always been a glorified platoon player who can't hit left-handed pitching at all.
There is some value to the type of first baseman that Davis has been in the past. Right now, though, the only reason he still has a job is because the Mets have absolutely no other options to put in his place. It also helps that they aren't very good and can afford to ride out a dreadful start from a player.
Davis is hitting .157/.245/.268 through 37 games. If we compare him to Jeff Keppinger or Luis Cruz, yes, he looks like Babe Ruth. But by normal standards, the 26-year-old is currently an embarrassment.
For perspective, Davis' OPS+ is 45 right now. (For the record, 100 is league average.) St. Louis shortstop Pete Kozma, who wouldn't even be in the big leagues if it weren't for the fact that the Cardinals apparently don't like Ryan Jackson, has an OPS+ of 75.
There are always going to be huge splits for Davis because that is the kind of hitter he is. But there has to be some happy medium between the low-average/OBP, big power hitter we saw last year and whatever this version of Davis is.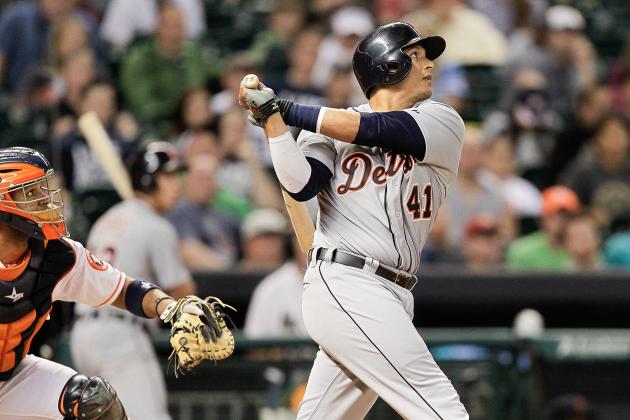 Bob Levey/Getty Images
Coming off knee surgery, Victor Martinez is struggling to get his timing back.
Anytime a player misses a significant amount of time in baseball, there is always going to be a period of adjustment. When a player misses an entire season with a serious knee injury that requires surgery—and that player is 34 years old—odds are good that the road back is going to be slow.
There was a time when Victor Martinez was one of the best hitters in the American League. He routinely hit .300 and did so with great ease thanks to a natural ability to put the bat on the ball and make solid contact.
But Martinez is clearly trying to find a way to compensate for the knee injury and time he missed in 2012. His swing is a complete mess, as evidenced by his .211/.265/.299 line. Even though he still doesn't strike out a lot, his current rate of 12.4 percent is the highest it has been since 2005.
Timing is everything in baseball. When it is there, you can see the best hitters in the sport make the game look easy. When it is off, you wonder how these athletes are able to play this game.
Of the individual players on this list, Martinez strikes me as the most likely to find his form—or something close to it—before the end of the season. He currently has an incredibly low BABIP (.227) that should move up as he gets his feel for the bat back.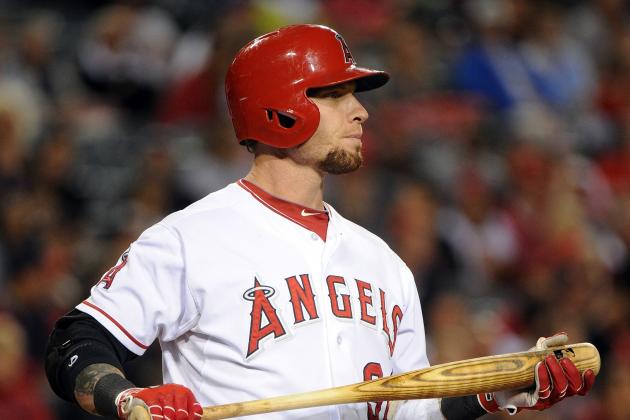 Lisa Blumenfeld/Getty Images
Josh Hamilton has a huge hole to dig himself out of already.
The Los Angeles Angels clearly decided that their easiest path to success in 2013 was to bash their opponents into submission. That would explain why the team allocated few resources to the pitching staff—trading for Tommy Hanson, signing Jason Vargas—and blew open the pocketbook to add Josh Hamilton.
Putting Hamilton's 40-plus-home-run power in a lineup that featured Mike Trout and Albert Pujols had fantasy players all over the world salivating. Trout was going to score 200 runs! Pujols and Hamilton were going to combine for 80 home runs!
Logic would tell you otherwise, as Hamilton showed a number of flaws in his swing for a long period of time last year. Pujols, while he put together a good 2012 season, is still on the decline. Mark Trumbo, who got off to a good start only to cool off a lot in recent weeks, still strikes out too much and doesn't walk enough to be an above-average player. And the rest of the lineup, save for Trout, has left a lot to be desired.
Now looking at where Hamilton sits on May 17, with a .215/.264/.356 line, 46 strikeouts in 163 at-bats and just five home runs—four of which have come against Houston—makes you wonder if the five-year deal he signed in the offseason will turn into the worst contract in baseball just a few months later.
On top of that, Hamilton has said that he is "off upstairs" and is battling dizziness and sensitivity to bright lights, as Alden Gonzalez of MLB.com reported.
Things are not looking good for either team in Los Angeles right now, but at least the Dodgers can fall back on the idea that a lot of their best players have been hurt. The Angels, even with Jered Weaver, were a poorly constructed team from the start.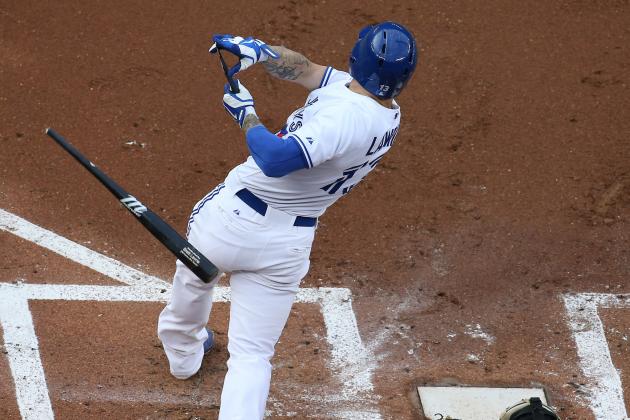 Tom Szczerbowski/Getty Images
This about sums up how the first quarter of the season went for the Blue Jays
We say it all the time yet somehow keep falling into the trap about teams that win the offseason. Adding impact talent is a great thing, but it doesn't guarantee a playoff spot or World Series title. The Toronto Blue Jays are the latest example of a team that dominated so many headlines this winter only to slip on the banana peel out of the gate.
Think back the last couple of years about teams that have had the best offseasons—the Red Sox in 2011, Angels in 2012, for starters—and how many championships they have. The 2011 Red Sox were the best team in the league until September, so they didn't completely embarrass themselves.
But this Blue Jays team, much like the Dodgers, became overrated because of the names and hype of what they could be instead of what they actually are. The starting rotation was supposed to be lights out with R.A. Dickey, Josh Johnson and Mark Buehrle added to the mix alongside Brandon Morrow and hopefully a bounce-back season by Ricky Romero.
That sounds good in theory, except Johnson and Morrow have had injury problems throughout their careers. Morrow has also been incredibly inconsistent whenever he is on the mound, despite having an impressive power arsenal. Buehrle has gotten by with a below-average fastball for years, which is a recipe for disaster in the American League East. Romero was sent all the way down to Single-A ball at the start of the year to completely rebuild his delivery.
Meanwhile, the offense has struggled to consistently score runs without Jose Reyes in the lineup. Jose Bautista is finally getting hot after a slow start, currently posting an on-base percentage of .376 and slugging .549.
J.P. Arencibia still can't get his OBP over .300, and Colby Rasmus isn't much better than that (.314). Melky Cabrera is a far cry from the player he was prior to his suspension last season, hitting just .279/.316/.364. Brett Lawrie has struck out 26 times in 103 at-bats.
They are starting to play better as a whole, winning four of their last five to bring their record to 17-25, last in the AL East. Their run differential of minus-35 is the third worst in the AL, ahead of only the Angels and Astros.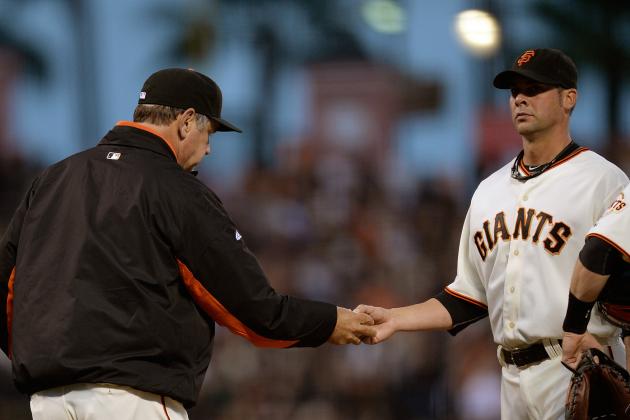 Thearon W. Henderson/Getty Images
After shining the last two years, Ryan Vogelsong has had a rough start to 2013.
Ryan Vogelsong is one of the most unlikely success stories in Major League Baseball. He was out of the league from June 2006 until the Giants gave him a shot at redemption in 2011.
Shockingly, at the age of 33, Vogelsong posted a 2.71 ERA over 179.2 innings and made the National League All-Star team during the 2011 season. Proving it wasn't a fluke, he posted a 3.37 ERA in 189.2 innings last year before playing a key role in the National League Championship Series against St. Louis.
At some point, you expected the magic, or whatever was working for him, to run out. We might be seeing that right now, as Vogelsong boasts an 8.06 ERA after eight starts. He has allowed 37 earned runs, most in the National League, and 76 baserunners in 41.1 innings.
The month of May has been particularly cruel to Vogelsong. He has made three starts, covering just 11 innings while giving up 22 hits, seven walks and 21 runs (16 earned). His problems are compounded by the fact that Matt Cain is also struggling, as his ERA is over 5.00 right now.
What's funny about this is the Giants, known for their dominant starting pitching and mediocre offense, are still leading the National League West and have the fourth-best record in the NL at 24-18.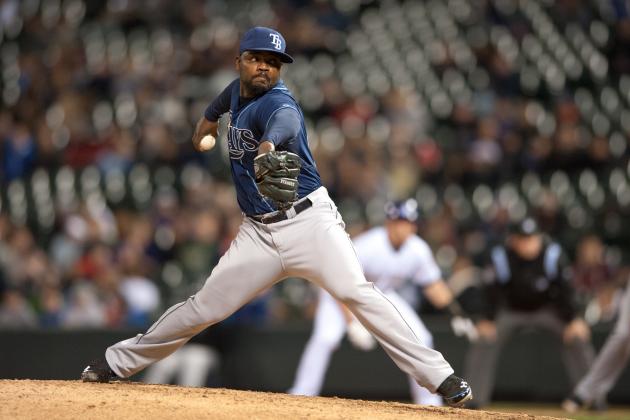 Dustin Bradford/Getty Images
Frankly speaking, we should have seen Fernando Rodney's implosion coming.
How do you follow up one of the most unbelievable, unexpected seasons by any relief pitcher in this modern era of bullpens?
In the case of Fernando Rodney, you revert to the wildly erratic, unpredictable pitcher that you were before.
The Rays have been one of the best franchises in baseball at taking on cheap reclamation projects and getting a lot of bang for their buck. They are doing it right now with James Loney. They did it last year with Jeff Keppinger. They even helped Kyle Farnsworth turn into a solid reliever.
In his first year with the team. Rodney was everything the Rays could have hoped for and then some. He had an ERA of 0.60, struck out 76, walked just 15 and gave up 43 hits in 74.2 innings.
To say that 2013 has not been kind to Rodney would be an understatement. He already has as many walks this season (15) as he did in 2012, despite throwing only 15.1 innings. He has no idea where the ball is going when it leaves his hand, leading to all the problems he is having right now.
Even though Rodney is making just $2.5 million, you have to wonder how much longer Joe Maddon can afford to keep using him in high-pressure situations in games. Perhaps moving him to middle-relief duty in games that are out of hand just to get work in with no stress is what he needs.
Then again, Rodney has always been a pitcher who is all over the place, so why should we really think that he is going to turn things around because of one outlier season in 2012?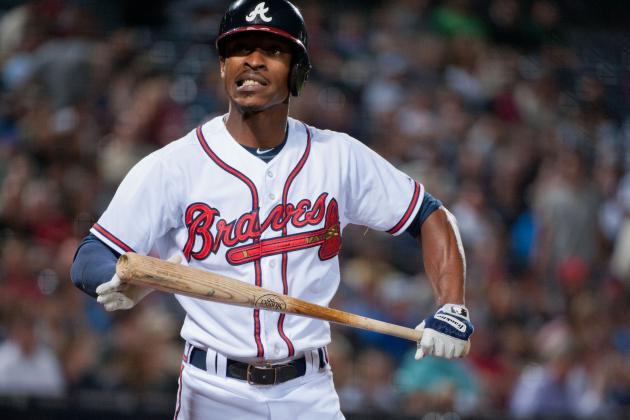 Kevin Liles/Getty Images
The other half of the Upton duo is not carrying his weight so far this season.
When the Braves ponied up $75 million to sign B.J. Upton this past offseason, there was a lot of surprise on message boards and around the web. After all, he was a player who did show power but never hit for a high average, which led to low on-base percentages despite solid walk totals.
Yet you could see the rationale behind the deal if you really looked at it, because Upton was a true center fielder who is capable of being at least an above-average defender with 25-to-30-home-run power. That is a rare commodity to find in today's game, let alone be able to get that player at the age of 28.
Unfortunately all the worst qualities that Upton showed in his final year with Tampa Bay last year (high strikeout totals, selling out average to try to hit for more power) have been even more prevalent this season.
Through 36 games, Upton is hitting just .145/.242/.244 with seven extra-base hits and 49 strikeouts in 131 at-bats. He is also a pedestrian 3-for-6 in stolen-base attempts.
The best thing about Upton, up to this point, has been his defense. He has saved three runs with the glove so far, which is a very good total given the limited number of games played thus far. But the Braves aren't paying nearly $15 million per season for the next five years to get a really good defensive outfielder who can't hit.
Hopefully, this is just an anomaly, because Upton has the tools to be an impact player in the National League. It has always been a case of getting him to put all the pieces together at the same time.
If you would like to discuss your biggest busts through the first quarter of the 2013 MLB season, be sure to comment or hit me up on Twitter.