Stock Watch for 10 NFL Players Whose Value Was Affected by Offseason Additions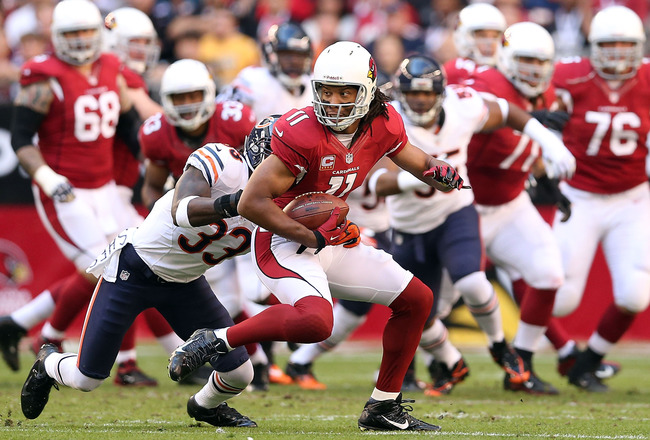 Christian Petersen/Getty Images
With the draft complete and with most of the major free agents having signed contracts, there will be a lull in football news until training camps open.
Sure, we'll have OTAs, but by and large the construction of teams for the 2013 season is mostly done. Now we can begin to accurately assess how teams' depth charts will pan out. Of course, this will have an effect on fantasy football.
With the new additions each team has made, it has greatly enhanced the value of many players while lowering the value for some. So in this slideshow you will see the 10 players whose stock was affected most from all the offseason additions.
Mikel Leshoure, Detroit Lions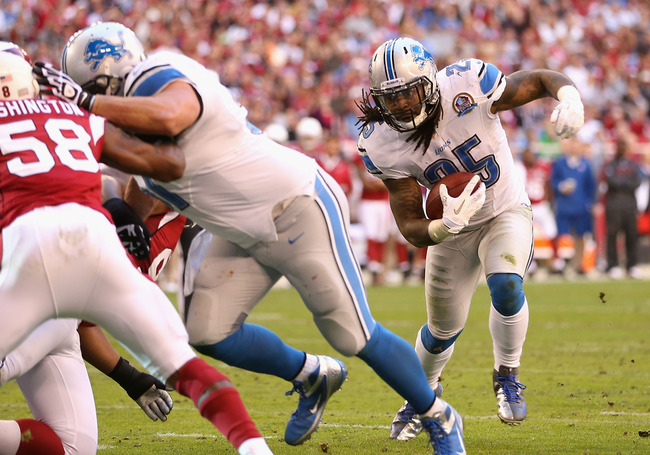 Christian Petersen/Getty Images
With the addition of Reggie Bush through free agency, the Lions look committed towards making Bush their featured back.
This could spell bad news for Leshoure. After all, Leshoure was pretty much the every-down back for the Lions last year and had himself an effective year, especially in the red zone—Leshoure did score nine touchdowns.
With the Lions a more pass-oriented team, Bush fits more in line with what Detroit is trying to do offensively. Regardless, Leshoure should still be valuable for fantasy purposes, as he'll most likely get goal-line and short-yardage carries.
If you can manage it, it would behoove you to lock up both Bush and Leshoure when drafting this summer, as you'll be guaranteed to have the Lions' primary back.
Ben Roethlisberger, Pittsburgh Steelers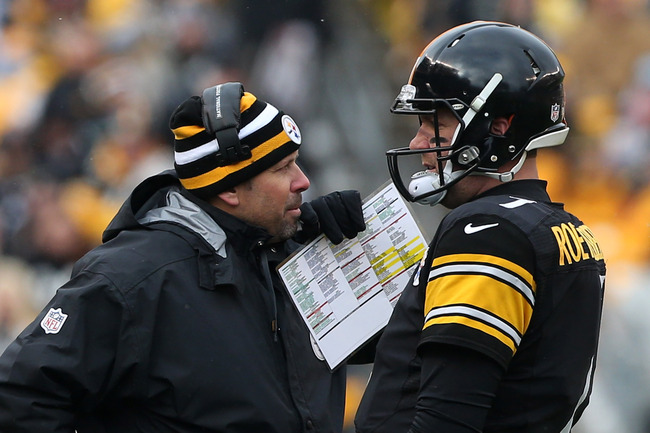 Karl Walter/Getty Images
With the departure of Mike Wallace to Miami and Pittsburgh drafting running back Le'Veon Bell in the NFL draft, the Steelers seemed primed to go back to being a more smashmouth style of offense. This could mean a huge dip in value for Ben Roethlisberger.
When you combine the loss of Wallace with the fact that Heath Miller is recovering from a major injury, the Steelers don't possess a lot of weapons in the passing game. So, signs point to Roethlisberger to being in trouble this year.
When you also add in all the injuries he has sustained over the years, "Big Ben" is nothing better than a backup quarterback for your squad.
Jonathan Dwyer/Isaac Redman, Pittsburgh Steelers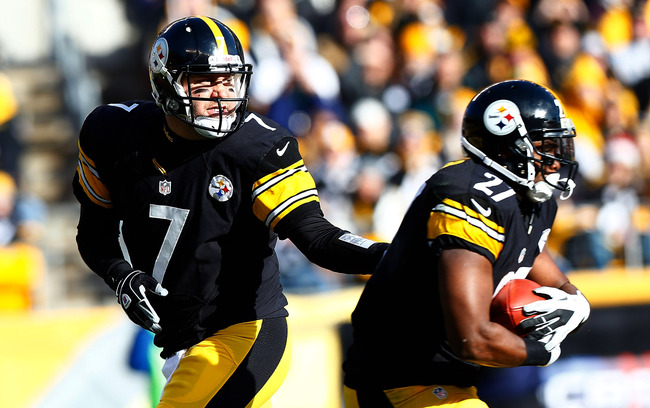 Jared Wickerham/Getty Images
Considering the Steelers drafted Le'Veon Bell in the second round and let Rashard Mendenhall depart to Arizona, Pittsburgh seems to be going with a youth movement at running back.
Bell wasn't drafted to sit on the sidelines. Although Jonathan Dwyer and Isaac Redman will get some token carries—especially early in the season, sooner or later Bell will command the bulk of the carries.
Last year, Dwyer and Redman proved to be nothing special (they combined for four touchdowns) and they are nothing more than late-round handcuff material to Bell.
Danny Amendola, New England Patriots
Amendola could be in for a career year now that he's headed to New England and catching passes from Tom Brady.
Even with Sam Bradford as his quarterback, Amendola was an effective fantasy receiver, as he racked up 63 receptions for 666 yards (in only 11 games) last year in St. Louis. With Wes Welker leaving town, someone has to assume the role of possession receiver for the Patriots and Amendola is just the guy to do it.
Amendola should be drafted without hesitation as a No. 2 wide receiver next year.
Chris Ivory, New York Jets
After leaving New Orleans this offseason, Chris Ivory has a great chance to shine in his new digs in New York.
If given the chance for increased carries, Ivory has shown he can produce, as his career 5.1 YPC mark suggests. Just check out his stats from Week 9 to Week 10 last year, when he ran for 120 yards and two touchdowns on 17 carries. With his move to the Jets, Ivory will have less competition for carries than he did in New Orleans. Considering Shonn Greene is no longer on the Jets, Ivory has only Bilal Powell and Mike Goodson to contend with.
Ivory should have the best chance to win the job and be the Jets primary back. As such, he's worth a look in the middle rounds as a No. 3 running back or flex play.
David Wilson, New York Giants
With the Giants cutting Ahmad Bradshaw in the offseason, it seems all but apparent that Wilson will get his chance to be the Giants' main running back.
Towards the end of last season, Wilson was tremendous, as he recorded four total touchdowns in the last four games while rushing for 75 yards or more twice in that span.
After the Giants spent a first-round draft pick on Wilson in 2012, they'll want to know what they have in the speedy running back. Wilson possesses a world of potential and he can legitimately break out in 2013.
BenJarvus Green-Ellis, Cincinnati Bengals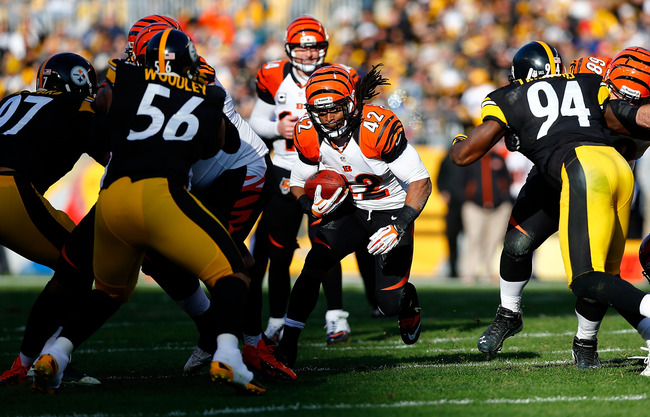 Jared Wickerham/Getty Images
The Bengals' drafting of Giovani Bernard in the second round of the draft will certainly put the pressure on Green-Ellis to perform, or his role with the club could be in danger.
As of now, Green-Ellis will likely remain the starter as Bernard learns the ropes in his rookie season. While Green-Ellis is adequate, he is not a game-changer. Bernard is the home run threat the Bengals need from their running game and it could be only a matter of time before he eventually takes Green-Ellis' job.
Green-Ellis has bust written all over him.
Steven Jackson, Atlanta Falcons
In the offseason the Falcons said goodbye to Michael Turner and said hello to Steven Jackson. And this is a move that could pay in big rewards for both Jackson and Atlanta.
Now that Jackson is removed from trying to carry the Rams offense, he'll feel more at ease in Atlanta, as he'll be just another weapon for the Falcons. Expect Jackson to feel reinvigorated while playing in Atlanta.
This opportunity offers Jackson a new lease on his football life and he should provide great bang for the buck as a No. 2 running back.
Larry Fitzgerald, Arizona Cardinals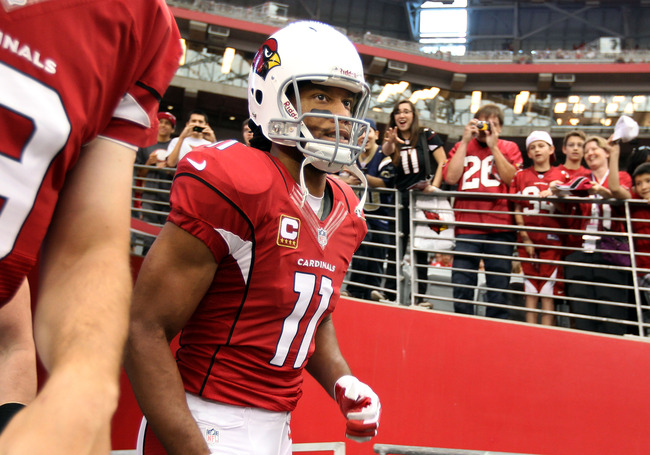 Christian Petersen/Getty Images
Although Carson Palmer is no world-beater, he is undoubtedly a major upgrade at quarterback for the Cardinals and that could only mean good things for Larry Fitzgerald.
Fitzgerald had a hard time connecting with a revolving-door collection of under-performing quarterbacks in Kevin Kolb, John Skelton, Ryan Lindley and Brian Hoyer last year, en route to having his worst season in years.
Now that he has a competent quarterback throwing him the ball, you should have confidence that Fitzgerald can return to his elite ways. At worst, Fitzgerald is a high-end No. 2 receiver.
Percy Harvin, Seattle Seahawks
Harvin is yet another receiver who should thrive in his new environment.
In Minnesota, Harvin would have been hindered with Christian Ponder as his quarterback. But now that Harvin has Russell Wilson as his quarterback, Harvin should go back to being trusted as one of the best receivers in the game.
With a fresh start in Seattle, Harvin should be looked upon as an ideal No. 2 wide receiver worthy of drafting in rounds four or five.
Keep Reading