New York Yankees vs. Baltimore Orioles: Live Score, Analysis and Reaction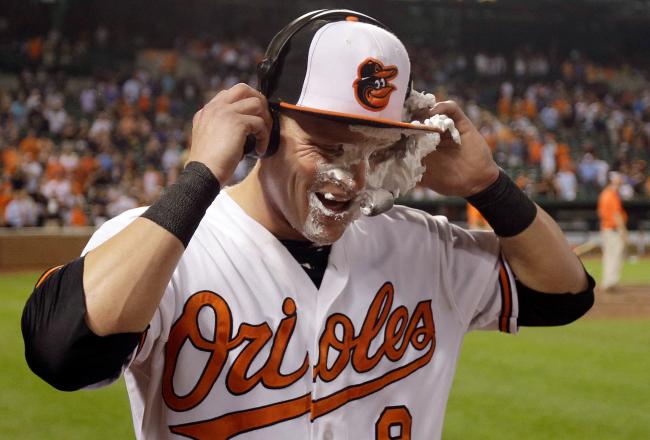 Nate McLouth's second career walk-off home run moves the Orioles to three games above .500.
Rob Carr/Getty Images
Nate McLouth's 10th-inning, walk-off home run led the Baltimore Orioles (24-21) to a 3-2 victory over the New York Yankees (28-17) on Tuesday night at Camden Yards.
For the second straight game, relief pitching decided things between these AL East contenders. Baltimore's Jim Johnson earned the win for his scoreless inning. He had allowed eight earned runs his three previous appearances (all blown saves).
Travis Hafner put the Yankees ahead initially with a two-out single in the first inning. Journeyman outfielder Chris Dickerson evened the score with a solo blast off Hughes in the third. Then Hafner regained the lead for New York with another single through the right side. But guess who? Dickerson went deep again, a no-doubter to right field, to make it 2-2.
The Orioles stayed with Miguel Gonzalez through seven. In his first start back from the disabled list, the right-hander threw 62 of his 92 pitches for strikes (67.4 percent). Tommy Hunter set the Yankees down in order during the eighth and ninth, and Johnson followed suit in the 10th.
Phil Hughes lasted six innings and allowed two runs on five hits. It was an improvement from last week's embarrassing effort (0.2 IP, 7 ER), as Baltimore failed to take advantage of pitches over the middle and up in the zone. Relievers Boone Logan, Shawn Kelley, David Robertson and Preston Claiborne took the reins from there.
Finally, Vidal Nuno slipped up. In his third career major league appearance, the 25-year-old served up a solo shot to McLouth, the leadoff man and left fielder.
His 92nd career home run was only his second off the walk-off variety. The other came against Jose Contreras on April 20, 2010.
The rubber game takes place tomorrow evening with probable starters Hiroki Kuroda (6-2, 1.99 ERA) and Jason Hammel (5-2, 5.72 ERA).
New York Yankees Lineup

| | |
| --- | --- |
| 1. Brett Gardner (1-4, 2B, R) | CF |
| 2. Robinson Cano (0-4, K) | 2B |
| 3. Vernon Wells (1-4, 2B, R) | LF |
| 4. Travis Hafner (2-4, 2 RBI, K) | DH |
| 5. Lyle Overbay (0-4) | 1B |
| 6. Curtis Granderson (0-4, K) | RF |
| 7. David Adams (0-4, K) | 3B |
| 8. Jayson Nix (0-4, K) | SS |
| 9. Austin Romine (0-3) | C |
Baltimore Orioles Lineup

| | |
| --- | --- |
| 1. Nate McLouth (2-5, HR, RBI, K) | LF |
| 2. Manny Machado (1-4) | 3B |
| 3. Nick Markakis (1-4, 2 K) | RF |
| 4. Adam Jones (0-4, K) | DH |
| 5. Chris Davis (0-3, 3 K, BB) | 1B |
| 6. Matt Wieters (0-4, K) | C |
| 7. J.J. Hardy (0-4) | SS |
| 8. Chris Dickerson (3-4, 2 HR, 2 RBI) | CF |
| 9. Yamaico Navarro (1-3, BB, K) | 2B |
Relive McLouth's home run, courtesy of MLB.com
Yankees were 19-0 when scoring 1st, @orioles had lost 6 straight. Nate McLouth reverses it all w/ one loud #walkoff: atmlb.com/192NWCF

— MLB (@MLB) May 22, 2013
That's his second career walk-off round-tripper (first since 4/20/2010).
The totals for both teams:
Yankees: 2 runs, 5 hits, 1 error, 3 LOB.
Orioles: 3 runs, 8 hits, 0 errors, 7 LOB.
And that's the ballgame!
Nate McLouth serves Vidal Nuno's third pitch into the stands!
The Yankees bullpen finally buckles and Baltimore stops its seven-game losing streak at Camden Yards.
Middle 10th: NYY 2, BAL 2
The quickest half inning of the game takes eight pitches from Jim Johnson.
The Yankees have zero baserunners against Baltimore's 'pen so far.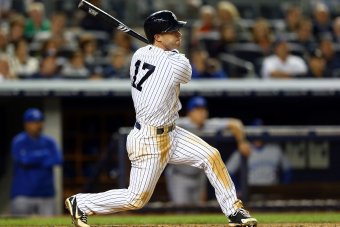 Elsa/Getty Images
Six pitches, two outs.
Now batting: Jayson Nix.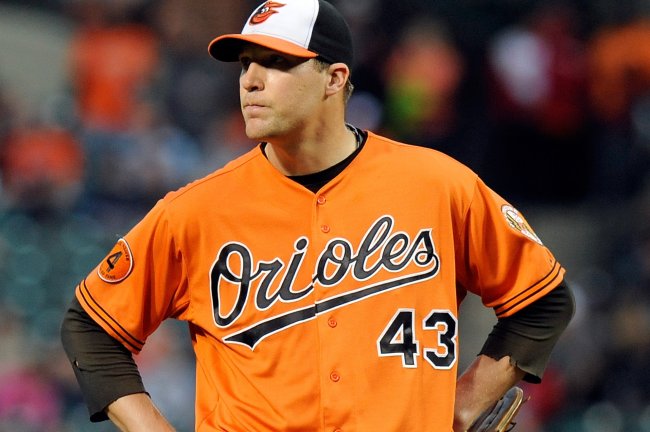 Greg Fiume/Getty Images
This guy is looking for redemption.
End 9th: NYY 2, BAL 2
Claiborne overpowers Navarro:
Free baseball!

— Roch Kubatko (@masnRoch) May 22, 2013
Just like last night.
Extra-base hit should win it for Baltimore.
MLB Network really wants to cover Jose Quintana's potential no-hitter.
They'll have to wait for this drama to unfold...
And the winning run is on base!
Of course, it's Dickerson. He beat out a grounder to shortstop.
Fringe AL Rookie of the Year candidate Preston Claiborne retires first two Orioles.
He hasn't allowed a run in the big leagues (8.2 IP).
Middle 9th: NYY 2, BAL 2
Neither team has scored in more than an hour. New York didn't even threaten Hunter, who was in total control these past two innings.
Wieters, Hardy and Dickerson will try for the winning run.
The Yankees haven't drawn a single walk, which is very un-Yankee like.
Never mind, Hunter comes on for the ninth following an efficient eighth.
He's consistently touching 98 mph.
End 8th: NYY 2, BAL 2
Yankees relievers have worked two scoreless innings in relief of Hughes. Robertson and Kelley, specifically, have been outstanding in May.
Jim Johnson time?
On the season, Robertson now has 25 strikeouts in 19 innings.
That's awfully impressive.
Wow! So apparently his recent struggles haven't shaken Showalter's confidence:
Jim Johnson warming for the #orioles with score tied 2-2 in bottom of 8th

— Roch Kubatko (@masnRoch) May 22, 2013
Johnson, as ya'll know, has blown three straight saves.
He's now ahead in the count against Jones.
YES researcher Jeff Quagliata provides this little fun fact:
David Robertson making his 289th career appearance moving him into sole possession of 19th place on franchise list passing Fritz Peterson

— Jeff Quagliata (@yestoresearch) May 22, 2013
Robertson retired Markakis via strikeout.
Middle 8th: NYY 2, BAL 2
Much like last night, this game is going to be decided by the bullpens and which team manages to gets hits with runners in scoring position.
The Yankees couldn't get anybody on base against Hunter. It should be interesting to see who Showalter trusts in the ninth.
And the count runs full...
Hunter vs. Cano = Power vs. Power.
Very cool.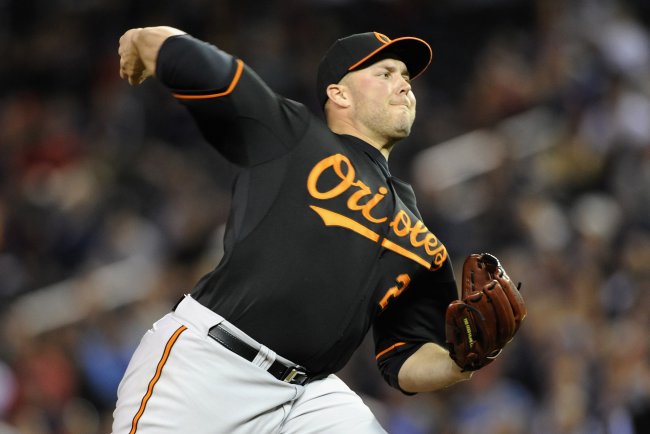 Hannah Foslien/Getty Images
Tommy Hunter was never all that great as a starter, but he's a legitimate weapon out of the bullpen.
With two quick outs, his earned run average is a tidy 1.50.
This article is
What is the duplicate article?
Why is this article offensive?
Where is this article plagiarized from?
Why is this article poorly edited?