2014 NFL Draft: 10 Players Who Could Sneak into the Top 10 Picks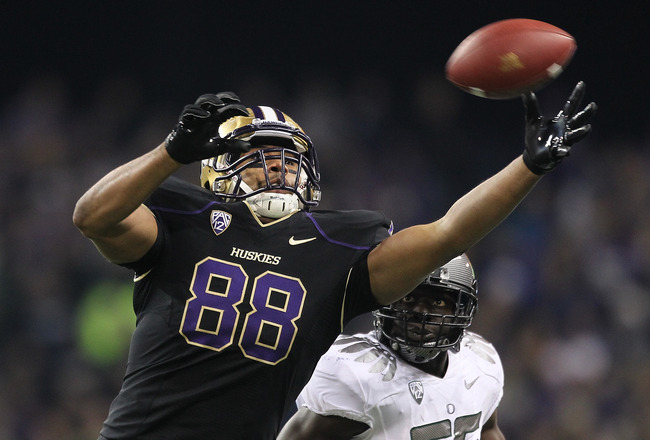 Otto Greule Jr/Getty Images
At this time last year players like Eric Fisher, Lane Johnson and Ezekiel Ansah weren't considered top 10-worthy prospects. However, this is why evaluating NFL draft prospects is a long process. The 2014 draft promises to have a few players who aren't on the top 10 radar at this point rise up the draft board.
Most of the prospects on this list obviously have elite talent, but also have some significant question marks. Cleaning up specific areas of their game is the only way they'll make a splash next April.
Aaron Lynch, Defensive End, South Florida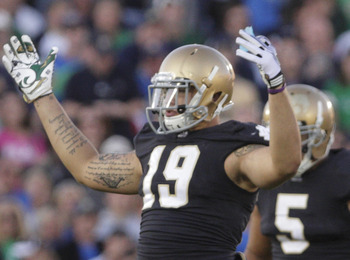 John Gress/Getty Images
South Florida's Aaron Lynch is flying under the radar heading into the season. He sat out all of last year after deciding to transfer from Notre Dame. However, Lynch possesses the talent to significantly improve his draft stock this season.
According to a Sports Illustrated article, former Florida State quarterback EJ Manuel said that he felt that Lynch could develop into an "all-world" talent.
He has a rare combination of size and quickness which helps him rush the passer. Lynch uses his length to keep blockers off his body as he works his way into the backfield. This gives him the base needed to employ different pass-rush moves.
Lynch's explosive first step, excellent closing burst and non-stop motor makes him a threat to pressure the quarterback on every snap. In only one season at Notre Dame, he proved to be one of the more gifted pass-rushers in the country.
If Clowney is the Luck, maybe Aaron Lynch ends up being the RG3. JDC will still hold the crown but Lynch may at least create a discussion.

— Alec(@illmALEC) May 9, 2013
The NFL places a lot of value on the ability to rush the quarterback. If Lynch can regain his form after sitting out a year he could easily work his way into the top five of the draft.
Daniel McCullers, Defensive Tackle, Tennessee
Tennessee's Daniel McCullers is a mountain of a man who also possesses good athleticism. He has the raw talent to dominate the line of scrimmage. His ability to both stuff the run and get a push on the pocket makes McCullers an all-around threat.
The main reasons McCullers isn't heavily involved in the top 10 discussion is his lack of consistency and sloppy technique.
Too often, McCullers fails to keep his pad level low and allows blockers into his frame. He's still effective at the college level because he has more raw talent. However, this won't be the case in the NFL. McCullers also needs to do a better job using his hands.
If he learns to keep low and obtain inside hands, McCullers is talented enough to develop into an unstoppable force. The coaching change at Tennessee could help give someone like McCullers a fresh start.
Jason Verrett, Cornerback, TCU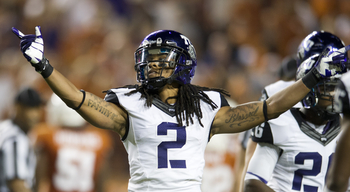 Cooper Neill/Getty Images
Over the past few drafts, NFL teams have targeted bigger cornerbacks like Dee Milliner and Desmond Trufant. TCU's Jason Verrett can't match the size of those prospects, but he's already a better cover corner.
Verrett is a smooth athlete who has the hip flexibility to mirror any target. He also has a knack for reading the quarterback and the routes developing around him. This is a player who trusts his reads and doesn't hesitate to make a play on the ball.
His click-and-close ability is amazing and something that makes it tough for offenses to find success on his side of the field.
Evaluators are going to quickly fall in love with his toughness. Despite his size, Verrett isn't afraid to support the run and take on bigger backs like Michigan State's Le'Veon Bell.
The size issue is the only thing that has a chance to keep Verrett out of the top 10, as he's absolutely one of the 10 most talented players available for this draft.
Ka'Deem Carey, Running Back, Arizona
The running back position is facing a transition period where NFL teams don't appear to hold it in high regard. This has a lot to do with teams being able to find productive backs in the later part of the draft. However, we've seen special talents like Trent Richardson and C.J. Spiller still come off the board in the top 10.
Arizona's Ka'Deem Carey is the type of explosive runner who could work his way into top 10 consideration. Carey combines his quickness with a knack for locating the open holes. Despite Arizona's offense designing a lot of plays to attack the edge, Carey likes to get north and south as early in the play as possible.
This isn't just a speed player, as he also shows the toughness needed to lower his head and pick up the tough yards.
Carey shows the ability to make defenders miss and create in space. He boasts the natural talent to quickly develop into a difference maker at the next level.
Evaluators will need to keep an eye on a developing legal situation. Carey was recently charged with disorderly conduct after an incident with a former girlfriend. The outcome of this situation could have a major impact on his draft stock.
Chaz Sutton, Defensive End, South Carolina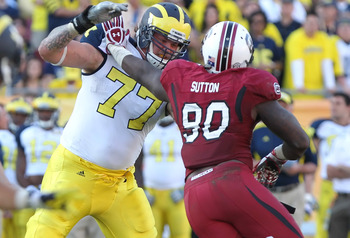 Kim Klement-USA TODAY Sports
If the 2013 draft taught us anything it's that NFL teams are willing to gamble in order to land a pass-rusher. Players like Dion Jordan, Barkevious Mingo and Ezekiel Ansah will head into their rookie seasons needing to work on several areas of their game.
This is why someone like South Carolina's Chaz Sutton needs to get some attention heading into the upcoming season. Sutton possesses an explosive first step which helps him wreak havoc in the opponent's backfield.
He combines this with a strong motor and excellent suddenness. However, Sutton needs to spend a lot of time refining his technique. There are times where it looks like he's just running around until he finds a seam in the offensive line.
Because of Jadeveon Clowney, Sutton will get plenty of opportunities to impress scouts. He has the raw talent needed to really turn some heads. Don't be surprised if this is a name that starts to gain traction throughout the draft process.
Adrian Hubbard, Outside Linebacker, Alabama
Mike Zarrilli/Getty Images
Adrian Hubbard is looking to become yet another Alabama player who comes off the board early on draft day. Unlike accomplished players like D.J. Fluker and Mark Barron, Hubbard needs to solidify himself as a top-notch prospect.
This is a player who possesses the athleticism needed to excel in the NFL. His combination of long arms, an explosive first step and suddenness gives him potential as a pass-rusher. However, Hubbard also does a good job setting the edge against the run and holding up in coverage.
At this point, the biggest obstacle in Hubbard's way is his motor. He appears to struggle giving 100 percent effort on every play. There are times when he quits on a player or just looks like he's jogging. The NFL isn't a place where this type of behavior will be accepted.
Bradley Roby, Cornerback, Ohio State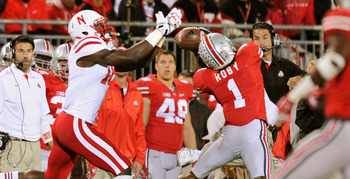 Jamie Sabau/Getty Images
Ohio State's Bradley Roby is an instinctive and fluid cornerback. He's one of those defenders who always appears to be around the football. His fluid movements help him stick near his target and keep the ball out of his hands.
Roby does a good job using his long arms to disrupt the timing of the route and also create pass breakups. His short-area quickness and ability to read routes play a major role in Roby's success.
The opposing quarterback needs to be aware of where Roby is on the field at all times, as he has the skill set to turn a mistake into a turnover or touchdown.
Watching Bradley Roby right now. Great athlete with top-10 potential. Excellent speed, burst. Needs to turn head around more quickly.

— Wes Stueve (@WeStueve) May 8, 2013
Evaluators will keep an eye on his overall speed and durability throughout the season. These are the two areas of Roby's game that could derail his top 10 hopes.
Louis Nix, Defensive Line, Notre Dame
It's rare to see someone with Louis Nix's size display excellent quickness and suddenness. However, the Notre Dame defensive tackle is routinely one of the first players out of his stance. This allows him to gain position and make plays in the offensive backfield.
Nix is the type of defender who can eat up blockers, make plays away from his frame and provide an interior pass rush. This versatility is something that will have a major impact on his draft stock.
Because of his size, some teams may look to use Nix in more of a two-gap role. Going in that direction would prevent Nix from fulfilling his full potential. His best fit would be as a 3-techique in a 4-3 system. Nix has the explosiveness and motor to be a disruptive force.
Austin Seferian-Jenkins, Tight End, Washington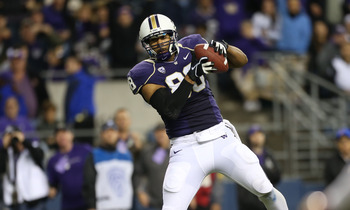 Otto Greule Jr/Getty Images
At 6'6" 266 pounds, Washington's Austin Seferian-Jenkins brings a unique combination of size and athleticism to the tight end position. NFL defenses will have a tough time developing a game plan to neutralize someone with this skill set. Because the NFL puts so much focus on offensive mismatches, Seferian-Jenkins will get some top 10 consideration.
His size is only part of the reason Seferian-Jenkins has a solid draft stock. He also possesses strong hands and shows the aggressiveness to attack the ball at its highest point. This gives him the ability to make plays on poorly thrown balls and be a real threat in the red zone.
Seferian-Jenkins isn't only a pass-catching threat, as he also contributes as a blocker. His long arms help him gain inside hand placement which he uses to seal defenders from the play. He needs to work on getting stronger, but has plenty of potential as a blocker.
Washington has given Seferian-Jenkins an opportunity to contribute on defense. They like to use him at defensive end from time to time. In this role, Seferian-Jenkins shows good explosiveness and balance.
Austin Seferian-Jenkins' case is still open. Steve Sarkisian reiterates Seferian-Jenkins continues to do all the stuff the team asks.

— Todd Dybas (@Todd_Dybas) May 6, 2013
Maturity concerns are the one thing that could keep Seferian-Jenkins from reaching his full potential. He was recently charged with a misdemeanor DUI and now needs to rebuild his image.
Will Sutton, Defensive Tackle, Arizona State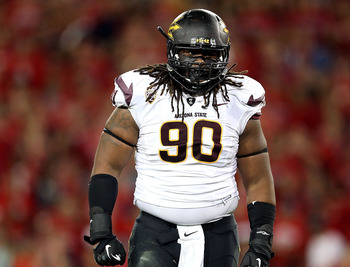 Christian Petersen/Getty Images
Arizona State's Will Sutton is a relentless defender who consistently makes plays in the offensive backfield. He uses his quick first step, suddenness and violent hands to disrupt the timing of the offense. He really makes it tough for the offensive line to get a piece of his frame.
Sutton faces a bit of an uphill battle because of his limited size. Arizona State's website has him listed at 6'1" and 288 pounds. NFL teams will need Sutton to convince them that this lack of size won't hurt his ability to produce.
His best chance at showing that revolves around his quickness and work ethic. The NFL is always on the lookout for defenders who can create pressure in the backfield. Sutton has shown that he's more than capable of filling that role. However, he's the type of prospect whose workout numbers will play a role in his draft status.
Keep Reading