Chris Sale wasn't perfect on Sunday night against the Los Angeles Angels, but he was about as close as possible.
Donning the vintage Chicago White Sox uniform, the 2010 first-round pick partied like it was 1983 (via ESPN Stats and Info) as he gave up just one hit to Mike Trout through nine shutout innings in a dominant 3-0 win. He walked no one, struck out seven, faced just one more batter than the minimum and needed only 98 pitches on the night.
Chris Sale: 1st White Sox pitcher to throw 1-hit shutout vs Angels since Britt Burns (1983)White Sox wore 1983-style throwbacks Sunday

— ESPN Stats & Info (@ESPNStatsInfo) May 13, 2013
Trout's hit, a single to center field, broke up the perfect game in the top of the seventh.
Sale, who spent his first two seasons in the majors a reliever, made a near-flawless transition to starter last year, compiling a 17-8 record, 3.05 ERA and 1.14 WHIP in 29 starts.
But Sunday's gem, which earned him his fourth win of the young season, was by far the best of his burgeoning career.
While the Angels entered Sunday just below the league average in runs per game at 4.22, they boast a seriously dangerous lineup that features Trout, Albert Pujols, Mark Trumbo, Josh Hamilton and Howie Kendrick. Despite their early-season struggles, they have the ability to make any pitcher look like he belongs in Triple-A on any given night.
But Sale had them completely overwhelmed, getting six of his seven strikeouts from the swinging variety.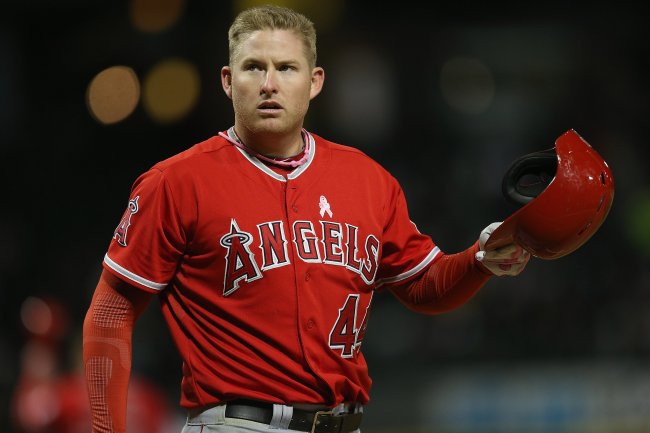 Jonathan Daniel/Getty Images
Of course, this clean, efficient performance—which came on Sunday's final game of the night—was simply the perfect way to finish off the "week of the pitcher" (
via Baseball Prospectus' Sam Miller
):
Chris Sale would be the fourth one-baserunner shutout of the week, or as many as there were from 1975 to 1979

— Sam Miller (@SamMillerBP) May 13, 2013
In joining Matt Harvey, Jon Lester and Shelby Miller in the prestigious group, Sale even
got a shoutout
from a certain other tall southpaw:
Chris Sale nice days work my man,1 hit shutout!!! #lefty

— Randy Johnson (@RJ51Photos) May 13, 2013
With the win, the White Sox improved to 15-20, while Sale dropped his ERA over a half of a run down to a minuscule 2.88 on the season.