Which MLB Superstars Have the Best Shot at 3,000 Career Hits?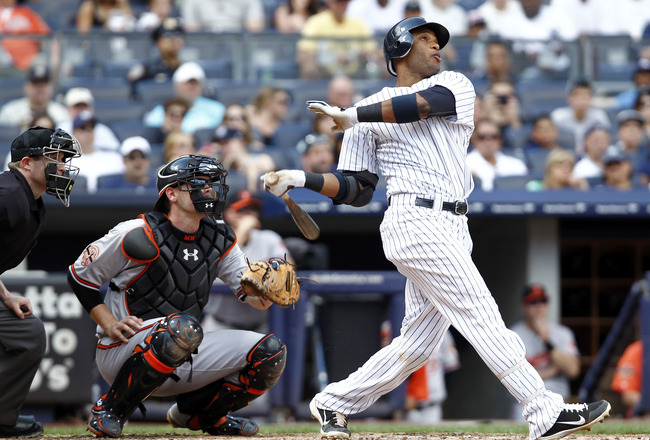 Robinson Cano is on a similar pace to New York Yankees teammate (and MLB active hit leader) Derek Jeter.
Jeff Zelevansky/Getty Images
With this infield single on Thursday afternoon, New York Yankees second baseman Robinson Cano made it halfway to 3,000 career hits (video courtesy of MLB.com). Is it realistic for him—or any other active MLB superstars—to someday join the exclusive club?
Cano's teammate, Derek Jeter, expanded its membership to 28 in July 2011. He's now in the esteemed company of Pete Rose, Ty Cobb and Tony Gwynn, just to name a few.
The diverse collection of all-time greats is diverse in terms of race, defensive position and body type. The only characteristics shared among them? Extraordinary swings and durability.
Cano certainly meets those criteria. He and a handful of other active players seem more likely than not to get to 3,000.
*Career hit totals taken prior to the games of May 10.
Ichiro Suzuki (New York Yankees)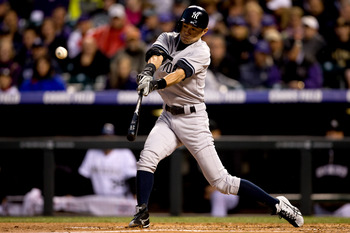 Ichiro Suzuki.
Justin Edmonds/Getty Images
Career hit total: 2,634.
Rank among active players: third.
Ichiro Suzuki moved to the U.S. after an extraordinary career overseas. He was a perennial All-Star for the Orix Blue Wave, a three-time Pacific League MVP and he has already been inducted into the Japanese Baseball Hall of Fame.
He enjoyed comparable dominance during his first decade in the majors. The speedy outfielder annually surpassed 200 hits from 2001-2010 and set an MLB single-season record with 262 base knocks in 2004.
But this is clearly the twilight of Suzuki's playing career. He normally bats toward the bottom of the New York Yankees lineup, which limits his number of plate appearances. Manager Joe Girardi also sits him once every few series against tough southpaws.
Barring a sudden rejuvenation, he'll be several dozen hits short of 3,000 by the time his contract expires in 2014. Suzuki will only reach the milestone if he has the desire to stick around one more year.
Odds of 3,000 hits: 55 percent.
Robinson Cano (New York Yankees)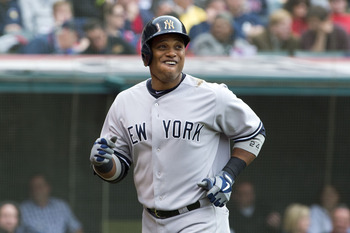 Robinson Cano.
Jason Miller/Getty Images
Career hit total: 1,501.
Rank among active players: 29th.
Robinson Cano was well past his 22nd birthday at the time of his MLB debut, which is old relative to most members of the 3,000-hit club.
Al Kaline and Robin Yount were in the majors at 18. Hank Aaron and Willie Mays had barely turned 20. Even Derek Jeter was still a month shy of 21 when initially called up.
Cano quickly made up for lost time. He started at second base for the New York Yankees on May 3, 2005 and did the same for 130 of their final 136 games that summer.
Aggressiveness is practically a prerequisite for reaching 3,000 hits (Rickey Henderson is an exception). Drawing walks means fewer at-bats and lost opportunities to boost one's career total. It's encouraging to see that Cano has been swinging the bat effectively while taking no more than 51 free passes in any season.
Since spending a six-week chunk of 2006 on the disabled list (strained hamstring), he has seldom missed an inning of action. Despite that history, being a middle infielder leaves him susceptible to sliding-related injuries.
Shifting to first base or a corner outfield position could be integral to his pursuit.
Odds of reaching 3,000: 60 percent.
Starlin Castro (Chicago Cubs)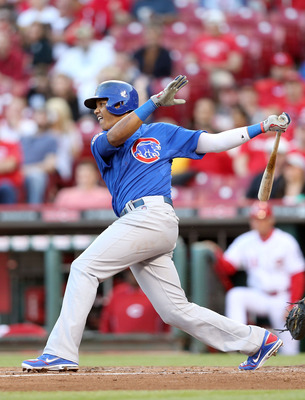 Starlin Castro.
Andy Lyons/Getty Images
Career hit total: 568.
Rank among active players: outside top 100.
Though Starlin Castro is at least a decade away from No. 3,000, he has everything working in his favor.
The Chicago Cubs summoned him from the minors at age 20 and didn't hesitate to use him. He regularly occupies one of the top three spots in the batting order, which assures as many plate appearances as possible. Not surprisingly, Castro leads the sport in total at-bats since his sophomore season (2011).
Baseball history tells us that baseball players don't begin to peak until their mid-twenties. What a scary thought considering that Castro is only 23. He'll continue to fill out his six-foot frame, which should translate to more home runs and fewer outs on balls in play.
If anything derails his promising career, it will be his oft-criticized work ethic.
Odds of 3,000 hits: 62 percent.
Alex Rodriguez (New York Yankees)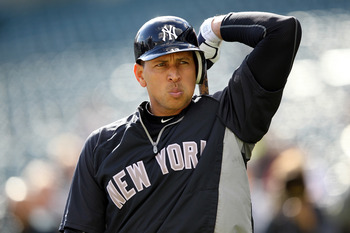 Alex Rodriguez.
Leon Halip/Getty Images
Career hit total: 2,901.
Rank among active players: second.
Alex Rodriguez says returning to the New York Yankees in 2013 is a goal, but not a guarantee (via Anthony McCarron, New York Daily News). He has recently resumed baseball activities after undergoing "severe" hip surgery in January.
If he gets back for any portion of the season, there will be opportunities to play. Third baseman Kevin Youkilis—currently disabled with a back injury—cannot be trusted to start daily, and primary designated hitter Travis Hafner doesn't face left-handers.
In any case, A-Rod will need some time in 2014 to boost his hit total to the next round number.
His connection to Biogenesis throws a wrench into any projection model. Provided that Major League Baseball succeeds with its investigation, there should be suspensions coming for Rodriguez and other alleged customers of the Miami-based anti-aging clinic.
However, his monstrous contract is guaranteed through 2017. All attempts by the Yankees to void it have been futile.
Even getting hits at a bench player's pace would be enough to get this vilified, former AL MVP into the record books. The biggest obstacle, of course, is his own fragility.
Odds of 3,000 hits: 70 percent.
Miguel Cabrera (Detroit Tigers)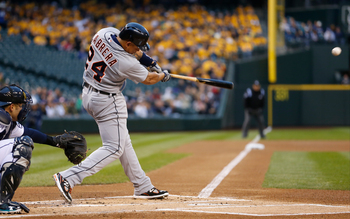 Miguel Cabrera.
Otto Greule Jr/Getty Images
Career hit total: 1,852.
Rank among active players: 21st.
With Prince Fielder batting behind him, Miguel Cabrera is almost a lock to achieve this magic number. Now, there is a great risk to pitching around him that opponents aren't all that eager to take.
According to Baseball-Reference.com, the reigning AL Triple Crown winner has seen a significantly higher percentage of strikes since 2012 compared to the two seasons prior. Cabrera set a new personal best with 205 hits last season and should be just as productive in 2013.
He has never been on the disabled list. His only extended absence from the playing field since arriving in the big leagues began after a hard-hit grounder bloodied his face in spring training.
Just like everybody else, this 30-year-old will eventually decline. Age will compromise his power and agility.
Luckily, Father Time isn't so quick to take away hand-eye coordination, and that's the key to getting 3,000 hits.
Odds of 3,000 hits: 85 percent.
Albert Pujols (Los Angeles Angels)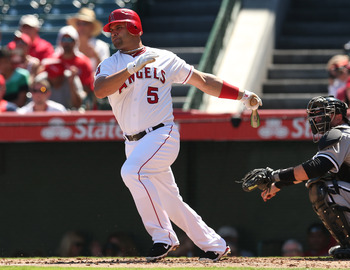 Albert Pujols.
Stephen Dunn/Getty Images
Career hit total: 2,277.
Rank among active players: sixth.
Lower-body pains have nagged Albert Pujols since he signed with the Los Angeles Angels, yet he's still a staple in the everyday lineup.
It's too soon to speculate as to whether or not he can last for the entirety of his $240 million contract, which expires in 2021. He won't need nearly that long to accumulate 3,000 hits, anyway.
Pujols has retained his terrific contact skills. Even if the power numbers begin to slide, his line drives will find the outfield grass.
And can we stop disrespecting Josh Hamilton? The newest slugger in L.A. is incredibly streaky, but pitchers will want nothing to do with him during fiery stretches.
Much like Miguel Cabrera, Prince Albert can thrive when he's not the sole threat in a lineup.
Odds of 3,000 hits: 95 percent.
Keep Reading