MLB Contenders with the Most Prospect Depth to Dangle in Trades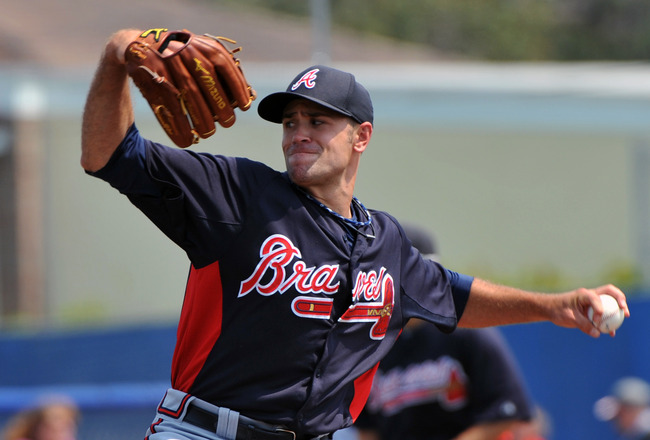 Gilmartin is one several Braves pitching prospects that would be highly-coveted in trade talks.
Al Messerschmidt/Getty Images
As the contenders begin to separate themselves from the pretenders, it's important to remember that it's a long season, and that the 25-man rosters taking the field in May could look much different in August and September, when each win and loss at least feels like it has more meaning.
Some teams get healthier. Others call up reinforcements from the minors. And then there are the fortunate teams who are rich in prospect depth and can add impact talent in a trade.
Of course, a team doesn't need to have the deepest farm system to acquire a front-line pitcher or impact bat. The Angels, considered to have very little prospect depth at the time, gave up three of their best prospects, including shortstop Jean Segura, for two months of Zack Greinke. A weak farm system got even weaker, but they were willing to take the risk.
The Texas Rangers added a pretty good starting pitcher in Ryan Dempster without giving up much from one of the deepest farm systems in baseball. They could've easily outbid the Angels for Greinke, but chose to hold onto all their best prospects.
So not all teams with prospect depth are necessarily in a hurry to unload that depth. But sometimes they have to "go for it," if they feel it's the right time and the right situation.
Here are five contenders that could go to the trade market with the resources to acquire a player who could reshape their 25-man roster.


Boston Red Sox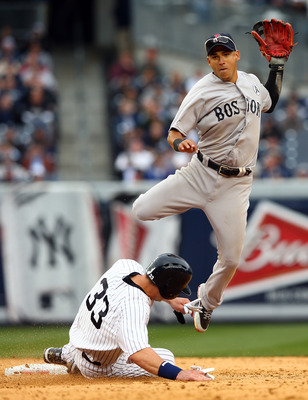 Elsa/Getty Images
By filling most of their roster holes via free agency this offseason, the Sox not only brought some much-needed veteran leadership and experience to the clubhouse, but they were also able to hold onto their best prospects and keep them in the minor leagues.
Jackie Bradley Jr. forced his way onto the big league roster with a great spring but ultimately proved he needed some at-bats in Triple-A, where he is now (he was recently placed on the seven-day DL). This doesn't take away from his projection as a very good big league center fielder in the near future. He just wasn't ready to make the jump from Double-A at 22 years of age.
Along with Bradley, Bryce Brentz (.775 OPS, 5 HR) and Jeremy Hazelbaker (.893 OPS, 5 HR, 5 SB), give the Sox some talent in the Triple-A outfield. Catcher Ryan Lavarnway (.933 OPS) has some value, while Gold Glove-caliber shortstop Jose Iglesias (pictured), who showed some signs that he was figuring it out at the plate in an early-season stint in Boston (9-for-20, 2 2B), would be a highly coveted player if the Sox made him available.
On the pitching side, Allen Webster is emerging as a future top-of-the-rotation starter who is big league-ready now. He'll make his second start of the season for Boston tonight, although it's not clear if he'll be staying in the rotation or heading back to Triple-A.
The Double-A rotation includes four pitchers with big league potential—Matt Barnes, Drake Britton, Anthony Ranaudo and Brandon Workman. They have a combined 34 walks and 133 strikeouts in 118.2 innings pitched.
Ranaudo's success (1.00 ERA, 27 IP, 15 H, 6 BB, 30 K) might be the biggest boost to the farm system thus far. The 23-year-old had a 6.69 ERA with 27 walks and 27 strikeouts in Double-A last season, but was limited to only nine starts because of injuries. He's reportedly throwing in the upper-90s and could be back on the fast track, as was thought to be the case when he was taken with the 39th pick in the 2010 draft.
Last but certainly not least, top prospect Xander Bogaerts would be the guy every team asks for in trade talks. Currently a shortstop for Double-A Portland, the 20-year-old has a .303/.373/.465 slash line in 23 games. He may ultimately move to third base, although it would be more newsworthy and more urgent if he was closer to the big leagues, considering Will Middlebrooks' struggles at the plate this season (.613 OPS, 5 BB, 38 K).
Pittsburgh Pirates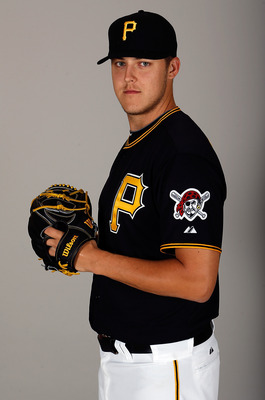 J. Meric/Getty Images
Center fielder Gregory Polanco is doing all he can to come out from the shadows of the Pirates' impressive crop of top pitching prospects—Gerrit Cole, Jameson Taillon (pictured) and Luis Heredia. After putting up huge numbers with Low-A West Virginia in 2012 (.325 BA, 16 HR, 85 RBI, 26 2B, 6 3B, 44 BB, 40 SB), he's proving that the pitching at the High-A level isn't much of a challenge, either.
The 21-year-old is hitting .324 (36-for-111) with four homers, nine doubles, 12 walks and 12 stolen bases in his first 30 games. Pirates star Andrew McCutchen already had a full season of Double-A and some Triple-A experience under his belt at the same age, so Polanco isn't being rushed by the Pirates at this point.
Still, he could be in the Pittsburgh outfield with McCutchen and Starling Marte by the end of 2014 if he continues to progress. He'll be a valuable trade chip, however, if the Bucs chose to shop him.
In addition to the pitching trio mentioned earlier, the Bucs are getting solid production out of Stolmy Pimentel (0.74 ERA, 36.1 IP, 24 H, 16 BB, 32 K in six Double-A starts), who was acquired from Boston in the Joel Hanrahan trade this past offseason, and former Tigers pitcher Andy Oliver (2.82 ERA, 38.1 IP, 25 H, 23 BB, 44 K in seven Triple-A starts), also acquired in the offseason.
St. Louis Cardinals
Jeff Gross/Getty Images
The way things are going, the red-hot Cardinals (20-11, six consecutive wins) can probably just stand pat and hold onto their best prospects.
Things can change quickly, though.
For now, Edward Mujica (8-for-8 in save opportunities) has stabilized the closer's role, and rookies Carlos Martinez (pictured) and Trevor Rosenthal, both capable of hitting triple digits on the radar gun, aren't pitchers whom opposing hitters look forward to facing late in the game. If the bullpen situation takes a turn for the worse again, as it did earlier in the season, the Cards could be in the market for relief help.
Acquiring a top closer probably wouldn't require them to part with a top prospect. If an injury were to occur that would leave a gaping hole in the rotation, however, they do have three big-time trade chips in first baseman Matt Adams, second baseman Kolten Wong and outfielder Oscar Taveras.
Texas Rangers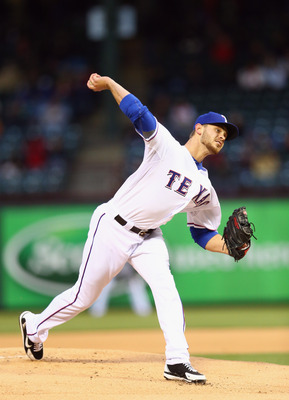 Ronald Martinez/Getty Images
Like the Cardinals, the Rangers are in great shape at this point, and their 20-12 start has pretty much squashed any speculation that they'd have to use any of their impressive prospect depth to go out and fill holes.
They've gotten surprising contributions out of two rookie starters, Justin Grimm (pictured) and Nicholas Tepesch, who have combined on a 3.62 ERA in 10 starts. The Rangers have won six of those games. Martin Perez is also expected back soon, and Colby Lewis will begin a rehab assignment later this week, so the rotation appears to be in good shape.
The bullpen is without offseason signing Joakim Soria, as he continues to recover from Tommy John surgery, but it has been solid with Tanner Scheppers (0.56 ERA, 6 holds) and Robbie Ross (0.66 ERA, 5 holds) bridging the gap to closer Joe Nathan (1.64 ERA, 8 SV).
Josh Hamilton's impact in the lineup hasn't quite been replaced, but the success of the pitching staff has overshadowed it thus far. They've had a well-rounded attack led by second baseman Ian Kinsler (.918 OPS), right fielder Nelson Cruz (.867 OPS) and designated hitter Lance Berkman (.891 OPS).
The lack of production from left fielder David Murphy (.524 OPS), if it continues, could mean the Rangers go out and find a corner outfield bat to add to the middle of the lineup. Putting together a package for a big name such as Giancarlo Stanton or Josh Willingham would be a huge boost.
They certainly have the resources to make a run at either player, with top prospect Jurickson Profar a necessary inclusion in a deal for Stanton. Acquiring Willingham, who is signed through 2014, could probably be done with a package that includes mostly low-level prospects.
Atlanta Braves
Kevin Liles/Getty Images
The impending return of Brandon Beachy (Tommy John surgery), who could begin a rehab assignment soon, would likely push Julio Teheran (pictured) to the minors and give the team several big league-ready prospects to use as trade bait.
Lefties Sean Gilmartin (2.70 ERA in six Triple-A starts) and Alex Wood (0.58 ERA, 31 IP, 23 H, 7 BB, 38 K in six Double-A starts) could step into the rotation for most teams that would be "selling" at the trade deadline, and hard-throwing right-hander J.R. Graham (3.45 ERA, 28.2 IP, 30 H, 8 BB, 25 K in six Double-A starts) could be at the top of some big league rotations by mid-2014.
The Braves traded one of their top pitching prospects, Arodys Vizcaino, at the 2012 deadline in the deal that brought them Paul Maholm. They could do it again if they need to plug a hole in the lineup, whether caused by an injury or even a drop in production from third base platoon team Juan Francisco and Chris Johnson.
Keep Reading